NEWS | ACTION
1. Another Failure for Ontario's Ministers of Culture? Vineland School
2. Development threatens historic Gould House in Uxbridge
3. ACO Toronto seeks Author for Book on Rosedale
4. Nominations Open for Top Ten Endangered Places in Canada
5. Alderlea Awakens!
6. Catherine Nasmith ACO President

submit a news/action item
1. Another Failure for Ontario's Ministers of Culture? Vineland School
See letter below, at the very least it deserves a response.
Dear Minister Coteau,

It has been a week since Brett House wrote to you on our behalf again requesting provincial action to save Vineland's 1895 schoolhouse, which is slated for demolition by the District School Board of Niagara in just a few weeks. We have not had any response from your Ministry since then. Similarly, the Mayor of Lincoln claims that the Town of Lincoln has not received any communication from your Ministry.

Our local MPP, Tim Hudak, has been extremely supportive in briefing your office on this matter, and in reaching out to the DSBN and Town of Lincoln. Despite Tim's recent "positive" conversation with the Mayor, Lincoln Town Council last Tuesday voted against the latest and final motion from the Heritage Committee to save the schoolhouse.
Minister Coteau, we have now exhausted every avenue open to us to convince local officials to act to save Vineland's premier heritage asset. There is truly nothing more we can do at the local level. For nearly two years, we have used every single official process available. In fact, we have re-used every such process. We have exploited every personal connection. We have spoken in every venue. We were actively engaged in the October 2014 municipal elections. We have had more media coverage on this than any other community issue in the last year.

The Vineland schoolhouse's fate is now entirely in your hands. Please realize that the schoolhouse's days are now numbered to fewer than 28. There is no time to lose.
Please let us know if there is anything else we can do to help prompt you to action. We have clearly demonstrated that schoolhouse has both heritage value of provincial significance and wide public support. We have done everything good citizens can do to rouse an indifferent town to action, a town that does not count heritage amongst its
priorities
.

The Ontario Heritage Act (OHA) provides you the discretion to indicate an intent to designate and to issue a stop demolition order for situations exactly like this one. A decision not to act would be tantamount to gutting the OHA of any significance.

We need your help. This is the last remaining 19th-century public structure in Vineland. Vineland has no centre without this schoolhouse.

Warm thanks,

Carla Mackie and Brett House

2. Development threatens historic Gould House in Uxbridge
Doug Moffatt, Uxbridge
A 39 unit "barracks" style condominium has been proposed for the 3.5 A. estate of Joseph Gould on Mill St. in Uxbridge. Under the development proposal by 2373521 Ontario Ltd.
The existing home of the Gould family, who were founders of Uxbridge, will be relocated on the site and sold as a part of the project. This house was the first house in Uxbridge to have electricity since the Goulds had developed an hydro electric plant at the Electric Light Pond. Surely there is some heritage here!
For more on this house see "Heritage Homes and Estates of Uxbridge and Scugog"Arculus & Hvidsten
Local residents are up in arms over the high density development and have formed "The Uxbridge Gouldville Citizens Association ". The application is for a rezoning in the area which is comprised almost exclusively of single family detached homes. There has been no explanation as to why this should be a "rezoning", not an OP amendment.
Because the Township of Uxbridge delayed making a decision the developer immediately rushed to the OMB charging "neglect of township to make a decision".
The Uxbridge Gouldville Citizens Association has retained David Donnelly to represent them and have promised to fight the proposal vigorously. Wayne Morgan who will be called as an expert witness states that "the proposal is contrary to the intent and policies of the Uxbridge OP, contrary to good planning and inconsistent with the good heritage conservation practice in the way it addresses the retention of the Isaac Gould House"
The Gould family first came to Uxbridge from Pennsylvania and were part of a large Quaker movement to migrate to the Area East and North of Toronto. Their settlements in Pickering Uxbridge and York Region have for the most part been swallowed up by Urban sprawl with little attention being paid to the contributions of these early settlers. There is an old "Society of Friends" Quaker cemetery at the corner of Kingston Rd. and Brock Rd in Pickering which is completely surrounded by excessive over-building of condominiums, town houses and commercial development. This little relic is part of the waves of Quakers heading for a better l ife in Upper Canada. The Township of Uxbridge has been a long-time twin with Catawissa Pa. and, curiously, until recently advertised on its approach signs "Proud of Our Quaker Heritage". The signs now say "Trail Capital Of Canada".
Joseph Gould came to Uxbridge in early 1800's and settled in Gouldville in a frame home which he built on the property on Mill St. He was a noteworthy figure in the 1837 activities of Mackenzie. It is suggested he attended a rally and tried to bring his Quaker sensitivities to the Rebels but wound up in jail for his efforts. He went on to become an M.P. and Warden of Ontario County. His son, Isaac, built the current house in 1866 and it was occupied by members of the Gould family until 1966. Isaac also became an M.P. in the Laurier Government.
3. ACO Toronto seeks Author for Book on Rosedale
Catherine Nasmith
For many years the Toronto Branch of Architectural Conservancy Ontario has dreamed of publishing a book on Rosedale architecture. The branch is now in possession of all of the boxes of research compiled by the team led by Carolyn Neal. That material was catalogued by Sally Gibson in 2013.
ACO Toronto has rented a space at 401 Richmond Street where the material can be accessed and the author could work. If you are interested in submitting a proposal,
the RFP and Catalogue are on Dropbox.
4. Nominations Open for Top Ten Endangered Places in Canada
Heritage Canada The National Trust
Our 12th Annual List of the Top 10 Endangered Places in Canada features heritage places we risk losing.
When we lose our heritage places it hurts us all!
At Heritage Canada The National Trust we work to save places that matter to Canadians supporting community groups and grassroots advocates with the tools and resources they need to save our heritage places.
That's why we're writing to you today to ask for your support. Help us make this a story about wins – not losses!
Wins like the Petrie Building in Guelph, Ontario. Not losses like the Redpath Mansion in Montreal.
With your support we can put more heritage places on the winning side by providing the assistance and inspiration local communities need to save our endangered places before they make the Top 10 List.
Please help us make this a story about winning. Donate today and put us to work helping Canadians save the places that matter to them.
Natalie Bull
Executive Director

Tom Urbaniak
Chair, Board of Directors
Nominations Closed May 13, Announcement of final list will be made on May 26.
5. Alderlea Awakens!
City of Brampton

Alderlea Awakens!

Bramptons iconic historic mansion has been transformed into a magnificent event venue.

The much anticipated opening of Alderlea, Bramptons crown jewel, has arrived! Following a comprehensive project involving selective demolition, heritage restoration, adaptive reuse, and a complementary addition, Alderlea has been transformed into a magnificent event venue.

Built between 1865 and 1879 for Kenneth Chisholm M.P.P., son-in-law of John Elliott, a founding father of Brampton, Alderlea is one of the finest examples of Italianate architecture in Ontario. It is believed that Chisholm retained one of Canadas leading architects of the day, William Kauffman, to design the home after being impressed by his work on the Peel County Court House just across the street. The original grandeur of this structure included a large front lawn and garden which is currently Gage Park, Bramptons first municipal park.

In 1944, the Royal Canadian Legion purchased Alderlea, which they expanded in 1947 with a two-storey addition called Memorial Hall. The City of Brampton purchased Alderlea in December 2002 as part of its sesquicentennial in order to protect and conserve this significant cultural heritage resource in the heart of the downtown core.

With support from Council, the knowledge, skill, and collaboration of City staff, architects, consultants, contractors and specialist tradespeople, as well as the patience and cooperation of neighbours and the local community, Alderlea has come back to life.

The rejuvenation of Alderlea began in 2010 with the demolition of the Legion addition, followed by the removal of non-heritage elements from the structure. The next stages saw the interweaving of old and new. Original defining features on both the interior and the exterior were carefully restored or recreated, the latest climate control, electrical and mechanical systems were introduced, and a new addition was constructed.

As one approaches Alderlea, they are immediately struck by the Italianate architecture including generous eaves, large turned brackets, bay windows, wrap-around verandah, tall windows, wood detailing, corbelled chimneys, red and buff brick, and the delightful belvedere that crowns the roof.

Inside, especially on the main floor, the rooms further reflect the Citys commitment to retaining and restoring Alderleas unique heritage character while creating a modern, flexible space. Eleven foot ceilings, stunning decorative plasterwork, large wood moulding and trim, marble fireplaces, and a marvelous set of pocket doors with etched glass allude to the opulence of the mansions past. Many of these features were hidden under walls and ceilings for decades, like treasures waiting to be discovered. The elegant Dining and Morning Rooms are complemented by a décor theme inspired from 19th century interior design and furniture.

The Queen Elizabeth II Diamond Jubilee Pavillion, which now houses the main event space, was a contemporary interpretation of the original conservatory that once graced the north façade of the Alderlea. It is named in honour of the sixtieth anniversary of Her Majesty's accession to the throne as Queen of Canada. It features floor-to-ceiling windows and opens out onto the landscaped gardens.

Upon booking a function at Alderlea, clients will have exclusive use of the venue, whether the event is a wedding, conference, social gathering or photo shoot. This allows for a thoughtful use of space and rooms for every gathering, and enables guests to fully enjoy the beauty of the property. Alderlea can accommodate up to 80 people for sit-down events and 110 people for cocktail parties. The second floor, named the Chisholm Room, may be used as a bridal suite or breakout space. The venue features a state-of-the-art audio/visual system and WiFi. The original and restored details of this nearly 150 year-old space will charm visitors for decades to come.

Alderlea stands as a monument to our heritage and a showcase of the successful synthesis of classic and contemporary. Its revival will be celebrated with an official grand opening ceremony in spring/summer 2015.
6. Catherine Nasmith ACO President
Catherine Nasmith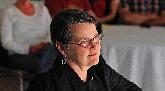 Catherine Nasmith returns to the Presidency of ACO
I have been elected back to the Architectural Conservancy Ontario Presidency, succeeding Richard Longley, who now becomes Past President.
Pardon the article written in first person, I will keep it short, but wanted to toot the horn of the organization a bit for anyone not familiar with it. http://www.arconserv.ca
In spite of the ongoing challenges of operating 25 branches spread across Ontario, ACO is one of the country's most effective heritage organizations, nimble, varied in its work and with a terrific track record of assisting communities preserve their important cultural heritage, buildings and landscapes.
The organization offers several services. Preservation Works is a roster of volunteer heritage professionals who for a modest fee to the organization offer preliminary advice on building condition, feasability for conservation and cultural value. Across the province we hold public information events like lectures, walking tours, Doors Open and have published countless books on Ontario history. While owning buildings is not a major activity, we do own three. We also form fundraising partnerships with like minded organizations to assist with projects that are within our objects.
In the past few years ACO Next Gen has grown to be an important force in the organization and the community.
The structure of the organization, with a provincial co-ordinating office and many branches, each with its own executive operating locally allows us to both advocate at the province on province wide issues and act locally. The network provides information sharing on strategy, fundraising, administration and programming. All of this is done by volunteers, with a tiny, overworked staff at the provincial office, led by the indefatigable Rollo Myers.
We have our headaches, as do all organizations, but a recent major bequest has given the organization some breathing room, time to catch a breath and make the investments in internal systems that will more effectively support our volunteers.
As tempting as it is to get involved in issues around the province, I want to focus my one year term on sorting out operational issues. Its a different kind of challenge for me, one that I am really looking forward to.