NEWS | ACTION
1. Sign Petition to Protect Kensington Market
2. U of Toronto - Plastic Coated Asphalt Or Grass Common
3. Heritage Toronto is excited to announce the launch of its 2013 Tours program!
4. Heritage Canada Foundation National Awards Extends Deadline for Nominations to MAY 10!

submit a news/action item
1. Sign Petition to Protect Kensington Market
Eti Greenberg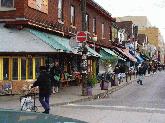 Corner of Augusta and Baldwin Street
We just received encouraging news that Loblaws is feeling it in their reputation. They have contacted Councillor Adam Vaughan's office looking for ways that they might co-exist with Kensington Market without harming small food vendors.
Loblaws has suggested they may want to meet with the Kensington Business Improvement Association (BIA), so let's take advantage of this moment to turn up the heat on Loblaws and get a real promise from Galen Weston to save our Market.
Please share this petition with all your friends who love the Market. You could forward this email and ask them to sign at www.change.org/kensington
2. U of Toronto - Plastic Coated Asphalt Or Grass Common
Catherine Nasmith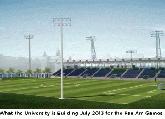 What is proposed now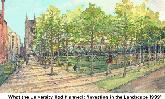 From the earlier landscape plan
Last week at Urbanspace Gallery several speakers laid out the case for preserving the University of Toronto's Back Campus field as a publicly accessible common. The issue is the imminent construction of two field hockey courts for the PanAm games, a project that won approval from Governing Council behind closed doors. The project has been promoted by the Phys Ed faculty who see it as a way to partner to get a new subsidized sports facility. The project is scheduled to start construction on July 1.
So what's not to like. As the project has become better understood, serious questions are arising among faculty, students, and the surrounding neighbourhoods. Is it right to trade a grass common, which is now used for sports and is also hard to replace open space in the downtown, for a single purpose sports field? Now it is one of the few places where anyone can just sit, throw a frizbee, enjoy a picnic. It also provides a dignified setting for the many designated University buildings that surround it, Massey, University, Wycliffe, and Trinity Colleges, as well as the side of Hart House and most importantly, the Soldier's Tower. Not to say the common could not be improved. The field hockey proposal is at the expense of approved plans to add trees, walkways around the edges promised in the 1999 landscape master plan, Investing in the Landscape done by Urban Strategies.
And wait a minute, nearly 10 million dollars is being spent to replicate a facility that already exists in nearby Brampton. Brampton wants to host the Field Hockey events of the games, but have to overcome a decision to concentrate the PanAm games in Toronto. MPP Rosario Marchese is working with Brampton MPP, and the Mayor of Brampton to get the Field Hockey event redirected in order to preserve the U of T Common.
Architect Anthony Belcher outlined the following issues. Three feet of soil will have to be removed to construct the field, then installation of a compacted base, then asphalt covered in artificial turf. High athletic field light standards are inappropriate in this historic environment, undermining the dignity of the Soldier's Tower in particular. The construction is more like a parking lot than a green space. One of the members of the audience described it as "plastic coated asphalt". Professor John Danahy has done some modeling showing the increased heat island effect of the proposed field, it requires huge amounts of water to cool it, that water has to be managed to avoid spreading contaminents.
Although the University promises public access to the surface, given the inability of the artifical turf to recover from wear and tear, there is concern that even if access were permitted, it would not be an attractive place to spend time.
Hilary Cunningham described the cultural value of the field. Historically the existing common has been used for various events, such as the Run for the Rom where the field was full of tents and charity runners. During the First World War the field was full of military tents for a time, indeed Soldiers Tower overlooks the common. The University of Toronto's landscape Plan intended to enhance its park use by adding walkways and additional tree planting. The trees on the western edge are English Elm, donated to the University and planted over a hundred years ago.
Professor Emeritus, Michael Bliss talked about the loss of accountability in Governing Council, that it has become secretive in its decision making practices, hence the community reaction so much after the fact.
Several audience members commented on the excellence of the presentations, clearly setting out the case for stopping the project. However, given its advanced state of planning, financial commitments, it is not clear whether efforts to designate the field as a cultural heritage landscape, or efforts to embarrass the Ontario government for duplication of the Brampton facility will create a much needed pause for sober second thought.
3. Heritage Toronto is excited to announce the launch of its 2013 Tours program!
Heritage Toronto
Many Torontonians know how great our walking tours are weve been putting them on for 19 years. Heritage Toronto Tours in 2013 will be a bit different. Its not just walking tours that well be offering - were excited to be expanding our usual walking tour program to include bus, bike, family and boutique tours too!

This years Tours program will run from the end of April until October and have 58 in total, including 26 new tours.

Please visit www.heritagetoronto.org to view upcoming walks or download the 2013 Heritage Toronto Tour brochure.

We hope that you will join us on a tour wed love to show you some hidden gems, tell you about some fascinating stories and share with you Torontos amazing heritage!
4. Heritage Canada Foundation National Awards Extends Deadline for Nominations to MAY 10!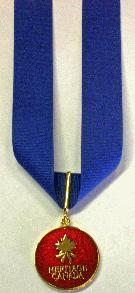 Heritage Canada Foundations National Heritage Leadership Awards celebrate individuals, organizations and corporations whose work gives new life to Canadas historic places.

The nomination deadline has been extended to May 10, 2013:

- Lieutenant-Governors Award for Heritage Conservation
This award recognizes outstanding achievement by an individual, group or corporation in the province in which the Heritage Canada Foundations annual conference is held. This year, we are seeking nominations for worthy recipients whose work has benefited the province of Ontario.

- Gabrielle Léger Medal for Lifetime Achievement
Named after the wife of former Canadian Governor General Jules Léger, this award recognizes individuals for their outstanding service to the country in the cause of heritage conservation.

Dont delay! Help us celebrate your heritage achievements.

For information on nomination procedures and past award recipients, visit our website at www.heritagecanada.org, or contact Carolyn Quinn, Director of Communications at cquinn@heritagecanada.org or at 1-866-964-1066 x. 229.