NEWS | ACTION
1. Fort York Visitor Centre: Worth the Wait
2. Book Review: James Fitzgerald-What Disturbs our Blood
3. Happy Back to "School" Day

submit a news/action item
1. Fort York Visitor Centre: Worth the Wait
Catherine Nasmith
If you haven't been yet, run don't walk to look at the Fort York Visitor Centre.
Dreamed about for over 30 years, since it was a gleam in the eye of the late George Waters, it is finally open. All that wishing and hoping and planning and dreaming has paid off with a spectacular, elegant, understated result. One that is brilliantly of its day yet timeless. Kearns Mancini and Patkau architects are to be congratulated along with so many others for keeping the essence of the design through the inevitable compromises of budget and construction.
The design is a simple idea….the building as retaining wall, marking the edge of the former shore line, and through ramps moving the visitor from one plane to another, a time tunnel from the modern city including the Gardiner Expressway up to Toronto's founding place of over two hundred years ago. Built in core-ten steel, a material requiring little ongoing maintenance, it's crisp panels are reminiscent of the shoring of construction sites, and the earth colour of the bank. The way the panels just flip up to invite you into the bright spacious interior is also brilliantly simple.
The landscaping is missing for the moment, yet I rather enjoyed the simply raked soil bringing a brown ground surface up to the walls. To keep that effect would take a lot of weeding!
So many people are to be thanked, but I want in particular to salute our friend Stephen Otto, whose passion, persistence, diplomacy and wisdom led to the founding of both the Friends of Fort York, and the Fort York Foundation. He is a hard person to say no to, and he brings so many others into his generous and ever expanding circle of "friends", all called in to serve when it is their turn to help. As he said to me in a recent conversation, "25 years from now when we are all looking down from our clouds we can feel proud of what we have achieved"….Amen. No one should be prouder, yet is so modest about it, than Steve himself.
P.S. And don't miss Charlie Pachter's War of 1812 series, on display in the visitor centre while you are there.
2. Book Review: James Fitzgerald-What Disturbs our Blood
Catherine Nasmith
Your will never look at College Street between Bay and University in quite the same way after you read James Fitzgerald's book, What Disturbs our Blood.
James Fitzgerald is the grandson of Gerald Fitzgerald, after whom the Fitzgerald Medical Building at 150 College Street is named. The subject of this book is a bit off my usual beat, but the history it tells is important to all Canadians, and to Toronto in particular. I found it one of the most engaging reads I have had in quite a while, so am recommending it highly to BHN readers.
The book tells the story of two generations of his family in medical research, and tracks some extraordinary Canadian discoveries, discoveries such as insulin, vaccines for smallpox, rabies and diphtheria that put Toronto at the forefront of world medicine for several decades. It also traces the Fitzgerald family history back several generations, looking for the roots of the suicidal depression that robbed both highly successful men of their careers at their peak; costing the grandfather his life and the father his quality of life in his last decades. It is written as a self-murder mystery…and weaves the family history with the history of medical and psychiatric research, a book global in scope, including great figures on both sides of the Atlantic, told with Toronto firmly at its centre.
Gerald Fitzgerald founded Connaught labs with assistance from the Gooderham family. Instead of pursuing profit from the medical discoveries, as was the world norm, Fitzgerald set out on a mission to provide medicine to as many people as possible at the lowest cost. It was the beginning of vaccination through the emerging public health system in Canadian schools, and our armies, which in turn led to a much higher survival rate for our troops in World War I than any other country and better health in the general population.
If you are interested in the history of Toronto's medical research, the history of psychiatry/psychology, or understanding the ying and yang of old Toronto family values, you will be captivated by this engaging book.
3. Happy Back to "School" Day
Catherine Nasmith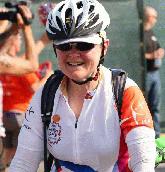 Crossing the Finish Line after 600 km, Toronto to Montreal, August 1
Hi everyone,
Hope you had a great summer and are refreshed getting back to work, or school.
I'm back at my desk in Windermere, where I have been working most of the summer, ready to go at it full bore. Summer projects included work here on our ice house, the last of our buildings to be restored, and working with Sheena Sharp and Coolearth Architecture on a building condition, cost estimate to restore buildings at Bolton Camp.
A highlight of the summer was doing the Friends for Life bike Rally, 600 k from Toronto to Montreal through some of the most historic areas of Ontario and Quebec.....wonderful waterviews, and tons of interesting heritage buildings along the route. Its an amazing way to experience the country, great pace, and one comes to understand the terrain very well! A highlight was taking the ferry from Prince Edward County to Adolphustown our camp site on the second night.
My schedule of volunteer meetings and projects come back full force with meetings of the ACO Toronto Branch, ACO Council and looking forward to the Heritage Canada conference at the end of the month.
On Monday, September 8th I will be part of a panel discussing the future of the former GTR buildings in Stratford, hoping the Council will start to think a bit differently about this critical downtown property. (See Events)
Hope all is well with you, and that you will continue to forward interesting stories and events, or better yet, self post them to BHN. The keys are on the website, or at the side of any newsletter.
Cheers,
C.