NEWS | ACTION
1. New book: Art Deco Architecture Across Canada
2. The St. Lawrence Seaway and the Lost Villages
3. My Summer Reading: Lost and Found Loyalist Worlds seen through the Eyes of Peter J. Stokes and Anne Michaels
4. Fight Continues at Bala Falls

submit a news/action item
1. New book: Art Deco Architecture Across Canada
Tim Morawetz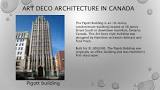 Book Cover
It is a very big, beautiful and important book, self published by Canada's passionate art deco scholar, Tim Morawetz. I am hoping to review in a future issue, but don't wait for that to order your copy. You can find out quite a bit about the book and order directly from Tim at

From the Website
Glue has just released its new publication, Art Deco Architecture Across Canada: Stories of the country's buildings between the two World Wars, written by Tim Morawetz.
ISBN: 978-0-9812413-1-9 | 320 pages; hardcover
11" x 11" / 28 x 28 cm | 3.5 lbs. 1.7 kg
435 colour photographs (many never before published)
Foreword by Alastair Duncan, worldwide authority on Art Deco
This book appeals to lovers of Art Deco, as well as those interested in Canadian history.
Using a combination of contemporary colour photographs and selected period images – all with detailed captions – the book showcases some 150 Art Deco-style buildings located in big cities and small towns across Canada. And through its stories about each of the buildings, it paints a unique picture of what life was like in Canada from the late 1920s to the early 1950s.
Purchases in Canada:
$79.95 CDN plus applicable taxes; mailing charges extra. Pay by Visa, Mastercard, Amex or PayPal. Purchases made in person or picked up at Glue office (no shipping charges) may also be paid in cash or by cheque (payable to Glue Inc.).
U.S. purchases: $69.95 USD; mailing charges extra. Pay by Visa, Mastercard, Amex or PayPal.
2. The St. Lawrence Seaway and the Lost Villages
Catherine Nasmith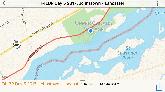 Map Showing St. Lawrence River before and after Seaway construction

The St. Lawrence Seaway, is stunningly beautiful, yet full of poignant buried memories. In 1954 the St. Lawrence Seaway and its accompanying project were started jointly by the U.S. and Canada. It was a critical improvement to the shipping routes from Duluth to Montreal. Initially the U.S. was reluctant to pay a share in the project, but Prime Minister Diefenbaker forced participation by saying that without U.S. partnership the route would be entirely on Canadian soil.
As early as 1783 work was started on a series of draft canals and locks to move ships through this section of the St. Lawrence, but the scale of ships was limited. Just below Cornwall, (not visible from our route) the international Sanderson/Moses Hydro Powerhouse and damn was built, and lands west were flooded. The Seaway opened in 1959, attended by President Eisenhower, Prime Minister Diefenbaker and Queen Elizabeth II.
The U.S. contribution was 130M, to 300M from Canada. 600 M was spent to develop hydro, which was recovered from power sales.
The construction project had monumental environmental and cultural impact. 15,400 hectares of land were flooded, requiring the relocation of 6500 people, flooding of parts of Morrisburg and Iroquois. The towns of Ingleside and Long Sault were built to accommodate displaced families. Eight Akwesasne Mohawk villages were flooded and the traditional fish habitat and fishery that sustained them was destroyed.
The Long Sault Parkway runs along the high points left after the flooding, and to either side are the sites of the Lost Villages, communities that are still underwater and visited by scuba divers. People still row out to see their former homes or family graves left behind underwater. 500 buildings were relocated, many to Upper Canada Village.
It took four days for the flooding to gradually bury the communities. Some of the bulldings found their way to the Lost Villages Museum, just south of Vincent Massey Drive, west of Cornwall, which is operated by the Lost Villages Historical Society. A map showing the former St. Lawrence and the locations of the lost villages can be found on the Lost Villages website.
3. My Summer Reading: Lost and Found Loyalist Worlds seen through the Eyes of Peter J. Stokes and Anne Michaels
Catherine Nasmith

Moving Christ Church to Upper Canada Village
Over the summer I have been quite a bit of Peter J. Stokes as references for a route guide I am writing for the Friends for Life Bike Rally. The route travels along waterways between Toronto and Montreal, going through some of the earliest (Loyalist) settlement areas in what was then Upper Canada. It also takes us past the St. Lawrence Seaway, and past the lost villages that were flooded for it.
Companion reading was Anne Michael's 2009 novel, The Winter Vault which poetically links three international places where heritage challenges resulted in different responses to lost fabric. She examines the human emotional connection to place, and the human limits to dealing with loss. The flooding of the St. Lawrence Seaway, the moving of the Abu Simbel pyramid to make way for the flooding for the Aswan dam and the rebuilding of Warsaw after destruction during World War II, all present different technical challenges, but what Anne Michael's considers, in astoundingly beautiful prose, is why such reclamation projects happen, why they matter, as well as the limits they have to satisfy our human need for connection to previous generations.
In spite of our current conservation ethics which poo poo moving heritage buildings around, and which I confess held me back from visiting Upper Canada Village, I found it a fascinating place. Two generations later, Upper Canada Village is a conservation story in its own right, ably told by Peter Stokes in In A Village Arising: The Story of Building Upper Canada Village. The experience of it as a museum is valuable. At the same time, thinking of the destruction of all the places that yielded the buildings makes it a very bittersweet experience. In A Village Arising, Peter Stokes gives an excellent history at the beginning of the book of the people who worked at Upper Canada Village how they were connected, and goes on to give a lot of detail about the conservation challenges posed by moving a lot of buildings from a lot of different places, as well as working with the powers that be. He sketches the founders of the conservation movement in Ontario, putting into context figures like Eric Arthur and Anthony Adamson, who founded Architectural Conservancy Ontario, Marion McCrae, Napier Simpson and many others. He also paints quite a picture of them working under great pressure, trying to understand the technologies of the buildings and how to best show and conserve them. Experiments failed, lessons were learned.
Peter Stokes started at Upper Canada Village a new graduate of architecture, with no particular specialty. I found myself a bit jealous of this generations' access, being able to glean so much experience through re-assembling so many building in a short period of time. All who worked there became the experts and founders of professional conservation practice in Ontario.
The choice to read these two books at the same time was somewhat accidental for me, but I encourage you to do the same. If you have never visited Upper Canada Village, put it on your "must visit" list.
4. Fight Continues at Bala Falls
Tim MacDonald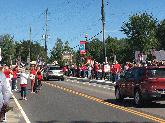 Demonstration at Bala Falls
On Friday September 1, more than 200 people came out in Canada's colours on the Bala bridge to protest against the planned unsafe privately-owned hydro plant. It will assume control (remotely, courtesy of Bracebridge Generation) of the water level of the Muskoka watershed – just to produce even more unneeded electricity.
See the Independent Electricity System Operator webpage here for the proof of this statement.
Some stalwarts were protesting on the Bala bridge all week. More protests are expected today.
This white elephant monstrosity can still be stopped. Phone numbers to call Premier Wynne are Queen's Park 416 325 1941 and her constituency office at 416 425 6777 (this is a good time to start targeting her local office as the Don Valley West MPP comes off her expected annual canoe trip, with her re-election bid just 10 months away).
The Muskoka411 interview with District councillor Phil Harding is in the article here.
Editor's Note: Construction equipment is all over the place now. Take a minute to look at the drone video, it is a bit long, but very instructive.