NEWS | ACTION
1. Heritage Canada National Trust I Love My Main Street Photo Contest
2. Heritage Toronto: New Executive Director Francisco Alvarez
3. Conservation Rights for Toronto's Buildings

submit a news/action item
1. Heritage Canada National Trust I Love My Main Street Photo Contest
I Love My Main Street contest is your chance to show Canadians why you love your main street, whether it is a hometown, local village or a favourite tourist destination, your chance to get out and explore your main street, share photos and stories with colleagues and friends, and fuel a national dialogue about the importance of maintaining Canada's main streets.
At the National Trust we know Canada's main streets and traditional downtowns are a heritage worth celebrating. Main Streets are at the heart of every healthy community providing a rich and textured backdrop of historic buildings that create a vibrant mix of services and uses. Through our Main Street Canada program we have inspired towns across the country to put our trademarked Main Street® Regeneration Approach to work, using heritage as the driver for economic, social and cultural change.
I Love My Main Street contest is your chance to get out and explore your main street, share photos and stories with colleagues and friends, and fuel a national dialogue about the importance of maintaining Canada's main streets.
By participating in I Love My Main Street, Canadians can share their pride in their favourite main street, and learn about other favourite main streets right across the country.
Heritage Canada The National Trust is a national charity that inspires and leads action to save historic places, and promotes the care and wise use of our historic environment.
2. Heritage Toronto: New Executive Director Francisco Alvarez
Heritage Toronto Release
Alexandria Pike, Chair of Heritage Toronto's Board of Directors, is pleased to announce the appointment of Francisco Alvarez as the organization's new Executive Director.
Mr. Alvarez comes to Heritage Toronto from a thirteen-year career with the Royal Ontario Museum. He most recently served as Managing Director for the Museum's Institute for Contemporary Culture, and has held previous roles within the museum's Communications team. Prior to his time at the ROM, he held administrative and communications positions in several cultural organizations, as well as in the private sector (Alliance Broadcasting) and in provincial government (Ministry of Culture, Tourism & Recreation; Ministry of Treasury and Economics). He has a keen interest in all aspects of culture and has served on boards of various Toronto arts organizations. He is also currently a Principal at Mr. Pink Art Consultants.
"Mr. Alvarez brings a deep understanding of fundraising and communications to Heritage Toronto," said Ms. Pike. "His leadership will breathe new life into the organization, from bringing new sponsors onboard to spreading the word about Heritage Toronto's offerings."
Born in Bogota, Colombia and raised in Ottawa, Canada, Mr. Alvarez has lived in Toronto since 1974. He holds both Bachelor of Fine Arts and Master of Business Administration degrees from York University. Mr. Alvarez is fluent in English, French and Spanish.
3. Conservation Rights for Toronto's Buildings
Catherine Nasmith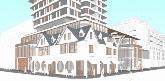 Proposal to Replace York Square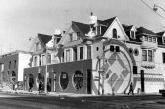 York Square when first opened in 1968, as published all around the world as a breakthrough urban project
Black History Month and Heritage Week share February. It's a good time to talk about parallels between the civil rights and heritage preservation movements. Both began to gain traction in the tumultuous 1960's with laws promising gains, but 50 years later there is still much to do.
One of the early scenes in Selma, the current film about the movement for equal voting rights in the United States, shows a black citizen trying to register to vote in Alabama. On paper she had the right to vote, but in practice the system had put so many unreasonable hurdles in her way that almost no black citizen could get on the voters list. While the stakes are clearly not the same for saving buildings in Toronto, heritage activists face many frustrations as they try to get buildings on the heritage register.
January's sudden demolition of Stollery's at Yonge and Bloor in Toronto has led to lots of navel gazing about how could that happen? It happens because the Ontario planning and building development system is stacked against keeping old buildings. Blaming the heritage system for its loss is blaming the victim.
The heritage process is too cumbersome and under-resourced to be effective, almost as if it was designed to fail. Yet in spite of all experience to the contrary, heritage advocates continue to work to register buildings and neighbourhoods for heritage protection. It is a thin hope, but nonetheless all we have to work with.
Municipal councils can say no to the demolition of old buildings, but here's the rub…. they have to be able to prove to the Ontario Municipal Board (OMB) that the building has heritage value and furthermore that its heritage value outweighs the perceived benefits of government sanctioned intensification. The tests to keep the building are complicated and any chink in the armour leads to full or partial loss.
As an activist, here's what you have to do to save just one building, never mind whole areas. Research the history; enough to prove it has heritage value and can meet the tests in the Ontario Heritage Act regulations. Failing to have "heritage value" leaves most buildings heading for the dumpster. Next you have to find a councillor who will ask Heritage Preservation staff to report on whether the building is worthy of listing or designation. Then seriously overstretched city staff need to find time to write an OMB proof designation report. In Toronto, there are hundreds of worthy properties waiting for attention. After that Council must be convinced to pass a designation bylaw, often in the face of a hostile property owner.
If all that happens, the building is still not secure. The owner can apply to Council to have a designated building demolished. If Council says no, the owner can appeal Council's decision to the OMB. If on the other hand Council agrees to de-designate and permit demolition, citizens cannot appeal that decision.
The process for listing, "designation light", is similar, owners of 'listed" properties must give 60 days notice prior to demolition to give the City time to decide whether to designate the property. Heritage Conservation District studies and plans take years to execute, but give protection to much larger heritage areas.
It's really frustrating work to save a building in the face of an overheated Toronto development industry, an industry fuelled with Ontario government policies poured like gasoline on a flame. Here are some of the ingredients in that government gasoline:
A tax system that sets property values based on the potential development value not the actual use of a property;
Intensification policies that put development ahead of heritage (The Places to Grow Act);
The Ontario Building Code that gives property owners a more or less unfettered right to demolish;
Planning laws that can't distinguish between big and small, and are impotent in controlling height or density;
The OMB which undermines municipal planning one property at a time, gradually shredding all policy; and
Environmental laws blind to the damage of wasting whole buildings.
The Toronto Branch of the Architectural Conservancy Ontario recently lobbied hard to protect York Square, including doing significant research. It took two years to get the designation report written and passed, racing against a property owner planning redevelopment. At last week's planning meeting on a ridiculous redevelopment project, the heritage of York Square was given the similar consideration as transportation, shadow studies, wind, retail, as if being designated under the Ontario Heritage Act is just one more thing to think about as we blast away at Toronto's city fabric. The current proposal would destroy about 75% of the designated heritage attributes, obliterating the physical record of York Square's significance in the history of international urbanism. How hard would it be for NO to mean NO.
What is happening in Toronto is giving me nightmares. I dreamt last week that I was on a streetcar travelling through piles of demolition rubble, through a completely unrecognizable landscape. Another night I woke up fearing the whole city was going to end up like the ludicrous development going up at Yonge and Bloor.
There is a bit of cavalry on the horizon. Next week Councillors Josh Matlow and Wong-Tam have a motion before Toronto City Council asking about the feasibility of having just a simple list of names and addresses of buildings Toronto might be interested in saving, but which have not yet been studied, and asking that 60 days notice be given before a demolition permit can be issued for buildings on that list.
I can promise you this, if that passes, I will be putting a lot of time and energy into building that list, as will residents all across Toronto who want to be able to continue to recognize the city we live in.