NEWS | ACTION
submit a news/action item
1. Etobicoke's Oculus
Catherine Nasmith
Original condition, photo from Panda Fonds, published in Concrete Toronto, page 181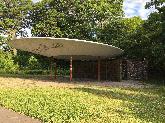 Current condition, photo Catherine Nasmith
ACO Toronto along with the Etobicoke Preservation Panel Robert Ruggiero have been raising concerns about Toronto's Parks departments plans to alter, partially demolish the Oculus, located in South Humber Park next to the cycling pedestrian path.
Concerns about nefarious uses of the public washrooms have led to their closing, along with plans to demolish the washrooms and then face the columns with stone. As well patterned concrete paving will replace the slab below. The Occulus canopy will be restored. Many have described the structure as an "architectural gem".
July 7, we learned that the Parks Department has been in touch with Heritage Preservation Services and we hope that those discussions will yield a more respectful treatment of this unprotected, but clearly valuable public gesture to the most ordinary of activities. While they are at it, lets hope they can find and re-install the lost sculpture.
Let Councillor DiCianni know this is a structure worth treating with respect. Mary.Campbell@toronto.ca
Please sign Petition to save at change.org
Editor's Note: Does anyone know what happened to the sculpture, one viewer says it was a fountain?