NEWS | ACTION
1. Threat to Central Experimental Farm National Historic Site, Ottawa
2. National Trust Conference 2016 (Hamilton) - Heritage Rising
3. Demolition Decision Due in Old Town Lunenburg
4. We're back!BHN Returns for another Season
5. In Situ: Reawakening The Small Arms Building
6. Government of Canada Seeking Candidates for the Historic Sites and Monuments Board
7. Willowbank Presents: 2016 Stonesthrow Stone Festival
8. Demolition Hearing in Old Town Lunenburg

submit a news/action item
1. Threat to Central Experimental Farm National Historic Site, Ottawa
Heritage Ottawa
The Central Experimental Farm is the target of potentially life-threatening surgery. Former Minister John Baird promised 60 acres to the Ottawa Hospital, with no consultation, not even with the owner department, Agriculture and Agri-Foods Canada. The Farm is not only a national historic site, but also a globally important agricultural research station. The new federal government has asked the National Capital Commission to re-examine the choice of sites and the criteria by which they would be assessed. Now until October 6th, you can have you say on the criteria and the sites at http://www.ncc-ccn.gc.ca/property-management/what-we-manage/ottawa-hospital-site-review. Please rate criteria that address heritage, research and greenspace highly! Check us out at facebook.com/protectthefarm and on twitter@protectthefarm.
Leslie Maitland Coalition to Protect the Central Experimental Farm Heritage Ottawa
2. National Trust Conference 2016 (Hamilton) - Heritage Rising
Chris Wiebe

Join the National Trust, the Canadian Association of Heritage Professionals, and local and regional heritage partners in Hamilton at the Hamilton Convention Centre, October 20-22, 2016.

Weve created a monster! Heritage Rising will be the largest, most ambitious conference program weve ever put together. Why not dramatically expand your horizons and get inspired by attending Canadas largest heritage learning and networking event?

Can't attend the entire conference? We've retooled the entry points for the conference and you can participate at certain events for as little as $10.00. Check out the conference website to see the many a la carte options for standalone workshops on reinventing places of faith or historic sites, downtown revitalization, and fundraising. You can even purchase a ticket to hear keynote Ry Moran explore the tangible/intangible legacy of Canada's Residential Schools and how this can contribute to reconciliation.

The conference also offers the opportunity to invest in your future by earning professional learning credits or networking with professionals and volunteers from across Canada. We've built in ample opportunities to connect with old friends and make new ones at social events, small group tours and meal breaks.

And oh do we have speakers! Learn from two of the most edgy, visionary thinkers in heritage conservation today. Rodney Harrison of University College London probes the future of heritage, while New Yorks Franklin Vagnone (co-author of The Anarchist Guide to Historic House Museums) examines adaptation. Participate in sessions that get to the heart of thought-provoking topics like the tension between principles and passion in architectural conservation, how to reflect the true diversity of built heritage, urban exploration, and harnessing the power of older places for creative expression.

Last years successful Moh-Kins-Tsis Calgary Indigenous Heritage Roundtable will be followed up in Hamilton by Going Beyond Consultation: Navigating Worldviews in the Search for Meaningful Engagement. Indigenous and non-Indigenous leaders from around Ontario will explore the concrete ways true relationships can be built and nourished over time.

For more information about the conference, visit nationaltrustconference.ca or contact Chris Wiebe (Conference Coordinator) cwiebe@nationaltrustcanada.ca
3. Demolition Decision Due in Old Town Lunenburg
Brian Arnott
On August 15th, the Heritage Advisory Committee of the Town of Lunenburg voted to approve the demolition of a building known as the Anderson Barn. This building is within the Old Town National Historic Site and is only one of two buildings specifically cited for its additional significance within the Towns official heritage protection tool for this area, the Heritage District Conservation Plan. Since the Town itself did not challenge the application for a demolition permit and since the community was given only eight days to respond to the Developers proposal, the Lunenburg Heritage Society petitioned Council and was given an extension to September 27 at which time, Council will make its final decision. The Lunenburg Heritage Society has been actively gathering support for its opposition to the demolition and it will be asking Council on the 27th to deny unconditionally the developers application for a demolition permit.

Brian Arnott
4. We're back!BHN Returns for another Season
Catherine Nasmith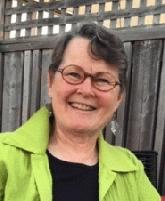 A toast to you from my deck in Toronto
Hi everyone, with the return to school I return to my BHN editor's desk after the usual BHN summer break.
Hoping you enjoy this compendium of the mail that has come my way over the last month or so.
I have been producing BHN for over 15 years, the time has gone by so quickly and over the years there have been about 350 issues, 250 produced since we launched the website ten years ago. I enjoy it, but it is getting harder to find the time, even with all the wonderful material that so many self post here. Having said that, I am conscious that in the time it has been going out, it has become a bit of a small institution in Canada.
These days I am as likely to send links out on Facebook and Twitter as they come in, so if you are not following BHN on Twitter and Facebook, you may be missing some great stories. As well, I post stories to the Architectural Conservancy Ontario website and Facebook feeds.
If you have a minute, please let me know if you open BHN, and read it. If you do, what do you like about it? If you don't you won't see this note!
I am wondering if the time has come to pass the baton to another organization or editor? If you would like to help, or write, or edit or.....if you have ideas about continuing. I would love to hear from you.
Send email to cnasmith@builtheritagenews.ca
5. In Situ: Reawakening The Small Arms Building
Kyle Wyskiel
From the outside, it would be hard to guess that it was constructed in 1941 to assemble and inspect rifles for Canadian troops during the Second World War. It would be easy to forget that it brought a workforce, comprised mostly of women, from all over Canada to work and aid in the war effort. Or that it was the site of Canada's first aerodrome in 1915. These lands and building are a major site in Canadian history and now, 75-years after its construction, its reawakening has begun.
Saved by the wrecking ball in 2009, The Small Arms Building sits vacant, despite being declared a heritage building by the City of Mississauga. The only life left here is that of the birds who fly in through its broken windows. The goal now, for the not-for-profit organization The Small Arms Society, is to rehabilitate, reimagine, reintroduce this historic building back into the community, city and province.
The first step in this feat is to host a three-day multi-arts festival at The Small Arms Building in October. The event, titled In Situ, will feature live music, live art creation and pop up theatre performances from Frog In Hand. Most importantly, the event will bring almost 1000 people into the building from October 27th- October 29th, raising the awareness of the buildings potential and its value.
As for the performances, In Situ has confirmed over 30 artists to perform or create installations for the festival, aided by local bands and DJ. While In Situ is an arts festival, it strongly holds the themes of preservation, imagination and history, threading these elements into the art itself.
In Situ will act as a major catalyst in transforming the abandoned building into a creative hub, a home for the arts, environment, technology and creative collaboration. This event will use the building's second life to foster these elements and create something of value for the community, city and Province. The event will also see designs from Sheridan College architecture students who have reimagined the building and focused its future on sustainability, community engagement and the arts.
Located at 1352 Lakeshore Road East, The Small Arms Building is a tie between the Long Branch and Lakeview communities, two sectors that are continuing to transform and adapt.
For more information about The Small Arms Building and to purchase tickets for In Situ visit: www.smallarmsbuilding.ca
6. Government of Canada Seeking Candidates for the Historic Sites and Monuments Board
CAHP Newsrelease
The Government of Canada is seeking qualified candidates to serve on the Historic Sites and Monuments Board of Canada (HSMBC). As you may be aware, the HSMBC is an advisory body that advises the Honourable Catherine McKenna, Minister of the Environment and Climate Change and Minister responsible for Parks Canada, in exercising her powers under the Historic Sites and Monuments Act, the Heritage Railway Stations Protection Act and the Heritage Lighthouse Protection Act. This advice includes recommendations for the designation of places, persons and events of national historic significance, heritage railway stations and heritage lighthouses.
The composition of the HSMBC includes 13 part-time Governor-in-Council appointees, one for each province and territory. On February 25, 2016, the Right Honourable Justin Trudeau made an announcement with respect to a new procedure for Governor-in-Council appointments, which supports an open, transparent, and merit-based selection process. Candidates are currently being sought for Newfoundland and Labrador, Nova Scotia, Nunavut, Ontario, Prince Edward Island, Quebec and Yukon. Please note that interested applicants must reside in the province or territory they wish to represent.
All relevant information for these opportunities is posted online on the Governor in Council Appointments website: https://www.appointments-nominations.gc.ca. Interested candidates must create an online account, as applications can only be submitted through the online system: https://www.appointments-nominations.gc.ca/lgn.asp?lang=eng. Candidates must apply by September 19, 2016.
For any questions on this process, including the online application, we invite you to review the resources readily available on the Governor-in-Council Appointments website.
Please pass this information on to any contacts or colleagues you feel may be interested in these opportunities.
7. Willowbank Presents: 2016 Stonesthrow Stone Festival
Crystal Bossio, Willowbank
Willowbank is proud to share the details of its 2016 Stonesthrow Stone Festival which will run the weekend of September 30th to October 2nd with additional certification courses on Monday October 3rd. This year's festival will feature a slate of short courses and lectures on traditional building methods, live music, an artisan market and a dance.
Stonesthrow will kick off with an opening lecture by Dominion Sculptor Phil White on Friday Septemer 30th at 1pm at Willowbank's lower campus: 5 Walnut Street in Queenston. As Canada's Dominion Sculptor, the only position of its kind worldwide, Phil designs and carves statues, portraits and decorative pieces to commemorate Canada's history, people, events and character on Parliament Hill and other government buildings. He is part of a tradition and an evolution of parliamentary sculpture. Admission is $10, with tickets available at the door.
The opening lecture will be followed by a public dance at 7pm featuring a live local band and local food and drink. Admission is $10 with tickets available at the door.
This year's stone festival builds upon previous festivals with great short course offerings on topics related to stone and other traditional building methods. This year's offerings will include:
Introduction to Dry Stone Walling (2 days) w/ Master wallers Dean McLellan and Phil Dolphin
Introduction to Stone Carving (1 day) w/ Danny Barber of Smith and Barber Atelier
Advanced Stone Carving (2 days) w/ Nicholas Fairplay, Master Stone Carver
Introduction to Plastering (1 day) w/ Johnny Doran of Acanthus Heritage Plastering
Historic Mortars and Lime Burn (2 days) w/ Keith Blades, Stone Conservationist
Introduction to Blacksmithing (1 day) w/ Lloyd Johnston, 5th generation Blacksmith
For those who are looking to gain their UK Certifications in dry stone walling, Monday October 3rd will feature both Level 1 and Level 2 certifications by Dean McLellan and Phil Dolphin.
Not interested in short courses? Come and take a wander about our historic campus on
Saturday, October 1st and enjoy an artisan market and an open air musical line up along with food trucks and craft beer.
For more information or to register for a short course please visit our website at
stonesthrow.willowbank.ca
8. Demolition Hearing in Old Town Lunenburg
Brian Arnott
On August 23 2016, the Town of Lunenburg will hold a hearing to consider the application by a property developer to demolish a heritage structure on Pelham Street in Old Town Lunenburg.
The Anderson Barn (1870) is a double garage-size residential lot barn associated with a residential heritage building, the Maple Bird Anderson House. Historically, utility buildings such as this barn were a common feature of the townscape and the Anderson Barn is thought to be the last remaining example.
The Town's Heritage By-Law does not require a Certificate of Appropriateness or a public hearing for applications to demolish outbuildings in Old Town except for two specifically noted structures -- the Anderson Barn and the Benjamin Knock Cobbler Shop.
In 2009, the Town's support of the application for demolition of the Bachman Barn on Cumberland Street deeply divided the community. The cost and effort of opposing the Town's decision before the provincial review board decimated the Lunenburg Heritage Society, the local community advocacy organization. The review board ruled in favour of the Town and the barn was demolished.
Old Town Lunenburg is one of only two urban UNESCO World Heritage Sites in North America (along with Old Town Quebec) and it is also a National Heritage Conservation District.