NEWS | ACTION
1. HOLD THE DATE - September 12 - A TOAST TO YORK SQUARE - September 12, 2017
2. Follow BHN of Twitter and Facebook
3. Please sign Petition to Save 401 Richmond
4. Please Sign Petition to Save Davisville School
5. The Moccasin Identifier Project is Launched

submit a news/action item
1. HOLD THE DATE - September 12 - A TOAST TO YORK SQUARE - September 12, 2017
Catherine Nasmith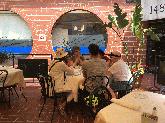 Recent Lunch in York Square, masonry is in perfect condition and food terrific
Depending on what the OMB decides about the future of Toronto's York Square, (Yorkville and Avenue Road) there may not be too many more chances to visit. If you can, go have lunch in the square over the next couple of months, it is one of the great Toronto experiences and could go any minute.
ACO Toronto is putting together a celebration, (hope its not a wake), of York Square. On September 12, from 5:30 to 7:30 we'll be partying in the square, rain or shine. You are invited to wear what you were wearing in the 70's. If you are too young to remember look at old pics....We'll be shooting video.
Drinks and snacks from Il Posto Restaurant. Put in your calendar now, details to follow.
2. Follow BHN of Twitter and Facebook
Catherine Nasmith
As as subscriber you will be aware that there have been fewer editions of BHN lately. This is because increasingly news is shared on Facebook and Twitter.
If you are not already following BHN of Facebook and Twitter, I hope that you will.
For Facebook, go to https://www.facebook.com/builtheritagenews/ and while you are there, please Like!
For Twitter follow https://twitter.com/BHN_cn
3. Please sign Petition to Save 401 Richmond
Phil Tucker
401 Richmond Street West is a restored, heritage-designated, industrial building turned arts-and-culture hub in downtown Toronto. It is home to over 140 artists, cultural producers, social innovators, microenterprises, galleries, festivals, and shops.
Now looming property tax increases threaten to price tenants out of this long-time sanctuary for dozens of Toronto's non-profit cultural organizations. SIGN HERE
4. Please Sign Petition to Save Davisville School
ACO Toronto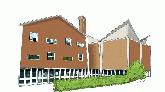 Sketch by Stephen Yeates
BHN subscribers will be aware of the challenges in saving the Mid-Century Masterpiece, Davisville Junior School. It has recently been added to the National Trust for Canada's Top Ten Endangered List for Canada....the school trustee's response to this national embarassment was "who cares". SIGN HERE
5. The Moccasin Identifier Project is Launched
Catherine Nasmith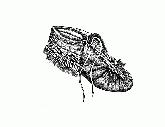 Phillip Cote Moccasin Design
Moccasin design in Granite at Ontario Place
June 21 is National Aboriginal Day, coinciding with the longest day of the year. What does that mean for Canadians post Truth and Reconciliation Commission? What does it mean to cultural conservation organizations? What to do on June 21? What to do every day?
The Moccasin Identifier Project (MIP) is a beautiful, gentle idea created to teach non-indigenous Canadians whose territory we are on. Founded by former Mississaugas of the New Credit chief, Carolyn King, the project consists of stenciling marks of the moccasins of Indigenous Peoples. As Carolyn King said in a recent presentation of the MIP, "We all have different moccasins." Her hope is that over time stenciling these marks will become an annual event in school yards across Ontario as a way of teaching the history of the land we share. Marked in chalk, the disappearing moccasin marks represent those who are still here, yet who left no permanent marks, people who lived lightly on the land.
Even though the project is still in development stages it is having an quite an impact. In Toronto last week it appeared three times, in permanent and disappearing forms. At the entrance to the newly opened William Davis Park at Ontario Place, deeply carved into granite of the Canadian Shield are much, much, larger than life moccasin stencils. Ms. King describes the Ontario Place installation as the formal launch of the MIP. Also carved into stone is the phrase "Walk Gently on the Land," in French and English, but not in an indigenous language. Hope that is coming soon…
At the sidewalks to Fort York, prints have been stenciled in black paint.
ACO Toronto, (I am President) recently partnered with Heritage Toronto, the City of Toronto, Heritage Toronto and MIP to bring the stenciling project to Nathan Phillips Square. The stenciling co-incided with the launch of five flags representing the five Indigenous Peoples currently present in Toronto, Mississaugas of the New Credit, Six Nations, Huron-Wendat, Métis, and Inuit as well as a sunrise ceremony on June 21. MIssissaugas of the New Credit are the treaty people of Toronto. To bring the MIP to Toronto City Hall, we were asked to have stencils representing all five groups. We were limited to using materials that would leave no permanent mark on the square. Artist Phillip Cote created several new stencil designs. We opted for the tempera paint used by school children.
A small party arrived to start the night of June 20, to stencil up the ramp so that participants the next morning would see the stencils as they moved from the flag area at the bottom to the members lounge at the top. We made it half way up, and then hastily photographed the results as the rain hit and washed the marks away.
So was that a waste of time and effort?
No… everything teaches you something. We need to refine the materials to make marks that are a little less ephemeral and that can allow more to participate in stenciling exercises. The more important lesson was that stenciling is not so much about making marks, but what one is thinking about while doing it: the people each stencil represents, thinking about what it means to all of us to share the land and restore fairness to our relationships.
Mayor John Tory mentioned the MIP in his remarks and looked around for the stencils as he spoke. Afterwards we explained to him what had happened, and that we hope to find a way by next year to be able to invite more people to participate in blanketing the square with moccasin stencil marks that last just long enough for contemplation and celebration.
ACO Toronto is honoured to be able to partner with the MIP.