NEWS | ACTION
1. Willowbank Launches Stone Conservation Field School at Sainte-Marie among the Hurons National Historic Sit
2. Extending Protection for Built Heritage in Toronto
3. Follow Built Heritage News on Twitter and Facebook

submit a news/action item
1. Willowbank Launches Stone Conservation Field School at Sainte-Marie among the Hurons National Historic Sit
Nancy Oakley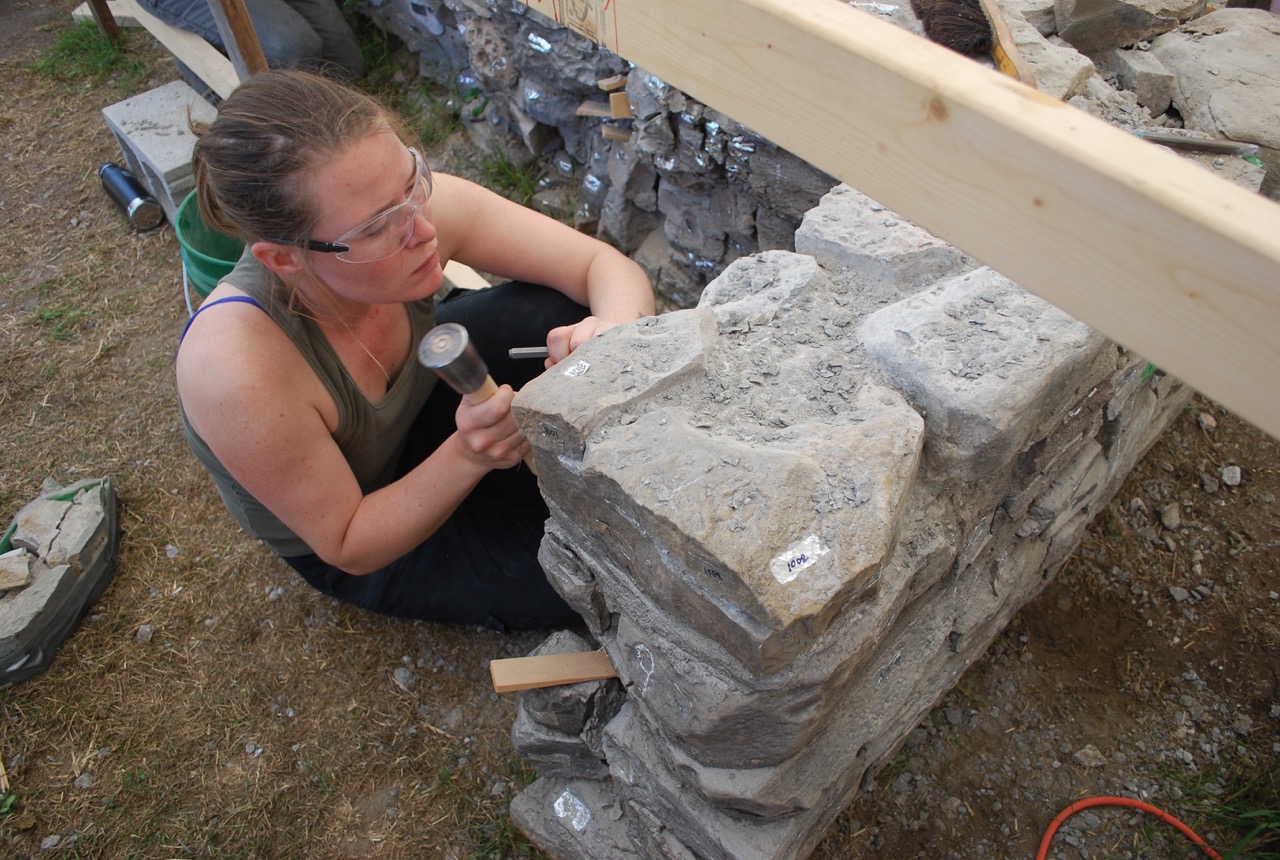 Queenston / Midland, Ontario, Canada ? February 23, 2017

Willowbank is pleased to announce it will run a three-week field school at Sainte-Marie Among The Hurons in Midland, Ontario, from June 10 to June 30 2017. Recognized as one of the first sites of contact between the Wendat peoples and settlers, Sainte-Marie among the Hurons is a National Historic Site dating to the 1600s and is part of Huronia Historical Parks run by the Province of Ontario. The collaboration between Willowbank and Sainte-Marie among the Hurons will be an immersive educational experience and will focus on materials conservation and the interpretive narrative of the site.

The launch comes during the 10th anniversary year of Willowbank, as well as the 50th anniversary of the reconstruction of the Sainte-Marie among the Hurons site, and is a special endeavour that aligns with the lead-up to the Canada 150 celebrations taking place this summer.

"This field school allows Willowbank to develop conservation skills training through a cultural landscape lens here in Ontario," said Crystal Bossio, Executive Director of Willowbank, "we have collaborated on international field schools in the United Kingdom and Italy and we are incredibly pleased to open our first field school in Canada."

The field school will focus on the conservation of the 1639 stone fireplace remains located on the site. It is the earliest European masonry located in Ontario and together with other archaeological remains, form the basis of the National Historic Site designation.

"The approach, selection of materials and the implementation of repair techniques present particular challenges, where compatibility, reversibility and durability all have to be carefully balanced in order to achieve a viable solution to the long-term preservation of the stonework," stated Keith Blades, a Willowbank faculty associate and one of Canada?s leading stone conservationists, who will lead the field school this June.

Keith has been involved with the conservation of the original stonework at the Saint-Marie among the Hurons site since the mid-1990s and led a team of Willowbank alumni and students on the conservation of one of the fireplaces in the summer of 2016. That project was carried out in conjunction with Philip Hoad, another Willowbank faculty associate, Director of Empire Restoration.

Willowbank is an advanced private educational institution located on the Canada-U.S. border in Queenston, Ontario. Bringing an entirely new approach to learning, Willowbank runs a three-year diploma program that champions an interdisciplinary approach to heritage conservation, and is generating graduates able to integrate sustainable development, traditional knowledge and contemporary design. Willowbank?s School is complemented by the work of the Willowbank Centre for Cultural Landscape, which aims to understand the complex connections between natural and cultural heritage. The institution has also given dynamic new purpose to one of Canada?s National Historic Sites, the heart of Willowbank?s campus, and one of the world?s most unique classrooms. Willowbank has enjoyed the patronage of His Royal Highness The Prince of Wales since 2014.

Willowbank's stone conservation field school at Sainte-Marie Among The Hurons will run from June 5 to June 30, at the Sainte-Marie Among The Hurons site. To register or for more information on the field school or on Willowbank's three year diploma program, please visit www.willowbank.ca. For more information on the Sainte-Marie among the Hurons site and Huronia Historical Parks, visit: www.hhp.on.ca.
-30-

CONTACT

Nancy Oakley
Director of Education, Willowbank
nancy.oakley@willowbank.ca
905-262-1239 ext. 206
2. Extending Protection for Built Heritage in Toronto
Geoff Kettel

BMO Bank site following demolition photo by Linda McCarthy
The tragic demolition of the BMO Bank building in North Toronto was followed by intense media interest and public outrage. But it also led City Council to waste no time in passing a Motion calling for changes to Ontario legislation in order to speed up the listing and designation process. It happens that Bill 68, Modernizing Ontario's Municipal Legislation Act is in Second Reading in the Legislature, and therefore there is an opportunity for the City to request amendments when it goes to Standing Committee for public hearings.
The Motion directs that any City of Toronto submission to a Standing Committee on Bill 68 include the Ontario Heritage Act as a listed Act under Section 21(2) of the City of Toronto Act (COTA), which would permit delegation to a standing committee (like the Toronto Preservation Board) or a City Official (like the Chief Planner) of the powers to list and designate property under the Ontario Heritage Act. In addition the Motion requests that the Province enact a provision that allows the City to enact by-laws that provide for control of demolition of non-residential buildings. Right now in the case of non-residential property there is no requirement for a replacement building that has planning approval before demolition is permitted.
In order for these changes to be approved two things are required: (1) Toronto's request for amendment of COTA must be accepted by the Standing Committee of the Ontario Legislature as part of Bill 68, and (2) Bill 68 must be passed by the Ontario Legislature (if part of a government bill it is quite likely that this would happen)
These changes are vitally needed to ensure that the BMO building is the last building to be unceremoniously demolished in this manner. So what next? Heres what you can do: (1) write your MPP to ask for their support for the City of Toronto requested amendment to Bill 68, and (2) when Bill 68 goes to Committee, consider registering as a deputant in support of the amendment being accepted by the government and passed by the Legislature.
3. Follow Built Heritage News on Twitter and Facebook
Catherine Nasmith
Subscribers may notice that Built Heritage News has been published less frequently, but in between I regularly post to the ACO Facebook Page, as well as Built Heritage News Facebook and Twitter streams. Recently a Facebook Post reached 20,000 people, quite a reach. You may want to follow:
FACEBOOK https://www.facebook.com/pg/builtheritagenews/posts/

TWITTER https://twitter.com/BHN_cn
Here are instructions on how to follow a twitter feed - https://support.twitter.com/articles/162981