NEWS | ACTION
1. Architectural Conservancy Ontario Goes to Queen's Park
2. HURRAH Better Searches on Biographical Dictionary of Architects in Canada
3. Clarendon Wood Pickering: Architect Unknown A Royal Whodunit-
4. Province applies to Destroy early 19th Century Whitevale Heritage
5. Prince of Wales Prize for Municipal Heritage Leadership - Call for Nominations

submit a news/action item
1. Architectural Conservancy Ontario Goes to Queen's Park
Catherine Nasmith, President ACO Toronto
42 representatives of Architectural Conservancy Ontario celebrated Heritage Week by visiting our MPP's. We obtained appointments with 27 Members of Provincial Parliament, 25% of the members, and have also been able to meet subsequently with a few more.
President Richard Longley wrote post event, "those meetings went extremely well and practically all MPPs expressed an appreciation of the value of built heritage and heritage landscapes in their constituencies.
We were also able to present ACO's case that the Province needs to do more to encourage municipalities who are reluctant to apply the Ontario Heritage Act. It was confirmed to us that there is considerable resistance on the part of the Ministry of Tourism, Culture and Sport to "interfering" with municipalities, even when all that may be required is encouragement.
ACO's Heritage Day at the Legislature was not a lobbying expedition; nevertheless, certain problems that have vexed ACO for years, such as the destruction of the old port of Port Dalhousie to make way for a re-development that has yet to be started, were raised.
We also learned about local concerns that ACO might take an interest in and opportunities to better integrate heritage consideration into various pieces of legislation as they are undergoing a ten-year review." http://www.mah.gov.on.ca/Page10882.aspx
It took quite a bit of co-ordination, including changes and new appointments coming forward on the day. Luckily Linda Schultz our scheduler was up to the task. All who participated felt it was worth while, and we hope to repeat the event next year.
The big lesson of the day was heritage has friends in all the political parties, so keep in touch with your local MPP. Most MPP's spend Friday morning meeting with their constituents, so get on the list!
Editor's Note: Can't resist pointing out that Ontario's provincial government is hands off municipalities when it comes to heritage, but runs roughshod over municipal concerns when it comes to green energy projects....??
2. HURRAH Better Searches on Biographical Dictionary of Architects in Canada
Catherine Nasmith
With this little note from Robert Hill, the diligent scholar behind Biographical Dictionary of Architects in Canada, the search for information on who built what in Canada just became easier.
"A quick note to tell you that our Dictionary website has now been redesigned with new search features that will enable all users to quickly find information relating to more than 80,000 citations which we have included within nearly 2,300 entries. You can now search our Dictionary website by using two word or three word combinations including:
TOWN & CITY NAMES: such as "Grand Forks", or "White Rock", or "Shawnigan Lake", or "North Vancouver", or "Portage La Prairie", or "Port Arthur", or "Fort William"
STREET NAMES: such as "West Hastings Street", or "West 11th Street", or "Connaught Drive", or "Mount Pleasant Road", or "Castle Frank Road", or "Dorchester Boulevard West", or "Spring Garden Road"
BUILDING NAMES: such as "Hotel Europe", or "MacKinnon Block", or "St. Paul's Hospital", or "Royal York Hotel", or "Chateau Laurier", or "Casa Loma"
CLIENT NAMES: such as "Benjamin T. Rogers", or "Robert Dunsmuir", or "Henry Pellatt", or "Peter Lyall", or "Duncan McIntyre", or "Hugh Allan"
If you haven't used this site in the past it covers architects all across Canada. If you are searching to try to find out if an architect designed something, you can punch in the the street name, or the name of the owner and see what comes up. The site is continually updated so if you find information on a building not covered there please let Robert Hill know about it. For example, the intrepid Sandra Shaul recently found a house by Hamilton Townsend in the Toronto Annex that had not been included before. Its in the Dictionary now..
If you haven't used this resource before, start now. And think of Robert Hill's lifelong devotion to the research all across the country that has built this resource. A toast to you Robert!
3. Clarendon Wood Pickering: Architect Unknown A Royal Whodunit-
Victor Russell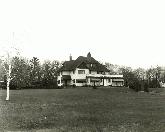 Early View of Clarendon Wood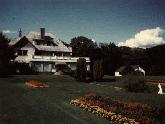 With Gardens
On October 2, 1912 a Toronto newspaper noted that English aristocrats, Lord and Lady Hyde, their two small children, and Lady Hyde's brother, Lord Somers, had moved into a new house on their estate called Clarendon Wood. It was also reported that during the construction of the house in the summer of 1912, Lord and Lady Hyde gave a tour of the property to HRH the Duke of Connaught, the son of Queen Victoria, along with the Duchess of Connaught, also known as Princess Louisa of Prussia. These Royals brought along their daughter, Princess Patricia (of the Princess Patricia Canadian Light Infantry distinction) to view their new, albeit unfinished home.
It happens, however, that the estate was not in some pastoral setting in England a la Downton Abbey; rather, it was in Pickering, Ontario, a few kilometres east of Toronto. The Clarendon Wood property was actually a typical Ontario farm of 100 acres situated at the north end of Liverpool Road, about a kilometre past old Kingston Road. The property was purchased by Lord Hyde upon arrival in Canada in 1911 and was intended to be the permanent family home of the two British Lords and their related families.
After acquiring the Pickering property, Lord Hyde and his extended family moved into a small stone farm house that then existed on the property. But soon after, he commissioned the construction of a new, much grander home. During the construction of the new house, observers noted that Hyde and Somers worked closely with their architect to complete a home suitable "for a family of six, with three servants" and ended up with a large scale, three story house of eighteen rooms. While the English, almost Tudor, influence was readily discernable Clarendon Wood has been described as a large house "of no pronounced architectural treatment … a happy blend of good construction and beauty of design."
Unfortunately, attempts to uncover the name of the architect of record have come up empty. Surprisingly, Mary Agnes Pease featured the home in the October 1934 issue of Canadian Homes and Gardens but does not name the architect that worked with Lord Hyde in 1912. Mary Pease hints that the architect was Canadian when she writes that Hyde and Somers wanted certain "English methods" followed; but, the architect insisted that "differences were necessary because of the rigours of the Canadian climate." Other brief articles have been written by local historians on the property but none have named the architect of Clarendon Wood. Both Lord Somers, the godson son of poet Alfred Lord Tennyson, and his uncle, Arthur Percival Somers Cocks, were members of the Arts and Letters Club of Toronto where any number of established architects were also members; but there is no source that indicates if any of these men designed their lordships' new home.
The outbreak of World War I changed the plans of these aristocratic settlers and most of the entourage immediately returned to England. Lord Hyde, George Herbert Hyde Villiers, became the 6th Earl of Clarendon upon his return to England and he entered the House of Lords. Hyde would later serve as Governor General of South Africa and Lord Chamberlain to the Royal Household. Arthur Herbert Tennyson Somers, Lord Somers, returned to England to rejoin his regiment, the Life Guards, and saw action at Ypres where he was twice wounded. As a Lieutenant Colonel, Somers later commanded the 6th Battalion of the new Tank Corps. For his service, Somers was awarded the Military Cross and the Distinguished Service Order. Somers later became the 6th Baron of Evesham, served as the Governor of the State of Victoria, Australia, and in 1941 he succeeded Lord Baden-Powell as Chief Scout of the British Empire. Arthur Percival Somers Cocks actually joined the Canadian Army and served with the 198th Bn. of the CEF, known locally as the "Buffs" and affiliated with the Toronto based Queen's Own Rifles. Somers Cocks returned to England after the War and succeeded his nephew to the Barony, becoming the 7th Baron of Evesham in 1944.
As for Clarendon Wood, although abandoned by the British nobles in 1914, the property remained unoccupied but cared for until 1922 when it was purchased by Victor Ross as a country home. Ross, a wealthy business man and vice president of Imperial Oil, made few changes to the house, but he did improve the grounds and gardens. He had a pond excavated, fed by Duffin's Creek, and then had a lily pond and sculpture by Florence Wyle added to the front of the house. Lord and Lady Clarendon (formerly Lord Hyde) were known to have visited Clarendon Wood as guests of the Ross family, and later the widow Mrs. Ross hosted Lord Hyde's daughter during her visit to Canada. The Ross estate sold Clarendon Wood in 1948 to the Jesuits and today it is a well- known landmark in the area as the Manresa Retreat Centre.
4. Province applies to Destroy early 19th Century Whitevale Heritage
C. Gordon Wilson
Last night I learned the Government of Ontario (owner) has applied to demolish the home of John Major, founder of our village. I believe the house design is early Georgian and built here not too long after the end of the War of 1812.
Before Truman Pennock White came to the village in 1845, Whitevale was known as the Village of MAJOR for the first 30 odd years of its existence. Major brought the house design with him when he returned from Halifax where he served as an officer in the British Army during the War of 1812. It seems the design was popular on the eastern seaboard on both sides of the border around 1800.
I don't know exactly how many of this style of house design there are in Ontario. I know of six. Four are found in Niagara on the Lake (see Peter Stokes book), one in Grafton Ontario and the other immediately east of our village on historic Whitevale Road. They are all variants of the same design.
There is much suspicion and unanswered questions as to why the government is intent on the demolition of this gem of early architecture... This act of intended destruction is such a betrayal of all the residents of this village who fought to save our architectural heritage over the past 40 odd years. My wife Anna was Chair of Town of Pickering's LACAC and helped shepherd-in the Heritage Conservation District under Part V of the OHA in the early 90's. Recently, the government drastically shrunk the District and now only applies to our village leaving most others, outside its municipal limits, without any protection.
Covered over from view, the front door features a transom light. The portico is thought to have been added sometime in the last 100 years.
If the government, who own most of the homes on historic Whitevale Road and elsewhere on the Seaton city site, can apply to demolish this home, all homes are now at risk.
5. Prince of Wales Prize for Municipal Heritage Leadership - Call for Nominations
Carolyn Quinn, Heritage Canada The National Trust
The National Trust for Canada is accepting nominations for the PRINCE OF WALES PRIZE for Municipal Heritage Leadership. The prize is awarded to a municipal government, large or small, rural or urban, which has demonstrated a commitment to the conservation of its heritage assets.

The Terms of Reference, complete with eligibility criteria, nomination procedures and forms, are available online at www.heritagecanada.org

Submissions are due March 27, 2015.

Questions?
Contact:
Carolyn Quinn, Director of Communications
cquinn@heritagecanada.org
866-964-1066 ext 229
www.heritagecanada.org