NEWS | ACTION
1. 52 McCaul Street: Another Loss to Toronto's Arts Community
2. Coming Soon--Updated Ontario Provincial Policy Statement
3. Measuring The Performance of Places to Grow
4. New Film Released: Regeneration on Main Street
5. Smart Address: Catalogue available for Purchase
6. Persistence and Persuasion Leads to Success in Carrville, Maple Ontario

Saving the old Post Office and General Store


7. Call for Nominations - Prince of Wales Prize for Municipal Heritage

submit a news/action item
1. 52 McCaul Street: Another Loss to Toronto's Arts Community
Kathryn Rowles
Whether it's an artist's studio, or a hole in the wall restaurant, or the unfurnished but hopeful offices of young entrepreneurs — these are the small, bright lights of creativity and inspiration that are the real DNA of a good city. These are the little places that a city protects if it's smart. And that it loses, along with its soul, if it's not.
David McFarlane
Toronto is soon to lose another interesting and useful building that has been home to many creative enterprises over its history.
52 McCaul is a three storey, style-moderne building located in the Grange Park neighbourhood of Toronto.
The building is slated for demolition in the near future, and a 15-storey condominium has been proposed for the site.
Currently, the developers Tridel and Osmington own 52 McCaul and are permitting OCAD University to utilize the space for their Student Gallery and to conduct classes on the upper levels. But that could be over any day now.
This building has evolved into an essential art hub as a result of its past and present occupants and the surrounding art-centric community. To the North there is OCAD University, Above Ground Art Supplies Shop and the Art Gallery of Ontario. To the South there is theatrical costume house, Malabar; as well as the fashion-forward Queen West strip. To the West there is Toronto's famous Graffiti Alley.
Designed and constructed during the depression, 52 McCaul is a record of its time in a variety of ways. Architecturally, it is reminiscent of the 30's, with subtle ornamentation, mainly carved stone, which can be noted on the facade of the building.
The building was completed in 1930 for Hanmer Burt Lloyd, owner of the Sovereign Press Publishing Company. It became the print house of choice in Toronto's tabloid industry, printing popular magazines such as Sports Weekly and the controversial gossip magazine Hush. The Sovereign Press resided in the building until the late 1970's. It was at this time that Flavio Belli Art Gallery became its new tenant and 52 McCaul began its evolution as a notable hub for up-and-coming artists.
It later became home for Prime Gallery, which flourished in the space from 1992-2008. The building was occupied for Toronto's 3rd Annual Manifesto Festival in 2009, at which time the stunning mural by street artist Nunca was painted on its south exterior wall. This wall has become a destination point for tourists, especially street-art aficionados. There is also notable graffiti art by Roadsworth on the building's north wall.
During this same period, Steve Ferrara and Lisa Martin of the grass roots organization "Well and Good" took occupancy of the building. They were also joined by curators Teresa Aversa and Charlie Irani and collaborated to create an exhibition space. Their other important service was to act as a resource for local artists and to stage artistic events to support them. This organization received accolades. Described as a "social experiment", it acted as a "community of sorts, displaying and supporting artists at all levels of their careers…trying to find new ways and a new business model for consuming and engaging with art."
Unfortunately, the organization encountered on-going struggles to maintain occupancy within the building. Eventually, the struggles ended and the organization left the space in 2012.
The removal of this building will be a loss for the Grange Park neighbourhood, and to the Toronto arts community.
Editor's Note: There is more than enough here to warrant designation and preservation, but not enough municipal resources to keep all the valuable buildings out of the demolition stream. Existing buildings have utility, and create opportunities. Buildings are not Garbage. The Heritage Act is a crude tool to apply to what is essentially an environmental problem, but its all we have for now.
2. Coming Soon--Updated Ontario Provincial Policy Statement
Catherine Nasmith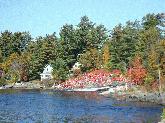 Bala Citizens Arguing for Protection of A Significant Landscape and its Views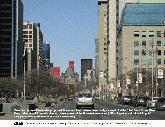 The kind of study needed to consider the impact of development on heritage views
Now that's a dry title....but wait, there are important gains for heritage in the new Provincial Policy Statement which comes into force on April 30, 2014. http://www.mah.gov.on.ca/Page10679.aspx
It has taken four years to do a five year update of the 2005 PPS but the long awaited new Statement makes it possible to better preserve the context around a heritage property, with consideration of views to and from, as well as the impact of development on adjacent properties. It will also deal better with intangible heritage values in the planning system.
The section with most relevance for heritage is section 2.6. Cultural Heritage and Archaeology, which now has five statements instead of three. There is new emphasis on cultural planning, aboriginal consultation and archaeological conservation.
The biggest changes are in the definitions, cultural heritage landscape has been expanded to more explicitly include emphasis on aboriginal communities and places with special cultural meaning or association. Heritage attributes may include the property's built or manufactured elements, as well as natural landforms, vegetation, water features, and its visual setting (including significant views or vistas to or from a protected heritage property).
To fully protect such heritage attributes they will need to be identified as such in heritage planning processes along with companion statements in Official Plans. Many communities are already putting in place the necessary measures to do this, but there is no doubt much more can and should be done to preserve Ontario's important places.
The good news is we will soon have a few more tools to do just that.
Editor's Note: In the CRB hearing regarding Bala Falls a year ago, I argued for protecting the views identified in the Designation Statement from the property, however the CRB decision was moot on whether views to and from could be protected. Now it is clear they can be.
3. Measuring The Performance of Places to Grow
Catherine Nasmith, President of Toronto Architectural Conservancy
The Minister of Infrastructure has just announced a public consultation on the Places to Grow program with a "draft" document that sets out 12 performance indicators to evaluate the program.
https://www.placestogrow.ca/index.php?option=com_content&task=view&id=403&Itemid=100
Launched in 2006, designed to redirect development away from green fields and towards urban centres and public transportation networks, Places to Grow has been a bonanza for the province's development industry.
In 2007, a resolution (full text follows) went from the Ontario Heritage Conference in Guelph expressing concern that the legislation's only mention of heritage was "conserve where feasible", not the "shall be conserved" language of the Provincial Policy Statement. That was a dead letter, but now is the time to write again.
Just for fun, open the performance indicators document and do a word search for heritage, or historic, or impact on small businesses, or any of the things that support the creative city or urban diversity. You won't find those. There are lots of nice pictures of historic urban centres, which I understood to be the objective of Places to Grow, but instead of creating a modest re-urbanization, Places to Grow is obliterating traditional urban fabric. Ask Al Carbone about the impact on Toronto's restaurant row.
If Places to Grow has cost your community a treasured landmark or small business let the Minister know. Alternately, if your community has been able to successfully direct development energy where it will be helpful it would be good to know that too. Guelph and Oakville have put in place planning to direct development away from heritage environments, has that worked?
The program's over achievment in central Toronto is evident in all the diagrams, but driving out of Toronto it is hard to see any slow down in sprawl.
If you have ever gritted your teeth through an OMB hearing listening to arguments suggesting that intensification trumps all other planning considerations, whether it's ugly architecture, overwhelming existing transportation systems, a monoculture of development types, poor recreation facilities, shadow impacts, wind impacts, horrid public realm or immolation of heritage buildings, you won't find much comfort in the proposed evaluation measures. As bureaucrats are prone to do, the measures are set with the applause meter all ready cranked up to "We're doing great!"
For example, "Build Compact and Efficient Communities" which seems a good goal, is being measured by the number of new housing starts in various communities, a measure that fails to record what makes great communities livable or interesting, and what is being lost as it is replaced by monoculture redevelopment.
But perhaps I am war weary writing from downtown Toronto where the endless condo boom is resulting in hardly a street without several cranes, blocked roads, howling winds, snow-drifts against plywood hoardings and chain link fences where main street buildings used to be. When the hoardings come down…no surprises…another tower only the rich can afford, with the requisite Shopper's Drug Mart, or papered up retail space replacing the former Mom and Pop local businesses. The latest small business casualty was a personal favourite, the Cookbook Store on Yonge Street.
The Ministry of Infrastructure is asking the public if they have the performance indicators right. If the performance indicators don't include small business start ups, conservation of built fabric, preservation of diverse urban environments, or supply of affordable housing, then we are not getting a full picture of how this program has impacted our communities.

Resolution from 2007 Ontario Heritage Conference
4. Places to Grow: Protection for Heritage Resources in Identified Communities
Whereas the valued built heritage resources within the 25 growth centres identified in the 2006 Places to Grow Act and other potentially identified growth centres are at significant risk due to the requirements of this Act, that the Ontario Government immediately commit $6.5 million for the preparation of Heritage Master Plans and the preparation of Official Plan Heritage Conservation Policies for each centre.
Whereas the conservation objectives in the Growth Plan require conserving cultural heritage only "where feasible" and this is not consistent with the public policy statement which requires that significant built heritage resources be conserved, and whereas "where feasible" is not defined in the Growth Plan, that the Ontario Government remove the words "where feasible" from section 4.2.4 (e) of the Growth Plan.
4. New Film Released: Regeneration on Main Street
Heritage Canada The National Trust Release
February 27, 2014 -- Heritage Canada The National Trust (HCNT) is pleased to announce the release of its new film, Regeneration on Main Street, which highlights the accomplishments of four Saskatchewan communities participating in the province's Main Street Saskatchewan Demonstration Program.
The film, directed by Saskatchewan film-maker Jack Walton, illustrates how the towns of Indian Head, Maple Creek and Wolseley and the City of Prince Albert are successfully implementing a dynamic and energizing program that leverages local heritage and cultural assets to generate economic, social and cultural activity and improved quality of life.
"Regeneration on Main Street showcases our proven Main Street approach," said Natalie Bull, HCNT executive director. "But the real stars are the townspeople – from school children to newcomers to long-time residents – whose grass roots energy and volunteer efforts are transforming their communities."
Over the years, HCNT's Main Street® program has benefited hundreds of Canadian communities, and generated longstanding active programs in Alberta and Quebec. Since 2009, HCNT has been working with the Government of Saskatchewan's Ministry of Parks, Culture and Sport to bring the Main Street® approach to that province.
Regeneration on Main Street had its Canadian premiere in Saskatoon at the Heritage Saskatchewan Forum 2014. The film was made possible by support from the Government of Saskatchewan, SaskCulture, Main Street Wolseley and Main Street Indian Head.
To view Regeneration on Main Street, click
http://www.youtube.com/watch?v=Kdl_s76cWB4&feature=youtu.be
Main Street® is a registered trademark of Heritage Canada The National Trust.
Interested in starting a Main Street program or learning more about the Main Street approach? HCNT can provide coaching, training, tools and resources on a fee-for-service basis.
For more information contact:
Jim Mountain
Director of Regeneration Projects
613-237-1066 ext. 226
jmountain@heritagecanada.org
Editor's Note: As governor for Ontario, I can say how excited I am about the possible launch of a similar program in Ontario. Watch this space.
5. Smart Address: Catalogue available for Purchase
Alec Keefer
Smart Address, the catalogue of the superb, recently closed show on Art Deco Toronto with some side trips to the history of Mount Pleasant and Chorley Park is available for purchase from the Toronto Architectural Conservancy c/o Toronto's First Post Office for $20.00 plus taxes and shipping and handling, or you can pick up from the Market Gallery in person.
To order contact Janet Walters tfpo@total.net
Retailers can arrange a wholesale rate by contacting Ms. Walters.
6. Persistence and Persuasion Leads to Success in Carrville, Maple Ontario

Saving the old Post Office and General Store


Ann Crichton-Harris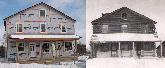 Before and After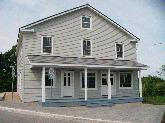 After
In November of 2004 I was upset to read in The Toronto Star of the burning of Thomas Cook's 1833 house in Carrville. The house had been empty but a decision about its future was imminent. "Pre-development fires, arson presumed" the detective said.
If one more Carrville property were to be destroyed, the village history would vanish. I had an emotional attachment: from 1961—1979 my family also lived in that house.
In 2008 a friend in Maple called to say the old post office was boarded up, graffitied and looked ready for demolition.
Tomorrow, The City of Vaughan, is awarding both Mrs. Eluned MacMillan and me an Ontario Heritage Award for our work to save the 1845 Carrville Post Office and General Store, also constructed by Thomas Cook. We are pleased the town of Vaughan will plaque the site, but for now the building is neither Listed nor Designated and we continue to work on this aspect.
The village of Carrville was a thriving community with a general store and post office, church, school, cooperage, two mills and at least two fine homes. Thomas Cook's handsome brick house at the end of winding lane had marble fireplaces and a widow's walk on top. In 1833, Thomas and William Cook bought the Fisher Mill and land, Concession 2 on Carrville Road, Maple. In 1838 Thomas added a saw mill on this tributory of the Don River. Thomas was a respected entrepreneurial citizen and his business prospered. Wanting an outlet for his flour and lumber, in 1845 he built a large wooden general store and later incorporated a post office. The post office moved in 1919 and the building was bought by an Italian immigrant, Luigi Del Brocco, as a home for his expanding family.
2008 initiated my campaign to save this developer owned building. Success took six years. There were three key points:
First: My collaborator, Mrs. MacMillan, deeded her 120 acres and 1847 brick farmhouse (built by Thomas's brother, William) to the Nature Conservancy. Her property is part of the village of Carrville.
Second: 'The Italian Connection'. The Del Brocco family who lived for thirty-one years in that Post Office were the first Italians in Vaughan. This was Italian heritage, and we urged them to preserve it. Vaughan Council is predominantly Italian heritage, as is the developer in question.
Third: My involvement. If you care passionately about something, you will probably succeed.
The work to keep vandals and squatters out was an occupation in itself. Finally, Council suggested better fencing which proved the temporary answer. The heritage survey advocated for preservation and an architect hired by the developer, using the Del Brocco photos, drew up final plans. Because of a road widening, the building had to be moved back and set on a newly poured basement—an enormous and expensive operation. The interior will be built to suit and suggestions for finding a tenant are welcome.
The developer, Mr. Rudy Bratty, expressed his thoughts at our celebration in September saying his involvement was an act of charity. If this is so, we are grateful for charity.
Editor's Note: Congrats to both, Vaughan is a place where heritage buildings disappear far too often. It is a pity the building was renovated without much concern for the original heritage fabric. Designation would have helped, but nonetheless a record exists which would permit future restoration.
7. Call for Nominations - Prince of Wales Prize for Municipal Heritage
Carolyn Quinn
Heritage Canada The National Trust is accepting nominations for the Prince of Wales Prize for Municipal Heritage Leadership.

Under the generous patronage of His Royal Highness The Prince of Wales, this prize is awarded to a municipal government, large or small, rural or urban, which has demonstrated a strong and sustained commitment to the conservation of its historic places.

The Terms of Reference, complete with eligibility criteria, nomination procedures and forms, are available online. The deadline for submissions is March 14, 2014, so dont delay!

Visit: https://www.heritagecanada.org/en/get-involved/awards#POW

For further information:
Carolyn Quinn, Director of Communications, cquinn@heritagecanada.org
Telephone: 613-237-1066 ext. 229; Cell: 613-797-7206