NEWS | ACTION
submit a news/action item
1. Happy Back to "School" Day
Catherine Nasmith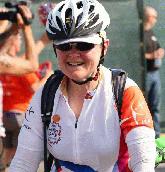 Crossing the Finish Line after 600 km, Toronto to Montreal, August 1
Hi everyone,
Hope you had a great summer and are refreshed getting back to work, or school.
I'm back at my desk in Windermere, where I have been working most of the summer, ready to go at it full bore. Summer projects included work here on our ice house, the last of our buildings to be restored, and working with Sheena Sharp and Coolearth Architecture on a building condition, cost estimate to restore buildings at Bolton Camp.
A highlight of the summer was doing the Friends for Life bike Rally, 600 k from Toronto to Montreal through some of the most historic areas of Ontario and Quebec.....wonderful waterviews, and tons of interesting heritage buildings along the route. Its an amazing way to experience the country, great pace, and one comes to understand the terrain very well! A highlight was taking the ferry from Prince Edward County to Adolphustown our camp site on the second night.
My schedule of volunteer meetings and projects come back full force with meetings of the ACO Toronto Branch, ACO Council and looking forward to the Heritage Canada conference at the end of the month.
On Monday, September 8th I will be part of a panel discussing the future of the former GTR buildings in Stratford, hoping the Council will start to think a bit differently about this critical downtown property. (See Events)
Hope all is well with you, and that you will continue to forward interesting stories and events, or better yet, self post them to BHN. The keys are on the website, or at the side of any newsletter.
Cheers,
C.