NEWS | ACTION
1. Personal Message from Catherine Nasmith
2. OMB Blockbusting Decision for Toronto's College Street
3. York Square Designation Moving Forward at Last
4. The National Trust Congratulates Saskatchewan on Renewal of Main Street Program

submit a news/action item
1. Personal Message from Catherine Nasmith
Catherine Nasmith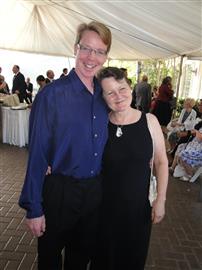 Catherine Nasmith and brother Carl Stryg
From July 27-August first I will be riding 600k from Toronto to Montreal in memory of my brother Carl Stryg. I am just short of my goal of raising $20,000.00, and in second place in fundraising. Riding is a comfort through a difficult time, providing quiet time to reflect.
Many BHN readers have been generous in their support of this endeavour, and that support has touched me and my family mourning a much loved and very special person.
Gary Miedema of Heritage Toronto recently wrote in a note of condolence, "Before my time, Karen recalls him as lighting up the room with his excitement after winning the HT Commendation in 2001. He made an impression, clearly, as someone for whom that award meant a great deal. I remember him similarly. He approached me for a plaque for the building shortly after I began at HT. His enthusiasm for heritage conservation was infectious and welcoming. He was gracious. He gave me a tour of his wonderful building, which I still recall to this day. I was so impressed with what he had done, but equally impressed with him. He was like a kid in a candy shop. A bundle of positive, infectious energy."
If you were thinking of supporting this ride for the Toronto People with Aids Foundation but the email slipped down the page, here's the link.
2. OMB Blockbusting Decision for Toronto's College Street
Catherine Nasmith
Rendering showing development in context, including Lillian Smith Library
When I argued at Queen's Park in favour of Rosario Marchese's bill to free Toronto from the OMB, I was accused of hyperbole in saying that the OMB blockbusts neighbourhoods.
In my follow up remarks to the Committee members I spoke about the imminent potential for the OMB to make a decision that would erode the character of the Queen's Park and University Precinct, an out of scale development at College and Huron Streets. The Bill went down to defeat, followed by an electoral defeat for Marchese, its champion.
The OMB decision on College Street was released in June and blockbusting is exactly what Toronto got.
As fights before the OMB go, this one had a shot at winning. Toronto City Council and a large consortium of residents were lined up against University of Toronto and a private developer over a proposed 24 storey student housing project on the south side of College Street, just east of Huron Street. The community, and the City led by Councillor Adam Vaughan pulled out all the stops to try to hold the line against development pressure for high rise in this historic neighbourhood. The case is critical to the future of all of the modestly scaled buildings along College Street.
The street is characterized by the existing warehouses and University of Toronto 19th century academic architecture. On the north side of the street buildings are set back with lawns and plantings, on the south side a more urban approach with buildings right up to the sidewalk. Nothing on the south side is more than 4-5 stories. Its history is tied to the Baldwin family, and early development of Queen's Park, University of Toronto, University Avenue, and College Street. The civic planning and dignity is evident, but no longer carefully articulated or protected in planning documents. The beautiful Lillian Smith Library by architect Phillip Carter represents a brilliant reading of the architectural context, but such readings are not required of development. Much of U of T is protected, but little of the adjacent neighbourhood.
The Architectural Conservancy Ontario, Toronto Branch (ACOTO) has recently completed a book detailing the history of the industrial architecture along the street in hopes of preservation. Futile exercise. The OMB's decision to permit 24 stories in the middle of this row guarantees the 19th century fabric will go down for high-rise development in the near future, in fact the OMB decision sets this development out as an appropriate precedent for future development.
The City is desperately playing catch up to try to get a new zoning regime for the area, but it will inevitably be too little too late. A report will get to the new Council in the new year, but this OMB decision has already made that effort moot.
Click here for the full text of the decision.
3. York Square Designation Moving Forward at Last
Catherine Nasmith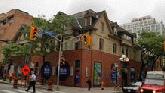 York Square, Diamond and Myers, 1969
At the June meeting of Toronto East York Community Council at long last the motion to designate York Square was passed unanimously. York Square, at the corner of Yorkville and Avenue Road was one of the earliest projects of the firm Diamond and Myers, and revolutionary in its day.
It was the first project to combine new and old, to carve a piece of urbanity out of old buildings, and add a new face to it. It set the tone for so many other developments in then "hippie" Yorkville.
In 1969 the prevailing wisdom for downtowns was to demolish and start over. This project reflected the wisdom of Jane Jacobs, a newly arrived Torontonian at the time. York Square was done before there were any laws to encourage preservation, and it was published in at least eight international journals. It received 12 pages in the Japanese journal, A+U, 8 in Progressive Architecture. It was revolutionary, not just in Toronto but internationally. Diamond and Myers went on separately to found two of Canada's best architectural firms, and continue to export great work and ideas around the world.
York Square received less publicity in Canada….isn't that just like us. Somehow Canadians are a bit bashful about saying, we got this right, and we are proud of it! Toronto spends so much of its time looking over its shoulder, as if it is impossible that something important might happen here. But it did, and it still does, every day.
Toronto East York Council had deferred the designation several times at the request of a new property owners who wanted time to put together a design. As I said in my deputation, "the schemes so far have saved not one brick from this project." I asked Community Council to show that it is serious in wanting to protect this internationally significant, yet modest, project. And they did!
A working group will be struck to try to come to some agreement on the future of the site.
4. The National Trust Congratulates Saskatchewan on Renewal of Main Street Program
Heritage Canada The National Trust Release
Ottawa, ON July 15, 2014 – Heritage Canada The National Trust is pleased to announce that Saskatchewan's Ministry of Parks, Culture and Sport has recently renewed Main Street Saskatchewan and established it as an on-going program. The new Main Street Saskatchewan program is accepting applications from communities by September 5th for its Accredited and Affiliate levels of participation.
Heritage Canada The National Trust's trademarked Main Street® program is a comprehensive and proven community revitalization strategy that empowers elected officials, merchants, residents and other citizens to shape the destiny of their downtown, capitalizing on the community's unique identity, historic buildings and cultural traditions as ready-made tools to generate economic, social and cultural activity. Saskatchewan's program joins successful province-wide Main Street® programs in Quebec and Alberta. All three programs were established with the assistance of the National Trust.
"Main Street is a powerful tool in the National Trust's Regeneration toolkit," says Executive Director Natalie Bull. "We are pleased to see the program putting down roots in Saskatchewan, and look forward to deeper and broader collaboration with the Ministry of Parks, Culture and Sport. The ultimate goal is to offer a holistic and sustainable approach for community regeneration that breaks down silos, optimizes financial and volunteer efforts, and enlivens and amplifies the heritage that communities value, in all its forms."
The decision to continue the program was based on the success of the Government of Saskatchewan's demonstration program. Launched in 2011, the demonstration program included four pilot communities: Indian Head, Wolseley, Maple Creek and Prince Albert. Over three years, the government invested $1.65 million and the program generated impressive results including 22 new business starts, $6.5 million in property acquisitions and $4.9 million in commitments to historic building and streetscape improvements, including $3.9 million in private investment.
The National Trust has been a proud supporter of this initiative through its initial research study on program design, and through training, resource planning teams, and evaluation of the four pilot projects and their progress on the National Trust's accredited Main Street® approach. Watch the National Trust's film Regeneration on Main Street to see how this successful approach took hold in the four Saskatchewan pilot communities.
For more information about obtaining Main Street services for your community, or to explore the creation of a Main Street program for your province, contact Jim Mountain at 613-237-1066 ext. 226 or jmountain@heritagecanada.org.