NEWS | ACTION
1. Bala Museum: CO-OWNERS OF BALA
2. Green Blankstein Russell: An Architectural Legacy - new book
3. Preservation and Protection of Historic Places in Canada

submit a news/action item
1. Bala Museum: CO-OWNERS OF BALA
Jack and Linda Hutton
The co-owners of Bala's Museum say the discovery of an historic rock this week at the Bala Falls hydro plant work site may be the most important archeological find in the last half century of Bala's history.
But Jack and Linda Hutton, who have written extensively about Bala history, worry that Swift River Energy Limited, the private developer, will not allow time for local historians and qualified archeologists to analyze the history behind the find and what should be done with it.
Word about the find spread like wildfire last Wednesday morning after Bala's Museum leaked photos of the rock's inscriptions on the Internet. A photograph of two chiseled inscriptions on the rock was widely distributed at a meeting of the District of Muskoka public works committee and also at Queen's Park.
Swift River responded later in the day with a release saying it had already informed the appropriate department at Queen's Park about unearthing the historic rock. It said that the two inscriptions dated 1888 and 1919 were a "mystery" and that an archeologist would be required to shed some light upon that.
Jack Hutton, an award-winning local historian, has a different version of events. He says he and his wife Linda received photographs of the inscriptions from a concerned individual who worried that they might disappear before the public was aware of them. He says they released the photographs on-line to make sure that did not happen.
"Workers at the SREL site used machinery to go down to the level where foundations will be laid for the new building and discovered a huge rock where a small sawmill once operated between the North and South Falls," explains Jack Hutton.
"It was an historic find because the workers found a hand-chiseled inscription dated 1888. We finally know when a timberframe and water wheel were created at that location. A concrete border of that small sawmill is still visible plus the remnants of another foundation. Those are important reminders of Bala's past. Will the Bala community have a say in what happens to them?"
The Huttons are fascinated by another inscription roughly 15 inches to the right of the 1888 inscription. It is the expertly chiseled joint signature of W.A.T. and G.G. Birrell from London, Ontario, dated August, 1919.
"This will have historians jumping up and down all over Muskoka," says Jack Hutton, "because W.A.T. Birrell left his chiseled signature on the opposite side of the North Falls on Aug. 1st, 1919. I wrote about it in a magazine column. We had no idea until now that he was involved on both sides of the North Falls, and that he was probably helped create the small hydro plant as a stonemason."
The Huttons applaud Swift River Energy for offering to bring in an archeologist but worry about the short timeline. They also worry that an archeologist hired by the company may be biased towards his or her employer.
Linda Hutton, an executive member of Architectural Conservancy Ontario's Muskoka branch, says the rock messages are a unique opportunity to learn more about Bala's past but that cannot be done overnight.
"We hope that Swift River will give our little town time to consult our older residents and our local historians and perhaps our own archeologist to determine what should be preserved for posterity", she says.
2. Green Blankstein Russell: An Architectural Legacy - new book
Susan Algie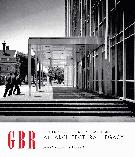 Known for their designs for Winnipegs City Hall (1964) and the Winnipeg International Airport (1964), Green Blankstein Russell (GBR) and Associates, founded in 1932, were a key influencer of Winnipegs landscape and pioneered the inclusion of women and minority groups in architectural practice. Their work illustrated through the compilation of more than 300 images and archival documents will be honoured with the launch of Green Blankstein Russell and Associates: An Architectural Legacy, written by Jeffrey Thorsteinson and Brennan Smith.

Easton Lexier, a structural engineer, worked at GBR for more than fifty years. Lexier, who wrote the foreward to the book, will join alumni from all over Canada in Winnipeg to honour the books release.

GBR, in no small measure, encouraged and fostered the talent and diverse staff that created the architectural record that is explored in the following pages, writes Lexier.

The book, commissioned by the Winnipeg Architecture Foundation, aims to educate the public about the innovative minds at work at GBR, who helped shape the architecture and industry of design in Winnipeg. The firm was a kind of engine: an institution through which many of Canadas notable architects, designers, and engineers came through on their paths to prominence, says Thorsteinson. In this respect, too, the office was pioneering, deliberately functioning as one of the first offices to bring women and individuals belonging to minority groups into architectural practice.

About Green Blankstein Russell and Associates: An Architectural Legacy

Winnipeg-based architecture firm Green Blankstein Russell and Associates (GBR) opened in the slow years of the Great Depression. Founding partners were Cecil Blankstein and Lawrence Green, joined soon after by Leslie Russell and Ralph Hamm. From this inauspicious starting point the firm would grow to become, by the 1950s and 60s, a major player on the Canadian architectural scene: the largest architectural office between Ontario and British Columbia, with seven offices in four provinces.

GBR was a hub for partnership and training, and was a pioneering force in its inclusion of women and members of Canadas diverse cultural communities within the field of design. Covering a wide range of individual buildings and practitioners, this book explores the significant mark GBR made on its hometown and across the country, as well as the firms role as a leader in the growth of Modernist architecture in Canada.

The new book (160 pages;300 illustrations) is available from Winnipeg Architecture Foundation at a cost of $35 plus shipping. http://www.winnipegarchitecture.ca/shop/merchandise/publications/green-blankstein-russell-an-architectural-legacy/


3. Preservation and Protection of Historic Places in Canada
National Trust for Canada
#ChangeTheGame4Heritage – You are invited
The next few weeks are critical ones for the heritage sector. In late November, the Environment Committee is expected to report back to Parliament on Bill C-323 – An Act to Amend the Income Tax Act (Rehabilitation of Historic Property) and also wrap up its recommendations on the milestone study, The Preservation and Protection of Historic Places.
This is a time for every heritage leader and organization to be engaged and informed. We strongly believe that our individual and collective responses must be loud, strategic and coordinated.
Please join our weekly calls to develop and share strategy for action, craft media messaging etc. We are counting on you to engage your own networks and members. We are looking for provincial/territorial or regional "captains" who will help rally the troops and share news and action plans. Feel free to forward this invitation to them. Thanks!
Weekly Strategy Teleconference Thursdays at 11am ET
Toll Free 1-866-999-9779 Passcode: 469414
See our website for more information. Watch this newsletter for updates!
Editor's Note: The Environment Committee hearings were wide ranging covering topics from conserving indigenous heritage, lack of a binding heritage law for Canada, the need for financial incentives, issues with the National Register of Historic Properties, the role of Park's Canada and others. In much correspondence with proponents of Bill 323 the governing Liberals have expressed no support for the Bill, yet do make suggestions they recognize the need for support for the sector. The findings of this committee will be very important and will arrive at a rather difficult time of the year to respond, but respond we must. Keeping in touch with the National Trust for guidance and updates is important. Also contacting your MP to let them know we are hoping for great things from this review.