NEWS | ACTION
1. Call for Papers 2016 Ontario Heritage Conference Stratford and St. Marys
2. Heritage Thorold Places Eight New Plaques in Thorold
3. Stratford Festival Communications Director to Open Ontario Heritage Conference
4. Surviving Remnant of Lake Iroquois Shoreline designated as a Cultural Heritage Landscape
5. Madison Avenue an HCD at last

submit a news/action item
1. Call for Papers 2016 Ontario Heritage Conference Stratford and St. Marys
Rick Huband
May 12-15, 2016
Keynote Speakers
David Prosser: Director of Communications Stratford Festival

Ken Greenberg: City Builder and Author
Deadline for submissions: January 11, 2016
The Architectural Conservancy Ontario (ACO) and Community Heritage Ontario (CHO) are pleased to announce that the 2016 Ontario Heritage Conference will be held in Stratford and St. Marys, Ontario. The conference attracts 250-plus participants including heritage advocates, volunteers, consultants, municipal planners, heritage tradespeople, provincial agencies and others concerned with the preservation of Ontario's built heritage and cultural heritage landscapes. The conference program covers broad issues while showcasing local successes and concerns in the heritage conservation field.
Conference Theme:
The conference theme is "Preservation in a Changing World." The theme provides a platform to examine the formidable changes taking place in today's world and their impact on our cultural heritage. The conference will explore the challenges, benefits and opportunities of these changes — from the global to the local — for the conservation of Ontario's heritage resources.
Sub-Themes: Conference planners are seeking speakers and panelists to help delegates explore the following sub themes:
How to use social media more effectively in the campaign to promote and preserve heritage structures • More effective use of conventional media (some panelists selected Christopher Hume Toronto Star and Dr. Romayne Smith Fullerton Faculty of Journalism Western University). Need specialist in radio & television
Legislative changes required to encourage adaptive reuse of heritage buildings. Four panels proposed to bring perspective of developers, local politicians, heritage activists, architects and heritage professionals. • Building networks for successful advocacy of heritage preservation
We are open to other suggestions for presentations or panels that are compatible with our overall theme.
Early Acknowledgement
Please advise Rick Huband, Conference Planning Chair (rshuband@rogers.com) by Friday, October 30, 2015 if you are planning to send in a submission.
Submission and format: Abstracts should include:

Proposed title of your presentation or session

Summary not exceeding 500 words

How your proposal aligns with conference theme/sub-themes

Your name and contact information and a short bio.
Abstracts should be sent by e-mail to Rick Huband, Conference Planning Chair (rshuband@rogers.com) no later than Monday, January 11, 2016.
The results of the selection process will be announced no later than February 11, 2016. For more information, please contact Rick Huband
2. Heritage Thorold Places Eight New Plaques in Thorold
Pamela J. Minns
Heritage Thorold is in the process of having 8 history plaques installed at various locations in the City during the summer/fall months. Seven of these are free-standing plaques, adding to the approximately 14 of these plaques (some free-standing and some installed on buildings) we already have installed at various locations around the City.
Check out our web site at : www.heritagethorold.com
(photographs will be added to our web site as installations are completed)
The current installations underway are as follows :
Kennedy-Ward House c.1854
6 Welland St. South
This imposing brick house was built for Wm. Waud, a carpenter and joiner and has elements of neo-Classical and Classical Revival styles with a symmetrical 3-bay façade, central doorway and substantial portico. In 1871 it was sold to John Morley and in 1885 to merchant tailor Thomas Kennedy. In 1915 it was transferred to a son-in-law – dentist Herbert Ward who retained it until 1968.
Moore-Lampman House c.1853
44 Clairmont Street
This one and one-half storey "Ontario Classic Revival House" with pillastered door case and shuttered double-hung windows was built for Jones Moore and Caroline Pew (UEL). Jones Moore was an importer and wholesale merchant originally from Avon, Livingston County, N.Y. Their daughter Amelia married Frederick Lampman (UEL) a local barrister and solicitor whose office was located in his home. After Frederick's death in 1886, Amelia ran a boarding and day school onsite for several years while raising her five children. The home stayed in the Moore-Lampman family until its sale in 1966.
Flannery House 1859
22 Portland Street
This house was built for Matthew & Agnes Flannery within a year after Matthew, at age 26, purchased the land in 1859, for $235. Matthew was one of Thorold's early artisans; not only was he a painter by trade, he specialized in "sign, carriage and ornamental" painting, and contributed to the early commerce of the downtown area and economic development of Thorold. His place of business was nearly opposite The Thorold Post on Front Street. This one and one half storey, brick vernacular "Ontario Cottage" design evolved from the popular "Regency Cottage" style of the 1830s. With romantic gothic touches, it has a 3-bay façade with end gables, pitched cedar-shingled roof, a verandah on the south side, a central gable and rear wing. The Flannerys remained in the house for over 50 years until Agnes' death in 1909.
Lynch House 1908
65 Chapel St. South
This Edwardian brick structure with many fine features, built by the Lynch brothers, has a commanding location in relation to the Welland Canal. As tradesmen and tending locks on the canal, the Lynchs were all involved in the early years of Thorold's development. Transient sailors stayed on the third floor as their ships were docked in Thorold during the latter operation of the 3rd Welland Canal (c.1908-1932). The well on the property serviced workers when the canal was under construction. A notable feature is the engraved limestone lintel datestone over the front door.
Carter-Holland House 1875
35 Welland St. South
This Gothic Revival and Italianate style home was built by Henry Carter, a mason, a firefighter and member of Council, who organized what later became the well-known and successful Thorold Reed Band. This house has many exquisite untouched details and fine features, including the steep-pitch roof and cathedral windows. The frame rear section was a later addition to the house. The Holland family bought the house in 1939 and it remained in their possession for the next 60 years.
Millar House c.1876
43 Welland St. South
The original owner of this brick house was William England who sold it in 1901 to James Millar, a local tailor and merchant, and it remained in the Millar family until 1992. James, who had a family of 6 children, had a business at 31 Front St. South and contributed to the early commerce and economic development of Thorold. His place of business burned in the fire which devastated downtown Thorold. After the fire he rebuilt the business and was an active member of the community through his membership on the School Board and Board of Trade. His son, David, followed him in the business and was Mayor of Thorold in 1906-7.
Beckett's Reserve-McFarland House c.1840
Stephen Beatty House 1879
10 Canby Street, Port Robinson
The history of and the people associated with this site highlight the prominent position the village of Port Robinson enjoyed in Upper Canadian and early post-Confederation Canadian history. The site initially belonged to the descendant of a family of loyalist Quakers who settled in Pelham, Edwood Beckett, before it was sold to the entrepreneur Duncan McFarland in 1836. Here, a first house appears to have been built in c.1840. From 1847 the property was associated with the medical pioneer and later President of the College of Physicians and Surgeons of Ontario, Dr. Duncan Campbell. Acquired in 1855 by an official on the 2nd Welland Canal and superintendent of nearby St.Paul's Church, John Beatty, the house was rebuilt by his son Stephen – a hero of the Battle of Ridgeway – in 1879. In 1887 it became home to one of Thorold Township's most cherished family doctors Dr. Hugh Park for nearly three decades.
Dominion Government Building – Former Post Office 1935-36
18 Front St. North
Constructed in 1935, officially opened in May 1936, this landmark building was enlarged in 1957 by increasing the size from 6 to 10 bays. It was one of more than 240 federal buildings erected in the 2nd half of the 1930s under the Public Works Construction Act which allocated $40 million for Federal construction – intended to stimulate a depressed Canadian economy. N.A. Kearns a Welland Architect supervised the construction. Framed of steel with a concrete basement and Queenston limestone façade in a bold Modern Classical style, the building was erected by R. Timms Construction Ltd. Welland at a cost of $37,082. Canada Customs and other federal business was also transacted here and, like most post offices, became part of the fabric of the community and a meeting place.
All of these illustrate the rich heritage we have in Thorold's group of communities (including Beaverdams, St. Johns, Allanburg and Port Robinson) and will serve to help educate residents, visitors and tourists to our area.
Pamela J.Minns
Secretary - Treasurer
Heritage Thorold LACAC
email: pminns@cogeco.ca
3. Stratford Festival Communications Director to Open Ontario Heritage Conference
Press Release,
Our heritage is part of our identity as a community, and we should celebrate it. So says David Prosser, communications director for the Stratford Festival, who will be the opening keynote speaker when Stratford and St. Marys host the Ontario Heritage Conference, May 12-16, 2016.
"Stratford the theatre town is a far richer, more interesting place to live – a place more likely to attract people of imagination and creative enterprise – for having once been the Stratford renowned for furniture factories and railways," says Prosser.
"We have a town that once relied on industry, which involved big buildings with high ceilings. When the industries declined, those buildings sat empty.
"Over the course of the Festival's history, Stratford has remade itself as a cultural destination and a natural home for artists and other people who feel that appreciation of our history enriches our present lives. And they have seen potential in many of our disused spaces."
Prosser points to several buildings the Festival has adaptively reused, among them the Avon Theatre, which had been a vaudeville house and then a movie theatre. The Tom Patterson Theatre was once The Stratford Casino, a summer dance hall in the big-band era, and also the city's badminton club. As well, the Festival has created offices and rehearsal space in the former Stratford teachers' college, built in 1908, closed in 1973.
"Sometimes a building is just too far gone to be worth saving," says Prosser. "But we should always be looking for ways to transform rather than to simply erase. The richest and most interesting results are achieved when tradition is regarded as something to be built on, not over."
More than 300 delegates are expected to attend the conference, sponsored by the Architectural Conservancy of Ontario and Community Heritage Ontario. The Stratford-Perth branch of the ACO is taking the lead in planning, organizing and managing the event.
Editor's Note: Make sure you hold this date, it is going to be a terrific conference in a terrific spot.
4. Surviving Remnant of Lake Iroquois Shoreline designated as a Cultural Heritage Landscape
Catherine Nasmith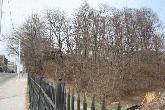 View from Avenue Road in Winter with Oaklands just visible through the trees, City of Toronto
Toronto East York Community Council endorsed a proposal to designate lands west of Avenue Road as a cultural heritage landscape today. Interest in protecting this important last open section of the Lake Iroquois shoreline arose as a result of a development proposal on lands owned by De La Salle College, which would have blocked the views from Avenue Road of the playing fields and the wonderful Victorian house which is the core building of the College.
The report includes a number of key views and vantage points listed as heritage attributes of the property. However as the development is moving towards an Ontario Municipal Board hearing it is not clear whether this designation will be sufficient to protect those views, or the landform.
Click Here for The Statement of Significance, which amends a 1977 designation of the property at 131 Farnham Avenue.
5. Madison Avenue an HCD at last
Catherine Nasmith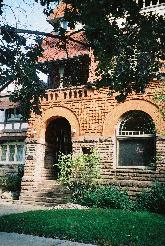 37 Madison Avenue, by E.J. Lennox, the first Annex Style House
If you will permite me, here comes a brief toot of my own horn.
I am pleased to say that at this morning's Toronto East York Community Council the long awaited Heritage Conservation District Study and Plan for West Annex Phase I (Madison Avenue) was adopted. Madison Avenue contains one of the most intact collection of architecturally designed homes in Toronto. (I was the author of the report)
Almost every important architect of the period of significance, from 1885-1920 is represented, including Eden Smith, E.J. Lennox, Henry Simpson, and many more. Many of the houses have been listed since the late 1970's, but until the Annex Residents Association formed a committee which worked tirelessly to research and record the properties, little research had been undertaken. This is the last of the community driven HCD's to be completed. It took a while, but is a terrific example of what is possible.
The rest of the Annex is also worthy of preservation, and even with significant funding in the bank to proceed with the rest, it is not clear when the City will be able to devote staff resources to its conservation. That is a rant for another day, today is a day to lift a glass to a job well done, and a wonderful Toronto street.
To see the Study and Report, go to the ARA website, Section 9.3 contains a wonderful summary of all of the properties, with photos and a brief description of their significance, owners, architects and builders.