NEWS | ACTION
1. Consultations on Ontario's Culture Strategy
2. Update on Uxbridge OMB Appeal
3. RAIC Statement on 24 Sussex Drive

submit a news/action item
1. Consultations on Ontario's Culture Strategy
Dear culture stakeholders,
As you're aware, the Ontario government is currently holding public consultations to develop Ontario's first Culture Strategy. The strategy will set out a vision for culture in the province and guide government support to the sector in the years to come.
This is also the first time we're consulting with Ontarians on the value of arts and culture in their lives and communities. Our goal is to reach as many people as possible.
Earlier this fall, I asked that you participate in the consultations and I'm pleased to report that many of our culture stakeholders have responded to the call.
Our town halls are standing room only with engaged and passionate people discussing the importance of arts and culture in Ontario and their vision for the future.
[Please note, the date and location of the Toronto town hall has changed. The consultation will be held on Monday, November 23 from 7 – 9.30 p.m. at the Toronto Reference Library, Bram and Bluma Appel Salon].
Public engagement on social media is strong, with many positive comments about the consultations and posts from the town halls.
We need more. We want to ensure that as many voices as possible are heard so that the culture strategy reflects the diverse needs of Ontarians.
In October, we developed a social media toolkit to help you share information about the Culture Talks. We've updated the toolkit to include additional images and sample posts for Twitter and Facebook. You can access it here,
If you haven't had an opportunity to participate in the consultations, I encourage you to do so.
Consultation efforts include an online forum where people can share their thoughts about arts and culture, a discussion paper to generate more detailed comments and 11 town halls in communities across the province. All input must be submitted by December 7, 2015.
If you have participated, thank you! I encourage you to continue to promote Culture Talks consultations using any traditional or social means you find appropriate.
As a culture stakeholder, you play an essential role in the success of our culture consultations.
A live webcast will be available for Ontarians across the province to participate in the Windsor town hall. You can access the webcast from the Culture Talks website under 'Town Hall Dates and Locations' a few days before the event.
I look forward to your participation.
Sincerely,
Kevin Finnerty
Assistant Deputy Minister, Culture Division
Ministry of Tourism, Culture and Sport
Editor's Note: Heritage gets extremely short shrift, so please attend the hearings in your community and talk about conservation as a cultural activity, preserving intangible and tangible heritage, and the places that attract the arts.
2. Update on Uxbridge OMB Appeal
Jennifer Welch
The OMB Hearing for the Gould Estate wrapped up on Tuesday, November 16th. The hearing lasted 6 days, and now the OMB Board Member will have to make a decision whether to approve or not approve the Zoning By-law Amendment and Settlement Concept Plan (26 units plus relocated heritage house). We are not sure when this decision will be made. We will send out an email when we are notified of the decision.
We are opposed to this zoning by-law and the settlement plan as they are not good planning, not in the public interest and are not good heritage conservation.
If you have any questions about this case, please feel free to send us an email.
Please let me know if you do not wish to receive any further emails, and I will update our email distribution list.
Sincerely,
Jennifer Welch
Uxbridge Gouldville Citizens Association
www.uxbridgegouldville.ca
3. RAIC Statement on 24 Sussex Drive
Royal Architectural Institute of Canada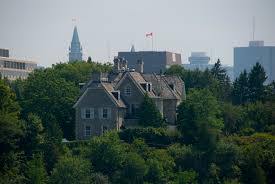 24 Sussex Drive
The Royal Architectural Institute of Canada (RAIC) is pleased that the condition and future of the Prime Minister's Official Residence at 24 Sussex Drive in Ottawa is finally receiving much-needed attention.
The RAIC, which advocates for excellence in the built environment, lauds Prime Minister-designate Justin Trudeau for postponing his occupancy to give priority to the state of the "people's house" for the benefit of all Canadians.
"We believe Mr. Trudeau deserves credit for recognizing that the house belongs to the people of Canada and, as such, its economic value and value as a symbol of Canada cannot be allowed to deteriorate further," says RAIC President Sam Oboh, FRAIC. "We also thank the Governor General of Canada for making available to the incoming Prime Minister a house normally occupied by his Secretary."
The National Capital Commission (NCC) has done a good job of systematically upgrading and maintaining the official residences of Canada. Unfortunately, it has not been granted access to 24 Sussex Drive to do more than cosmetic repairs, resulting in the need now for a total overhaul. The RAIC supports the responsible approach of the NCC in seeking professional advice from its Advisory Committee on Official Residences of Canada, comprised of architects and experts in heritage, interior design, and real estate development.
The RAIC recommends a thorough assessment of the property to ascertain its capacity to meet the operational, functional and programmatic needs of a prime ministerial residence in the 21st century. Recognizing that the NCC has architects, including a Chief Architect, and other professionals on staff, the members of the RAIC stand ready and willing to contribute in any way they can.
In terms of sustainability, the history of the house, and its status as a federal heritage building, the RAIC recognizes that the first choice would be to rehabilitate the building if feasible. "Rehabilitation of a 19th-century deteriorated building into a more comfortable, efficient, safe and welcoming building is well within the realm of possibility with thoughtful design led by architects," says RAIC vice-president Allan Teramura, FRAIC.
However, if rehabilitation proves to be unfeasible, "a purpose-built residence for Canada's Prime Minister creates an opportunity to hold an architectural competition and demonstrate the best of Canadian design, innovation, energy efficiency and craftsmanship," says Mr. Oboh. "As demolition is likely not justifiable, a different site in the capital would be required for a new residence."