NEWS | ACTION
1. Draft Culture Strategy, Respond by May 13
2. Bulletin: Ontario Ministry of Culture Releasing Draft Ontario Cultural Strategy
3. Is this the City we Want? Preservation in 2016
4. In Praise of Architectural Modesty-Torontos York Square
5. Join Architectural Conservancy Ontario online
6. "Mr. Mayor, don't tear down this building" (Winnipeg's Public Safety Building at Risk)

submit a news/action item
1. Draft Culture Strategy, Respond by May 13
Last fall, the Ontario government launched Culture Talks to start a conversation with Ontarians about the value of culture in their lives and communities to help us develop Ontario's first Culture Strategy.
We would like to thank the thousands of participants who shared their ideas and thoughts on what culture means and the many ways they contribute to and take part in culture.
We now invite you to participate in the next stage of consultation by providing feedback on the key parts of the draft Culture Strategy. The draft sets out a vision for culture and identifies three overarching goals to strengthen culture in communities, fuel the creative economy and promote cultural engagement and inclusion. These goals are supported by strategies and actions to guide Ontario's support for culture so that it continues to grow and flourish in the years to come. The consultation period on the draft strategy closes on Friday, May 13, 2016. Visit ontario.ca/culturetalks to find out more and to learn how you can provide feedback.
Our next step will be to review the feedback we receive. We will then finalize the strategy and release it in June.
We would also like to let you know about two additional documents we have posted on ontario.ca/culturetalks:
A Summary of What We Heard from Ontarians, an overview of the first stage of consultations held from September 2015 to December 2015, in which we capture the key themes and ideas that emerged during the engagement process.
An Environmental Scan of the Culture Sector, a background document that describes key challenges, opportunities and trends affecting the culture sector in Ontario and emerging best practices in Canada and other areas of the world.
We look forward to receiving your feedback and continuing the conversation.
Kevin Finnerty
Assistant Deputy Minister
Culture Division
Ministry of Tourism, Culture and Sport
2. Bulletin: Ontario Ministry of Culture Releasing Draft Ontario Cultural Strategy
Catherine Nasmith
The Draft Core Elements of the Ontario Culture Strategy is being released today, comments are due on May 13. Please watch for it, as soon as I have more information I will send out links on twitter, post on BHN, ACO website.
The schedule is to revise in May, and to take the Ontario Culture Strategy to cabinet in June, and rolled out in the early summer.
3. Is this the City we Want? Preservation in 2016
Catherine Nasmith
On Monday night, April 25 join ACO Toronto for an important conversation about Toronto. Six Toronto observers who will be answering the following questions, in five minutes or less each, with only a few images. Their opening remarks will be followed by comment from each other and from audience members. For more info click here:
Panel Members:
Mary MacDonald:

What is the role of conservation in today's rapidly changing Toronto? Cultural, Environmental?, Social?

Robert Allsopp:

Can we do better than urban taxidermy?

Jamie Bradburn:

What lessons of the 70's have been lost?

Dave Leblanc:

Does it matter that we barely recognize parts of Toronto?

Alex Bozikovic:

How much is too much?

Kim Storey:

Do we need a new generation of reform activists and politicians?
Moderator: Catherine Nasmith
7 PM, 155 College Street Toronto, 6th floor auditorium
4. In Praise of Architectural Modesty-Torontos York Square
Catherine Nasmith, April 11, 2016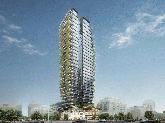 Proposal for York Square, headed to OMB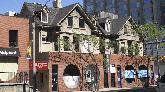 Whenever I mention that ACO Toronto is interested in protecting Toronto's York Square people ask where is that? In some ways that is a compliment to its success. This modest project, a seminal work of the ground breaking architectural firm of Diamond and Myers, set the architectural and planning world on its end in 1968, yet its modest contextual approach has been so widely copied that it is almost invisible today.
York Square is better known as the location of the Vidal Sassoon hair salon. It is no accident that a revolutionary in women's hair, who singularly set out to free women from sleeping on bobby pins and rollers, located in this similarly revolutionary project. We now take for granted the idea of working with and around existing buildings, but York Square, was the first project to mix new and historic to make something new. It was THE project that set out on a different path to the scorched earth approach of "urban renewal".
Fast forward almost 50 years….even though the youth movement has long since departed, Yorkville's counter culture physical fabric remains. Carved out of old houses, with new infill between, low scale development winds from street to street, full of pedestrian lanes, small courtyards, buildings of modest scale that are now home to some of the city's most expensive boutiques, professional offices, bars and restaurants. The generation that made the place returns as well heeled tourists.
Now Yorkville is under major re-development pressures. There is fear that it may disappear entirely. Property owners complain that even with high rents, property values, hence tax rates, are set by OMB fuelled redevelopment speculation, forcing rents beyond the capacity of existing tenants. That tax spiral led to the sale for redevelopment. The excellent restaurant Il Posto continues in the best outdoor patio in Toronto, but for how much longer.
York Square was sold to Empire Communities who now propose to demolish all but the corner façade and pile a massive 40 storey, 128 foot condominium tower on stilts above. The project, designed by the Zeidler Partnership with Scott Torrance landscape architects, dwarfs the lone façades that are retained from the existing project. In his recent lecture, John Sewell described the project as "Death from Above".
The intimate courtyard is lost, replaced by a plaza off of Yorkville Avenue that will have none of the enclosure or quiet calm of the present space. A recent Ontario Municipal Board decision on Church Street near McGill was turned down because it dwarfed the adjacent designated building and the surrounding neighbourhood. Building over, as this scheme does, is to my mind more egregious.
The current scheme was introduced in February 2016. It replaces modesty with the opposite, making a mockery of the retained heritage elements. Because of its historic significance and because it is already exactly the right size and scale for Yorkville, ACO Toronto has been arguing for the conservation of York Square.
The City of Toronto has designated the property under Part IV of the Ontario Heritage Act, and identifies all of the exterior features and the courtyard as heritage attributes, ie important to retain. The City would be within its rights under to refuse any demolition, and its reasons are well described in the designation report. Would the OMB agree?
The City of Toronto has not yet taken a position either in favour or against the development. Empire Communities have appealed to the Ontario Municipal Board. Several community groups have obtained Party status at the hearing. Over the next few months negotiations will continue. A ten day hearing has been scheduled for January 2017.
Last week ACO Toronto retained lawyer Jane Pepino to represent ACO and the heritage of York Square. Watch this space.
5. Join Architectural Conservancy Ontario online
Catherine Nasmith
If you would like to support the excellent work of this organization (I'm the President), you can now join, renew or donate online. You will get your tax receipt instantly by email. Here's the link.
6. "Mr. Mayor, don't tear down this building" (Winnipeg's Public Safety Building at Risk)
Bartley Kives

Winnipeg Public Safety Building
Brian Bowman campaigned for office on a promise to make city hall more open and transparent. In light of that, the mayor must explain why he wants to take a wrecking ball to the Public Safety Building.

During his state of the city speech this week, Bowman vowed to demolish the soon-to-be-decommissioned home of the Winnipeg Police Service, along with the shuttered civic parkade, and redevelop the site in consultation with artists, architects and Exchange District residents.

"Id like to see things move as quickly as possible, but we also want to make sure we get it right," Bowman told reporters following his speech Thursday. "Its just a tremendous opportunity that I really wanted to amplify... as a community, we really want to have everyone engaged as possible."

Community consultations are great, but the mayor is ahead of himself. To date, nobody has demonstrated the need to knock down one of Winnipegs most unusual buildings, let alone demolish it in a hurry.

Later this year, the police will move out, leaving the six-storey, 1966 structure empty. It also needs an exterior makeover because the Tyndall-stone cladding is falling off.

Bowman, however, claims the entire building is "beyond repair," citing unnamed engineers. "Im a strong proponent of heritage preservation in our downtown. Unfortunately, that is just not going to be a good use of funds," the mayor said. "As well, its my understanding its not structurally sound."

To date, no public report has rendered such a verdict. Only the neighbouring parkade, which the Sam Katz administration allowed to fall apart despite repeated warnings, has been declared too decrepit to fix.

Instead, the PSB appears to be facing a death sentence solely because it will soon be vacant. This is due to the questionable actions of the previous administration at city hall, which misled council into approving the purchase and renovation of a new police headquarters by suppressing cost estimates for the renovation and expansion of the Public Safety Building.

Documents obtained by the Free Press show city officials were told in 2009 it would cost roughly the same amount of money ($184 million) to renovate the PSB and expand it (over the demolished civic parkade) than it would cost to buy the Canada Post building and transform it into a new police HQ ($180 million). Council was not given this information before it approved the Canada Post option, which later ballooned in cost to $214 million and left the city owning a mostly vacant Graham Avenue office tower as well as the PSB.

Given this apparent deception, its incumbent on Bowman to right this historic wrong and do everything within his power to find a new use for the PSB. To knock down and pave over one of the greatest mistakes of the Katz era would not amount to righting the historic wrong.

There are many Winnipeggers who consider the PSB ugly, but esthetic considerations are irrelevant. During the 20th century, many cities knocked down old neo-classical buildings because they, too, seemed ugly at the time. It would be foolish to make the same mistake with a modernist structure.

The PSB is not just any modernist building. Its a dramatic example of brutalism as well as a key piece of an architectural ensemble that includes city hall and the Centennial Centre complex across Main Street.

Knocking down the PSB without trying to find a new use for it would be tragic. Yes, adaptive reuse is costly, but it would be cheaper to renovate the PSB as a civilian facility than it would have been to fix it for police, who require protection from bullets and grenades.

If you knock down the building, there are limited uses for the site, thanks to a 1875 land-donation caveat that demands some form of public use. Would nearby Red River College desire the building? If that avenue has been exhausted, the city should say so.

Its not acceptable to declare the building unsafe without presenting the evidence. It isnt cool to say there are no viable redevelopment options without demonstrating the city took pains to explore any.

Bowman said a report about the PSB is coming, but now that hes promised to knock it down, would any city administrator get in his way? In 2009, no one at city hall was brave enough to say there was a viable alternative to buying and renovating the Canada Post building. In fact, city hall fought to keep this information secret.

Bowman has promised to be more open. If the PSB comes down under his watch, there better be a rationale.
___
Story at: http://www.winnipegfreepress.com/local/mr-mayor-dont-tear-down-this-building-370335371.html