NEWS | ACTION
1. Stephen Otto Order of Canada
2. Sean Fraser to Join Ontario Culture Division as Director of Programs
3. Rescuing Historic Rock Inscriptions At The Bala Falls
4. OMB Motion to Dismiss Proceedings in Cambridge, re: HIP Southwards Inc Proposal

submit a news/action item
1. Stephen Otto Order of Canada
Catherine Nasmith, Rollo Myers
Taken in front of Barnham House, early 1970's
The New Year began well for Canada's heritage advocates with the Order of Canada award for Stephen Otto.
Steve's friend Michael Vaughan noted " As long as I have been involved and it has been a long time now, whenever a heritage question has arisen, the first thing anyone says is "Call Steve." For generations of us you have been the 'call to' person, so the Nation's recognition of your contribution through your Membership in the Order of Canada, will be felt by many as recognition of their own work and confirmation of the public worth of their efforts. Also, and perhaps more than merely collaterally important, your lesson of active and engaged celebration of our heritage, has generated an institutional response including Heritage Toronto and Heritage Canada among many others."
Friend Rollo Myers writes--"I have known Stephen Otto for more than thirty years and have an ever-increasing admiration for his judgment, knowledge and impeccable research on anything to do with Ontario's history -- and his determination invariably underpins tangible outcomes that have brought about positive, significant change."
He is a special friend to the Architectural Conservancy of Ontario, a member of its President's Circle.
Steve's bio continues....His accomplishments are numerous. First there were his updates on Eric Arthur's landmark Toronto – No Mean City. Then his Once More Into the Breach that chronicled Fort York's long history of trials and tribulations, then his participation in the award-winning urban design proposal Fort York – Setting it Right, both of which gained Toronto City Council's attention, and contributed to the success and achievements of the Friends of Fort York, a group of volunteers Steve helped found, provided continuing leadership to, tha funds the Fort York Guard, and raises funds for the new Fort York Visitors Centre, including a generous personal donation.
Steve initiated and advised Parks Canada's precise delineation of the Fort York National Historic Precinct and encouraged and influenced the subsequent addition of significant additional open space for the fort.
His research brought back to public attention the original Walks and Gardens legislation – dating to 1818 – of how Toronto's waterfront should be protected, and this in turn led to Council's formation of the Walks and Gardens Working Group. The successful international competition for the commemorative artwork to be installed at Union Station is a direct result of Steve's initial research and participation.
Steve's sought-after advice has influenced the development of – amongst many others -- Toronto's Distillery District, Spadina House, Todmorden Mills -- and he advised on and participated in successful efforts to return the site of Upper Canada's First Parliament Buildings to public ownership.
Steve was head of Heritage Conservation Services at Ontario's Ministry of Culture and Recreation, and administered the newly enacted Ontario Heritage Act between 1975 and 1981.
He was a former director of the Ontario Heritage Foundation (now Trust), and a former director of the Canadian Association of Heritage Professional Consultants.
He was awarded the Queen's Silver Jubilee Medal in 1977, the Diamond Jubilee Medal in 2015, and has received awards for Special Achievement from Heritage Toronto and from Architectural Conservancy Ontario.
Steve has been an active participant in the regular publication -- since 1996 -- of Fife and Drum, the journal of the Friends of Fort York. With book reviews, recipes, historical essays, biographies, research reports, architectural studies and other topics of interest to the 3000 readers.
Along the way, he has become involved in so many smaller projects, particularly around Toronto, such as finding a dignified location for the bust of Robert Gourlay, or commemoration for Joseph Bloor.
Thank you to whoever made this most worthy nomination. No doubt many BHN subscribers have many things they are grateful to Steve for. Now would be a good time to drop him a card or letter to tell him how you feel and congratulate him on this recognition. No one ever tires of receiving nice notes in the mail!
2. Sean Fraser to Join Ontario Culture Division as Director of Programs
Kevin Finnerty, Assistant Deputy Minister
I am pleased to announce that Sean Fraser is the successful candidate for the position of Director of Programs and Services Branch with the Culture Division.
No stranger to the ministry or to the culture sector, Sean joins us from the Ontario Heritage Trust where he has held increasingly senior positions within the agency over the past decade. Most recently, he was the Director of Heritage Programs and Operations Branch, leading the team responsible for developing heritage policy and programs, overseeing the Trust's natural and cultural heritage properties, operating its museums and delivering public programs, such as Doors Open Ontario, the Conservation Easements Program and the Ontario Heritage Act Register. Sean has also played a leadership role in establishing and maintaining relationships with a wide range of internal partners, stakeholders and Indigenous communities to deliver the Trust's programs and projects. Most notably, he led his branch team in delivering the extremely complex reburial of 1761 Huron-Wendat Ancestors on Trust lands which garnered him and two of his colleagues an Amethyst Award in 2014 for this important act of reconciliation.
When he is not at the office, Sean is still immersed in the sector, mentoring students and emerging professionals and delivering lectures and workshops on heritage planning, the Ontario Heritage Act, sustainability and conservation topics at educational institutions and for industry associations.
Sean's extensive experience operating, planning and developing museums and heritage sites, as well as delivering cultural programs, administering grants, undertaking cultural resource management, archaeology and heritage planning will be an asset to the Division as we continue to implement the actions outlined in Ontario's Culture Strategy. Given his breadth and depth of cultural heritage knowledge gained over the past 25 years working in the sector, I have no doubt that Sean's transition to his new role will be seamless and he will be able to hit the ground running when he starts with us on Monday, January 22.
In the interim, Chris Schiller, manager of the Program Planning and Delivery Unit, will be Acting Director of the Programs and Services Branch.
I would like to thank Roselle Martino, Assistant Deputy Minister, Population and Public Health Division, Ministry of Health and Long-Term Care, and Oz Seydali, Executive Talent Search Consultant, Centre for Leadership & Learning, for their help with this competition.
Editor's Note: Congrats Sean!
3. Rescuing Historic Rock Inscriptions At The Bala Falls
Jack Hutton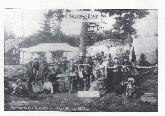 Pittsburgh Rod and Gun Club, Bala Falls, 1888
The Muskoka branch of the Architectural Conservancy Ontario (ACO) had special reasons to pop champagne corks on New Year's Eve. There was great suspense in November and December about whether it would be possible to preserve two rock inscriptions that were found on a large boulder at the construction site for a controversial hydro plant at the Bala Falls. The side by side chiseled inscriptions dated back to 1888 and 1919.
As Christmas approached, Swift River Energy Ltd., the developer, announced that it had been able to separate a one metre deep slice of the gneiss granite behind the two rock inscriptions for a future display. The delicate separation was based upon bracing the rock thoroughly before carefully orchestrated line drilling followed.
That was the first Christmas miracle. Meanwhile, ACO members in the Muskoka and London branches, aided by a Bala environmental advocate, were able to identify all five mystery signatures on the two inscriptions, dating all the way back to 1888. That was the second miracle.
The boulder, which many would call a ridge (25 feet wide, 20 feet deep and 8 feet high), was discovered in mid-November after crew for Swift River Energy Ltd. (SREL) moved earth and soil in preparation for laying foundations for the hydro plant. They were astonished to see chiseled letters on one face of the rock.
As word of the find slowly spread, Gunta Towsley, ACO Muskoka branch president, called a vice-president of Swift River, Nhung Nguyen, to point out that the discovery had taken place near Bala's recently approved Heritage Conservation District. Swift River, she learned, had already informed the Ministry of Tourism and Culture about the find and had retained an archeologist.
Things moved quickly after that conversation. SREL moved its construction work away from the historical rock while it consulted experts about how to cut away a portion of the rock surface with the inscriptions for a future display. The biggest worry was a crack that went through the inscriptions. A 3-dimensional digital scan and mold was made to preserve the inscriptions as backup.
On Dec. 20th, Swift River announced that the rock inscriptions had been preserved despite the knuckle-biting odds against its success. The dimensions of the future display are approximately 1.6 m high, 2.7 m wide and 0.8 to 1.0 m thick. Weight estimate: 10 tons.
Meanwhile, several ACO members from the Muskoka and London branches had identified all the signatures on two rock inscriptions with the added help of a Bala environmental advocate. The right side inscription read: W.A.T. AND G.G. BIRRELL, AUGUST, 1919, LONDON, ONT. We now know that W.A.T. Birrell, 18, and his brother, Gordon, 19, both worked as electricians for Hydro in London. A left side inscription read: 1888, G.V. WILLSON HIRAM DUPU(Y) PITTSBURG US Liz Lundell, founding president of the Muskoka ACO branch and editor of ACORN, found that the Pittsburgh Rod and Gun Club had tented at the Bala Falls connection in 1888. Both Willson, a prominent Pittsburgh businessman and DuPuy, a Pittsburgh dental surgeon, were members. Many are calling the discovery of the Bala historical rock one of the most exciting archeological finds in ACO's recent history.
Read the spring issue of ACO's ACORN magazine to learn the whole story.
4. OMB Motion to Dismiss Proceedings in Cambridge, re: HIP Southwards Inc Proposal
ACO Cambridge Executive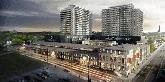 Image from Cambridge Times of Southworks Project
From ACO Cambridge
Update: OMB Motion to Dismiss proceedings
Wednesday, January 3rd, 2018 10:00 a.m.
City of Cambridge Council Chambers
OMB Vice Chair, and the session's Chairperson, Susan Schiller presided at yesterday's hearing of the HIP Southworks Inc. Motion to Dismiss.
The proceedings got underway at 10 a.m. and concluded at 1:03. Peter Pickfield (Garrod Pickfield LLP) represented ACO Cambridge & North Dumfries, supported by Allan Ramsay (planner). Eric Davis (Miller Thomson) represented HIP Developments, supported by David Aston and Dan Currie of HMBC Planners. City staff attending were Kelly Yerxa (City Solicitor) and Elaine Brunn Shaw (Director of Planning). HIP Developments staff attending were Scott Higgins (President of HIP Developments Inc.) and Joel Doherty (Director of Development).
Several board members attended as did a small number of concerned citizens, some of whom are local branch members.

Submissions were presented by both legal counsels, and throughout these, Chair Schiller asked questions of Eric Davis, Peter Pickfield, and City Solicitor Kelly Yerxa. The Chair then concluded, stating that she 'would not be delivering her decision today' but would reserve her decision until further notice.
Those board members attending were impressed with Peter Pickfield's submission, and by extension his team of Allan Ramsay and Christopher Andreae, and were reassured that ACO C&ND's case has merit, regardless of the outcome.
Board members were also impressed by the manner of the Chair and her questions and directions to counsel; and they expressed guarded optimism about the eventual decision from OMB Chair Schiller.
Thank you to those who were able to attend, and for everyone's continuing support of this community's built and natural heritage.


--


The Board of ACO Cambridge & North Dumfries
formerly Heritage Cambridge