NEWS | ACTION
1. Letter to Premier Wynne re: Bala Falls
2. Heritage Canada- National Awards
3. Fort York Visitor Centre: Worth the Wait
4. Book Review: James Fitzgerald-What Disturbs our Blood

submit a news/action item
1. Letter to Premier Wynne re: Bala Falls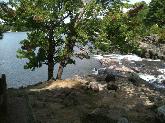 Bala Falls, including Native Marker Tree
Dear Honourable Kathleen Wynne,
I am writing to you in regard to the proposed Bala Falls waterpower project at the location of the beautiful Bala Falls in Bala, Muskoka, Ontario.
Four years ago, the citizens of Muskoka Lakes elected a pro-heritage Mayor and Town Council. They were given a strong mandate to protect and preserve all which makes the Township of Muskoka Lakes a beautiful place to live and to visit. The Township of Muskoka Lakes relies heavily on tourism and has been voted to National Geographic's Top Ten list of places to visit for three years out of the last five years. Here is a video made just this past weekend (during Cranberry Festival) that will give you an idea of just how beautiful Bala is.
One of the first priorities of this current town council, elected in October 2010, was to set up a Heritage Committee for the Township of Muskoka Lakes. I have had the great honour and privilege to serve on this committee along with several other concerned citizens and also many wonderful and knowledgeable people who have advised us along the way.
In January of 2013, our Heritage Committee came before the Conservation Review Board of Ontario seeking input regarding several heritage designations in the small town of Bala. These were met with great approval by the presiding judge, and the ruling was in our favour. These heritage designations have formed the basis for a Heritage District in the heart of the town of Bala. Our heritage committee then hired a consulting firm, MHBC, who worked with us with the goal of creating a heritage district in Bala. Last Friday, we met the final criteria when MHBC presented before the Township of Muskoka Lakes Town Council on our behalf. The Township of Muskoka Lakes town council voted overwhelmingly in favour of a Heritage District in Bala. This land is the heart of Bala, and includes our most beloved Bala Falls. The Bala Falls have been an attraction to the Town of Bala since settlers and tourists started arriving in Bala in the late 1800s. Our First Nations people have been using the portage route just south of the North Bala Falls for many hundreds - if not thousands - of years. This confluence of land and water is at the spiritual heart of this area. There are three churches in close proximity which demonstrates the spirituality of the place.
I understand that the Minister of the Environment has recently been asked to consult with Chief Phillip Franks of the Wahta community near Bala, as this land is very special to the Wahta people and their ancestors. This is a positive development, as the people in the community of Wahta say they have not been consulted.
I also understand that the Green Energy Act indicates that cultural and heritage landscapes must be protected.
You have said in the past that you would listen to communities. Our community has spoken out very clearly, and we do not want or need this power plant in Bala. Please take the time to listen to our plea. This would be a great time to listen to our First Nations people, and to the citizens of Township of Muskoka Lakes, who have overwhelmingly said the Bala Falls are important to our community. In a recent survey, approximately 85% of residents of the Township of Muskoka Lakes indicated they did not want a power plant at the Bala Falls. They do not want to destroy the natural beauty of the area, nor do they want restricted public access to the waterfront, which has been accessible for many generations.
Please help stop this hydro plant from destroying our beautiful community of Bala.
Thank you for taking the time to hear my concerns, I look forward to your reply.
Respectfully,
Anne Polewski
Editor's Note: Big News here is that the Power Plant at Bala Falls is on hold pending consultation with Wahta Natives. No lease has been signed between the province and the Hydro Development Company, Swift River. That it has been stalled this long is a testament to the dogged determination of Mayor Alice Murphy, who has held this project off for four years....critical change was the entry of the Wahta Natives at the 11th hour. Anne Polewski has a post card collection of Bala of several hundred images, and gave evidence at the CRB hearing regarding the designation under Part IV for several sites in the core of Bala.
2. Heritage Canada- National Awards
Ottawa, ON, October 3, 2014 – Heritage Canada The National Trust congratulates the recipients of its 2014 National Heritage Awards for outstanding contributions in their fields. The recipients of the Prince of Wales Prize, the Leadership Awards and the Ecclesiastical Insurance Cornerstone Awards were formally nominated by Canadians from across the country.
Read about our recipients' accomplishments, including Dr. Christina Cameron of Ottawa, recipient of the Gabrielle Léger Medal, Dr. Edward MacDonald of Charlottetown winner of the Lieutenant Governor's Award, and the Town of Bonavista, NL, recipient of the Prince of Wales Prize for Municipal Heritage Leadership.
Ecclesiastical Insurance Canada joins us in congratulating this year's four outstanding projects which will be presented with our Ecclesiastical Insurance Cornerstone Awards for Building Heritage:
Macdonald Institute, Guelph, ON, Stevens Burgess Architects Ltd. and the University of Guelph
The Don Jail Bridgepoint Active Healthcare, Toronto, ON, E.R.A. Architects Inc. and Bridgepoint Active Healthcare
The Salt Building, Vancouver, BC, Acton Ostry Architects Ltd. and the City of Vancouver
Water Street Revitalization Project, Vancouver, BC, Acton Ostry Architects Ltd. and The Salient Group
Learn more about the 2014 Ecclesiastical Insurance Cornerstone Award recipients.
Recipients' accomplishments will be fêted at the National Trust's National Awards Ceremony and Reception taking place in Charlottetown, PEI, on October 3, 2014 at the Rodd Charlottetown Hotel with His Honour, Frank Lewis, Lieutenant Governor of Prince Edward Island presenting.
For further information contact:
Carolyn Quinn, Director of Communications
cquinn@heritagecanada.org
Telephone: (613) 237-1066 ext. 229; Cell (613) 797-7206
For information about Ecclesiastical Insurance, contact:
Sonja Webster, Communications and Marketing Officer
swebster@eccles-ins.com
(416) 484-4907
3. Fort York Visitor Centre: Worth the Wait
Catherine Nasmith
If you haven't been yet, run don't walk to look at the Fort York Visitor Centre.
Dreamed about for over 30 years, since it was a gleam in the eye of the late George Waters, it is finally open. All that wishing and hoping and planning and dreaming has paid off with a spectacular, elegant, understated result. One that is brilliantly of its day yet timeless. Kearns Mancini and Patkau architects are to be congratulated along with so many others for keeping the essence of the design through the inevitable compromises of budget and construction.
The design is a simple idea….the building as retaining wall, marking the edge of the former shore line, and through ramps moving the visitor from one plane to another, a time tunnel from the modern city including the Gardiner Expressway up to Toronto's founding place of over two hundred years ago. Built in core-ten steel, a material requiring little ongoing maintenance, it's crisp panels are reminiscent of the shoring of construction sites, and the earth colour of the bank. The way the panels just flip up to invite you into the bright spacious interior is also brilliantly simple.
The landscaping is missing for the moment, yet I rather enjoyed the simply raked soil bringing a brown ground surface up to the walls. To keep that effect would take a lot of weeding!
So many people are to be thanked, but I want in particular to salute our friend Stephen Otto, whose passion, persistence, diplomacy and wisdom led to the founding of both the Friends of Fort York, and the Fort York Foundation. He is a hard person to say no to, and he brings so many others into his generous and ever expanding circle of "friends", all called in to serve when it is their turn to help. As he said to me in a recent conversation, "25 years from now when we are all looking down from our clouds we can feel proud of what we have achieved"….Amen. No one should be prouder, yet is so modest about it, than Steve himself.
P.S. And don't miss Charlie Pachter's War of 1812 series, on display in the visitor centre while you are there.
4. Book Review: James Fitzgerald-What Disturbs our Blood
Catherine Nasmith
Your will never look at College Street between Bay and University in quite the same way after you read James Fitzgerald's book, What Disturbs our Blood.
James Fitzgerald is the grandson of Gerald Fitzgerald, after whom the Fitzgerald Medical Building at 150 College Street is named. The subject of this book is a bit off my usual beat, but the history it tells is important to all Canadians, and to Toronto in particular. I found it one of the most engaging reads I have had in quite a while, so am recommending it highly to BHN readers.
The book tells the story of two generations of his family in medical research, and tracks some extraordinary Canadian discoveries, discoveries such as insulin, vaccines for smallpox, rabies and diphtheria that put Toronto at the forefront of world medicine for several decades. It also traces the Fitzgerald family history back several generations, looking for the roots of the suicidal depression that robbed both highly successful men of their careers at their peak; costing the grandfather his life and the father his quality of life in his last decades. It is written as a self-murder mystery…and weaves the family history with the history of medical and psychiatric research, a book global in scope, including great figures on both sides of the Atlantic, told with Toronto firmly at its centre.
Gerald Fitzgerald founded Connaught labs with assistance from the Gooderham family. Instead of pursuing profit from the medical discoveries, as was the world norm, Fitzgerald set out on a mission to provide medicine to as many people as possible at the lowest cost. It was the beginning of vaccination through the emerging public health system in Canadian schools, and our armies, which in turn led to a much higher survival rate for our troops in World War I than any other country and better health in the general population.
If you are interested in the history of Toronto's medical research, the history of psychiatry/psychology, or understanding the ying and yang of old Toronto family values, you will be captivated by this engaging book.