FEATURE STORIES
1.test
IN THIS ISSUE
EVENTS
1. Jane at Home
2. Heritage Ottawa Walking Tour: Sparks Street and Nicholas Sparks
3. Heritage Ottawa Walking Tour: Dalhousie and Bruyère Streets
4. Heritage Ottawa Walking Tour: Village of Rockcliffe Park
5. Domestic Gems: The Architecture of Nicholson and Macbeth
6. Steeped in History

NEWS/ACTION
7. Ontario's Draft Culture Strategy
8. Toronto's Davisville Junior Public School Designation Efforts Thwarted
9. Willowbank signs Agreement with The Prince's Foundation for Building Community
10. Citys Old Post Office project gets international Architectural Review Commendation

LINKS
11. Blog TO: 1960's Top Pics
12. Blog TO: John B. Parkin
13. Ministry of Culture: Draft Ontario Culture Strategy
14. Now Magazine: Threat to York Square
15. Now Magazine: Façadism
16. Spacing: Hal Kalman Reviews Dorothy Mildenhall's Book on Thomas Fuller
17. Toronto Star: Once Upon A City: Opulent estate was doomed from inception
18. Canadian Architect: Reviews on Two Books on Toronto City Hall
19. Cottage Life:10 of Ontario's Prettiest Historic Towns
20. Goderich Signal Star: Saving of Hill Cottage, Goderich
21. Gravenhurst Banner: Save The Bala Falls Hard at Work
22. Niagara This Week: Port Dalhousie Loss
23. Waterloo Region Record: Corduroy Road a Hot Seller
24. Atlantic City Lab:What would Jane Jacobs Do?
25. Arch Daily: Bruce Goff Basinger House GONE
26. MinnPost.com: In St. Paul, modern buildings could soon become historic
27. World Monuments Fund Website

EVENTS
1. Jane at Home
The ordinary life of an extraordinary woman
| | |
| --- | --- |
| Place: | Urbanspace Gallery, 401 Richmond Street West Toronto |
| Date: | April 29-May 8, 2016 |
| Time: | 11 a, |
| Info: | |
An exhibit celebrating the life and personal history of Jane Jacobs, featuring rare and never-before-seen items from her estate.
Step into the personal world of Jane Jacobs. Experience the environments in which she worked and thought. Find yourself in the spaces in which Jane exchanged ideas, hosted family gatherings, and entertained an amazing array of visitors. Enjoy this unique opportunity to view items such as her typewriter, original manuscripts, objects collected by Jane for her personal "museum" and newly rediscovered photographs. The exhibit will shed light on the personal interactions that were essential to her work, and highlight the many facets of her life, creating a three-dimensional portrait of the great writer.
Hours: 11:00 am - 6:30 pm, daily
An exhibit celebrating the life and personal history of Jane Jacobs, featuring rare and never-before-seen items from her estate.
2. Heritage Ottawa Walking Tour: Sparks Street and Nicholas Sparks
| | |
| --- | --- |
| Place: | Meet: Christ Church Cathedral, 414 Sparks Street |
| Date: | June 12, 2016 |
| Time: | 2pm |
| Cost: | Tickets are $5 for members or $10 for non-members |
| Info: | |
For the 200th anniversary of Nicholas Sparks' arrival in Ottawa, a walk along Sparks Street from Christ Church Cathedral to Elgin Street to talk about historic buildings from Spark's time that no longer exist, and the buildings which developed as Upper Town became the commercial and banking centre of Ottawa and its main streetcar corridor, home to important theatres and hotels and, since the 1960's, the Sparks Street Mall.

GUIDE: David Jeanes, President of Heritage Ottawa and author of numerous heritage tours
3. Heritage Ottawa Walking Tour: Dalhousie and Bruyère Streets
| | |
| --- | --- |
| Place: | MEET: Bingham Park (corner of Dalhousie and Cathcart) |
| Date: | June 19, 2016 |
| Time: | 2pm |
| Cost: | Tickets are $5 for members or $10 for non-members |
| Info: | |
This tour will highlight the human development on and around two of Lowertowns historic streets Dalhousie and Bruyère and highlight some of the area's heritage buildings.
GUIDE: Mark Farine, University of Ottawa student and urban history enthusiast.
4. Heritage Ottawa Walking Tour: Village of Rockcliffe Park
| | |
| --- | --- |
| Place: | MEET: Intersection of Lisgar Road at Princess Avenue |
| Date: | June 26, 2016 |
| Time: | 2pm |
| Cost: | Tickets are $5 for members or $10 for non-members |
| Info: | |
The architectural styles in picturesque Rockcliffe Park range from stately stone mansions and interesting contemporary designs to remaining summer cottages. Learn about the history of the village and the role the MacKay and Keefer families had in determining its layout and the design of many of its homes.
GUIDE: Martha Edmond, author of Rockcliffe Park: A History of the Village.
5. Domestic Gems: The Architecture of Nicholson and Macbeth
Presented in association with the Niagara Society of Architects
| | |
| --- | --- |
| Place: | willowbank, Queenstown |
| Date: | Opening Reception, June 11, 6-9 pm |
| Cost: | free |
This exhibition celebrates the influence of two prominent St. Catharines Architects,Arthur Edwin Nicholson (1881-1945) and Robert Ian MacBeth (1891-1978), on the built landscape of the Niagara Peninsula. Whether working together as the firm of Nicholson and Macbeth (circa 1918 to 1930) or independently, these two men were responsible for much of the region's best architecture.
In the 1930s A.E. Nicholson was responsible for major alterations to Willowbank for the Bright family and for restoring the home of William Lyon Mackenzie, both in Queenston.
Opening reception June 11th 6-9 pm.
6. Steeped in History
Fundraising Garden Tour and Tea at Langdon Hall
| | |
| --- | --- |
| Place: | Langdon Hall, Cambridge |
| Date: | Sunday June 12 |
| Time: | 1:30 or 2:30 |
| Cost: | $100.00 |
| Info: | for tickets call 1-877-827-6086 |
Guided Garden Tour and Afternoon Tea, Langdon Hall Country House Hotel and Spa, fundraiser for ACO Cambrdige
NEWS | ACTION
7. Ontario's Draft Culture Strategy
Last fall, the Ontario government launched Culture Talks to start a conversation with Ontarians about the value of culture in their lives and communities to help us develop Ontario's first Culture Strategy.
We would like to thank the thousands of participants who shared their ideas and thoughts on what culture means and the many ways they contribute to and take part in culture.
We now invite you to participate in the next stage of consultation by providing feedback on the key parts of the draft Culture Strategy. The draft sets out a vision for culture and identifies three overarching goals to strengthen culture in communities, fuel the creative economy and promote cultural engagement and inclusion. These goals are supported by strategies and actions to guide Ontario's support for culture so that it continues to grow and flourish in the years to come. The consultation period on the draft strategy closes on Friday, May 13, 2016. Visit ontario.ca/culturetalks to find out more and to learn how you can provide feedback.
Our next step will be to review the feedback we receive. We will then finalize the strategy and release it in June.
We would also like to let you know about two additional documents we have posted on ontario.ca/culturetalks:
A Summary of What We Heard from Ontarians, an overview of the first stage of consultations held from September 2015 to December 2015, in which we capture the key themes and ideas that emerged during the engagement process.
An Environmental Scan of the Culture Sector, a background document that describes key challenges, opportunities and trends affecting the culture sector in Ontario and emerging best practices in Canada and other areas of the world.
We look forward to receiving your feedback and continuing the conversation.
Kevin Finnerty
Assistant Deputy Minister
Culture Division
Ministry of Tourism, Culture and Sport
Editor's Note: Update: Comments have been received and the final strategy will be released in late June. ACO is very pleased to see many of our suggestions incorporated.
8. Toronto's Davisville Junior Public School Designation Efforts Thwarted
Catherine Nasmith
On Thursday June 2, the Toronto Preservation Board voted unanimously for designation of Davisville Public School. On June 14 Toronto East York Community Council voted to defer designation indefinitely, and made no provisions for any further discussions with those wanting to find a win-win to save the building. The day after the Toronto District School Board issued an RFP for architects for the new school, with a site plan showing the existing building demolished. What has been said was that it is impossible to fit the school playground on the site and keep the existing school, but wait a minute: the site plan published with the RFP shows a huge area of surface parking, roughly the same as the existing school footprint. So the question is, what are the public priorities in this decision?
ACO Toronto (I am the President) has been working to save this building, one of those featured in a recent ACO Toronto lecture by Robert Moffatt
Architect Carol Kleinfeldt, a former Toronto Society of Architects President, wrote in support of the designation and offered to work with the TDSB to find a solution to save the building. Following the TEYCC deferral, School Trustee Shelley Laskin refused to meet with Mod Squad reps to discuss options, or even to explain why they were dismissing the options put before them by Ms. Kleinfeldt. Councillor Matlow has agreed to meet.
At both hearings deputations against designation went on for an hour, yet not one of the deputants questioned the cultural value of the building, in fact several acknowledged its importance. Toronto District School Board staff, school trustee Shelley Laskin, school principal, Shona Fairly and parents objected to retaining the building because it's current condition is challenging to repair and unsuitable for its current occupancy as a community school. There is fear that designation would translate into the loss of funds for a new school, even though the province has already allocated 15M to build one. The parents and school principal had put together a video outlining all the issues with overcrowding in a school that was designed for a different purpose. Clearly a new school is needed, but does that mean the old school cannot be repurposed?
The local community is of a mind that it is impossible to fit the new school, a community centre planned by the City of Toronto and outdoor recreation space on the property if the current building is kept. But wait, all that would be built before the building is demolished. And there is a very large land parcel. And alternatives site plans were presented by architect Carol Kleinfeldt to TEYCC.
I listened carefully, with a strong sense of déjà vu, so many preservation stories start this way. Yet, once a designation is in place, solutions are found. Creative energy is turned to finding a solution that does not require destruction. In this case the school might be repurposed, either by the school board or another owner. We have been robbed of the opportunity to discuss, let alone find a solution.
Letting a building get beyond repair in public ownership should not happen. Yet deferred maintenance has become the order of the day. It is akin to me as a kid walking through mud puddles to get my Mom to buy me shiny new shoes. As she rightly pointed out, the money for new stuff doesn't grow on trees and I should not be wasting family resources.
Regrettably the planning of a new school and community centre on the property has proceeded for five years on the assumption that the existing school must be demolished. When questioned about whether the Toronto District School Board takes cultural value into consideration in its real estate decisions it was clear culture has not been a priority.
The province needs to give clear direction here. Provincial Ministries are required to conserve historic resources under Part III of the Ontario Heritage Act, but not school boards.

.
9. Willowbank signs Agreement with The Prince's Foundation for Building Community
Willowbank Newsletter
At the beginning of May, Willowbank was pleased to announce the signing of a Memorandum of Understanding with The Prince's Foundation for Building Community, a non-profit organization in the United Kingdom which has been teaching and demonstrating sustainable development through community engagement, as well as providing training in traditional building skills for over 20 years. The charity was founded by His Royal Highness The Prince of Wales, Patron of Willowbank.
The agreement with The Prince's Foundation outlines the common goals of both institutions through education and training programmes which transform lives by building resilient communities. Both organizations promote ecological and integrated approaches to design and development that are based on traditional knowledge, innovative sustainable building techniques and best practices in urban design, architecture, planning and construction. The Prince's Foundation for Building Community runs several courses that aim to address the growing lack of craftspeople skilled in traditional building crafts. Their education work focuses as well on sustainable planning skills, offering both an MA and an MSc in these areas. Both institutions have agreed to collaborate on research and projects and exchange students, faculty and alumni when possible.
"This collaboration with the Prince's established initiative is the perfect opportunity to strengthen our approaches to fostering resilient communities," said Vikki Broer, Chair of Willowbank's Board of Directors, "It enriches Willowbank's role on the world stage as our school programme is about to mark its first decade."
"We are delighted to announce our collaboration with Willowbank," said Simon Sadinsky, Head of Education. "We share the same vision ­ of transforming lives by building resilient places – and we hope this relationship will help inspire and develop the next generation of craftspeople, architects and others working in the built environment who will help preserve and shape the beautiful, resilient places of tomorrow."
Celebrating its 10th anniversary in 2016, the Willowbank School offers an integrative and innovative three-year Diploma in Heritage Conservation that combines the theory and practice of conservation. Its Centre for Cultural Landscape, which builds on the experience of Canada's First Nations and rich multi-cultural reality of contemporary Canada, also offers field schools, short courses and public lectures. The Prince of Wales became Willowbank's Patron in 2014.
The Prince of Wales meets a Willowbank graduate for the first time, at Canada House
The announcement of the MOU between PFBC and Willowbank was made on the same day The Prince of Wales visited Canada House in London, home of the Canadian High Commission in the UK. During the visit, which was organized by The Prince's Charities Canada to highlight His Royal Highness's charitable interests in Canada, The Prince of Wales met Sahra Campbell, a graduate of Willowbank's class of 2015 who is working in the conservation field in London
Like other Willowbank graduates finding immediate successes across a range of careers, from skilled trades to design firms to community development, Sahra Campbell has made a successful transition to the conservation of historic materials. As part of her Willowbank internship in the United Kingdom, she headed the documentation team for the restoration of the Temperate House at the Royal Botanic Gardens, Kew, the world's largest surviving glasshouse of its time, and she is currently conserving the Victorian interiors of Delapré Abbey in Northampton.
To subscribe to the Willowbank Newsletter email egailb@sympatico.ca to be added to the list.
10. Citys Old Post Office project gets international Architectural Review Commendation
City of Cambridge Press Release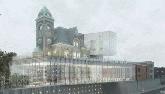 View from Riverside
The City's Old Post Office project received international recognition this week when it received a commendation in the "Old and New" category at the 2016 Architectural Review MIPIM Future Projects Awards in Cannes, France. "We're thrilled to be receiving international attention on a local project that is so important to our community," said Mayor Doug Craig. "Not only will the new digital library be an exciting community space, but also a culturally significant addition to one of our downtown cores."
The MIPIM Architectural Review Future Projects Awards recognize planned or incomplete projects across 12 categories. The "Old and New" category features projects where a new building is being placed alongside an existing historic building or in a historically significant setting. The awards were assessed by an international jury chaired this year by Paul Finch, editorial director of The Architectural Review and The Architects' Journal. "We are extremely pleased to have received such a great honour for the Old Post Office Idea Exchange project," remarked Tyler Sharp, principal and design director for RDH Architects (RDHA). "This level of international recognition is the result of a great synergy between the rigour of our design process and the great ambitions of the City of Cambridge and Idea Exchange."
The post office project will see a complete restoration of the existing historic building along with new glass additions that will increase usable space and improve accessibility. Combining glass structures with the heritage building will allow the historic elements to remain on display while still providing a space suited to modern use.
"This is an exciting community project and a breakthrough opportunity for heritage and the future to intersect," said Idea Exchange CEO Helen Kelly. "The building is magnificent and the revitalization will provide a dynamic space for makers, learners and readers of all ages to gather and explore." The new digital library will offer programs and services for all ages. From 3D printers to recording suites to a teen creative space and onsite restaurant, the renovated historic post office building will be an entrepreneurial hub in Cambridge; a place for all members of the community to engage, collaborate and innovate.
For more information on the post office project, visit www.cambridge.ca/postoffice or www.ideaexchange.org. -30-
Editor's Note: This project has not been universally applauded. ACO continues to raise concerns because of the way the additions obscure much of riverside of the building from public view. It is an instance where the building has more than one strong public face.
LINKS
11. Blog TO: 1960's Top Pics
Derek Flack
The top 10 Toronto buildings from the 1960s


The 1960s were a massive decade for architecture in Toronto. In addition to the birth of New City Hall and the TD Centre, Brutalism left its mark on the city with grand concrete structures that would inspire designers to reach new heights in the 1970s. In the span of 10 years, Toronto had embraced modern design and there was no looking back.

Here are my picks for the top Toronto buildings to rise in the 1960s.

okeefe centre O'Keefe Centre (now the Sony Centre)
One of architect Peter Dickinson's most grand Toronto works, the O'Keefe Centre opened in 1961. Recognizable for its stunning marquee canopy (a smaller version of which could be seen at the Four Seasons Motor Hotel), it now serves as the base of the L Tower.

colonade building torontoThe Colonade
I doubt that many young people find much beauty in the Colonade nowadays, but architect Gerald Robinson's concrete palace near Bloor and Avenue Rd. was a marvel when it opened in 1964. It's aged well, but concrete is no longer as sought after a building material.

yorkdale mall 1960s Yorkdale Shopping Centre
Mall architecture can be as bland as it comes, but Yorkdale was a stunning exception. Completed in 1964, the majority of the mall was designed by John Graham Jr., who's most famous for the Seattle Space Needle. John Andrews also took part in designing the Simpson's department store. Much of the original work has been lost through renovations, but some remains.

university toronto scarborough University of Toronto Scarborough
John Andrews' University of Toronto Scarborough campus was one of the most significant and studied architectural works in this city for decades after it opened in 1964. The Brutalist complex is still considered one of the chief examples of this brand of architecture and is surprisingly human in orientation when you explore the space.

city hall toronto City Hall
This was the building that changed everything in Toronto. The winner of a massive international design competition in the early part of the decade, Viljo Revell's modernist municipal headquarters still looks like it comes from the future.

castle frank subway station Bloor-Danforth Subway Stations
There's an understated elegance to the Bloor-Danforth Subway Line that's easy to spot if you look past the grimy walls and aging signs. Architects John B. Parkin and A. G. Keith provided a consistent design that alternated between five colours of tile and four versions of trim. Station entrances like the rounded one found at Castle Frank have become iconic over the last 50 years.

toronto dominion centre The TD Centre
Surely the second most important building that rose in Toronto during the decade, the black steel of Mies van der Rohe's TD Centre was like nothing Toronto had ever seen at the time. The city's modern Financial District was born with this imposing complex.

20 prince arthur 20 Prince Arthur
Uno Prii deserves more respect for being the pioneering architect that he was. As the Toronto began to see a boom in concrete slab apartment buildings, he injected Googie-influenced style into his buildings, many of which can be found scattered around the Annex today. 20 Prince Arthur (1968) is the cream of the crop, though.

ontario science centre Ontario Science Centre
Raymond Moriyama's Ontario Science Centre is a building that needs to be experienced from both afar and within to get a true appreciation of its best attributes. Despite its sprawling size, from a distance one sees how well it blends into the ravine wall, the topography of which is also used to invite the natural surroundings into the building as one descends each floor.
http://www.blogto.com/city/2016/05/the_top_10_toronto_buildings_from_the_1960s/
12. Blog TO: John B. Parkin
Derek Flack
This architect changed everything in Toronto

Conversations about Toronto architecture often focus on the birth of the City Hall and the TD Centre in the 1960s as defining moments in the modernization of design in Toronto. It's tough to argue against the profound influence both of these structures, but it's also imperative to note the pioneering force that John C. Parkin was in making Toronto a modern city a decade earlier.

This process started well before Viljo Revell won the design competition to build a new municipal headquarters in Toronto. In fact, you'd want to go back to 1947 when John B. Parkin and John C. Parkin (no relation) joined forces to start the firm John B. Parkin and Associates. The similar names can lead to confusion, but John C. was the design lead, while John B. ran the business.

While far too many of John C. Parkin's buildings have been demolished over the years, including the glorious Bata Building on Wynford Drive, there's ample evidence of his footprint on Toronto. One of the most significant of these is a small building tucked at 50 Park Rd. in Rosedale.

Formerly the home of the Ontario Association of Architects, the structure dates back to 1954, and caused quite a stir when it first opened for its utter simplicity and unabashed modernism. It doesn't seem like much today, but Toronto hadn't seen anything like it at the time. Still, Parkin was only getting started.

Over the next 15 years, Parkin would change the face of Toronto with such landmark buildings as Rosedale Subway Station (1954), Sidney Smith Hall (1961), the Sun Life Building (1961), Yorkdale Shopping Centre (1964), Aeroquay No. 1 (1965), Don Mills Collegiate (1965), the IBM Canada Headquarters (1967), and the Simpson Tower (1969).

Wouldn't you know it, the firm would also play a supporting role in the design of the TD Centre alongside Mies van der Rohe and Bregman + Hamann Architects. It seems fitting that Toronto's best modern building to this day bears Parkin's name.

Editor's Note: If you want to see photos of his work, enter John B. Parkin in a detailed search on http://acotoronto.ca/tobuilt_new.ph
http://www.blogto.com/city/2016/05/this_architect_changed_everything_in_toronto/
13. Ministry of Culture: Draft Ontario Culture Strategy
Ministry of Culture, Tourism and Sport
Core elements of Ontario
Last fall, the Ontario government launched Culture Talks to start a conversation with Ontarians about the value of culture in their lives and communities to help us develop Ontario's first Culture Strategy.
We would like to thank the thousands of participants who shared their ideas and thoughts on what culture means and the many ways they contribute to and take part in culture.
We now invite you to participate in the next stage of consultation by providing feedback on the key parts of the draft Culture Strategy. The draft sets out a vision for culture and identifies three overarching goals to strengthen culture in communities, fuel the creative economy and promote cultural engagement and inclusion. These goals are supported by strategies and actions to guide Ontario's support for culture so that it continues to grow and flourish in the years to come. The consultation period on the draft strategy closes on Friday, May 13, 2016. Visit ontario.ca/culturetalks to find out more and to learn how you can provide feedback.
Our next step will be to review the feedback we receive. We will then finalize the strategy and release it in June.
We would also like to let you know about two additional documents we have posted on ontario.ca/culturetalks:
A Summary of What We Heard from Ontarians, an overview of the first stage of consultations held from September 2015 to December 2015, in which we capture the key themes and ideas that emerged during the engagement process.
An Environmental Scan of the Culture Sector, a background document that describes key challenges, opportunities and trends affecting the culture sector in Ontario and emerging best practices in Canada and other areas of the world.
We look forward to receiving your feedback and continuing the conversation.
https://www.ontario.ca/page/core-elements-ontarios-draft-culture-strategy
14. Now Magazine: Threat to York Square
Catherine Nasmith
Almost every time I mention Toronto's York Square, people ask, "Where is that?" That's a compliment to its success: its modest approach has been so widely copied that it's almost invisible today.
Better known as the location of the Vidal Sassoon hair salon in Yorkville, the seminal work of Jack Diamond and Barton Myers's groundbreaking architectural firm set the architectural and planning world on its head when it was completed in 1968. We now take for granted the idea of working with and around existing buildings, but York Square was one of the first projects in Toronto to mix historic and new. It set out on a different path than the scorched earth approach to "urban renewal."
In 1968, Yorkville was home to the counterculture, to hippies, street kids and musicians like Joni Mitchell and Gordon Lightfoot. Toronto had not yet been hollowed out for urban renewal in the same way many American cities had, but it was charging headlong over that cliff, goaded on by planners and developers.
The development made news in architectural and planning journals around the world, and made Diamond & Myers the firm architecture graduates wanted to join. The round windows pay homage to Louis Kahn, reflecting the firm's connections to the University of Pennsylvania, where Kahn taught.
Prior to the passage of the Ontario Heritage Act in 1975, it was hard to make the case to save lovely old buildings like Old City Hall and Union Station, let alone old houses. But the reform council of the 70s made Toronto famous as a liveable city and place of progressive urbanism.
https://nowtoronto.com/news/in-yorkville-architectural-modesty-faces-death-from-above/
15. Now Magazine: Façadism
Richard Longley
Façadism: Is it an Architectural Plague or Preservation
It might be the dirtiest word in the conservationist's dictionary, unless you prefer "facodomy" or landscape architect and planner Bob Allsopp's "urban taxidermy." It cannot be popular among architects either, who would rather design buildings that are wholly their own.
But if facadism – building new structures above, behind or inside the skins of heritage buildings – is so heinous, why is it so common?
Is it because, since Torontonians have lost so much of their city's past, they are determined to hold on to fragments of what remains? Or is it because so many architects seem to have lost the knack of creating building fronts that impress, awe, intrigue, enchant or invite us to explore within?
If that is what facades are supposed to do, why are we so often confronted instead by bleakness and banality on the faces of new buildings? Is facadism a creator of monsters and mutations or is it an architectural movement whose products can be good, bad and indifferent?
In a Toronto clear-cutting, replanting and regrowing itself at a pace that's transforming its skyline month by month, facadism is epidemic, with results that include the bizarre, the grotesque, the dramatic and the ridiculous, but rarely the sublime.
Michael Emory is president of Allied Reit, the firm responsible for Queen-Richmond Centre West at 134 Peter – possibly the most spectacular conservation project in Toronto, an 11-storey glass tower that straddles a four-storey former Weston Bakery built in 1912.
https://nowtoronto.com/news/facadism-is-it-an-architectural-plague-or-preservation/
16. Spacing: Hal Kalman Reviews Dorothy Mildenhall's Book on Thomas Fuller
Harold Kalman, forwarded by Stephen Otto
BOOK REVIEW: Thomas Fuller: Architect for a Nation
Thomas Fuller (1823-1898) rose to prominence as one (of four) architects of Canada's Parliament Buildings, the one building for which he is widely known. His extensive professional career included work in England, Antigua, and the U.S., as well as Canada. Despite the scope of his work, Fuller has been the subject of only a handful of studies. Dorothy Mindenhall's new book on Fuller is therefore a welcome newcomer. Her treatment is essentially chronological, tracing Fuller's life and work from his youth in Bath, through his Canadian and American sojourns, to his death in Ottawa.
Whether in one of several partnerships – none lasted very long – or working alone, Fuller's buildings display an eclectic variety of treatments, revealing his facility with the design vocabularies of the Victorian era and his skill at making the big statement. Fuller's first building, the Late Georgian St. John's Cathedral, Antigua, commissioned when Fuller was only twenty-two, already reveals a penchant for monumentality and superb siting. It also introduced Fuller's ability to stir controversy, as the Ecclesiologist dismissed the cathedral as a 'mere overgrown Pagan church … with two dumpy pepper-box towers.' Fuller and his young family emigrated to Toronto in 1857 in search of the opportunities offered by the New World. His skills at self-promotion soon paid off, and within months he found an important client, R.B. Denison, who retained him to design St. Stephen-in-the-Field Anglican church, one with which the Ecclesiologist would have been far happier.
http://spacing.ca/national/2016/04/27/book-review-thomas-fuller-architect-nation/
Editor's Note: EDITORS NOTE: The Spacing Store is the lone retail shop to carry copies of the book. Please visit us at 401 Richmond St W, Toronto to pick up a copy.
17. Toronto Star: Once Upon A City: Opulent estate was doomed from inception
Carola Vyhnak
Stately Chorley Park is no More
. And with that announcement in the March 17, 1961 edition of the Toronto Daily Star, the story of Canadas most magnificent mansion ended in a heap of rubble.
Built in 1915 for more than $1 million $26 million in todays dollars the official residence of Ontarios lieutenant-governor was both vaunted and reviled. The opulent Rosedale estates glamorous early years were spent serving high society as a crash pad for princes and potentates, and host of soirees and charity balls.
But extravagance proved to be its undoing. With unmanageable maintenance costs, it slowly deteriorated and practicality stepped in to repurpose the building as a military hospital, RCMP headquarters then haven for Hungarian refugees. It cost a mere $6,340 to pull down the stone walls 46 years after the showplaces dazzling debut

Chorleys inception was cheerful enough when the province bought the 5.5-hectare site in 1911 to replace the demolished Government House at King and Simcoe Sts.
Its a beautiful location (and) one of the most desirable places & for such a building, the Star said of the wooded natural park overlooking the Don River Valley.
http://www.thestar.com/yourtoronto/once-upon-a-city-archives/2016/04/21/once-upon-a-city-opulent-estate-was-doomed-from-inception.html
18. Canadian Architect: Reviews on Two Books on Toronto City Hall
Danish architects 3XN to design condo tower on Toronto
Following a design competition, real estate firm Hines and developer Tridel have selected Danish firm 3XN as the design architect of their latest waterfront residential project at Bayside Toronto. Joined by 3XN principal and senior partner Kim Herforth Nielsen, the development partners and architect released initial renderings of the proposed condominium last week.
Architect Kim Herforth Nielsen described his firm's intention to create a vertical neighbourhood, with the family home as its inspiration. "The design puts people first, paying particular attention to the quality of views, space and lifestyle," he said. "The development will command extraordinary views of the water, neighbouring parks, and the city skyline."
https://www.canadianarchitect.com/architecture/danish-architects-3xn-design-tower-torontos-waterfront/1003732249/
19. Cottage Life:10 of Ontario's Prettiest Historic Towns
Susan Laux
10 of the quaintest towns in Ontario
We know, we know—Ontario is overflowing with pretty, historic towns. Once you get away from the big cities, it's hard to travel very far in any direction without coming across lovely Victorian storefronts and graceful heritage houses—so narrowing it down to only 10 towns was pretty difficult.
While it may be a controversial list, we've picked the spots that offer that perfect balance between old-fashioned charm, quirky culture, and welcoming community.
http://cottagelife.com/canadiana/10-of-the-quaintest-towns-in-ontario
Editor's Note: I say with a certain amount of pride as ACO President, almost all of these towns have or have had an active ACO branch. And there are many, many more, missing are some of my favorites, Meaford, Cobourg, St. Mary's, Stratford, Niagara on the Lake, Hanover, Walkerton, Collingwood, Guelph.....and....
20. Goderich Signal Star: Saving of Hill Cottage, Goderich
Laura Broadley
Goderich council rejected the Cottage owner
Cheers erupted in the gallery of Goderich council chambers on May 24 as council voted to reject the Cottage (135 Essex Street) owner's request to have it de-designated as a heritage site.
This conclusion comes nearly two years after the owner's initial request to have the designation removed from his property.
The years-long debate amounted to a Conservation Review Board hearing on Feb. 23, which saw Beth Ross and Laurel Armstrong objecting to council's 2014 decision to de-designate the property.
Following the hearing, Conservation Review Board recommended that council repeal its original decision, and keep the property as a heritage site. It also recommended that Nick Hill's work on the property be recognized.
Conservation Review Board recommendations are not binding for council, and so it was up to council members to make the final decision.
Before council had a chance to vote, John Thompson, Jim Wallace, Laurel Armstrong and Beth Ross spoke in favour of keeping the heritage site designation.
Councillor Michele Hansen said she believed that council should remain consistent with its voting, and uphold its original decision to de-designate.
"I believe that the owners own their home," Hansen said.
Councillor Matt Hoy said it was important that the designation remain on the Cottage as evidenced by the expert recommendation of the Conservation Review Board.
"I'm not an expert. I'm not an architect," Hoy said. "The experts tell us this property should be maintained as a designated property. That carries a lot of weight for me."
The current owner purchased the property knowing it was already designated, so they knew what they were getting, Hoy said.
Councillor Trevor Bazinet said he agreed with Hoy.
"I don't like flip-flopping. I said I would never flip-flop, but in this instance I'm changing my vote," Bazinet said.
Deputy Mayor Jim Donnelly said he would accept the owner's request to de-designate because he said he believed that when the power of the state encroaches on someone's property without compensation it is theft. He said the owners of the Cottage have taken care of the property for over two decades without compensation.
Mayor Kevin Morrison said council received last-minute correspondence that he wanted to review and requested more time to make a decision. Donnelly made the motion to table the issue, but it failed to garner a seconder.
Council voted in favour of repealing its 2014 decision to grant to owner's de-designation request. Councillors Matt Hoy, Luke Elliot, Myles Murdock and Trevor Bazinet voted in favour of keeping the heritage site designation thereby defeating the three votes of councillor Michele Hansen, Deputy Mayor Jim Donnelly and Mayor Kevin Morrison.
http://www.goderichsignalstar.com/2016/05/30/goderich-council-rejected-the-cottage-owners-request-to-have-it-de-designated
Editor's Note: There was a petition circulating at the Ontario Heritage Conference at the ACO booth, hoping this will lead to the re-invigoration of the ACO branch in Goderich. Nicholas and Margaret Hill were very active members.
21. Gravenhurst Banner: Save The Bala Falls Hard at Work
Brent Cooper
SaveTheBalaFalls.com may still initiate legal action
Mitchell Shnier told an audience of around 178 at the Bala Community Centre that the group might have to initiate another legal action in relation to the plant project.
"We have a lot of focus on our plan how to move forward," he said to those gathered for the meeting, which was an update of STBF's activities over the past year. "If we need to initiate legal action we must be able to show that it is not in any individual's interest, it is in the broad public's interest. We need to show, for example, that Save The Bala Falls is not just a few people, it is representing an active and broader community."
SaveTheBalaFalls.com filed an application in November to prevent Muskoka Lakes township from entering into a leasing agreement with Swift River Energy Ltd — the proponents of the hydroelectric plant project at Bala Falls — for the use of Portage Landing, the south half of the Don's Bakery parking lot, and the north half of the Precambrian Shield parking lot during construction of the plant, mainly as a staging area for construction.
http://www.muskokaregion.com/news-story/6689177-savethebalafalls-com-may-still-initiate-legal-action/
22. Niagara This Week: Port Dalhousie Loss
Scott Rosts
Lakeside Park pavilion to be demolished
St. Catharines council voted to demolish the structure in Lakeside Park on Monday night, but not until after there was significant debate on whether or not to save the structure, which has been closed since January due to structural integrity issues. While some councillors felt there was heritage value to the pavilion and saw merit in a Port Dalhousie Conservancy proposal to save it and restore for significant savings, the majority felt it was time to move forward with a new structure as part of the overall Lakeside Park enhancement program.
"This feels like a very much red herring debate. We're debating a feces-filled roof on stilts," said Coun. Mat Siscoe. "We need to start debating the issues that matter in the community, for example the gaping hole in Port Dalhousie and the piers that aren't functional." He added city staff and the city's consultants were pretty clear the building doesn't meet any definition of heritage — suggesting it was constructed in the 1960s. The consultant had also said in November the structure couldn't be salvaged because of its poor condition.
Coun. Bruce Williamson, however, countered that the city has had a "poor track record" in preserving history and the conservancy and area residents not only have evidence suggesting the structure was built in 1925, but identified savings of between $200,000 to $300,000 with their counter proposal to rehabilitate the structure.
The city's consultant, however, said what the conservancy suggested was a $550,000 project was actually closer to $999,000. The new pavilion, city staff said, would cost $732,000.
"Attitudes have changed. We need to look at this thing as something that adds value," stressed Williamson. "It's in rough shape, no doubt about it. It needs a lot of work, but it can be done…. There is an alternative that is more creative, more progressive and gives us an opportunity to save something that has historical merit."
Coun. Carlos Garcia agreed and questioned the process, saying a third party should have reviewed the conservancy estimate, not the city's consultant for the project.
"For $580,000 I think we can accomplish all the onjectives we had as a council," said Garcia. "(It's) more safe, more usable, extends the life, keeps the historical connections and it saves us a pile of money."
Conservancy president Hank Beekhuis said he felt the issue has been "one sided" and the most recent staff report was "unbiased". He admitted that while everyone agrees the status quo isn't acceptable, the conservancy plan provides a significant improvement for less tax dollars.
"It comes down to preference, pride and prejudice at a cost of somewhere in the area of $200,000 to $300,000 extra to the taxpayer," said Beekhuis, later adding "this closed-minded approach to heritage preservation in a heritage district like Port Dalhousie does not bode well for our future."
The new pavilion is one of two proposed as part of the Lakeside Park enhancement project. In all, the $2.47 million project includes the pavilions ($1.05M), washroom and concession upgrades at a cost of $460,000, electrical upgrades at a cost of $440,000, a playground replacement for $400,000, accessibility improvements estimated at $75,000, and other miscellaneous items, for another $45,000. The project is being funded by the city ($1.77M), Region of Niagara ($545,000) and federal government ($150,000).
"This is an opportunity for us to move to something I think is respectful of the heritage of the park, but allows us to move forward," said Mayor Walter Sendzik.
23. Waterloo Region Record: Corduroy Road a Hot Seller
Paige Desmond
Traffic was backed up nearly two kilometres on Erb Street Friday morning as hopeful residents lined up for a piece of the corduroy road unearthed from King Street in uptown Waterloo.
It took just 27 minutes for the Region of Waterloo to dole out the 100, two-foot sections available to the public at the landfill.
Susan Weber arrived at 3:45 a.m. to be first in line. She enjoyed a snooze in the back seat with her slippers, pillow and blanket as she waited for the gates to open. The next person arrived at 4:20 a.m., she said.
When she heard about the discovery of the road in early March, Weber was thrilled. "I love history and I love looking at old pictures so I just thought it was very exciting," she said. Weber plans to give her piece of corduroy road to her father John as a Father's Day gift. Coming from a Mennonite background, she believes perhaps her ancestors may have been involved in building the road. "I think it's special because there's a good possibility that one of our relatives was involved in that project so it makes it personal," she said.
Light rail transit construction consortium GrandLinq discovered the road under King Street and Willis Way on March 11. Work had to stop until the discovery could be properly documented as required by the province. A corduroy road is made by laying logs side by side perpendicular to a roadway passing through soft or wet soil. The lead archeologist documenting the road said it was built between 1790 and 1816 by Mennonites.
Tim Ireland arrived at the landfill with his young daughters Cassie and Callie shortly after 6:15 a.m. The girls were pretty excited to get a piece of corduroy road. "Callie wanted to get up at 1 a.m. this morning," Ireland said. The Irelands aren't sure what to do with their piece of wood quite yet, though Cassie suggested it go in their bunny Snowy's cage. Before they arrived, Ireland thought maybe they would be able to make a second trip for a second piece of wood. As the lineup formed it was clear that wasn't going to happen. "I don't think they thought this would happen," he said.
24. Atlantic City Lab:What would Jane Jacobs Do?
Kriston Capps forwarded by Richard Longley
Whose Side in the Housing Wars Would Jane Jacobs Take Up Today?
Of all the ways to celebrate a centenary, announcing a collab with Bob Dylan might be the tops. Days before Wednesday's Google Doodle marked the 100th anniversary of Jane Jacobs's birthday, her son confirmed with The Globe and Mail that mom co-wrote a song with Dylan to protest Robert Moses' plans for Lower Manhattan. But of course she did.
No planner is so revered—well, that's a silly thing to say, since no other urbanist comes close to boasting the household-name status that Jacobs enjoys. Her battles with Moses in New York over urban renewal, and her advocacy for a city scaled to the person on the street, made her famous. They earned her not just acclaim but a philosopher's eminence in the public sphere.
In her son's telling, Jacobs even taught Dylan how to write a protest song. Now, that's so unlikely as to throw a shadow over the whole story. But the lyrics, if they are Dylan's, read like something Jacobs would be saying in 1963:
Listen, Robert Moses, listen if you can
It's all about our neighborhood that you're trying to condemn
We aren't going to sit back and see our homes torn down
So take your superhighway and keep it out of town
Part of her critical appreciation surely stems from the fact that she was right about a great many things, while her sparring partner, Moses, was so wrong. Urban renewal cut devastating racial and economic fault lines through cities. Had Moses (and others) succeeded in building the Lower Manhattan Expressway, some of the most beloved neighborhoods in New York would not exist today.
Still, it is hard to share wholeheartedly the sentiment, expressed by colleagues at this publication and others, that Jacobs's lessons should still guide us today. Or maybe it is tempting to do so but hard to justify, looking at the challenges that stand ahead. "If Jane Jacobs were with us today, she would have every right to say: I told you so," writes Roberta Brandes Gratz. That's no doubt right.
http://www.citylab.com/work/2016/05/would-jane-jacobs-be-a-nimby-or-yimby-bob-dylan/481269/?utm_source=nl__link3_050516
Editor's Note: Food for thought. I am pretty sure that Jane Jacobs would not have expected nor supported the kind of runaway development in King Spadina that increasingly threatens the existence of all the old buildings that are home to "new ideas", and critical to the creative economy.
25. Arch Daily: Bruce Goff Basinger House GONE
Bruce Goffs Bavinger House Demolished with Little Warning
The Bavinger House is considered by many to be the crowning achievement of Bruce Goff, an esteemed architect who was once referred to by his mentor Frank Lloyd Wright as one of the few creative American architects. Its spiraling form and integration with the landscape was one of the first instances of modernist bio-mimicry.
Originally built along with students at Oklahoma University, the house was damaged by a storm in 2011, after which its status remained a mystery due to its remote, private location and an unknown individual threatening reporters with gunshots.
http://www.archdaily.com/788189/bruce-goffs-bavinger-house-demolished-with-little-warning?utm_source=ArchDaily+List&utm_campaign=3659675ea3-RSS_EMAIL_CAMPAIGN&utm_medium=email&utm_term=0_b5a382da72-3659675ea3-410811145
26. MinnPost.com: In St. Paul, modern buildings could soon become historic
Peter Callaghan

MinnPost photo by Peter Callaghan - The Minnesota Mutual Life Insurance/Pioneer Press building at 345 Cedar St. in downtown St. Paul.
Even the names given the period and style of American architecture — modern, mid-century modern, international — seem to contradict the concept that such buildings could be "historic." Many were built to replace, and in reaction to, the brick and stone structures that dominate historic registers.
But as buildings defined by glass, steel and concrete reach the 50-year standard for minimal eligibility, more are being considered for historic status. Now, two buildings constructed during the first attempts to stimulate a moribund downtown St. Paul may be the first post World War II buildings nominated for the honor.
The owners of the two buildings, the Degree of Honor Building at 325 Cedar St. and the Minnesota Mutual Life Insurance/Pioneer Press building at 345 Cedar St., have asked the state Historic Preservation Officer to forward applications for historic designation to the National Park Service. The state has agreed that both are eligible, and the park service has approved the request for the Degree of Honor building. The service is currently considering the request for the Minnesota Mutual building.
The reasons for wanting a building on the register are mostly financial. The federal government offers tax credits — including a 20 percent investment tax credit — for renovating historic buildings. In return, a developer must must follow guidelines on methods and materials and get approval for the work. Because the standards are strict and can add to the cost, however, the tax incentives are often vital in making a renovation financially possible.
https://www.minnpost.com/politics-policy/2016/05/st-paul-modern-buildings-could-soon-become-historic
27. World Monuments Fund Website
forwarded by Margie Zeidler
Take a look at what they are doing at teh World's Monuments Fund
https://www.wmf.org/who-we-are