FEATURE STORIES
1.test
IN THIS ISSUE
EVENTS
1. Celebrations of 50th Anniversary of Toronto City Hall
2. Architectural Tour of Buffalo New York
3. Heritage Ottawa Walking Tour
4. Heritage Ottawa Free Public Lecture
5. Heritage Ottawa Walking Tour
6. Heritage Ottawa Walking Tour
7. Heritage Ottawa's Bob and Mary Anne Phillips Memorial Heritage Forum
8. Heritage Ottawa Walking Tour
9. Book Launch
10. Riverdale Historical Society September Event

NEWS/ACTION
11. Surviving Remnant of Lake Iroquois Shoreline designated as a Cultural Heritage Landscape
12. Madison Avenue an HCD at last
13. Keeping the "Mill" in Millbrook
14. Stratford Festival Communications Director to Open Ontario Heritage Conference

LINKS
15. Globe and Mail: Archaeological Discovery at Globe and Mail Site
16. Douglas Gubitz Real Estate: Eden Smith House Sold in Toronto Annex
17. Toronto Star: Guild Inn Update
18. Urban Toronto: Archaeological Discovery in Toronto, 1831 Market
19. St Thomas Times Journal
20. Chatham Voice: Saving Another Historic Church in Chatham-Kent
21. Buffalo News: Restoring forgotten Buffalo lighthouse will create heritage bookends
22. Daily Commercial News: Balancing heritage structures with sustainable demands
23. Ottawa Citizen: National Capital Commission Failure re: Communism Monument
24. Globe and Mail: This Lighthouse Matters Helping Save Nova Scotia Lighthouses
25. Guardian: A Carbuncle--To Demolish or Not to Demolish
26. Commercial Property Executive: Historic Old Pasadena Building Gets Modern Certification
27. BBC: The Fight to Save Kolkata's Heritage Homes

EVENTS
1. Celebrations of 50th Anniversary of Toronto City Hall
Lecture Series
Civic Symbol: Municipal Politicians Build a City Hall
Christopher Armstrong speaks on Thursday, September 10, 2015 about the background and history of the construction of Viljo Revell's winning design for Toronto City Hall. Armstrong is Emeritus Professor of History at York University. Having long taught courses on the urban history of Toronto, he has published a book on municipal politics in the 1890s, and most recently a study of the spread of Modernist architecture called Making Toronto Modern.
Innovative Urban Design Aspects of Revell's Design for Toronto City Hall
George Baird delivers this presentation on Thursday, September 24, 2015, focusing on the urban design aspects of Revell's winning iconic design for Toronto City Hall. Baird is the former Dean of the Daniels Faculty of Architecture, Landscape and Design at the University of Toronto, and a noted architect and partner of Baird Sampson Neuert Architects. He has been active in architecture, urban design and heritage preservation in Toronto, across Canada, and abroad. Additionally, he is the winner of numerous architectural and heritage awards, and the author of many books and studies.
The lectures are presented by the Toronto Public Library and the City of Toronto with promotional partner Heritage Toronto.
2. Architectural Tour of Buffalo New York
Town of York Historical Society
| | |
| --- | --- |
| Place: | Buffalo, New York |
| Date: | September 12th, 2015 |
| Time: | 8-6:30 pm |
| Cost: | 155 for Town of York Historical Society Members, $175 for others |
| Info: | Save the Eventbrite fees by purchasing your ticket at Toronto's First Post Office at 260 Adelaide St. E., or over the phone at 416-865-1833! http://www.townofyork.com |
With a guided tour of downtown that will include:
Art Deco City Hall,

Louis Sullivan's Guaranty bilding,

Upjohn's St. Paul's Cathedral, The Old County Hall and

Also a guided tour of Frank Lloyd Wright's Darwin Martin House and Grounds.

Lunch at the recently renovated Lafayetter Hotel
Finally a visit to the historic 1927 Parkside Candy Store and icecream parlour.
Information www.townofyork.com or TFPO Facebook Page or from Eventbrite
3. Heritage Ottawa Walking Tour
Old Ottawa South
| | |
| --- | --- |
| Place: | Meet at Southminster United Church, 15 Aylmer Avenue |
| Date: | Sun., Sept. 13 |
| Time: | 2:00pm |
| Cost: | Heritage Ottawa Members $5.00, Non-members $10.00 |
| Info: | Info: 613-230-8841 info@heritageottawa.org http://www.heritageottawa.org |
Nepean Township villages such as Ottawa South were annexed to the City of Ottawa. Improved city services soon followed, such as a new high level Bank Street Bridge over the canal. It allowed the privately-owned Ottawa Electric Railway to extend streetcar services, stimulating housing and development of one of Ottawas first streetcar suburbs.
GUIDES: Julie Harris and Kathy Krywicki, who both contributed to the book Exploring the Built Heritage of Old Ottawa South
4. Heritage Ottawa Free Public Lecture
A Monumental Issue: The Long Term Vision Plan for the Parliamentary and Judicial Precincts
| | |
| --- | --- |
| Place: | Ottawa Public Library Auditorium, 120 Metcalfe Street (corner of Laurier Ave W) |
| Date: | Wed., Sept. 16, 2015 |
| Time: | 7:00pm |
| Cost: | Free |
| Info: | Info: 613-230-8841 or info@heritageottawa.org http://www.heritageottawa.org |
Planning for Ottawa as Canadas capital focuses on the Parliamentary and Judicial Precincts. What is happening to these plans now? The Long Term Vision Plan for Ottawas Parliamentary and Judicial Precincts is now the focus of a national controversy, with plans for a monument on a site originally identified for the long planned-for Federal Court.
Speakers: Lyette Fortin, Heritage Consultant, worked as the Director of Architecture Strategic Planning for the House of Commons of the Parliament of Canada; and Robert Allsopp, urban designer, a key figure in the planning and design of the National Capital over the past thirty-five years.
Editor's Note: I saw this lecture in the spring, and it is well worth attending now that Heritage Ottawa is hosting again. (Disclosure--Robert Allsopp is my husband, lucky me!)
5. Heritage Ottawa Walking Tour
New Edinburgh
| | |
| --- | --- |
| Place: | Meet at Fraser Schoolhouse, 62 John Street, near Sussex Drive |
| Date: | Sun., Aug 23, 2015 |
| Time: | 2:00pm |
| Cost: | Heritage Ottawa Members $5.00, Non-members $10.00 |
| Info: | Info: 613-230-8841 info@heritageottawa.org http://www.heritageottawa.org |
New Edinburgh, a mill-town founded in 1832, is one of Canadas earliest planned communities and still presents a largely 19th-century face to the world. The tour will look at the industrial roots of the town, will introduce some early inhabitants and show how the community evolved over time.
GUIDE: Janet Uren with the assistance of Katherine Arkay, owners of designated heritage houses in New Edinburgh.


6. Heritage Ottawa Walking Tour
Sandy Hill
| | |
| --- | --- |
| Place: | Meet at Laurier House, 335 Laurier Avenue East at Chapel Street |
| Date: | Sun., Sept. 20, 2015 |
| Time: | 2:00pm |
| Cost: | Heritage Ottawa Members $5.00, Non-members $10.00 |
| Info: | Info: 613-230-8841 info@heritageottawa.org or www.heritageottawa.org http://www.heritageottawa.org |
The tour looks at late nineteenth early twentieth-century buildings of historical or architectural importance in the northeast quadrant of Sandy Hill, an area favoured by lumber barons, mining magnates and politicians in Ottawas early years. Sandy Hill was home to four Canadian Prime Ministers.
GUIDE: Judy Deegan, Sandy Hill resident and heritage activist.
7. Heritage Ottawa's Bob and Mary Anne Phillips Memorial Heritage Forum
Ottawa
| | |
| --- | --- |
| Place: | St. Johns Anglican Church, 325 Sandhill Road, Kanata. |
| Date: | Saturday, September 26 |
| Time: | 9:00 am |
| Cost: | $20 Registration in advance |
| Info: | Info: 613-230-8841 or info@heritageottawa.org http://www.heritageottawa.org |
Heritage Ottawa is pleased to co-host this year's Heritage Forum event with The Pinhey's Point Foundation. Bruce Elliott, Professor at Carleton University, will deliver the keynote address on the topic of South March. Other topics include the challenges of heritage in rural and suburban Ottawa, archaeology, modern infill and more.
Event space is limited so pre-registration is required. Registration includes lunch and light refreshments. Register via Paypal online at www.heritageottawa.org/annual-heritage-forum or send a cheque to Heritage Ottawa, 2 Daly Avenue, Ottawa, ON K1N 6E2.
8. Heritage Ottawa Walking Tour
Roof Gardens of the Rideau Centre and National Arts Centre
| | |
| --- | --- |
| Place: | Meet at Rideau Centre 4th floor lobby (elevator or escalators near the Rideau Street east entrance) - 50 Rideau Centre |
| Date: | Sun., Sept. 27, 2015 |
| Time: | 2:00 PM |
| Cost: | Heritage Ottawa Members $5.00, Non-members $10.00 |
| Info: | Info: 613-230-8841 info@heritageottawa.org or www.heritageottawa.org http://www.heritageottawa.org |
With 200 trees, 1.5 km of pathways, grass, flowers, and seldom-seen views of downtown Ottawa, the 1983 Rideau Centre and 1969 National Arts Centre have Ottawa's first large-scale "green roofs". Discover a new perspective of these complex buildings and the heritage buildings and sites that surround them.
GUIDE: David Jeanes, urban activist and author of five downtown heritage tours
9. Book Launch
Historic Unionville
| | |
| --- | --- |
| Place: | Stiver Mill Cultural Centre 9 Station Lane, Unionville |
| Date: | September 27, 2015 |
| Time: | 1:00 pm |
Unionville is a village in the city-an unexpected oasis where time seems to move a little more slowly than in the hectic world of condos, commercial strips, and traffic gridlock.
Historic Unionville is the first detailed exploration of the facts and folklore behind Unionvilles winding ways and eclectic architectural sights, which span two centuries from teh Georgian to the Postmodern.
Historic Unionville, by Goerge Duncan, 978-1-4597-3163-9, 232 pages, Dundurn Press
10. Riverdale Historical Society September Event
The Ward: The Life and Loss of Toronto's First Immigrant Neighbourhood
| | |
| --- | --- |
| Place: | St. Matthew's Clubhouse 450 Broadview Avenue at Langley Toronto |
| Date: | Tuesday, September 29, 2015 - 6:30 to 8:00 pm |
| Cost: | Admission $5/free to RHS members |
| Info: | Memberships - $15/yr - available at the event. http://www.riverdalehistoricalsociety.com |
John Lorinc, award-winning journalist, will present on "The Ward: The Life and Loss of Toronto's First Immigrant Neighbourhood".

For almost a century, The Ward served as the major point of entry for waves of immigrants to the city: African Americans, Irish, Italians, Eastern European Jews and Chinese, among others. While the area came to be known as an over-crowded slum packed with derelict housing, The Ward hummed with life - small business, places of worship, theatres, restaurants, schools, playgrounds, studios and social service agencies.
NEWS | ACTION
11. Surviving Remnant of Lake Iroquois Shoreline designated as a Cultural Heritage Landscape
Catherine Nasmith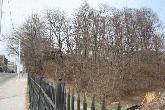 View from Avenue Road in Winter with Oaklands just visible through the trees, City of Toronto
Toronto East York Community Council endorsed a proposal to designate lands west of Avenue Road as a cultural heritage landscape today. Interest in protecting this important last open section of the Lake Iroquois shoreline arose as a result of a development proposal on lands owned by De La Salle College, which would have blocked the views from Avenue Road of the playing fields and the wonderful Victorian house which is the core building of the College.
The report includes a number of key views and vantage points listed as heritage attributes of the property. However as the development is moving towards an Ontario Municipal Board hearing it is not clear whether this designation will be sufficient to protect those views, or the landform.
Click Here for The Statement of Significance, which amends a 1977 designation of the property at 131 Farnham Avenue.
12. Madison Avenue an HCD at last
Catherine Nasmith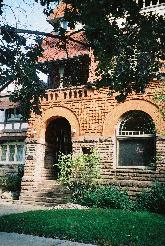 37 Madison Avenue, by E.J. Lennox, the first Annex Style House
If you will permite me, here comes a brief toot of my own horn.
I am pleased to say that at this morning's Toronto East York Community Council the long awaited Heritage Conservation District Study and Plan for West Annex Phase I (Madison Avenue) was adopted. Madison Avenue contains one of the most intact collection of architecturally designed homes in Toronto. (I was the author of the report)
Almost every important architect of the period of significance, from 1885-1920 is represented, including Eden Smith, E.J. Lennox, Henry Simpson, and many more. Many of the houses have been listed since the late 1970's, but until the Annex Residents Association formed a committee which worked tirelessly to research and record the properties, little research had been undertaken. This is the last of the community driven HCD's to be completed. It took a while, but is a terrific example of what is possible.
The rest of the Annex is also worthy of preservation, and even with significant funding in the bank to proceed with the rest, it is not clear when the City will be able to devote staff resources to its conservation. That is a rant for another day, today is a day to lift a glass to a job well done, and a wonderful Toronto street.
To see the Study and Report, go to the ARA website, Section 9.3 contains a wonderful summary of all of the properties, with photos and a brief description of their significance, owners, architects and builders.
13. Keeping the "Mill" in Millbrook
Angie McLean
Keeping the "Mill" in Millbrook
This past Spring the Chief Building Officer placed an unsafe building order on Needler's Mill located in the downtown core of Millbrook, Ontario. ORCA (local Conservation Authority), the owner of the Mill declared the buildings surplus to its needs. Under extremely tight timelines the Mill buildings were put up for sale with the condition of removing them all from the site. ORCA agreed to consider requests to keep buildings on site if potential buyers submitted a satisfactory plan that would meet the unsafe building order.
Needler's Mill is the only mill not privately owned that remains standing, of the 30 mills that once thrived in Cavan Monaghan Township. The only other, the Best Mill, is still standing but on private land.
The first mill on the site where Needler's Mill stands today was built by John Deyell between 1822 and 1824, and processed flour and cattle feed. The mill was sold to the Needler family in 1857, who also owned the mill built by Adam Scott in 1830 at Cedar Valley. When the mill in Millbrook burned down in 1909, the south half of that Adam Scott mill was moved to Millbrook to replace it. That same 1830 mill remains on site today, making it of keen interest to the whole region. The saw mill was added in 1922. Fine flour was ground and logs were sawn right up until the late 1970's.
Needler's Mill is included as part of Millbrook's Downtown Revitalization Strategy and sits with a back drop of the mill pond and a picturesque view of tree covered Medd's Mountain. The building is the iconic gateway to the Millbrook Valley Trails and a centrepiece for a variety of festivals and events. Its survival is dependent on one last hope. The Millbrook and Cavan Historical Society submitted a bid for ownership, the only bid submitted. A compromise has been suggested by the Society, whereby all of the out buildings and the saw mill will be dismantled while keeping the 1830 Flour Mill intact. The Historical Society submitted a detailed plan to build a new foundation beside the current location and have the Flour Mill moved onto this new foundation. The ORCA board decided, Thurs. Aug. 20, 2015, to accept this offer on the condition that all permits required to implement the Historical Society's plan be in place by October 15th. If this has not been accomplished the final sale will not happen and ORCA will remove all the Mill buildings by Oct. 31, 2015.
The Millbrook and Cavan Historical Society and the community at large have seized this opportunity to save Needler's Mill from demolition. The Historical Society has begun the work necessary, retaining engineers to prepare applications for building and site permits. Private donors have begun making pledges and an official fundraising campaign is ready to launch Sunday, September, 13th at Millbrook's notorious Zucchini Festival, beside the Mill. There is much work to be done and money to be raised but spirits are high. If you are interested in following the progress, volunteering services or expertise and/or financial support, please connect to the project by:
email: admin@savethedammill.com
Webpage: www.savethedammill.com
Facebook: Save The Dam Mill Pond
14. Stratford Festival Communications Director to Open Ontario Heritage Conference
Press Release,
Our heritage is part of our identity as a community, and we should celebrate it. So says David Prosser, communications director for the Stratford Festival, who will be the opening keynote speaker when Stratford and St. Marys host the Ontario Heritage Conference, May 12-16, 2016.
"Stratford the theatre town is a far richer, more interesting place to live – a place more likely to attract people of imagination and creative enterprise – for having once been the Stratford renowned for furniture factories and railways," says Prosser.
"We have a town that once relied on industry, which involved big buildings with high ceilings. When the industries declined, those buildings sat empty.
"Over the course of the Festival's history, Stratford has remade itself as a cultural destination and a natural home for artists and other people who feel that appreciation of our history enriches our present lives. And they have seen potential in many of our disused spaces."
Prosser points to several buildings the Festival has adaptively reused, among them the Avon Theatre, which had been a vaudeville house and then a movie theatre. The Tom Patterson Theatre was once The Stratford Casino, a summer dance hall in the big-band era, and also the city's badminton club. As well, the Festival has created offices and rehearsal space in the former Stratford teachers' college, built in 1908, closed in 1973.
"Sometimes a building is just too far gone to be worth saving," says Prosser. "But we should always be looking for ways to transform rather than to simply erase. The richest and most interesting results are achieved when tradition is regarded as something to be built on, not over."
More than 300 delegates are expected to attend the conference, sponsored by the Architectural Conservancy of Ontario and Community Heritage Ontario. The Stratford-Perth branch of the ACO is taking the lead in planning, organizing and managing the event.
Editor's Note: Make sure you hold this date, it is going to be a terrific conference in a terrific spot.
LINKS
15. Globe and Mail: Archaeological Discovery at Globe and Mail Site
John Allemang
Archeologists find link to 200-year-old scandal under new Globe home
Newspapers, even this one, love a juicy scandal. But how often do they surface in your own backyard?
Make that resurface. An archeological dig on the site of The Globe and Mail's new headquarters in the oldest part of Toronto has revealed the remains of Berkeley House – home to a man who killed the attorney-general of Upper Canada in a duel fought over gossip his wife slept around.
"It's a miracle that these foundations exist," said archeologist Keith Powers as he surveyed the newly uncovered walls and beams that have somehow survived Toronto's transformation from muddy colonial capital to development-hungry metropolis.
But the past has ways of persisting, thanks to city planning laws that require developers to undertake archeological assessments in heritage areas before they get to build our glass towers. The regeneration of the east-of-Jarvis neighbourhood that formed the original town of York is now laying bare 200-year-old rivalries and innuendos that were rife in an overly intimate government town of 400 people where everyone was jockeying for positio
http://www.theglobeandmail.com/news/toronto/archeologists-find-link-to-200-year-old-scandal-under-new-globe-home/article14719339/
16. Douglas Gubitz Real Estate: Eden Smith House Sold in Toronto Annex
47 Madison Ave, $2,200,000

47 Madison Avenue, photo Catherine Nasmith
Eden Smith house at 47 Madison Avenue was listed and sold for $300,000 over asking, at 2.5M dollars. Take a look at the listing, there is a fantastic gallery of interior shots. The house has been in the same family for several generations.
http://www.douglasgubitz.com/listings
17. Toronto Star: Guild Inn Update
Lauren Pelley
Guild Inn restoration set to begin soon
from Toronto Star, house in 1944
The Guild Inn as it appeared in 1944, when the federal government announced that nerve-shattered soldiers would be treated in the Guild of All Arts building.
The stately Guild Inn, in the heart of Scarborough's Guildwood Village, has long been a shell of its former glorious self.
Where windows once offered a view of artists, sculptors and craftsmen at work, there are now boards. And where guests could once walk freely on the grounds, a bright yellow sign reading "DANGER – KEEP OUT" now hangs on fencing wrapped around the dilapidated estate.
But after decades of disrepair, the historic Toronto landmark is set to undergo a transformation, breathing new life into the century-old property once used as an inn and artists' colony.
Demolitions and restoration efforts will start within a couple of months, according to representatives for the City of Toronto and Dynamic Hospitality and Entertainment Group, the company given the green light to redevelop the site back in 2014.
http://www.thestar.com/news/gta/2015/09/07/guild-inn-restoration-set-to-begin-soon.html
18. Urban Toronto: Archaeological Discovery in Toronto, 1831 Market
Stefan Nokavic
1831 Foundations Uncovered at North St. Lawrence Market Site
In the young and relentlessly changing city of Toronto, today's architectural heritage rarely stretches back far enough to showcase the rows of centuries-old, historic buildings for which some other cities are known. Toronto is a new urban space, and it is one where the rate of architectural turnover has been staggering, with new streetscapes seeming to wipe away their predecessors every few decades. While these changes mean that much of the city's architectural past is lost to 21st century eyes, surprisingly deep layers of history often remain buried underground, preserved beneath the city being built above. Such is the case at the construction site of the upcoming Rogers Stirk Harbour + Partners and Adamson Associates Architects-designed St. Lawrence Market North (below), where evidence of previous markets built in 1831, 1851, and 1904 was recently discovered.
http://urbantoronto.ca/news/2015/09/1831-foundations-uncovered-north-st-lawrence-market-site
19. St Thomas Times Journal
Nancy Mayberry poster. Author is Ian Mc Callum editor of the St. Thomas Times Journal
Small Fire in Former Alma Chapel may Spark Action
A small fire early Sunday morning in the Alma College chapel has re-ignited debate over the future of the former school for girls.

And a city official advised a new work order could be issued against the owners as early as this week.

St. Thomas firefighters quickly doused the flames at the south end of the chapel and are treating the incident as arson.

City police have no suspects and are investigating.

The main building at Alma College succumbed to arson in 2008 and there is evidence throughout the 11-acre property of numerous small fires that have been set in the intervening years.

The property, owned by the Zubick family in London, has been listed for several years and what remains - the chapel and the former music building - are in the throes of demolition by neglect.

While some of the open grassy areas are being maintained, much of the property - including the former amphitheatre - is badly overgrown.

In May, 2009, then property standards officer Wade Woznuk issued a list of cleanup priorities to owner George Zubick.

Those included repairs to the chapel roof with an engineer "to inspect to determine extent of structural damage and required repairs."

Those repairs were to include new asphalt roof shingles.

In addition, all concrete debris and the thousands of bricks remaining after the main building was levelled were to be removed from the site snd broken windows in the music building were to be secured.

Under the city's tidy lot bylaw, all other debris, brush and fallen trees not mentioned in the work order were to be removed.

It is clearly evident from the front gates at Moore St. that none of the cleanup has been undertaken.

CAO Wendell Graves admitted Monday afternoon, following consultation with chief building officer Chris Peck, they were not immediatley aware of the 2009 list of conditions from Woznuk to Zubick.

However digging back into the files at city hall the order was found, although Peck cautioned "something that stale is not even worth chasing after as it would not hold a lot of water in the court."

Peck visited the Alma property Monday and advised, "if we're going to follow that up we really need to start re-issuing a new order. I would imagine before the end of the week we will have an order on it."

However Peck admitted a new order would not cover issues with the entire Moore St. property.

"We will focus on the chapel, whereas the 2009 order encompassed the whole property. That kind of dilutes it a little bit . . . It's (the chapel) a shell, really, but if we're going to preserve the shell we need to get on that before it goes through too many more seasons."

Nancy Mayberry of the St. Thomas-Elgin branch of the Architectural Conservancy of Ontario advised Monday the chapel still has a heritage designation and an executive meeting is to be held 4 p.m. Tuesday to follow up on the latest fire in the chapel.


http://www.stthomastimesjournal.com/2015/08/10/small-fire-in-former-alma-chapel-may-spark-action
20. Chatham Voice: Saving Another Historic Church in Chatham-Kent
Bruce Corcoran
The Kent 1874 - Investing in Past and Future
As heritage churches continue to close their doors across the province, these private individuals not only save a church with sympathetic preservation but also add another music/special events venue to Chatham-Kent.



http://www.chathamvoice.com/2015/08/05/the-kent-1874-investing-in-past-and-future/
21. Buffalo News: Restoring forgotten Buffalo lighthouse will create heritage bookends
Jane Kwiatkowski Radlich
Shut down in 1962, the South Buffalo Lighthouse is unknown to many, but restoring the 197-year-old structure will provide a link to the citys maritime heritage

The South Buffalo lighthouse is isolated at the south entrance of the Buffalo Outer Harbor and bordered by privately owned industrial property, making it relatively unknown by most Western New Yorkers. Derek Gee/Buffalo News
Think of the historic Buffalo waterfront, and your mind is likely to picture the Buffalo Lighthouse. The limestone tower built in 1833 and located across the Buffalo River from Erie Basin Marina is an impressive display on a late summer's night.
But there is another lighthouse on Buffalo's waterfront, unknown to most.
The South Buffalo Lighthouse stands at the south entrance to Buffalo's Outer Harbor. Its isolated location – waterside and bordered by privately owned industrial property – renders it almost inaccessible by land.
Decommissioned in 1962, the lighthouse and adjacent fog signal building may have gone forgotten by many. But it is now being reclaimed by a stalwart group of maritime preservationists.
"The building itself is a few years from collapsing," said Mike Vogel, president of the Buffalo Lighthouse Association. "It was stripped out pretty well when they were abandoned and pretty much left to the elements for a half-century."
On a recent visit to the 43-foot tall, iron-clad lighthouse topped with its signature black lantern and diamond-shaped glass panels, Vogel explained how he and other preservationists acquired it and what it will mean when their restoration efforts are completed.
Once restored, the South Buffalo Lighthouse and the Buffalo Lighthouse will complement each other as "cultural and heritage bookends" in the ongoing development of Buffalo's Outer Harbor, giving the area a stamp of "historical authenticity."
http://www.buffalonews.com/city-region/downtown-waterfront/restoring-forgotten-buffalo-lighthouse-will-create-heritage-bookends-20150817
22. Daily Commercial News: Balancing heritage structures with sustainable demands
Ian Harvey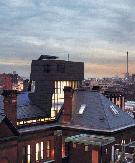 The restoration of the Lassonde Mining Building at the University of Toronto has achieved award-winning standards in preservation and sustainability. Photo: Baird Sampson Neuert Architects Inc .
An ambitious plan to restore a 1904 University of Toronto brick building not only made the grade esthetically but also scores high in energy efficiency and sustainability.
The restoration of the Lassonde Mining Building at the University of Toronto has achieved award-winning standards in preservation and sustainability. - Photo: Baird Sampson Neuert Architects Inc The Goldcorp Mining Innovation Suite at the Lassonde Mining Building won a 2014 Canada Green Building Council Award and a 2014 Toronto Heritage Award based on both the preservation and sustainability factors.
It opened in 2011 but it's taken until now to get the operating data compiled and it's remarkable for a brick walled, slate roof structure which opened in 1904 and has now been given a new lease on life for another 100 years or more.
It requires 60 per cent less energy per square metre than the current 2014 standard for college structures, noted Jon Neuert of Baird Sampson Neuert Architects Inc.
"The target was 183 kwh but the building runs at about 161 kwh per metre squared with the standard at 423 kwh m2 per year it's still years ahead of the standard now," he said.
"We're thrilled as is the U of T."
"The future of city building will require a great deal of attention to be paid to adaptive reuse," the CGBC jury noted. "This project, which combines a strong sustainable agenda with a beautiful architectural narrative, sets an important precedent. The expression of the passive ventilation system makes a sculptural addition to the historic structure, while inside, students have the opportunity to track real time energy performance on a digital dashboard."
http://dailycommercialnews.com/Projects/News/2015/3/Balancing-heritage-structures-with-sustainable-demands-1006757W/
23. Ottawa Citizen: National Capital Commission Failure re: Communism Monument
Kelly Egan
NCC had a choice on Communist memorial. It just made the wrong one.

NCC Chair, Russell Mills
"There was really no choice," Russell Mills declared of the disastrous siting of the Victims of Communism memorial.
Well, this being Ottawa, let us lean only gently on the famous John Turner vs. Brian Mulroney exchange — career-altering as it was. You had a choice, Mr. Mills: You could have said no, this is bad idea.
Maybe the minister would have scolded Mills, or howled at him, or replaced the entire board of the National Capital Commission. But one has to ask: When does the NCC draw a line in the sand? And is that line not the messing up of Canada's most prominent street?
The emails released to the Citizen that formed the basis of Don Butler's insightful reporting this week make for intriguing reading about the limited scope the Crown corporation actually has in shaping the look of the capital.
However, did no one else find it — "ironic" is close, but not quite the right word — that the NCC is capable of relocating a chunk of Ottawa's $1 billion LRT extension by just saying NO and flinging the first route back at the City of Ottawa, yet cannot even push a national memorial across the street? One day, the NCC moves mountains. The next, they can't move a pile of concrete.
It has been said the NCC is head waiter to the cabinet. True. And thus is the head waiter lord of the busboy, but not much else.
The board is loaded with individuals with murderous credentials. The chief executive has a PhD, for Pete's sake. And there are honoured architects, leaders in business and technology and banking, a former MPP and judge, a former cop and mayor, MBAs. On and on it goes.
Are we to believe that this group, with more collective wisdom than a Solomon family reunion, actually supports putting that monument in that location?
It makes no sense. And isn't it wonderful to know we fly in these esteemed thinkers from across Canada so they can rubber-stamp stupid ideas, cooked up in a partisan kitchen? Seriously. What a way to build a city.
Even Mills himself, in fact, has left a fairly clear impression that he doesn't support the location. He's been NCC chair for eight years. A former publisher of the Citizen, he knows the town inside out. Was there no way, in a place that breathes politics, to finesse a better deal than this?
So, to the back-door approach it goes. One gets the distinct impression that, with a little delay here and there — this is Ottawa, after all, where there's no time like later — the NCC is hoping Oct. 19 will resolve everything.
With a change in government, the best guess is the memorial to Victims of Communism will end up as a plaque in Major's Hill Park, not a monstrous, hilly thing in the shadow of Parliament Hill.
The shortfall in private fundraising only adds to the intrigue. According to just-accessed documents, the taxpayer share has jumped 41 per cent, to more than $4.2 million, whereas the charitable contributions are expected to be about half the original estimate of $2.5 million. Does it not say something that — behold the eight million Canadians supposedly linked to Communist countries — the donated money appears to have dried up?
And the monument itself is shrinking.
http://ottawacitizen.com/opinion/columnists/egan-ncc-had-a-choice-on-communist-memorial-it-just-made-the-wrong-one
24. Globe and Mail: This Lighthouse Matters Helping Save Nova Scotia Lighthouses
Kate Taylor
Ottawa must do more to preserve Canada's heritage buildings
I was crossing the street at a busy downtown Toronto intersection this week and noticed once again a discreet sign that hangs there among the larger and more colourful advertisements: It's the heritage plaque reminding us this was the site of the "Bishop's Palace," the residence of John Strachan, Toronto's first Anglican bishop. This city is littered with such markers. In Canada, it seems that we are very good at putting up signs to commemorate things we have knocked down.
The 150-year-old Fisgard Lighthouse in Victoria, B.C. is a 17.1-metre tapered cylindrical tower attached to a two-storey keeper's dwelling. Built in 1859-1860 to mark the entrance to Esquimalt Harbour, it is the first and oldest lighthouse on Canada's Pacific Coast. In the background, the aircraft carrier USS Ronald Reagan sits at anchor.

This country has a poor record of preserving its built heritage. Our conservation legislation is often toothless: It forces owners and developers to wait, to hold meetings, to consult and wait some more, but eventually they can tear historic buildings down. Most of the legislation is provincial, but the federal government's Heritage Lighthouse Protection Act – the law that was supposed to preserve those embattled icons of maritime life – is typical of the problem. It protects designated lighthouses from being sold off or torn down by means of published notices, public meetings and 90-day waiting periods, but, in the end, if no one steps up with the money to save an old lighthouse, it's going to go.
That is what lakeshore and seaside towns across Canada are discovering this summer as they digest the reality of the new act, a clever federal scheme that off-loaded responsibility for the historic structures. Instead of protecting lighthouses in an age when ships mainly rely on GPS to navigate rocky shorelines, the act appears to have laid the ground rules for a sell-off. Soon after it was passed, the federal department of Fisheries and Oceans declared most of its lighthouses – about 500 of them, active and inactive – to be surplus. The only way to actually save them under the act was to petition the government for heritage designation, which would only be awarded to those petitioners who could put together a business plan that showed they had the ability to pay for repair and upkeep.
http://www.theglobeandmail.com/arts/ottawa-needs-to-do-more-to-preserve-canadas-heritage-buildings/article25878104/
25. Guardian: A Carbuncle--To Demolish or Not to Demolish
Jonathan Jones, forwarded by Stephen Otto
Should Britains worst building be demolished?
There are two terrible differences between architecture and other art forms – permanence and prominence. No one is making us read books we don't like and even the lousiest art exhibition soon ends, but the ludicrous warped ostentation of the Walkie Talkie is not going anywhere, no matter how many prizes for bad architecture it wins, nor can anyone in or near the City of London avoid its manic parody of modernity.
It's time to reject this fatalistic sense that grandiose design mistakes are irreversible – that we just have to put up with them. I seriously think this building should be done away with. The reason is not just that it is silly in itself, bulging on the skyline like a model that has somehow wandered out of the 1960s TV show Thunderbirds, but even more urgently to shock developers into some sense of humility. For the Walkie Talkie, let's face it, is just the most risible of the plague of big, bad buildings eating up the capital's sky.
Demolish this deranged building to create a firebreak that ends the inferno of towers
London is being wrecked by outrageous crimes against architectural taste. Walking around the City, it really seems there is a competition to put up the most cynically flashy, vacuously ahistorical and insensitive eyesores. A corporate dystopia is being built before our eyes. This rush towards a chilly fake avant garde future seems unstoppable. What can anyone do, apart from moan or award the Carbuncle Cup? This is what we can do: demolish this deranged building to create a firebreak that ends the inferno of towers.
http://www.theguardian.com/commentisfree/2015/sep/05/walkie-talkie-carbuncle-demolish-debate
26. Commercial Property Executive: Historic Old Pasadena Building Gets Modern Certification
Alex Girda

Pasadena Chamber of Commerce Building
In an example of renovation focused on energy efficiency, an historic office building in Pasadena was recently granted green certification by the United States Green Building Council. Currently owned by a joint venture comprised ofEdgewood Realty PartnersandCenterSquare Investment Management, an affiliate of BNY Mellon, the Chamber of Commerce building in Old Pasadena is now LEED E-B Silver certified.
http://www.cpexecutive.com/cities/los-angeles/historic-old-pasadena-building-gets-modern-certification/1004125274.html
27. BBC: The Fight to Save Kolkata's Heritage Homes
Divya Guha, BBC
Kolkata's historic homes reflect a rich architectural heritage - where European styles are blended with mix of colonial and Indian influences. But they are now under threat, as Divya Guha reports.
http://www.bbc.com/news/world-asia-india-33902003