FEATURE STORIES
1.test
IN THIS ISSUE
EVENTS
1. Catherine Nasmith: Main Street as Old Growth Forest
2. Community Consultation Meeting: York Square Redevelopment
3. Public Meeting: Queen's Park North Revitalization Plan
4. Heritage Ottawa Public Lecture
5. History of the John Street Roundhouse

NEWS/ACTION
6. York Square: To Preserve or Not
7. Proposed De La Salle Development: Could Ruin View of Significant Cultural Landscape View
8. Order of Canada for Christina Cameron and John G. Cavity

LINKS
9. Ottawa Citizen: Shirley Blumberg objects to Location of Ottawa Memorial
10. Globe and Mail: Bala Protest Camps Over 100 Days through Winter
11. Gravenhurst Banner: Bala Falls -Wahta Chief Concerned about Huntsville Conflict of Interest
12. Toronto Star: Keeping Toronto's Heritage
13. Toronto Star: Magna Carta Coming to Canada
14. Blog TO: Bloor Street Viaduct
15. Globe and Mail: Canada 2017?
16. Guelph Mercury: The historic St. Agnes School on Catholic Hill is all boarded up
17. Ontario Heritage Trust Video: Jack Granatstein on John McCrae
18. Ontario Heritage Trust Video: Michael Bliss on James Collip, co-discover of Insulin
19. The Guardian: New Year's Resolutions for Architects in 2015
20. Windsor Star: Urban Design Preservation in Windsor

EVENTS
1. Catherine Nasmith: Main Street as Old Growth Forest
ACO Toronto Annual General Meeting
| | |
| --- | --- |
| Place: | Bloor Gladstone Library 1101 Bloor Street West |
| Date: | Tuesday, January 20, 2015 |
| Time: | 6-7 |
Following the Annual General Meeting of ACO Toronto there will be a free public lecture.
Main Street as Old Growth Forest uses analogies from the environmental conservation movements and ecology to describe the value of our rapidly disappearing Main Streets, their types, states, complexity, diversity. Main Streets that are still the retail core of their communities (steady state) are compared to those in decline or rehabilitated through preservation.
Catherine Nasmith is a practicing architect, president of the ACO Toronto Branch, publisher of Built Heritage News, and Ontario governor for Heritage Canada The National Trust. A Jane Jacobs Prize winner (2010). she has been observing Main Streets since the 1980's.
2. Community Consultation Meeting: York Square Redevelopment

Proposal as of 9:50 a.m Friday, January 16, 2015
| | |
| --- | --- |
| Place: | Park Hyatt, 4 Avenue Rd. (University Room, 2nd Floor) |
| Date: | Thursday, January 22, 2015 |
| Time: | 7:00 PM to 9:00 PM |
| Info: | To speak to the planner, contact Oren Tamir, at (416) 392-7349 or otamir@toronto.ca You may mail your comments to the planner at Toronto and East York District, 100 Queen St. W., Floor 18E, Toronto ON M5H 2N2. To provide comments online, use the link below. You may also contact Councillor Kristyn Wong-Tam, Ward 27 Toronto Centre-Rosedale, at (416) 392-7903 or councillor_wongtam@toronto.c |
A new 40-storey (128 metres including a mechanical penthouse) mixed-use building is proposed with retail and commercial uses on the first three floors and residential above. The proposal calls for the alteration and demolition of heritage buildings. A total of 330 residential units are proposed. Proposed are 284 vehicular parking spaces and 350 bicycle parking spaces on levels P1-P3 with access from Avenue Road.
You can view a copy of the Preliminary Report and background information at:
www.toronto.ca/planning/yorkville
For more information visit our website at Information www.toronto.ca/planning/developmentapplications
Editor's Note: We were expecting a working group to be set up for this application, hope that is still on the agenda
3. Public Meeting: Queen's Park North Revitalization Plan
| | |
| --- | --- |
| Place: | The Grosvenor Room Toronto Central YMCA 20 Grosvenor Street |
| Date: | January 28 |
| Time: | 6;30-8:00 |
| Info: | Bob Duguid, Senior Project Coordinator, Parks, Forestry and Recreation, (bduguid1@toronto.ca) |
The City of Toronto, Park Forestry and Recreation Division is hosting a second public information session to review the Queen's Park North Revitalization Plan. The goals of the Revitalization Plan are to recommend improvements to Queen's Park North that will sustain the natural beauty of the Park and enhance community enjoyment of this historic park.

Please join us to discuss design concepts for the Park's features, including walkways, water features, seating, gathering areas and landscape. A brief presentation on the design concepts will be followed by table group discussions to receive input on the design team's work in progress.
4. Heritage Ottawa Public Lecture
National Capital Commission Parkway System - All roads lead to Parliament Hill
| | |
| --- | --- |
| Place: | Ottawa Public Library Main Branch 120 Metcalfe Street |
| Date: | Wednesday, January 21, 2015 |
| Time: | 7:00pm |
| Cost: | Free |
| Info: | info@heritageottawa.org 613-230-8841 http://www,heritageottawa.org |
Ottawa is home to some of the loveliest shoreline driveways in the world with the Rideau Canal Driveway the first beautification project of the capital. This lecture will give the history of the driveways and parkways that grace the Rideau Canal and the Ottawa River, and position their significance as cultural landscapes to be treasured and as a source of pride here and among capital cities.

Speaker: Linda Dicaire is a Fellow of the Canadian Society of Landscape Architects and a Heritage Ottawa Director.
5. History of the John Street Roundhouse
Although the present John Street Roundhouse opened in 1929, the history of the site extends back to 1860 when a ship carrying the Prince of Wales docked at the foot of the street. The royal connection extended to 1939 when the Royal Train was serviced at the roundhouse during the first visit of a reigning monarch to Canada. Today the roundhouse is all that remains of several dozen buildings and hundreds of miles of track that once serviced Canadian Pacific and Canadian National passenger trains at Union Station. This presentation will explore the history of roundhouses in Toronto and the transition of John Street from the largest combined passenger car and locomotive facility in Canada, through its decline and dereliction in the 1990s, to the Toronto Railway Museum that now hosts over 60,000 visitors a year.

This is the last of three Toronto Railway Museum presentations by TRM chief historian Derek Boles. Each of these fast-moving lectures is illustrated with hundreds of photographs, original animations, maps, diagrams, railway documents, advertising and other ephemera collected over the years by Derek Boles and combined with his insightful commentary on Torontos railway history and its importance in establishing the city as Canadas leading commercial centre.
NEWS | ACTION
6. York Square: To Preserve or Not
Catherine Nasmith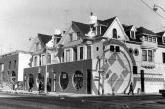 Historic View of York Square, Published around the world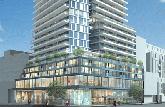 Proposal at 9:50 am Friday, January 16
"I had one night to enjoy the moment." said Linda Lewis.
On Tuesday a notice arrived saying that the bylaw designating York Square, at the corner of Yorkville and Avenue Road, had been passed by Toronto City Council.
On Wednesday, Linda received a second notice that the application for a 40 storey condo building on the same site was moving ahead. "Its back into the fray," said Linda. This site is directly north of the east wing of the Ontario Legislative Assembly, so this development could also be one more building looming behind Ontario's democratic symbols.
The Toronto Branch of the Architectural Conservancy of Ontario, led by executive member Linda Lewis worked tirelessly for two years for protection of York Square. By way of disclosure, I should say I am President of ACO Toronto, and worked alongside Linda Lewis for this designation.
If ever there was a designation report that was OMB proof this is it. The research and reasons are rock solid. Since the motion passed Toronto East York Community Council things have been eerily quiet on that file…the Pollyanna in me hoped the designation had discouraged the developer, or voided the sale of the property.
York Square is emblematic of all that the 1970's reform Council fought for, and won. The iconic 1968 design by then newly arrived architects Diamond and Myers expressed all that was "Jane Jacobs". It was the first project in the world to buck the urban renewal (removal) trend and work with existing historic buildings to make something uniquely new. Rightly acclaimed worldwide by urban designers and architects, it became the template for Yorkville developments. It is the first of three groundbreaking designs by the same firm; Dundas-Sherbourne and the Hydro Block followed, proving that Toronto could develop without sacrificing its past. Projects like the National Ballet School by successor firm KPMB with Goldsmith Borgal come from the same font of ideas that have since become hallmarks of Toronto design.
Even without the laws we have today, that 1970's Council managed to save a lot of Toronto. Ontario now has strong heritage protection laws, but will Toronto City Council have the confidence to defend this modest, yet highly significant project? York Square's destruction 45 years later would be an ironic victory for a development industry on government steroids.
The property had been in the same family since it was developed. The buildings sit empty now, longstanding commercial tenants evicted. The restaurants are closed. Recent property tax hikes driven by speculative property values set by the province based on what might happen on the site, not what is there, forced a sale.
A public meeting on the proposal will be held next week (see events). If you go to the website you will see the previous scheme. The actual proposal is expected to be posted on January 16, for a January 22 meeting. Here's the link.
Go to the meeting. Pray for a miracle.
7. Proposed De La Salle Development: Could Ruin View of Significant Cultural Landscape View
Michael Vaughan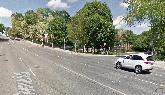 Google View of De La Salle playing fields
De La Salle College on Avenue Rd. south of St. Clair wants money. Rather than raise it in the normal way, it wants to build a 45 ft.high housing development going down Avenue Rd. from the foot of the escarpment and turning east along Oaklands. It would wall off the face of the escarpment, the playing field and the heritage Oaklands House from public view and would demolish the heritage entrance gate and gate house. Since the beginning of time, the escarpment, the old Lake Iroquois shore line stretching across the City, has been the great geological natural feature of Toronto. De La Salle is the last remaining place where the public can see its face and sense its majesty jutting out towards the lake.
Oaklands is the last of the19th century villas built on the edge of the escarpment to dominate and overlook the City. Those villas on the brow of the escarpment were penthouses for Victorian potentates allowing them to look down on the humble houses below and out over Lake Ontario. The only remaining villa gates and gatehouse, which were indispensible parts of the great villas, would be demolished. The view of the formidable face of the escarpment has been a public "place identity" since long before the City began. The open space is a welcome pause in the urban form and is part of the physical character of the neighbourhood. De La Salle is exempt from paying realty taxes because its lands are considered to be a public amenity.
The City's Official Plan has strong policies to protect views from the public realm
to prominent buildings, structures, landscapes and natural features; The development would destroy those views. Years ago the City did a detailed study of the site and adopted special Official Plan policies for the area which are in effect and which govern. The Official Plan designates the site as an open area with a view terminus looking from the south up to the north as well as a view corridor looking from the north down to the south and protects the escarpment. De La Salle has been content with these policies for many years.
De La Salle is a big property with several suitable development sites. The current proposal is a direct frontal attack on the heritage and other policies of the City and the Province. Hopefully a solution can be found to meet De La Salle's financial wishes elsewhere on the property. Hopefully the City will continue to protect the public and heritage values now threatened by De La Salle.
8. Order of Canada for Christina Cameron and John G. Cavity
Heritage Canada The National Trust
Ottawa, ON – January 6, 2015 – The National Trust congratulates cultural heritage conservation experts Dr. Christina Cameron and Mr. John G. McAvity on their recent appointments to the Order of Canada, one of the country's highest civilian honours.
Dr. Cameron was appointed to the Order of Canada for her contributions to heritage preservation through her work with Parks Canada Agency, with UNESCO's World Heritage Convention, and as a university professor. A recent recipient of the National Trust's 2014 Gabrielle Léger Medal for Lifetime Achievement, Dr. Cameron is an internationally recognized expert in the field of heritage conservation. She has made an outstanding contribution to the conservation of cultural and natural heritage in Canada and around the world. In July 2014 Dr. Cameron was named president of the Canadian Commission for UNESCO.
Mr. McAvity's appointment recognizes his contributions to preserving Canada's cultural heritage, notably through his long-standing role as executive director of the Canadian Museums Association (CMA). A life member of the National Trust, Mr. McAvity has worked tirelessly to bring relevancy, innovation, and funding to the museum sector. In the past 33 years with the CMA, he successfully lobbied for new legislation for the indemnification of exhibitions, and the 1991 federal museums policy.
About the Order of Canada
Established in 1967 by Her Majesty Queen Elizabeth II, the Order of Canada is the centerpiece of Canada's honours system and recognizes a lifetime of outstanding achievement, dedication to the community and service to the nation.
For further information:
Carolyn Quinn, Director of Communications
cquinn@heritagecanada.org
Telephone: 613-237-1066 ext. 229; Cell: 613-797-7206
LINKS
9. Ottawa Citizen: Shirley Blumberg objects to Location of Ottawa Memorial
Don Butler
Jury member goes public with criticism of victims of communism memorial site
A prominent architect who was part of the jury that recommended the winning design for a major new Ottawa memorial to victims of communism says she has a "massive problem" with the chosen site and doubts the memorial can be built for anything close to its $5.5-million estimated cost.
Shirley Blumberg, a founding partner of KPMB Architects of Toronto and member of the Order of Canada, was part of the seven-member jury that evaluated six finalists for the new memorial last summer.
In an interview, Blumberg said her biggest concern is the "inappropriate" location chosen for the memorial — a 5,000-square-metre site on Wellington Street, between the Supreme Court of Canada and the Library and Public Archives building.
It is so centrally placed that it would seem to quite overshadow Canada's true history."
http://ottawacitizen.com/news/local-news/jury-member-goes-public-with-criticism-of-victims-of-communism-memorial-site
Editor's Note: Thanks Shirley, so important to hear from architects on public issues.
10. Globe and Mail: Bala Protest Camps Over 100 Days through Winter
Renata Belasio
In the Muskoka township power plant fight, a lone protester hangs tough
When Peggy Peterson pitched a tent at the picturesque Bala Falls, in the Lake Muskoka region of Ontario, she thought that she'd camp out for a few days and that many would join her cause against a proposed hydroelectric plant.
Her insurgency, however, has become a long, solitary battle.
Residents of Bala have provided her with food, an outhouse and a camper van, but no one has committed to joining her demonstration. For more than 100 days, it's mainly been just her and her sheltie, Lucy, and they're digging in for the winter – and likely longer.
"Until it's stopped, I'm not leaving," Ms. Peterson vowed recently over the phone from the home of one of her new neighbours.
"How a downtown waterfall like this can be given away by the government to a private, for-profit company without any benefit to Bala? It's just cash-for-life for a handful of private individuals."
A 55-year-old permaculture educator from Huntsville, Ont., Ms. Peterson wasn't even aware of the Bala energy project until the Wahta Mohawks staged a protest in August. After listening to Chief Phillip Franks' concerns, she told him she would do what she could to help.
"The only thing I could think to do was to pitch a tent," she recalled.
Ms. Peterson's one-woman campaign is among the latest barbs in a protracted battle against an Ontario government plan to resurrect a power plant in lake-studded Muskoka. Awarded to Swift River Energy in 2005, the 4.5-megawatt power-plant proposal sparked a grassroots movement called Save the Bala Falls.
"Stop the hydro plant" signs are everywhere in this small recreational community north of Toronto – one of many green-energy skirmishes to flare up as the provincial government aggressively expands renewable power's footprint, offering to pay lucrative rates to developers.
Wahta Mohawk First Nation registered its opposition to the project in August, sending letters to Premier Kathleen Wynne and Prime Minister Stephen Harper. The aboriginal community contends it hasn't been properly consulted on the proposed site or on the closing of a historically significant portage.
Meanwhile, a documentary on the hydroelectric battle is in the works. Rob Stewart, director of the award-winning film Sharkwater, spent time in Bala as a kid, chasing fish and turtles in its waters. The trailer for his new documentary implores: "It's not a done deal."
But the power deal is rippling closer. Ontario's Ministry of Natural Resources is giving the project one last look and a change of mayor in the Bala region may smooth the path for Swift River Energy.
http://www.theglobeandmail.com/news/national/in-the-bala-power-plant-fight-a-lone-protester-hangs-tough/article22273113/
11. Gravenhurst Banner: Bala Falls -Wahta Chief Concerned about Huntsville Conflict of Interest
Roland Cilliers
Wahta requests councillors step back from Bala Falls
In a letter addressed to Huntsville Mayor Scott Aitchison, Chief Phillip Franks of the Wahta Mohawks requests that the town's representatives step back from the Bala Falls project and allow the issue to be dealt with by the Muskoka Lakes municipality and those neutral to the process. The letter argues that Huntsville, as a shareholder in Lakeland Holdings Ltd., may have a financial interest in the Bala Falls project going forward in the event that Lakeland Power is later selected to operate the dam.
"The Wahta Mohawk are concerned that Lakeland Holdings Ltd role in the proposed Bala Falls project may constitute a pecuniary conflict resulting from the financial benefit to the Town of Huntsville through increased Lakeland revenues should the Bala Falls Hydro project proceed," reads the letter from Franks.
The letter specifically refers to a recent Engineering and Public Works Committee meeting at the District of Muskoka wherein the letter claims the Huntsville representative was "active in his support of advancing the project."
"The Wahta Mohawk are concerned that Lakeland Holdings Ltd. role in the proposed Bala Falls project may constitute a pecuniary conflict."
- Phillip Franks
http://www.muskokaregion.com/news-story/5247088-wahta-requests-councilors-step-back-from-bala-falls/
12. Toronto Star: Keeping Toronto's Heritage
Alex Newman Living
Building an inheritance into a legacy
On the quest for downtown land, condo developers usually find themselves tripping over heritage buildings, says Andrew DeGasperis, CEO of Aspen Ridge Development.
Almost every developer has had to deal with heritage at one time or another. One of the challenges, DeGasperis explains, is determining fixed costs — and timelines. When Aspen Ridge developed the Hunt Club on Avenue Rd. a decade ago, the heritage clubhouse took a lot of time, money and effort to restore — it was a bit of a nightmare, he adds.
When developers Rudi Spallaci and Ted Valeri recently took on Hamilton's formerly luxurious Edwardian hotel for conversion to condos as The Residences of the Royal Connaught, the lobby restoration alone took twice as long as anticipated. Razing and starting new was not an option for the native Hamiltonians — they wanted to restore the landmark for the city.
Heritage can be a pain, admits Mary MacDonald, acting manager of Toronto's heritage preservation services, but there are rewards: "Heritage helps distinguish one project from another in a sea of competition."
Plus, the buying public loves it — MacDonald figures that's because the "pace of change in the city is so dramatic people want to hang on to things that ground them."
http://www.thestar.com/life/homes/2015/01/02/building_an_inheritance_into_a_legacy.html#
13. Toronto Star: Magna Carta Coming to Canada
As part of the Magna Cartas 800th anniversary celebrations

Magna Carta, Coming to Fort York Visitor Centre
From June until the end of 2015, the "Great Charter" and its companion document, England's Charter of the Forest, will be on exhibit in four Canadian cities.
Dating back to 1217, two years after King John put his seal on the original Magna Carta, the Charter of the Forest was intended to restore people's traditional rights of access to common land to graze livestock, build animal enclosures and collect firewood.
It also removed the death penalty for poaching wildlife, such as venison, which was considered property of the crown, and leveled fines and prison sentences, instead.
The Charter of the Forest's aim was also to preserve common lands, woodland and countryside, by setting limits for its use in order to protect England's natural resources.
The historic documents are owned by Durham Cathedral, which was built in 1093 to house the Shrine of St. Cuthbert, North England's famous 7th-Century patron saint, who lived from 634 to 687, and is the resting place of the Venerable Bede, or St. Bede (673-735), who is regarded as the father of English history
http://www.thestar.com/life/travel/2015/01/15/on-tour-magna-carta-coming-to-canada.html
14. Blog TO: Bloor Street Viaduct
Derek Flack, forwarded by Richard Longley
The birth of the Bloor Viaduct
It wouldn't be a stretch to put the Bloor Viaduct — or, more officially the Prince Edward viaduct — on a top 10 list of Toronto landmarks. Opened in fall of 1918, the bridge system is actually composed of two structures: the one that spans the Don Valley and the smaller western section that runs above the Rosedale Valley (and a third if you consider that the stretch of current day Bloor between Sherbourne and Parliament was built on fill). We've already written a bit about the history of the bridge, but given the wealth of photos of its construction in the Toronto Archives, I thought it'd be a good candidate for a revisit and photographic expansion.
Immortalized by Michael Ondaatje in his novel In the Skin of a Lion, Torontonians seem to have a collective affection for the Bloor Viaduct that not many landmarks enjoy. Perhaps that's because it's the city's most important bridge, linking the eastern and western sections of Toronto over a valley that at one point left them very much divided. Or maybe it's because it stands as an example of how forward planning can pay dividends. The foresight shown by then Commissioner of Public Works R.C. Harris that a subway platform be installed under its roadway wouldn't be rewarded for roughly 50 years, but was a major factor in the birth of the Bloor-Danforth subway line (before it opened, the east/west subway line was almost built along Queen Street).
http://www.blogto.com/city/2011/09/the_birth_of_the_bloor_viaduct/
15. Globe and Mail: Canada 2017?
Stephanie Levitz
Ad costs for Canadas 150 birthday party rising but no plans in sight
Talk about an expensive birthday party invitation.
Recently released federal spending figures show advertising promoting Canada's 150th birthday — two years from now — has cost nearly $12 million, so far.
That's $5 million more than the government had said last fall it was spending on Canada 150 advertising, because they're now including other programs as part of the party.
An estimated $6.5 million is being spent producing and running ads about the Charlottetown and Quebec conferences currently running on social media and mainstream media channels clearly tagged as being connected to the anniversary.
But the Conservatives are also bundling their campaign marking the bicentennial of the War of 1812 under the Canada 150 banner, adding the $5.2 million already spent on that to the cost of advertising upcoming national birthday celebrations.
The War of 1812 ad campaign was the first of a series along the road to 2017, said Marisa Monnin, a spokeswoman for Heritage Minister Shelley Glover.
"Through these advertising campaigns, the government of Canada will encourage Canadians to learn more about their history, commemorate events, celebrate accomplishments and honour people that helped shape what Canada is today," she said in an email.
http://www.theglobeandmail.com/news/national/ad-costs-for-canadas-150-birthday-party-rising-but-no-plans-in-sight/article22283944/
16. Guelph Mercury: The historic St. Agnes School on Catholic Hill is all boarded up
Rob O'Flanagan

Iconic, historic structures on Catholic Hill in Guelph have recently been renewed, but not all
Millions have been spent on the landmark Basilica of Our Lady, and on the Loretto Convent building that became the new location of the Guelph Civic Museum. But while this work has been the focus in recent years, the stately St. Agnes School has gone largely neglected.
Like other structures on the hill, St. Agnes was built in around the last quarter of the 19th century, completed in 1877. It is built in the Second Empire style. The second storey was added in 1909.
Now, the Roman Catholic Diocese of Hamilton has taken steps to the secure the building, removing its steel staircase at the rear, and boarding up its windows. Jim Long, comptroller for the diocese said discussions centring on the building's future will begin in the first quarter of 2015.
There are currently no plans or ideas about what to do with it, although Fr. Dennis Noon, rector of the Basilica of Our Lady said a few proposals were floated in recent times, but renovation costs and space restrictions were seen as prohibitive.
The interior of the building has become somewhat dilapidated through lack of use and maintenance, and the structure needed to be secured, Long said.
http://www.guelphmercury.com/news-story/5243438-historic-structure-boarded-up-on-guelph-s-catholic-hill/
17. Ontario Heritage Trust Video: Jack Granatstein on John McCrae
https://www.youtube.com/watch?v=bUM9dQ6syJI
18. Ontario Heritage Trust Video: Michael Bliss on James Collip, co-discover of Insulin
https://www.youtube.com/watch?v=vYWJi8ndlRw
19. The Guardian: New Year's Resolutions for Architects in 2015
Say No to Facadectomies
Build better towers, ditch the Lego, outlaw the 'facadectomy' – and how about more transparency in Boris's London?.......
Here's an idea for a makeover. Why not flay the skin off a supermodel and stretch it over your own body? You might have difficulty seeing, given that your eye-holes probably won't match up, and you might not be able to breathe through that misplaced mouth, but no matter. You'll look great. And you can apply the same idea to your buildings. The six-storey 300-room student accommodation block you're planning might not fit behind that nice four-storey Victorian brick frontage, but what the hell. You can squeeze it in. They're only students. They won't realise that their windows look out on to a blank brick wall and that they can't fully open their front door. And the conservation officer will give you extra Brownie points for retaining a beloved heritage asset. Win win.
http://www.theguardian.com/artanddesign/architecture-design-blog/2014/dec/31/new-years-resolution-architects-2015-smart-cities-poor-doors?CMP=EMCNEWEML6619I2
20. Windsor Star: Urban Design Preservation in Windsor
The city of Windsor, Ont., has proclaimed a piece of curb historic
A retired couple, tired of being unable to find a parking spot in their burgeoning Olde Walkerville neighbourhood, want to cut a driveway into a curb at their home. But Windsor's heritage planner has recommended against it, saying it would "destroy" a portion of an increasingly rare "resource" listed on the Windsor Municipal Heritage Register.
"Whenever I tell somebody about this, they just laugh," said Karen Fisk, who owns the house with her husband John.
The stone curb in question was likely installed 130 years ago, and the curbs along certain stretches of Kildare Road are listed, but not designated, in Windsor's heritage register of more than 1,100 properties and features.
A heritage curb in Windsor that could prevent a retired couple from paving a driveway. Dax Melmer / Postmedia News
Stone curbs were once common in Walkerville but are now a rarity, with this stretch of Kildare added by city council to the heritage register in 2008.
The Fisks say they love their neighbourhood's rich heritage, and are supportive of the city's preservation efforts. Their own home at 537 Kildare is the DeGurse-McEwan House, a Queen Anne vernacular built in 1891 and one of three designated homes on the block. Five other homes in their block are listed on the register.
The problem, said the Fisks, is the huge recent jump in popularity of the nearby commercial district. Since moving in about seven years ago, they said at least 15 new nearby businesses have sprouted up, and street parking for residents has become an issue.
http://www.nationalpost.com/m/wp/news/blog.html?b=news.nationalpost.com/2015/01/04/historic-piece-of-curb-could-prevent-retired-windsor-couple-from-getting-a-driveway&pubdate=2015-01-05
Editor's Note: Goodness, I get the reason for caution here, but this reporter makes heritage planning seem silly. Stone curbs are rare in Ontario. I'm betting that not having cars all over the front yards is also important to the neighbourhood character.