FEATURE STORIES
1.test
IN THIS ISSUE
EVENTS
1. ACO Stratford Panel Discussion: Re Future of GTR Train Sheds
2. Building Bridges
3. Heritage Ottawa Walking Tour of Old Ottawa South
4. Heritage Ottawa Walking Tour - Village of Hintonburg
5. Heritage Ottawa Walking Tour of New Edinburgh
6. Heritage Ottawa Walking

NEWS/ACTION
7. Happy Back to "School" Day
8. Restoration of 1882 First Nation Council House Thanks to $48,400 OTF Grant

LINKS
9. Toronto Star: Heritage Debate
10. Torontoist: Forty Years of Heritage in Toronto: Panel Discussion
11. Urban Toronto: Heritage Toronto Panel Discussion
12. Torontoist: Toronto Street Signs
13. Vimeo: Time- Animation of Toronto construction over 100 years
14. CTV Barrie: Wahta Protest loss of Historic Portage at Bala Falls
15. Gravenhurst Banner: Wahta Protest Loss of Bala Portage to Hydro Project
16. The Globe and Mail: Aga Khan Museum
17. Windsor Star: Assumption Church in Danger
18. Stratford Gazette: GTR Train Sheds Ten Most Endangered Spaces List
19. St. Johns Telegram: City breaking its own heritage rules - Decision on property owners windows latest rejection of committee recommendation
20. Saving One of Four Remaining Ice Houses in Canada
21. Fastcompany - Heritage a key thing that people like about their city
22. Dezeen: Demolition of 3 Skyscrapers in Istanbul to Protect Symbolic Architecture
23. Boston Business Journal: Restored Kittredge estate in Roxbury transformed into five apartments
24. Citylab: J Edgar Hoover Building
25. South China Morning Post (HK): Lessons from Kyoto on preserving Hong Kong's architectural heritage

EVENTS
1. ACO Stratford Panel Discussion: Re Future of GTR Train Sheds
Be Open to the Possibilities
| | |
| --- | --- |
| Place: | Queen's Inn, Stratford |
| Date: | September 8 |
| Time: | 7:30 p.m. |
| Cost: | Free |
| Info: | Contact Rick Huband, President Stratford/Perth County ACO Tel. 519-271-4466 |
With the theme "Be Open to the Possibilities" the public meeting will be held at the Queen's Inn on Monday September 8th at 7:30 pm. and will include the panel discussion followed by a question and answer session.
"The panel has been structured to include well known Stratford residents with a long time interest and connection to the site and heritage professionals who can bring an outside perspective to the discussion of the future of the GTR Shops," said Rick Huband, President of the Stratford/Perth County ACO. The panelists are:
Dean Robinson is a former journalist and journalism teacher at Conestoga College. He is also the author and editor of more than twenty books ranging from biographies to local histories. His most recent book "Railway Stratford Revisited" was published in 2012 and has become the definitive history of the Shops and the railway to Stratford. Dean will lead off the panel discussion with an overview of the economic, social and cultural importance of the Shops to the history of Stratford. Thor Dingman is an Ontario Registered Designer and Heritage Consultant who has worked for more than twenty years in Stratford and Southwestern Ontario preserving heritage buildings. Thor's first interest in the shops began in 1988 as the subject of his graduate thesis, which envisioned an adaptive reuse for the Shops as a theatre school and performance space. He will provide an overview of the recent history of the site from redevelopment attempts, city expropriation, the building of the University of Waterloo campus to the present.
Michael Wilson is a local architect with Marklevitz Architects who have been responsible for adaptive reuse projects such as the Jenny Trout Centre in Stratford and more recently the repurposing of the former St. Marys Opera House. Michael's association with the shops goes back more than thirty years when , in 1984, he worked the last shift at the then Cooper Bessemer Plant , assembling back-up generators for the Darlington Nuclear Power Authority. Michael will discuss the interrelationship between the future development of the GTR Shops/Cooper site and Market Square as the two most important projects for the economic revitalization of Stratford's downtown core.
Catherine Nasmith is a Toronto architect specializing in the restoration of heritage and historic buildings. She is a former president of the Architectural Conservancy of Ontario, past Chair of the Toronto Preservation Board and a founder of the highly successful Doors Open Program across Canada. She will discuss and draw on lessons learned from one of her projects, the restoration of a 120 year old derelict mill which has been transformed into the Alton Mills Arts Centre that houses studio space for thirty artists, galleries, a heritage museum, café and unique retail shops.
Alex Speigel will bring a private sector perspective to the discussion. He is the head of the Toronto office of Windmill Development Group, which is a Canadian company that specializes in environmentally sustainable development. One of Windmill's current projects is a major urban redevelopment of a former nineteenth century industrial site spanning the Ottawa River in the National Capital Area within sight of Parliament Hill, the National Gallery and the new Canadian War Museum. The proposed residential, commercial and communal redevelopment will harmoniously integrate modern environmentally sustainable infrastructure into the heritage fabric of the historically rich site.
+++ Dr. John Lewis, an Associate Professor in the School of Planning, at the University of Waterloo will outline a project his class will undertake this term to develop concepts for the Shops and Site using the latest in digital and imaging technology and members of the public will be able to discuss the project with John and his students at the break,"
The public will also be offered a rare glimpse of the interior of the Shops as they exist today, in an installation of photographs taken by Stratford photographer, Lesley Walker-Fitzpatrick, which will be shown along with its regular exhibits by the Agora Gallery located at 17 Market Place from September 3 to 28, between 10 am and 6 pm.
Editor's Note: Really looking forward to this event
2. Building Bridges
Heritage BC 2014 Conference
Join heritage planners, professionals, business, government, educators and heritage organizations for two informative and energizing days of discussion, collaboration, and networking. Interactive and hands on workshops including Heritage & Sustainability; Heritage & Cultural Tourism; Writing Statements of Significance; New Technology for Heritage & Cultural Planners, and many more.
3. Heritage Ottawa Walking Tour of Old Ottawa South
| | |
| --- | --- |
| Place: | Meet outside Southminster United Church, 15 Aylmer Ave. at Bank St. |
| Date: | Sun., Sept. 14 |
| Time: | 2:00pm |
| Cost: | Heritage Ottawa members: $5.00, Non-members, $10.00 |
| Info: | |
In 1907, Nepean Township villages such as Ottawa South were annexed to the City of Ottawa. Improved city services soon followed, such as a new high level Bank Street Bridge over the canal. It allowed the privately-owned Ottawa Electric Railway to extend streetcar services which stimulated housing and devethe development of one of Ottawas first streetcar suburbs.

Guides: Julie Harris and Kathy Krywicki, authors of Exploring the Built Heritage Of Ottawa South.
For further information: 613.230-8841 or info@heritageottawa.org
4. Heritage Ottawa Walking Tour - Village of Hintonburg
| | |
| --- | --- |
| Place: | Meet at St-François dAssise Church, 20 Fairmont Ave., corner of Wellington St. West |
| Date: | Sun., Sept. 7 |
| Time: | 2:00pm |
| Cost: | Heritage Ottawa members: $5.00, Non-members, $10.00 |
| Info: | |
Named for Joseph Hinton, a shopkeeper and civic official, the village of Hintonburg was incorporated in 1893. The tour will take you through the heart of this interesting, eclectic and socially varied neighbourhood, rich in heritage.
GUIDES: Linda Hoad and Paulette Dozois, community leaders.
For further information: 613.230.8841 or info@heritageottawa.org
5. Heritage Ottawa Walking Tour of New Edinburgh
| | |
| --- | --- |
| Place: | Meet at former Fraser Schoolhouse, 62 John Street, near Sussex Drive |
| Date: | Sunday, August 24 |
| Time: | 2:00pm |
| Cost: | Heritage Ottawa members: $5.00, Non-members, $10.00 |
| Info: | |
New Edinburgh, a mill-town founded in 1832, is one of Canadas earliest planned communities and still presents a largely 19th-century face to the world. The tour will look at the industrial roots of the town, will introduce some early inhabitants and show how the community evolved over time.
GUIDE: Janet Uren will lead the tour, but she worked with Katherine Arkay to develop the content. Both are owners of designated heritage houses in New Edinburgh
For further information: 613.230.8841 or info@heritageottawa.org
6. Heritage Ottawa Walking
The Glebe's Clemora Park
| | |
| --- | --- |
| Place: | Meet outside LCBO Store, 640 Bank Street at Clemow |
| Date: | Sun., Aug. 17 |
| Time: | 2:00pm |
| Cost: | Heritage Ottawa members: $5.00, Non-members, $10.00 |
| Info: | 613.230.8841 or info@heritageottawa.org http://www.heritageottawa.org |
Park and Parkway: Rambling through a Design District
A little over a century ago, the Ottawa Improvement Commission built a landscaped scenic parkway that extended through the north end of the Glebe from the Rideau Canal to Bronson Avenue. Leading Canadian architects were commissioned to design grand-looking homes, detailed house and landscape design rules were formalized, and street design features were implemented. The area advertised as Clemora Park immediately became one of Ottawa's most scenic and desirable residential areas, home to leading local and national politicians, businessmen, doctors, and civil servants.
GUIDEs: Andrew Elliott, webmaster for Heritage Ottawa, archivist at Library and Archives Canada; additional interpretation from Lynn Armstrong, landscape architecture historian, heritage activist. Both are Glebe residents.

NEWS | ACTION
7. Happy Back to "School" Day
Catherine Nasmith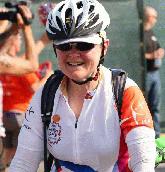 Crossing the Finish Line after 600 km, Toronto to Montreal, August 1
Hi everyone,
Hope you had a great summer and are refreshed getting back to work, or school.
I'm back at my desk in Windermere, where I have been working most of the summer, ready to go at it full bore. Summer projects included work here on our ice house, the last of our buildings to be restored, and working with Sheena Sharp and Coolearth Architecture on a building condition, cost estimate to restore buildings at Bolton Camp.
A highlight of the summer was doing the Friends for Life bike Rally, 600 k from Toronto to Montreal through some of the most historic areas of Ontario and Quebec.....wonderful waterviews, and tons of interesting heritage buildings along the route. Its an amazing way to experience the country, great pace, and one comes to understand the terrain very well! A highlight was taking the ferry from Prince Edward County to Adolphustown our camp site on the second night.
My schedule of volunteer meetings and projects come back full force with meetings of the ACO Toronto Branch, ACO Council and looking forward to the Heritage Canada conference at the end of the month.
On Monday, September 8th I will be part of a panel discussing the future of the former GTR buildings in Stratford, hoping the Council will start to think a bit differently about this critical downtown property. (See Events)
Hope all is well with you, and that you will continue to forward interesting stories and events, or better yet, self post them to BHN. The keys are on the website, or at the side of any newsletter.
Cheers,
C.
8. Restoration of 1882 First Nation Council House Thanks to $48,400 OTF Grant
Laura E. Dent (PhD, MCIP, RPP)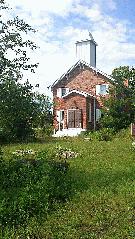 Old Council House, New Credit ON
A 132-year-old Council House is going to be restored thanks to a $48,400 grant from the Ontario Trillium Foundation (OTF). Built in 1882, the Mississaugas of the New Credit First Nations (MNCFN) Council House is the 2nd oldest structure in the community and was the seat of government for over one hundred years.
It is a very significant cultural-heritage resource and its retention is critical to fostering a deeper appreciation of the MNCFNs history in Ontario. Retaining this resource also has broader implications in helping us all to develop a more inclusive and comprehensive knowledge of Canadian history. Im very pleased to see the MNCFN receive this grant from the OTF in order to preserve the Council House, says Dave Levac, MPP for Brant. An important cultural piece of architectural history, the restoration of the MNCFN Council House will allow for traditions to be maintained and act as a home for bringing communities together and the mutual sharing of knowledge and history.

The Council House now houses office space and is used for occasional events, but it needs to be adapted for current needs and brought up to todays standards in order to continue to remain viable. Some of the funding from OTF will go to fully evaluating the condition of the Council House and preparing a building conservation plan. Funding will also help to increase awareness of the historical significance of the Council House through dedicated research, promotion and public engagement at community events. However, the primary goal at the end of the one-year funding period is to have an adaptive re-use concept for the Council House that is sustainable and endorsed by the community.

Faith Rivers, chair of the New Credit Cultural Committee, recounts that, [m]y ancestors gathered all the Mississauga Nations to hold Grand Council in this building to make decisions for our future as a people, and we sit here today looking at the future of this great building!

A project management committee is overseeing the project, and Laura Dent (PhD, MCIP, RPP) of Dent Planning in Stratford, has been hired as a project coordinator.

Chief M. Bryan LaForme commends the Council House Restoration Committee not only for recognizing the historical significance of the Council House, but for taking the many steps required for its restoration.
The Mississaugas of the New Credit First Nation (MNCFN) is part of the Anishinabe (Ojibway) Nation. In 1847, approximately 260 Mississaugas left their settlement at the River Credit (presently the City of Mississauga) and arrived at their present location. Their current home occupies 2392 hectares of land in Haldimand and Brant Counties and shares much of its borders with the Six Nations of the Grand River. Consisting of 2230 members, with approximately 40% living on reserve, the MNCFN is one of the largest Mississauga Nations. www.newcreditfirstnation.com

A leading grantmaker in Canada, the Ontario Trillium Foundation strengthens the capacity of the voluntary sector through investments in community-based initiatives. An agency of the Government of Ontario, OTF builds healthy and vibrant communities. www.otf.ca
LINKS
9. Toronto Star: Heritage Debate
Jennifer Pagliaro
Toronto mayoral candidates debate heritage preservation
With notes prepared, just three mayoral candidates thoughtfully discussed — and not so much debated — intricate heritage preservation issues at a debate Thursday night.
In what was one of the most measured debates so far this campaign, Olivia Chow, David Soknacki and John Tory spoke to a crowd of more than 250 people at a Heritage Toronto event at the Cathedral Centre on Church St. next to St. James Park.
Rob Ford (Open Rob Ford's policard) was absent from the debate — instead raising funds for his mayoralty campaign at a private event at his mother's home in Etobicoke — as was Karen Stintz (Open Karen Stintz's policard), after she quit the race Thursday morning.
Thursday evening, the issues centred on attention paid to conservation in the city and delved into topics including Ontario Municipal Board control, protecting natural history and best representing cultural heritage.
The candidate's views did not dramatically differ as all agreed "heritage matters" — each enlisting the event's tagline in their opening remarks.
The most heated discussion fell to talk of the OMB, which hears applications and appeals on heritage and other development issues.
Chow argued for scrapping the board, but pointed out the city is stuck with the process, controlled by provincial rules.
"In the meantime let us think about how we can reform it," Chow said. "We need to do a better job of identifying heritage properties before an application lands on the desk of the city planners."
She said a city-based appeal body — an idea already championed by some city councillors — could take some of those decisions out of the OMB's hands.
http://www.thestar.com/news/city_hall/toronto2014election/2014/08/21/toronto_mayoral_debate_on_heritage_preservation_live_at_7_pm.html
10. Torontoist: Forty Years of Heritage in Toronto: Panel Discussion
Jamie Bradburn
Forty Years of Heritage Preservation Wins and Losses
A look at the historical buildings we've preserved and the architectural icons we didn't save.
What is the historical value of a building—does it lie in its architectural style, or in the historical events that have taken place within its walls, or merely in the sentiment it inspires? How we answer those questions may determine how successfully we're able to preserve Toronto's past—a recurring notion at Wednesday night's panel discussion on heritage preservation, presented by Heritage Toronto at the Toronto Reference Library.
http://torontoist.com/2014/08/forty-years-of-heritage-preservation-wins-and-losses/
11. Urban Toronto: Heritage Toronto Panel Discussion
Marcus Mitanis
Heritage Toronto Discusses 40 Years of Heritage Preservation
Toronto has always had a rocky relationship with heritage preservation. Some of the city's most famous landmarks, from Union Station to Old City Hall, once faced the very real possibility of demolition. Since then however, many important steps have been taken to recognize heritage sites and structures for their cultural, social and architectural value. While there have been mistakes, failures and disappointments that have resulted in further loss of significant buildings, the legislation currently in place permits heritage buildings at least some safety compared to previous years. On August 6, Heritage Toronto held a symposium to discuss preservation and how heritage sites can be protected in the future.
http://www.urbantoronto.ca/news/2014/08/heritage-toronto-discusses-40-years-heritage-preservation
Editor's Note: Brought the house down when I suggested "Abolish the Right to Demolish", i.e. destruction and removal is an environmental problem first...."the only thing between us and an enormous demolition stream is the Ontario Heritage Act....is this one pretty enough, important enough....all buildings have a role to play
12. Torontoist: Toronto Street Signs
Jamie Bradburn
A Short History of Torontos Street Signs
The "acorn" street-name sign is as much a Toronto icon as are City Hall or the CN Tower. Though the design has graced the streets of many municipalities across Ontario and elsewhere for nearly 70 years, it's thoughts of our city that it conjures up for many people. Its versatility allowed neighbourhoods and business improvement areas to display their identities to the world.
Once described by the Globe and Mail as consisting of "a separate metal frame, a painted white face with embossed black lettering and a three-dimensional acorn like the cherry on a sundae," the acorn sign marked an improvement over earlier versions that were often illegible (if they were posted at all). But, as is often the case when it comes to infrastructure decisions, concerns about fiscal responsibility led city fathers to put off improving street signage while calls for action grew.
http://torontoist.com/2014/05/a-short-history-of-torontos-street-signs/
13. Vimeo: Time- Animation of Toronto construction over 100 years
forwarded by Sue Dexter
Animation
A very interesting animated history of several streets and the Toronto skyline over 100 years.
14. CTV Barrie: Wahta Protest loss of Historic Portage at Bala Falls
First Nation holds portage protest over hydro plant in Bala
CTV News Report regarding Wahta Protest at Bala Falls.
http://barrie.ctvnews.ca/video?clipId=427370
15. Gravenhurst Banner: Wahta Protest Loss of Bala Portage to Hydro Project
Brent Cooper
Wahta Mohawks protest Bala Falls project Chief brought to site in flotilla of canoes
BALA-More than 50 protesters brought the Wahta Mohawks message to Bala Falls today.
The various levels of government should halt progress on the Bala Falls project until proper consultation with the Wahta Mohaws First Nations group has been completed, according to chief Phillip Franks.
"We must exercise our right and bring it to your attention, to the governments' attention that they have a duty to consult," he said.
Franks made the comment in front of protestors gathered at the Bala Portage, a strip of land located between the north and south end of the falls.
According to the Wahta Mohawks, the site, proposed by the Ontario Ministry of Natural Resources and Forestry for a hydro-electric generating station to be built by Swift River Energy Limited, has historical and cultural significance to its members and other First Nations.
Franks said the Wahta Mohawks arrived in Muskoka in November of 1881 using what is now called the Bala Portage to travel to their territory.
"We appreciate historical facts and we have a long history … this is one piece of it," he said while standing on the portage. "Transportation from the water includes portaging. It is culturally and traditionally important to First Nations."
http://www.muskokaregion.com/news-story/4803959-wahta-mohawks-protest-bala-falls-project/
16. The Globe and Mail: Aga Khan Museum
Alex Bozikovic
Building on Faith

Building on faith: Inside Torontos new Aga Khan Museum, designed by the worlds leading architects
http://m.theglobeandmail.com/life/home-and-garden/architecture/building-on-faith-inside-torontos-new-aga-khan-museum-designed-by-the-worlds-leading
17. Windsor Star: Assumption Church in Danger
Dave Battagello
Historic landmark Assumption Church to be shut down
UPDATED: Historic landmark Assumption Church to be shut down (With video)
Assumption Church, an historic landmark, is pictured Friday, August 29, 2014. (DAX MELMER/The Windsor Star)
Assumption Church, an historic landmark, is pictured Friday, August 29, 2014. (DAX MELMER/The Windsor Star)
Comments Email2Dave Battagello
Aug 29, 2014 - 12:17 PM EDT
Last Updated: Aug 29, 2014 - 8:03 PM EDT
Assumption Church, a community icon and the nation's oldest Catholic parish west of Montreal, will be shut down, the Diocese of London announced on Friday.
Its longterm fate is unknown and parishioners are being relocated to Holy Name of Mary Church, The Star has learned.
"It's been a difficult decision for me," said Bishop Ronald Fabbro, of the Diocese of London. "I was reluctant to do anything that would mean the closing of this church.
"I know the history, how it's a beautiful and historic church. I understand its importance to the Catholic community and the wider community."
But Fabbro indicated Friday the inability of two fundraising campaigns over the last four years to generate the $10 million required to save the crumbling 169-year-old national historic landmark has become too much for the parish and diocese to ignore.
http://blogs.windsorstar.com/news/historic-landmark-assumption-church-to-be-shut-down
18. Stratford Gazette: GTR Train Sheds Ten Most Endangered Spaces List
Jeff Heuchert
Local landmark named to national endangered list
Local heritage advocates aren't the only ones picking up the fight to save the former GTR repair shops on the Cooper site.
Announced earlier this week, the Ten Most Endangered Spaces List – compiled annually by Heritage Canada's National Trust to bring attention to historic places either threatened or already lost – includes the much-discussed steel structure adjacent to Stratford's downtown.
The Heritage Trust is an independent charitable body that operates under the patronage of the Governor General of Canada. Its mandate is to raise awareness about heritage conservation, save heritage properties, and engage Canadians and governments at all levels for the protection and better stewardship of historic places, buildings, and cultural landscapes.
The Cooper site was nominated to be on the list by the Stratford-Perth County branch of the Architectural Conservancy of Ontario.
http://www.southwesternontario.ca/news/local-landmark-named-to-national-endangered-list/
19. St. Johns Telegram: City breaking its own heritage rules - Decision on property owners windows latest rejection of committee recommendation
Daniel MacEachern
Allowing exceptions to St. Johns heritage guidelines will make it harder to preserve the citys history, say the heritage committee chairmen.

St. Johns city council Monday rejected the citys heritage committees recommendation that the owner of 133 Gower Street (the house on the right) should replace the buildings windows with ones that match other houses in the area.
Committee co-chairman Coun. Sandy Hickman — following council's decision Monday to allow a Gower Street homeowner to replace and install windows that are different from what the heritage guidelines would allow — said Tuesday the city is breaking its own rules.
"I'm not sure that all councillors understand the gravity of the heritage of the city. That it is something that's different from whether or not you put a 10-storey building in one area or allow a certain type of siding on Elizabeth Avenue or something different in Cowan Heights," said Hickman.
"There is a responsibility for us as city council of this city to ensure that we maintain the character."
It's the latest recommendation of the heritage committee to be rejected — in March, council rejected heritage status for two downtown Salvation Army buildings scheduled for demolition and rebuilding, and earlier this year, council found itself debating whether it could allow an exception for windows at a local convent that didn't fit guidelines, but were easier for older nuns to open.
Coun. Dave Lane, the heritage committee's other chairman, said allowing exceptions piecemeal makes it more difficult for the city to enforce the guidelines it has established to preserve the city's heritage, and allowing exceptions weakens the overall purpose.
http://www.thetelegram.com/News/Local/2014-07-30/article-3816672/City-breaking-its-own-heritage-rules%3A-councillor/1
20. Saving One of Four Remaining Ice Houses in Canada
Rachel Redshaw
"The ice house and creamery will soon be demolished if we do not fund raise $13,000 for its restoration."
Ayr Ice House
This ice house is one in four remaining in Canada of its kind. It is soon to be demolished if we do not fund raise $13,000 for its restoration.

The Ayr Ice House and Creamery was built c. 1860 and is a rare example of a 19th century ice house, possibly the only one in Ontario.

In its time this ice house produced $14, 648.17 worth of butter, and that was at the start of the 1900s! It was also so popular that shipments of butter produced at this ice house and creamery were sent overseas.

The ice house and creamery had a special ventilation system that is planned to be restored.

By restoring this building, the North Dumfries Municipal Heritage Committee (NDMHC) hopes to conserve one of the last standing ice houses and creameries in Canada. By doing this, we can offer a piece of past to generations to come that otherwise would no longer be present.

PLEASE DONATE. OUR TIME IS LIMITED. BE PART OF PROTECTING CANADIAN HISTORY.
http://www.gofundme.com/c8cuzs
21. Fastcompany - Heritage a key thing that people like about their city
Sydney Brownstone
4 Reasons Why People Love Living In Cities And How We're Working On Ruining Them
We've been hearing about it for years: The 21st century is the era of global urbanization, or urban globalization, or both. But now that more people want to live in cities, bigger questions loom. What makes a city? And what makes a city a desirable place to live?

The stereotypical trappings of urban living (i.e. crowds, tall, shiny buildings) do not a city make. In order to figure out what does, design firm Sasaki recently published the results of a 1,000-person, six-city survey that asked residents what they loved and hated about their surroundings. Some answers from those living in Boston, Chicago, New York, Austin, San Francisco, and Washington, D.C., could have been anticipated, but other responses were more surprising.
Historic buildings

Take, for instance, people's affection for historic buildings. According to Sasaki's survey, 57% of city-dwellers stop to look at old buildings when walking down the street (more than the 15% who stare at skyscrapers), and more than half agreed that renovating old buildings so that they retain their architectural character should be a priority. Only 17% said they felt their city was "too quaint" and wanted more shiny "iconic" buildings.
http://www.fastcoexist.com/3033848/4-reasons-why-people-love-living-in-cities-and-how-were-working-on-ruining-them
22. Dezeen: Demolition of 3 Skyscrapers in Istanbul to Protect Symbolic Architecture
Istanbul Skyscrapers to be Demolished to Protect the City's Skyline
Three skyscrapers in the Onalti Dokuz development in the west of Istanbul will be demolished or partially demolished, after the Turkish government's Council of State rejected appeals against a court ruling demanding their removal from the city's skyline.
The residential towers, designed by Alpar Architecture for developer Astay Gayrimenkul, were designed to form the centrepiece for a 12-hectare development site and vary in height from 36 to 27 storeys.
But the decision to allow their construction proved controversial, with critics and campaigners expressing dismay at the impact of the towers on the city's silhouette, including views of the Hagia Sophia, Topkapi Palace and the Blue Mosque.
http://www.dezeen.com/2014/08/22/news-skyscrapers-in-istanbul-will-be-demolished-to-protect-the-citys-skyline/
23. Boston Business Journal: Restored Kittredge estate in Roxbury transformed into five apartments
Thomas Grillo

Historic Boston has taken on its latest project: the $3.8 million rehabilitation of the dilapidated Alvah Kittredge House in Roxbury.
Historic Boston will celebrate the $3.8 million transformation of the dilapidated Roxbury mansion into five two-bedroom apartments tonight.
So far, four of the five two-bedroom, 1,000-square-foot units have been leased. The three market-rate apartments cost $2,400 per month while the two affordable units are priced at $1,300.
Vacant since the early 1990s, the Alvah Kittredge House was more or less saved by Historic Boston. The Boston Redevelopment Authority turned ownership of the property at 10 Linwood St. over to Historic Boston for $1 after taking the house by eminent domain in 2011 to save it from further deterioration. Metric Construction Corp. of Brighton was the contractor for the project.
http://www.bizjournals.com/boston/real_estate/2014/08/restored-kittredge-estate-in-roxbury-transformed.html?ana=e_bost_real&s=newsletter&ed=2014-08-11&u=ykiEr9XGC4SAxPwCFZRr8csZacb&t=1407781399
24. Citylab: J Edgar Hoover Building
citylab
Requiem for Brutalism

The fate of the FBI's J. Edgar Hoover Buildingmaybe the most despised structure in Washington, D.C.is virtually sealed. As Brutalism edges toward extinction, cities should take stock.

"Be regular and orderly in your life, so that you may be violent and original in your work," Gustave Flaubert once said. I come back to this quote any time there is news of a Brutalist building being demolished or endangered. Whenever a Brutalist structure is scheduled for demolition, the city that hosts it grows that much more more regular and orderly. And that much less original, and, yesin a couple of different senses of the wordless violent.

This week came the news that the Federal Bureau of Investigation is leaving its home in Washington, D.C. While plans to keep the bureau downtown were always a longshot, a short list of candidates released by the GSA confirms that the FBI will build a new consolidated headquarters in either Maryland or Virginia. Washingtonian spotted the release and wasted no time in celebrating the FBI's departuredespite the fact that the move will send as many as 4,800 jobs to the suburbs.

That's how much D.C. residents hate the J. Edgar Hoover Building. And really, that doesn't come close to painting how passionately people hate this building.
Despite the fact that the FBI Building has denied the city another Cosi or craft cocktail barsomehow Washington persists.

For sure, there are reasons to be glad to see the FBI gone. A study commissioned this time last year by D.C.'s former chief financial officer found that putting a new mixed-use development where the FBI Building stands would bring the city a slight gain in revenue. More importantly, though, the FBI's extraordinary security requirements would make the organization a bad fit for Poplar Point, a D.C. site that is still up for grabs. Even though the move will cost the city thousands of jobs, D.C. may be better off in the end with the FBI putting its 2.1 million-square-feet building and its astonishing 350-foot security setbacksa fortress behind a moatsomewhere else.

Most importantly, from the perspective of thousands of D.C. residents, the District will finally be rid of the FBI's dark architecture. I will be sad to see the building go, as the city will almost certainly demand. Not only could it still potentially be put to good use, but whatever replaces the FBI Building will be regular, orderly, safe, and worse.
(Dave Pattern/Flickr)

"There is no government building that more accurately reflects the soul of the bureaucracy housed inside," wrote Benny Johnson, easily Brutalism's most viral critic, for Buzzfeed. Shortly after, he was deposed for plagiarizing other writings, but no matter: This was a deeply original thought. It is an awesome building, unrivaled in stature and authority. Were future civilizations to judge ours by our architecture alone, they would surely pick the FBI Building as the seat of power, not the White House.

Its critics will simply say that it is ugly, which is a meaningless criticism, and I don't mean that as an appeal to tastes. Washington is filled with ugly buildings. This just isn't one of them. The FBI Building is utterly unique, unlike any other building in Washington. The are other buildings rendered in Heroic Concrete in a handful of citiesrhinoceroses like the Morris A. Mechanic Theatre in Baltimore, Mummers Theater in Oklahoma City, Prentice Women's Hospital in Chicago. Two of those are endangered; one is extinct.

Another stripe of critic will say that the FBI Building crushes the streetscape, and to the extent that this is true (it is not very true), it is not the building's fault. Cross 10th Street NW on Pennsylvania Ave. NW from the Hoover Building and you can order a $12 lavender gin rickey at Central Michel Richard. Catty-corner to the building at 9th and E Streets NW is Minibar, a molecular gastronomy restaurant with a $250 prix fixe menu. It is true that you cannot do these things inside FBI headquarters, but what do you expect? Whatever the totalitarian qualities of the structure, it hasn't cratered downtown.

While the FBI locked out street-level retail from its building, the same is basically true of the nearby Department of Justice, the Mellon Auditorium, and many other buildings in the federal core. This is not to say that storefront shops don't belong in federal buildings: One of the city's best coffee haunts, Swing's, is in the same magnificent Structural Expressionist building that once housed the Office of Thrift Supervision. Neverthelessdespite the fact that the FBI Building has denied the city another Cosi or craft cocktail barsomehow Washington persists.
The former Office of Thrift Supervision, now the home of the Consumer Financial Protection Bureau. (Tom Paradis/Flickr)

The city's cost-benefit study of the FBI Building assumes that what comes next will generate revenue. (A mixed-use condo building is always a good guess for new construction in D.C.) But I hope the city at least considers preserving the building and putting it toward other uses. It's not guaranteed that it would be cheaper to implode and rebuild than to renovate (though a Government Accountability Office report from 2011 did suggest that demolition was the cheaper path for the FBI). It's just a thought, but I'd like to see the city consider the FBI Building as a facility for its growing homeless population, whose situation is truly brutaland worsening.
So much of the criticism of Brutalism treats it like a failed quiz.

This week, NPR science blogger and astrophysicist Adam Frank wrote about the science of cities, and the dangers in the effort to make city strategy "as quantitative and predictive as possible"regular and orderly, if you will. Cities are far from being too scientific in the way they approach planning, but the prospect of making cities utterly boring is real. "Cities clearly are more than a new kind of physics problem," Frank writes. "They are also creations of the human imagination and, as such, they live or die by the quality of the imagination we bring to them."

http://www.citylab.com/design/2014/07/requiem-for-fbi-hoover-building/375279/
25. South China Morning Post (HK): Lessons from Kyoto on preserving Hong Kong's architectural heritage
Fanny W. Y. Fung
As Hong Kong seeks input on how to protect its heritage, the Japanese city's strict building codes and preservationist mindset may be a model

Traditional houses mix with high-rise buildings in Kyoto, where strict building codes preserve architectural heritage. Photo: Fanny Fung
Walking through the streets of Kyoto today, you can still get a taste of the Japanese capital of Heian-kyo built 1,220 years ago.
The grid-patterned streets in central areas modelled after the Tang dynasty (618-907) Chinese capital of Chang'an mingle with tens of thousands of traditional wooden townhouses to create a low skyline unlike those of most major cities of the world.
And even where higher buildings are allowed, there are rules to ensure they do not obscure important cultural landmarks.
It could almost be an object lesson for Hong Kong as it prepares to enact a new policy on preserving what is left of the city's heritage buildings.
But Kazuhiro Yamamoto, chief of Kyoto city government's landscape policy section, doubts whether his city's law on architectural heritage - one of the most stringent in the world - could work anywhere else, even in Japan.
"Most of our citizens have a strong sense of preserving the historic landscape, and that's why it is easier for us to secure people's support when implementing these restrictions," Yamamoto told the South China Morning Post via an interpreter.
http://www.scmp.com/news/hong-kong/article/1561314/lessons-kyoto-preserving-hong-kongs-architectural-heritage