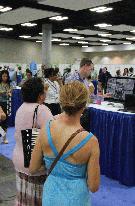 Associate Mark Driedger Presenting at the 2016 IUCN World Conservation Congress
ATA Architects Inc. (ATA) had the honour of sending its Associate, Mark Driedger, to the 2016 IUCN World Conservation Congress in Hawaii where he presented ATAs award-winning heritage project, the Harding Waterfront Estate (formerly the Holcim Waterfront Estate). The World Conservation Congress is the worlds largest democratic conservation event, meant to focus the expertise and influence of its members into tackling some of the most significant issues of our time. The IUCN draws its members from all over the world and from various fields, including politics, business, science, art and academia. This year, the Congress had over 10,000 participants, including President Barack Obama, NASA, Google, and many of the worlds leading conservation authorities.

ATA's contribution to the Congress was a digital media presentation focused on the Harding Waterfront Estate in Mississauga, Ontario. It was the only architectural project at the IUCN World Conservation Congress, focussing on the efforts made by all parties to conserve the landscape of the estate and its cultural and historical value. The heritage conservation work done within this project has parlayed into success for the property and a boon to the City of Mississauga. ATA is well-known for its expertise and success in conservation work within the Greater Toronto Area and our acceptance into the Congress served as a recognition of the value of heritage to the conservation movement and global sustainability.

ATA's presentation at the Congress, Linking Past, Present, & Future, consisted of current and past photographs of the Estate, Bell Gairdner family videos, explanations of the process, challenges and successes of the project, as well as a full background of the cultural and historical connection the Estate has to the surrounding community. The Harding Waterfront Estate, a relatively small project, was able to make it onto the world stage because both large and small efforts contribute to world conservation.