Issue No. 118 | May 14, 2008
1. Heritage Storm hits Queen's Park
Catherine Nasmith
Its raining buildings all over Ontario.
Two weeks ago Hamilton lost the Balfour building. Hamilton's citizens stormed their Council chambers over the Balfour fiasco. Now another building is threatened on the Lister Block. And in Windsor a big OOPS. The Chief Building Official forgot to check the heritage inventory before issuing a demolition permit for the Seagrave building. Windsor's outraged citizens held a candlelight vigil over the rubble.
In St. Thomas Dawn Doty has been circulating a petition to the legislature asking the Minister of Culture, Aileen Carroll to designate Alma College to prevent the demolition of this spectacular landmark. She has gathered over 1000 signatures in one week, with more to come.
But the owner of Alma may not have to wait for a demolition permit, vandals are already doing the job. On Friday night, Ms. Doty called St. Thomas police to try to intervene to stop damage "The building was full of kids, breaking glass, hanging out the windows with their bic lighters." The police didn't even bother to come, even though she reported having been threatened by them.
The hurricane of destruction across the province has reached the legislature. In the last ten days Alma has been mentioned three times, by both culture critics, Julia Munro (PC) and Peter Tabuns (NDP). The Alma petition has been read at least twice. Andrea Horvath is pressing the Minister of Culture to designate the Lister Block. There is also a petition to save the Dunlap Observatory. For Queen's Park that is an extraordinary level of activity.
When the Heritage Act was changed in 2005 the public expected an end to the destruction of our landmarks. Three years later we still have municipalities afraid to designate against an owner's wishes.The province has had the power to designate for three years, yet has never found an occasion to use it.
Peter Tabuns said it best in his statement on Alma, "given the powers she has, if this building is not worth preserving, which building in Ontario is worth preserving?"
---
2. Heritage Canada Foundation Releases 2008 Top Ten Endangered Places and Worst Losses Lists
Press Release
OTTAWA, ON-May 1, 2008 - The Heritage Canada Foundation (HCF) has released its Top Ten Endangered Places and Worst Losses Lists drawing attention to a total of 20 architectural and heritage sites in Canada either threatened with demolition or already lost.
The Top Ten Endangered Places List, compiled from nominations received as well as from news items that HCF has been following and reporting on throughout the year includes:
· The Riverdale Hospital, Toronto, a well-preserved Modernist landmark heading for landfill
· Montréal's BENS Delicatessen—a cultural icon—destined for the dump
· Winnipeg International Airport, the finest mid-century modern, art-filled air terminal in Canada heading for a crash
· The Old GTR Station, Kingston, an 1856 limestone original in critical condition
· St. Patrick's Church, Halifax, victim of a shrinking downtown congregation
· The GTR Roundhouse in Biggar, Saskatchewan, the last of its kind on the prairie, on demolition watch
· Bonavista's Alexander Bridge House, Newfoundland—the oldest standing house in the province—struggling against a tide of decay
· The Church of the Holy Cross, Skatin, B.C., a National Historic Site known as the "cathedral in the wilderness" and desperately seeking survival funding
· The Winter Street Prison, the oldest stone structure in Sherbrooke, Quebec, on death row
· Old St. Patrick's Church—the oldest surviving Catholic church in Calgary—left to vandals
for the full story and photographs.
<http://www.heritagecanada.org/eng/featured/risk.html#topten>
Topping the Worst Losses List is the historic Québec City Armoury needlessly lost to fire in April. Examples of historic places destroyed by the wrecking ball are plentiful:
Toronto comes up big with the demolition of the Bata Shoe Headquarters, a hallmark of modern design, and Walnut Hall,
the once elegant Georgian row that crumbled into the street due to chronic neglect.
Elsewhere in Ontario can be found the Seagraves Building in Windsor where a 1905 industrial heritage building ended up in landfill thanks to a permit office oversight, and Hamilton's historic Balfour Building, part of the infamous Lister Block, collapsed from decay.
Out west, Vancouver lost the stunning Graham House to demolition—an early design by Canadian architecture icon Arthur Erickson; Edmonton saw one of its mid-century Modernist designs, the Central Pentecostal Tabernacle, fall to the wrecking ball; and in Saskatoon the Legion Building was demolished in the name of progress.
In the Maritimes Kentville, Nova Scotia demolished the rare DAR Roundhouse in favour of new development and in Rothesay, New Brunswick, the site of the Church of Our Lady of Perpetual Help was paved over to put up a parking lot.
Click Worst Losses <http://www.heritagecanada.org/eng/featured/risk.html#worst> for more information.
A handful of root causes—not the least of which is Canada's status as the only G8 country without a national system of heritage-related incentives and legislation—underlie these lost and threatened sites.
For an update on HCF's past Top Ten Endangered Places lists, click Updates <http://www.heritagecanada.org/eng/featured/risk.html#update> .
The Heritage Canada Foundation is a national, membership-based, non-profit organization with a mandate to promote the preservation of Canada's historic buildings and places.
For further information:
Carolyn Quinn, Director of Communications, cquinn@heritagecanada.org
Telephone: 613-237-1066 ext. 229; Cell: 613-797-7206
---
3. Update on Campaign to save Riverdale Hospital
Penina Coopersmith
A fair number of people on my mailing list have sent letters to various provincial ministers following Heritage Canada's announcement of May 1st. As well, I took my own advice and forwarded the following short message along with a copy of the press release:
"Bridgepoint Health" is determined to demolish the modernist gem formerly (and locally) known as the Riverdale Hospital.
While the Heritage Canada Foundation bemoans the loss of Riverdale Hospital, placing the building on its "Top Ten Endangered Places of 2008", the City of Toronto repeatedly refused even to consider the building's heritage status.
We take great pains now to capture every stray bottle, can and plastic container, but evidently think nothing of sending a perfectly usable, structurally sound, well built 320,000 square foot building to a landfill. The embodied energy of this one building is equivalent to putting some 27-29,000 cars on Ontario's roads for a year.
We bemoan the state of our infrastructure and plead poverty for failing to invest in its repair and upgrading, but permit a 25-30 million dollar building to be tossed away.
What a package! Heritage demolished. The environment trashed. Infrastructure money poured down the drain. All in one fell swoop.
---
4. Loopholes in the Ontario Heritage Act
Michael McClelland
When the Ministry of Culture strengthened the Ontario Heritage Act in 2005 it provided the Province with a stronger legal framework for protecting all of our shared cultural heritage resources. However, two years later key portions remain unfinished, in particular Section 25.2 which recommends the drafting of standards and guidelines for the protection and maintenance of provincially-owned heritage properties. The failure to fully implement this critical section of the Ontario Heritage Act leaves provincially-owned heritage properties vulnerable and places the goals of the Act in jeopardy. Projects currently underway highlight the need for these standards and guidelines. They would ensure that the best practices for heritage conservation are followed.
In the absence of these standards the ORC has implemented its own separate process for assessing heritage value. The ORC's Heritage Management Process allows the ORC's internal Heritage Committee to determine heritage value without external consultation, even with the Ministry of Culture who manages the Heritage Act. It would seem that the integrity of provincial heritage properties is now under the sole control of the ORC, which is an organization that has strong property management expertise, but a limited heritage conservation background.
A current project that demonstrates this problem is Osgoode Hall in Toronto. The ORC has tendered significant alterations to Osgoode Hall. City Council for the City of Toronto, its Preservation Board and municipal heritage staff have all recommended against the alterations, as their assessment is that the alterations negatively impact the significant cultural resources of the place. The Ontario Heritage Trust and the Minister of Culture have been completely blindsided by the ORC's position that they know what's best for their properties. Obviously stakeholder consultation can be ignored if it doesn't say yes.
By producing the standards recommended in Section 25.2 the Ministry of Culture could ensure the goals of the Ontario Heritage Act are applied equally and fairly throughout the province, ensuring that all of our shared cultural heritage is preserved for the benefit of the present and future generations of Ontarians. Anything less is simply not acceptable.
---
5. Relief in Sight for Overworked Toronto Heritage Preservation Services
Catherine Nasmith
On several occasions Built Heritage News has commented on the impossible challenges faced by heritage staff at the City of Toronto. The department could double and still be shortstaffed, but things should improve a bit for Toronto's Heritage Preservation Services in the near future.
In a recent communication, Mary MacDonald, the Acting Manager advised that two missing staff were being replaced and that two additonal positions would be advertised in the near future. The newest heritage preservation officer hails from San Francisco, Dan Dibartolo will be fill the vacancy left by Chris Dunn. As well there will be a new person to fill the position left by Mary, when she took over for Denise Gendron, currently seconded to the City's Union Station team.
Two additional new positions will be advertised shortly.
---
6. Hansard: Petition on David Dunlap Observatory
Mr. Reza Moridi: "To the Legislative Assembly of Ontario:
DAVID DUNLAP OBSERVATORY
"Whereas the" land of the "David Dunlap Observatory in Richmond Hill is of historical and heritage significance" as it "was donated in trust by the Dunlap family to the University of Toronto in 1935, and the pre-Confederation farmhouse is still standing;
"Whereas the observatory, featuring the largest optical telescope in Canada, has been the site of great scientific discoveries; it has been a place of learning not only for students of the University of Toronto but for the general public as well;
"Whereas the observatory has been recently declared by the University of Toronto as 'surplus' to its academic needs and subject to sale for development;
"Whereas the observatory occupies an incredibly unique and beautiful 180 acres of green space, the largest such space in the town of Richmond Hill, with trees, birds, animals, plants, insects and butterflies in the middle of a rapidly urbanized area;
"We, the undersigned, petition the Legislative Assembly of Ontario to support the protection of this property of such historical, scientific and natural significance" from being used as commercial development.
I present to you today about 1,100 signatures, which were presented to me during the rally held at Queen's Park on January 16.
---
7. Note from Ballenford's
Susan DeLean
Thank you so much very much to all of you who came, phoned, e-mailed, shopped, spoke, questioned, listened, hugged, shlepped, brought coffee, chocolate, and wine, then shopped some more...
The support you have shown ballenford this past month has been nothing short of overwhelming.
Inspired by your words and actions, I, along with a motley crew of incredible volunteers are working hard behind the scenes to see if ballenford can be rebuilt from the ground up with a lasting business model.
As I focus on this task, ballenford's doors will have to remain closed for the month of May, but I will keep you posted via e-mail with more concrete developments in the coming weeks.
---
8. Preserve the past, save the future
Laurel Lane-Moore
Is our architectural heritage worth saving? As far as Donovan D. Rypkema is concerned, the answer is a no-brainer: of course, it is.
In case you don't get it, Rypkema can give you a dozen solid arguments to support his contention that preserving our historic neighbourhoods is not only the right thing to do, it's the smart thing - and the green thing - to do.
"Historic preservation makes cities viable, makes cities livable, makes cities equitable," says Rypkema, an international expert in the economics of historic preservation.
Here in North America, he says, we've been slow to connect the dots, with few exceptions. Elsewhere in the world, there's a growing recognition that heritage conservation is a key component of sustainable development, environmental sustainability and successful economic development – related issues that are top of mind in the developed world.
"In Australia, they've calculated that the embodied energy in their existing building stock is equivalent to 10 years of the total energy consumption of the entire country," says Rypkema, principal of PlaceEconomics, a Washington, D.C.-based real estate and economic development consulting firm. "Razing historic buildings results in a triple hit on scarce resources."
When we demolish heritage structures, he explains, we are not only throwing away thousands of dollars of embodied energy, we are replacing them with materials that require much more energy to make. And, he adds, we're wasting the value-added energy savings which increases dramatically in buildings older than 50 years.
"You're a fool or a fraud if you claim to be an environmentalist and yet you throw away historic buildings and their components."
Don't count on new technology and urban design to rescue our cities and revitalize our downtowns, Rypkema warns. The principles of the Smart Growth movement, including goals such as creating walkable neighbourhoods and a range of housing choices, fostering distinctive, attractive places, directing development toward existing communities, and taking advantage of compact built design, are already at work in historic neighbourhoods.
"If a community did nothing but protect its historic neighbourhoods, it will have advanced every Smart Growth principle," says Rypkema. "Historic preservation is Smart Growth. A Smart Growth approach that does not include historic preservation high on the agenda is stupid growth, period."
Expect to hear more straight talk on the value of historic preservation at the Landmarks not Landfill 2008 Heritage Conservation Conference, where Rypkema is a keynote speaker. The provincial conference takes place May 30-June 1 in Collingwood, Ontario.
---
9. Fancy Living in a Perfectly Preserved Lakefield House
Catherine Nasmith
Edward Smith, President of ACO Peterborough branch, has brought to my attention a too good to be true house for sale in
Lakefield
. One owner...It has been lived in by the same family since it was built in 1906, and has a perfectly preserved interior. Its last owner died at 96 years of age.
I can't post all the photos here. This house is just waiting for the right owner to maintain its charms.
For more information contact Edward Smith at <esmith29@cogeco.ca>
---
10. Eleventh Hour for Muskoka's Marygrove
Liz Lundell
Despite efforts of the Architectural Conservancy of Ontario Muskoka Branch to seek municipal protection for Marygrove, demolition appears imminent. The former Glen Home Hotel was designed by Horwood and White and completed in 1939. The Township of Muskoka Lakes listed it as a significant heritage building in 2003. The owners, The Sisters of Saint Joseph, Hamilton, would like to sell the 26-acre property and they received a demolition permit in December 2007.
On May 6, 2008, Township Council considered an application to downzone the entire property from commercial private camp to residential. This is seen as the precursor to the heritage building's demolition to make way for four large cottages. Spring road restrictions have delayed demolition, but will be removed on May 16 unless the municipality extends them.
Township staff recommended against downzoning as policy in the Township's Official Plan recommends against removing commercial zonings. ACO Muskoka argued for a partial re-zoning, retaining the old building and strip of land it occupies as private camp, preferably with a heritage designation or conservation easement in place to protect the building. The current private camp commercial zoning allows a religious or private organization to provide accommodation and educational or recreational programs. Proponents argued that the building could serve many useful functions, for example, a retreat for families facing chronic or terminal illness; a summer campus for a college hospitality program; or, ideally, a facility for a residential arts program.
During by-law deliberations, several councilors said the new zoning was required because the property was not marketable as a resort. ACO Muskoka had countered that it was important to remember the property has been zoned private camp during the Sisters' 30 years of ownership – not resort. At the right price, it may be marketable for private camp use.
Details about the listing and price were difficult to obtain. The listing price - now disclosed as $4,500,000 for the 26-acre property - was not reduced during the time the property was on the market, said the Sisters' planner.
At the conclusion of the by-law discussion period, Deputy Mayor Stewart Martin said "When I see the work that has gone into this [by the ACO Muskoka Branch], I can see this issue is very emotional, but today, resorts are looking at huge properties, like Red Leaves. That is the 'New Muskoka.' We have to look at the 'New Muskoka' in the new society. Something like this just does not work anymore." The downzoning was passed unanimously.
The council is clearly not interested in taking control of the fate of this historical gem in spite of staff's recommendation not to downzone. Time will tell whether most area residents are interested in the "New Muskoka" where market demands determine the quality of the community.
The last hope for Marygrove is that a visionary benefactor sweeps in with funding to purchase the building and the piece of land it occupies. For further information and photographs, please see www.arconserv.ca under "Buildings at Risk."
---
11. Lister Block: MPP Andrea Horvath Speaks out in Legisture
Hansard
The following transcript is the "Hansard" recording of Andrea
Horwath's comments regarding the Lister Block and the recent collapse
of the neighbouring Balfour building.
Ms. Andrea Horwath: In the heart of downtown Hamilton, a mountain of
rubble paints an apt picture of the McGuinty government's wilful
neglect of heritage preservation.
The Balfour building, next door to the historic, yet sadly ignored
Lister Block, collapsed last week. In large measure, the weight of the
McGuinty government's inertia can be blamed, for it is the McGuinty
government that had the power to expedite the Lister Block restoration
and be a real partner in restoring a key heritage landmark. Instead,
the neighbouring building is a scrap heap because of Liberal
foot-dragging.
Hamilton and Ontario heritage activists are acutely unhappy about the
building's façade being lost for all times because the McGuinty
government refused to request a stop to the demolition. The
government's overall lack of commitment and follow-through can't be
masked. It's hard to believe that this is the very government claiming
to want to revitalize downtowns and support the city's preservation of
significant older buildings like the Lister Block.
On January 10, I requested a copy of the Ontario Heritage Trust report
about the Lister Block under the Ontario freedom-of-information law. I
was denied access because disclosing it would reveal the specific
advice and recommendations to the minister. The McGuinty Liberals
should make the Listor Block report public and let Hamiltonians knows
what's behind the secrecy.
I sincerely hope the Minister of Culture will agree to meet quickly
with Hamilton heritage preservationists. We need a minister with a
commitment to saving these historical buildings, not one who's content
at leaving Hamilton with a missing tooth in the face of its historic
downtown streetscape.
---
12. Heritage Canada Foundation Welcomes Passing of Heritage Lighthouse Bill
Heritage Canada Press Release
The Heritage Canada Foundation (HCF) is delighted to report that bill S-215, An Act to protect heritage lighthouses was passed by Parliament on Wednesday after nearly ten years of effort. The private member's bill, sponsored by former B.C. Senator Pat Carney who worked tirelessly on its passing, empowers communities to help preserve Canada's heritage lighthouses. It is expected to receive Royal Assent shortly.
A strong supporter of this preservation initiative since 1999, HCF has worked closely with elected officials and local advocates in helping to bring this legislation forward. "It's a momentous day for Maritime heritage in Canada," said Natalie Bull, executive director. "HCF looks forward to helping local community groups to seize this conservation opportunity."
There are federal lighthouses in every province except Alberta and Saskatchewan. MP Larry Miller, whose Ontario riding (Bruce-Grey-Owen Sound) has several historic lighthouses, carried the bill through the House of Commons.
Moving third reading in the Senate, Senator Lowell Murray noted the original version of the bill was introduced in 2000 by the late Senator Michael Forrestall of N.S. Until now, successive bills have failed to make it through the legislative process.
"It's wonderful to see all the hard work by so many people finally come to fruition," said Barry MacDonald of the Nova Scotia Lighthouse Preservation Society who has worked for this legislation from the beginning.
After criteria for heritage lighthouses are established, communities will be able to petition the Minister of the Environment for heritage designation and propose community uses for any building surplus to operational requirements.
A Backgrounder <http://www.heritagecanada.org/eng/featured/saved.html#lh> on the legislation is available on the HCF website.
The Heritage Canada Foundation is a national, membership-based, non-profit organization with a mandate to promote the preservation of Canada's historic buildings and places. Visit www.heritagecanada.org <http://www.heritagecanada.org/>
For further information:
Carolyn Quinn, Director of Communications, cquinn@heritagecanada.org
Telephone: 613-237-1066 ext. 229; Cell: 613-797-7206
---
13. Alma College: Peter Tabuns Statement Requesting Minister of Culture to Designate
Hansard
Alma College
Mr. Peter Tabuns: I rise to request that the Minister of Culture use part four of the Ontario Heritage Act to preserve Alma College in St. Thomas. The Ontario Heritage Act gives the Minister of Culture the power to ensure its ongoing protection through the enactment of provincial heritage designation. She also has a heritage budget that could be used to help develop a solution to the college's long-term existence. Alma College amply satisfies the criteria set out in Ontario Regulation 10/06 for determining cultural heritage value and provincial significance, including its representation of the theme of education in Ontario's history and its reflection of the province's cultural heritage. I urge the Minister of Culture to use her powers to designate and protect this historic and iconic property before it is too late. I ask her, given the powers she has, if this building is not worth preserving, which building in Ontario is worth preserving?
Editor's Note:
The Legislature will soon be petitioned by several members to save Alma College. This is a good time to contact your MPP and ask the same question that Peter Tabuns asked today.
---
14. Both Culture Critics Ask Minister of Culture to Save Alma College
Catherine Nasmith
In response to today's announcement of 20M extra funding for the Ontario Arts Council, both opposition critics were of course in support of the announcement, but both also spoke for the need to save Alma College.
See comments below
Mrs. Julia Munro:
I want to add a couple of comments with regard to the announcement made by the Minister of Culture today. First of all, obviously we are glad to see funding announced for the Ontario Arts Council. I think all of us recognized, certainly when we were in government, the importance of investing in the arts. It's interesting to note the kind of employment this has created and the fact that the creative cluster has grown at twice the rate.
I wish this minister would also have the same enthusiasm with the heritage side of her ministry as we look at the spectre of the wrecking ball on Alma College in St. Thomas. There is concern within the community that this minister is not using the power she has to save this building. I think that the people of Ontario would appreciate her leadership on this part of her portfolio.ARTS AND CULTURAL FUNDING
Mr. Peter Tabuns:
In response to the Minister of Culture and arts, we certainly support the funding for the Ontario Arts Council. Council support for independent artists across the province is invaluable. We know how vital arts funding is to energizing communities and building their economies. While the $5-million increment will help the arts community, we need to keep in mind the outstanding need. In their most recent submission to the province, the Ontario Arts Council requested $35 million in additional provincial support. By 2009-10, Ontario will have provided about 60% of the amount requested. So we still have a long way to go.
We need serious long-term arts funding. If we want to make sure the arts are here for the long run, they need to have predictable funding. While I speak about this minister's portfolio, I also urge her to look at the need to preserve Alma College in St. Thomas.
---
15. Alma College Petition
Catherine Nasmith
Please download a copy, and collect signatures
Dawn Doty is collecting signatures on a petition to save Alma College. PDF copy of the petition is posted at the Architectural Conservancy of Ontario website, see link below. It is posted at the side of the Home page under NEWS. It is also in the news area on all the Branch pages.

The petition will be read over and over again in the legislature as copies come in.

Just carry it around with you for a day or two, collect signatures and mail to:

Catherine Nasmith
21 Nassau Street-415
Toronto, Ontario
M5T 3K6

I will make sure it gets to Dawn Doty and the Legislature.
---
16. St. Thomas Times: Opposition Critics Ask About Alma College
Eric Bunnell
Eric Bunnell's PEOPLE

Aileen Carroll got an earful of Alma College on Wednesday at Queen's Park.

Ontario's hon. minister of culture was trumpeting the Liberal government's investment in the arts.

But opposition members also wanted to know what she's going to do about Alma.

Remember, Carroll stepped in PDQ to ensure the Moore House in Sparta would be left standing. But she's been kinda quiet about Alma -- which, to be fair, currently is an open file in front of the Ontario Municipal Board.
Quoth Tory JULIA MUNRO (PC MPP for North York):

"I wish this minister would also have the same enthusiasm with the heritage side of her ministry as we look at the spectre of the wrecking ball on Alma College in St. Thomas.

"There is concern within the community that this minister is not using the power she has to save this building.

"I think that the people of Ontario would appreciate her leadership on this part of her portfolio."

Echoed New Democrat PETER TABUNS (NDP MPP Toronto-Danforth):
"While I speak about this minister's portfolio, I also urge her to look at the need to preserve Alma College in St. Thomas."

Carroll was celebrating additional funding for the ONTARIO ARTS COUNCIL which, in turn, passed money last year to 900 arts organizations in 200 communities:

"Arts and culture are more than just a cultural benefit to our province; they are also a major economic driver in communities across our province. Ontario's cultural industries generate nearly $20 billion to the provincial economy, and in the last eight years, Ontario's entertainment and creative industries created over 80,000 new jobs in our province."
---
17. Hamilton Spectator: Another building may have to go Hamilton Spectator, May 02, 2008
Erika Engel
Another building on King William Street just a few doors down from the fallen Balfour building faces an uncertain future as engineers have been called in to assess its integrity. The Laborers' International Union of North America (LIUNA), owner of the vacant building at 33-35 King William St., has been given an order by Hamilton building officials to submit an engineer's report. The report is to say whether or not the building is structurally sound and what may need to be done to make it sound.
---
18. Raise the Hammer: The Lister Chopping Block
Ryan McGreal
With another building on the Lister Block slated for demolition, will the Ontario Government finally stop sitting on its hands and intervene directly? Laborers Union International of North America (LIUNA), the owner of the buildings on the Lister block at James St. N. and King William St., has applied for a demolition permit for the boarded-up building at 33-36 King William St., next to Reardon's and just a few doors down from the recently-demolished Balfour Building.
---
19. CATCH News: Grant Head Speaks Out on Loss of Balfour
CATCH
Balfour building 'destroyed willfully'
The head of Heritage Hamilton says the LIUNA-owned Balfour building
"was destroyed willfully" and illustrates the failure of city council
to enforce property standards and adequately protect heritage
buildings. The public will get its first opportunity to speak on the
issue at a Monday morning meeting of councillors.

In an open letter to city council, Grant Head of Heritage Hamilton
says "a demolition contractor apparently was given free rein to
attack" the Balfour on April 19 after an initial collapse of part of
the roof in mid-April. He calls the recently announced planned
removal of a second LIUNA-owned building on King William Street "is a
reprehensible tactic known in the 1970s as 'blockbusting'."

Head was a member of the small group put together by the province in
2006 to find a way to preserve the historical Lister building and
notes the adjacent Balfour was a component of an architects report
presented to that group.

"The way that this building has been treated by the owners and by the
city seems a good indicator of how both will respect the
recommendations of that group," he writes. "The Balfour Building is a
symbol of council's inaction in enforcing property standards, its
inaction after receiving their LACAC's advice on several fronts, its
inaction on requiring application of its Built Heritage Emergency
Management Protocol and its inaction in implementing Official Plan
statements on Built Heritage."

The collapse and subsequent demolition of the Balfour is the last item
on the agenda of Monday morning's committee of the whole meeting, and
the only one that has no written report available in advance. The
agenda currently includes a request by the head of the downtown BIA to
speak about the Balfour situation.

Heritage Hamilton is calling for others to attend and address the
meeting. While there is no formal arrangement to hear the public,
persons who register with the city clerk by noon on the business day
before committee meetings (today in this case) are usually permitted
to speak.

Downtown councillor Bob Bratina has informed his colleagues that he
will be asking for the designation of King William Street as a
heritage district under provincial legislation.

The Balfour was architecturally significant and has been labelled by
the Heritage Canada Foundation as one of the ten "worst losses" of
2008 which says it "collapsed due to neglect". LIUNA had planned to
tear it down as part of redeveloping the Lister into offices for city
staff – a two-year old proposal that council must rule on by the end
of June.

CATCH (Citizens at City Hall) updates use transcripts and/or public
documents to highlight information about Hamilton civic affairs that
is not generally available in the mass media. Detailed reports of City
Hall meetings can be reviewed at www.hamiltoncatch.org. You can
receive all CATCH free updates by sending an email to
info@HamiltonCATCH.org.
---
20. Hamilton Spectator: Hamilton Reviews Thomas Building
Nicole Macintyre
City looks at Lister neighbour
The city is fast-tracking a heritage analysis on another building in the Lister Block project to protect it from collapse.

"We don't want to see the same fate that occurred to the Balfour building to happen with the Thomas building," Tim McCabe, general manager of planning and economic development, told council yesterday.

Council could designate the William Thomas building, which neighbours the Lister building along James Street, as a heritage property. McCabe said the city wants to see what could be preserved of the original 1855-56 facade.

---
21. Windsor Star: Seagrave demolition called national loss
Sarah Sacheli

For the scale of the fiasco surrounding its loss, Windsor's Seagrave building is on Heritage Canada's the Ten Worst Losses
Editor's Note:When are the Chief Building Officials in Ontario going to understand their responsibilities under the Ontario Heritage Act. Unfortunately, this is not the only occurrence. Marygrove in Muskoka had its demolition permit issued prematurely in the same way. When the error was drawn to the local Council's attention the reaction was to quickly take it off the Inventory....even though its heritage value is incontestible. That was the building over which the Muskoka Lakes MHC resigned enmasse to form a local branch of the Architectural Conservancy of Ontario. Last week the Council gave permission to downzone the property for four cottage lots and suggested that the ACO should get on board for the "New Muskoka" The art deco building, designed by Horwood and White could come down any day.
---
22. TreeHugger: LIUNA "Do as we Say, Not as we Do"
Lloyd Alter
Buildings Owned By Union Collapse While LIUNA President Calls For "Rebuilding Infrastructure"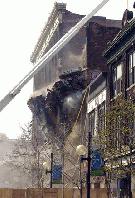 Watch this amazing video of the collapse last week of Hamilton's historic Balfour Building, owned by the Laborers' International Union of North America. Never was there a more blatant example of demolition by neglect; LIUNA promised that the facade would be preserved but "oops," the whole thing just fell down. LIUNA owns almost the entire block, and is letting it all fall to ruin. (see the Lister Block here).

Meanwhile, Terence O'Sullivan, General President of LIUNA, is making a major speech in Washington on Friday, May 9 calling for " a new plan for rebuilding and renewing America's basic infrastructure."

What hypocrisy. What a blatant example of "Do as I say, not as I do."

king%20william%20street.jpg
Block of historic buildings in Hamilton mostly owned by LIUNA

LIUNA says in its press release for its "Build America So America Works" campaign that it "will be the most intensive and sustained effort ever to redirect the nation's resources to taking care of America's basics – it roadways, bridges, dams, railways, schoolhouses and other fundamentals the country depends on every day, but which have fallen into decay, lowering quality of life and weakening our economy."
---
23. St. Catharine's Standard: MHC members take the stand
Proposal a 'pillaging of our heritage,' hearing told
Members of the St. Catharines heritage committee were grilled by lawyers for the Port Place developer at Thursday's Ontario Municipal Board hearing.

Brian Narhi and Robin McPherson told the hearing Ontario heritage permits shouldn't be issued for the proposed 17-storey condominium tower, which would include 80 units, a 70-room hotel, a 415-seat theatre and a commercial centre.

Narhi, a staff historian for Archaeological Services Inc., argued the old jail in the area shouldn't be moved or "overwhelmed" by the shadow of a 17-storey tower.

He also opposed proposed changes to or demolition of buildings like the old McGrath and Union House Hotels, the Hydro Building and the Erskine Pharmacy.

As a personal opinion, Narhi said the proposal represented a "gutting of the commercial core" and a "raping and pillaging of our heritage."

Lawyers for Port Dalhousie Revitalization Corp. pointed out contradictions between earlier and new heritage committee assessments of the value of buildings like the Erskine Pharmacy and the Hydro Building.
---
24. Chatham This Week: Hotel owner doesn't want heritage designation
KAREN ROBINET
While agreeing it's a nice thing to have, Chatham-Kent council stopped short of forcing an area business owner to accept a heritage designation. At their April 21 meeting, council rejected a recommendation that would have seen the Cadillac Hotel Complex in Blenheim designated under the Ontario Heritage Act for its cultural heritage value and interest. Located at the northwest corner of Talbot St. W. and Marlborough St., the building consists of a complex of semi-detached brick structures and a semi-detached frame house along with a detached brick outbuilding, constructed at various dates between 1872 and the 1940s.
---
25. Georgina Advocate: Wrecking ball hangs over rail station
John Slykhuis
One of Georgina's most historic buildings is being threatened by a wrecker's ball and council is moving quickly to stop it. The empty building on the corner of High Street and Dalton Road in Sutton was once the radial railway station where electric trains connected the village to Toronto. Built in 1906, the station was first known as the Ontario Hydro building, which was used as a waiting room and ticket depot for the York Radial Railway until 1931.
---
26. City of Toronto Web-site: Gary Wright appointed Commissioner of Planning
Torontos Chief Planner will chart new course for City Planning
Toronto, April 29, 2008 - Toronto has appointed Gary Wright as Toronto's next Chief Planner and Executive Director of the City's Planning Division. The appointment was made by Toronto Deputy City Manager Richard Butts.

The appointment of a veteran City of Toronto planner to the top planning post in the City brings leadership stability and great experience to the Planning Division. The appointment of Mr. Wright also offers the City an important opportunity to implement significant changes and improvements to the City's planning process.

Mr. Wright has been given a mandate to oversee a number of initiatives - the most important of which will be an upcoming program review that will set a new tone for planning and development in the City of Toronto. Defining new opportunities for creativity, improved service delivery and partnerships will be the cornerstones of the program review and Mr. Wright's tenure. The program review will establish new approaches to planning and development which will define Toronto for the next decade or more. In addition, the new Chief Planner will lead projects related to streamlining of Avenue Studies, completing the Zoning By-law project, implementing Transit City and developing long-term human resource strategies for the Division.
Editor's Note:Looks like we can expect more of what we have been getting in Toronto
---
27. Toronto Star: Loss of Trend House in Etobicoke
Ellen Moorhouse
Old modern house' bucked trend at Doors Open
Architectural historian John Blumenson says he had to do some persuading to get Toronto Doors Open to put an "old modern house" on its program in 2004.

But he succeeded, and everybody was surprised at the number of people who came to see a so-called Trend House in Etobicoke's Thorncrest Village.

"They kept telling me no one would go to those places, but they've changed their tune considerably," says Blumenson of organizers of the May event when the public can visit many buildings and appreciate the city's architecture.

Located at 48 Rathburn Rd., the 1952 house was the prototype for a cross-country program sponsored by the British Columbia lumber producers to demonstrate modern Canadian architecture and interior design.

A split-level plan, it featured a beamed ceiling, wood siding, and plywood on interior walls and cabinetry. Slate and cork were also used for the floors – materials that are popular again.

The 1,000-square-foot house, which needed repair, is no longer there, demolished two years ago like so many of the small mid-century homes built in the Etobicoke subdivision between Islington and Kipling Aves.

"It was amazing we lost the trend house that was so unique and was such a landmark in its day," says Catherine Nasmith, president of the Architectural Conservancy of Ontario.
---
28. Globe and Mail: Adaptive Re-use Wellesley Hospital Heating Plant
Dave LeBlanc
A pipe dream realized
What might have left other developers steaming — an older industrial building on a tight site with a big old chimney sticking up like a sore thumb — has three generations of Ayklers beaming.

What might have caused potential purchasers to freak out — a round bedroom or den located inside a dusty old chimney — has three happy customers busying themselves with unusual furniture layouts.

Welcome to Steam Plant Lofts, where risk-taking developer Aykler & Co. Realty Ltd. and some bold purchasers have combined to save a small swatch of Toronto's industrial fabric.

Built in 1953, the former Wellesley Central Hospital's old steam plant building and its attached stack may not have won beauty contests for its utilitarian modernist looks, but it had won over the neighbourhood as a landmark.
---
29. Globe and Mail: Charles Street Houses
Ivor Tossell
Goodbye, Victorian holdouts

Photo: Robert Allsopp
Nineteen years ago, a group of University of Toronto students gathered in a field south of Bloor Street and started blowing up black helium balloons. At the suggestion of then city councillor Jack Layton, they tied the balloons to 45-metre tethers and used them to trace the imaginary outlines of a luxury hotel the university wanted to build on Charles Street West at the corner of St. Thomas, demolishing a row of historic homes in the process.

Then they called the press.

"The question was, how can we impress on people that this is going to be a massive development that's going to upset the environment," recalls Charles Blattberg, who was then president of U of T's student council and now is a professor of political philosophy at the University of Montreal.

The students succeeded in stalling that development until it was cancelled, and the houses were spared. But today, the three boarded-up buildings have lost the battle against time. Almost the last remnants of a stately, tree-lined university street west of Bay Street, they're about to be demolished to make way for a 23-storey luxury condominium, the St. Thomas, and an attached apartment block.
Print Edition - Section Front

Section M Front Enlarge Image
The Globe and Mail

Proponents of the old houses say it's "demolition by neglect." The university says students are best served by the redevelopment. And everyone seems to be drawing their own lessons from the saga.

"It was like walking into a park," says Susan Stock, a conservator at the nearby Royal Ontario Museum who has worked in the area for decades and fought the latest development as a member of the city's Heritage Preservation Panel. "In 20 years, all of that has been lost."
Editor's Note:There are many grads of Victoria College who are thinking twice about whether they want to support the Alma Mater because of how it is treating its built heritage.
---
30. City of Toronto Adopts Federal Standards and Guidelines as Official Policy
Catherine Nasmith
City of Toronto Staff Report
One of the things keeping HPS very busy is trying to bring heritage policy in Toronto into line with the Parks Canada's Standards and Guidelines for the Conservation of Historic Places in Canada.

for the staff report, go to the link below

As well, information on the guidelines can be found at the Parks Canada Website

http://www.pc.gc.ca/docs/pc/guide/nldclpc-sgchpc/index_E.asp

---
31. Palm Beach Daily News: U of T Architecture to become John H. DanielsSchoo of Architecture
SHANNON DONNELLY,
John, Myrna Daniels of Palm Beach aid University of Toronto School of Architecture
The School of Architecture at the University of Toronto soon will carry the name of a longtime Palm Beach winter resident.

John and Myrna Daniels, who divide their time between homes in Palm Beach, New York and Toronto, donated more than $14 million to the University of Toronto's School of Architecture.

Of the gift, $10 million is earmarked for a renovation of the building, which will nearly double its size.

"John is an architect and graduated from the school," Myrna Daniels said from her Palm Beach home. "And we know the building was in need of a redo."

The building will be named the John H. Daniels School of Architecture.

The remainder of the gift will fund a scholarship program.

"That's the part we're most excited about," Myrna Daniels said. "It's specifically for students who are the first in their families to attend college."
---
32. Ontario Rural Ruins
forwarded by Amy S. Becker
Website dedicated to Ontario's abandoned buildings
A group of "urban explorers" who search out and photograph abandoned rural properties in Ontario. Some are quite interesting, and of historic significance. Many are making a last stand against development and ruin. The value of the their work in providing what might just be the only remaining photographic record of an historic property.

---
33. Waterloo Record: 24 Sussex Drive
William Christian forwarded by Brian Dietrich
After decades of neglect, 24 Sussex is badly in need of some updating
The prime minister's official residence, 24 Sussex Drive, was built between 1866 and 1868 by a lumberman and politician named Joseph Currier. It overlooks the Ottawa River, and Currier called it Gorffwysfa, a Welsh word that means 'a place of rest.' It has not always been the prime minister's residence; it didn't become public property until 1943.

In many ways, in its present state, it's a 34-room limestone dump. In winter the heating is inadequate. There is no central air conditioning. What relief is provided from Ottawa's sometime sweltering summers comes from noisy window air conditioning units. Jean Chrétien recalls in his memoirs that when Al Gore came for lunch, he sweated throughout the entire meal under his bulletproof vest.

In Pierre Trudeau's last term, from 1980 to 1984, he did little entertaining and paid almost no attention to the upkeep of the house. When John Turner moved in, he was so concerned about state of the electrical wiring that he asked for an estimate to repair it. By the time that the report came in Brian Mulroney was in office, and he decided that the optics of spending several hundred thousand dollars on structural repairs were bad, so he rejected the idea. As well, he bought over $200,000 of new furniture for the house out of his personal funds for the same reason.

---
34. Ottawa Citizen: Urban battle pits history vs. height - Ottawa's official urban plan emphasizes high density, which puts developers in conflict with heritage activists
Linda Mondoux
Paul Rothwell doesn't understand what all the fuss is about. As far as the director of planning and development for Ashcroft Homes is concerned, the company's proposal to build a nine-storey retirement residence in the middle of historic Centretown is exciting news. "Heritage (zoning) and designations have their place, but there's got to be certain issues that come up from time to time that trump those," he says. In the case of Ashcroft's plans for 330 Gilmour St., site of the former board of education headquarters, Mr. Rothwell says that issue is cost-effective renewal, the kind his company would bring to the neighbourhood with its retirement-home project. "It's what the neighbourhood needs, looks wonderful and would really revitalize the area," he says.
---
35. Daily Commercial News and Construction Record: Canadian National Exhibition
PATRICIA WILLIAMS
When it first opened in 1929, the Automotive Building at Exhibition Place was used as a venue to display the latest car models. In more recent years, the facility hosted "Farm, Food and Fun" events. Now, the 160,000-square-foot building is being turned into a conference centre. The redevelopment will convert what is now a 'bare-bones' exhibition hall into a state-of-the-art conference and exhibition facility. Architects are NORR Ltd.
---
36. Calgary Heritage Initiative Society
The Calgary Heritage Initiative Society is dedicated to the preservation, productive use and interpretation of buildings and sites of historic and architectural interest in Calgary.

Their on-line forum contains the latest updates regarding the fate of various sites in Calgary.
---
37. Victories Times-Colonist: Victoria clashes with owner, acts to save buildings - Unusual move would spare Janion, Morley's Soda Factory from demolition
Carolyn Heiman
Victoria city council has taken the first step to saving two prominent downtown heritage buildings from demolition. In an almost unprecedented move, council has voted to start a process that will give heritage designation to the Janion and Morley's Soda Water Factory buildings even though the owner hasn't requested it. The move was taken after council in March took the stop-gap step of putting the buildings under a 60-day protection order, following a surprise application to demolish them by owner Clara Beatrice Kramer.
---
38. New York Times: Demolition of Williamsburg Power Plant
Jake Moonie
When Spring Cleaning Includes a Power Plant

NYT-gigantic old power plant at 500 Kent Avenue, next to the Brooklyn Navy Yard in South Williamsburg
"It is quite literally throwing this building into the garbage," says a preservationist.

The plant operated through the borough's heyday as a leading manufacturing center. And though it closed in 1999 after 49 years as a Con Edison plant, the building remained standing as some of its industrial neighbors were designated landmarks and earmarked for conversion into housing, like part of the former Domino sugar factory. Others, such as the old Schaefer Beer factory, were demolished to make way for new construction.

Now, the power station's time may have come. A week and a half ago, Con Edison representatives confirmed neighborhood suspicions that the building was being torn down, though Bob McGee, a company spokesman, said no future use had been determined for the site, including whether to sell it.

News of the demolition, which dismayed preservationists who still hope to see the building reused, trickled out awkwardly: In a March 12 posting on a neighborhood blog called "I'm not sayin, I'm just sayin," a Con Edison spokesman was quoted dismissing the demolition option, telling the site's anonymous author that workers seen on the site were "just doing some spring cleaning." Five weeks later, the same spokesman told AM New York that the building was indeed being dismantled.
---
39. New York Times: Ideas for Saarinen's Bell Laboratory Building
Antoinette Martin forwarded by Adam Sobolak
Ideas for Bell Labs Future

NYT David Dunlop-Interior courtyard
LIKE the unsung hero who is paid tribute only upon retirement or imminent demise, the historic Bell Labs building in Holmdel has generated a loud, protective chorus of huzzahs since its demolition was proposed nearly two years ago

And now that groundswell of appreciation for the building, which was designed by Eero Saarinen, creator of the T.W.A. terminal at Kennedy International Airport, has generated proposals for using the outmoded space, built nearly a half century ago.

Prominent New Jersey architects who volunteered their time for a three-day brainstorming session last month — arranged with the aid of a few small preservation grants and a local citizens' group — came up with a wide range of redesign notions, according to the event's organizers.

Their initial report on the 1.9-million-square-foot structure and its 472-acre pastoral "campus," which was in the vanguard of suburban corporate office parks, is to be published soon at the Preservation New Jersey Web site, preservationnj.org. It suggested a number of uses: a health care center, a multi-university graduate center, a high-tech center for many companies, a modern research and development center, or a mixed-use complex.

Last, the mirrored-glass building could even be turned into rental apartments or condominiums — though the idea is likely to be controversial locally, because it would not generate as much tax revenue as other uses.
---
40. New York Times: Landmarks Commission Rejects Hospital Proposal
GLENN COLLINS
Building Proposal by Greenwich Village Hospital Is Rejected
The Landmarks Preservation Commission on Tuesday sent St. Vincent's Hospital Manhattan, which had pushed for a $1.6 billion development proposal within the Greenwich Village Historic District, back to the drawing board.

The plan would have demolished nine existing buildings to permit the construction of a 329-foot-tall hospital and a 265-foot-tall luxury condominium in conjunction with the Rudin Management Company. All of the 10 commissioners present spoke at a public hearing and all opposed it.

Although there was no vote, the commissioners' public comments served as a rejection of the hospital's proposal.

Some of the commissioners spoke favorably about parts of the plan, but none supported demolishing nine buildings so that two massive towers could be constructed.

"We must proceed extremely cautiously," said Robert B. Tierney, the commission's chairman. "The idea of any demolition in a historic district is an enormous step. It is time for everyone to be taking a deep breath and doing some rethinking."

Preservationists were jubilant after the two-hour hearing.

"This is a powerful, stinging rebuke to the St. Vincent's plan," said Andrew Berman, executive director of the Greenwich Village Society for Historic Preservation. "And it's a forceful defense of the whole meaning of landmarks preservation."
---