LINKS
1. Canadian Architect: First Moriyama RAIC International Award
2. Globe and Mail: EDITORIAL CARTOON [House of Commons] Structural safety report
3. CBC News: Crumbling House of Commons puts MPs and visitors at risk, report says
4. Tribute.ca New Eyes Filming Bala Falls Struggle
5. Edmonton Journal (blog): Can we save McKay Avenue School? Or is our history doomed to be history?
6. Toronto Star: Opening of Aga Khan Museum Toronto
7. Globe and Mail:Balancing Development Pressure on Yonge Street

submit a link
1. Canadian Architect: First Moriyama RAIC International Award
Li Xiaodong of China wins the first $100,000 Moriyama RAIC International Prize
A modest library on the outskirts of Beijing, China, designed by architect Li Xiaodong, has won the inaugural Moriyama RAIC International Prize.
Distinguished Canadian architect Raymond Moriyama, FRAIC, established the prize in collaboration with the Royal Architectural Institute of Canada (RAIC) and the RAIC Foundation. It includes a monetary award of CAD$100,000 and a crystal sculpture by Canadian designer Wei Yew. The prize was presented on Saturday evening at a gala attended by 350 guests in the new Aga Khan Museum in Toronto.
One of the most generous architectural prizes in the world, the Moriyama RAIC International Prize is awarded to a building that is judged to be transformative, inspired as well as inspiring, and emblematic of the human values of respect and inclusiveness. It is open to all architects, irrespective of nationality and location. It recognizes a single work of architecture, as opposed to a life's work, and celebrates buildings in use.
http://www.canadianarchitect.com/news/li-xiaodong-of-china-wins-the-first-100-000-moriyama-raic-international-prize/1003294744/
2. Globe and Mail: EDITORIAL CARTOON [House of Commons] Structural safety report
Brian Gable

(Brian Gable/The Globe and Mail)
EDITORIAL CARTOON [House of Commons] Structural safety report
http://www.theglobeandmail.com/incoming/not-that-that-ever-happened/article20859573/
3. CBC News: Crumbling House of Commons puts MPs and visitors at risk, report says
Dean Beeby
12 stained-glass windows and parts of masonry at risk of crashing down

Loose panes in the stained-glass windows that line the upper part of the House of Commons pose a risk to MPs and visitors to the chamber and need to be repaired immediately. Fred Chartrand/Canadian Press
Crumbling brickwork and loose window glass in the House of Commons pose a "potentially catastrophic," life-threatening risk to members of Parliament and others, an internal Public Works report warns.
A heavy piece of glass from a stained-glass window in the chamber has already crashed to the floor, without injuring anyone, and a group of consultants says the problem must be fixed soon for the health and safety of everyone using the Commons.
The report also warns that loose bricks in the roof area of the Commons foyer, just outside the chamber, could crash through a decorative glass ceiling, injuring the MPs and journalists who frequently occupy the space when Parliament is sitting.
Public Works, meanwhile, says it has carried out the most pressing repairs and is closely monitoring any remaining problems to guard against any health and safety risks.
The dire warnings appear in a report commissioned by Public Works last year, and obtained by CBC under the Access to Information Act.
The 177-page report was prompted by a little-known incident in February 2012, when a piece of glass was unexpectedly dislodged from a stained-glass window and plummeted down to the MPs' desks and floor below. No one was injured.
http://www.cbc.ca/news/politics/crumbling-house-of-commons-puts-mps-and-visitors-at-risk-report-says-1.2791613
4. Tribute.ca New Eyes Filming Bala Falls Struggle
Sharkwater and Revolution director Rob Stewart turns cameras on saving Bala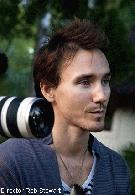 Rob Stewart
On September 22, 2014 at the all-candidates meeting at the Bala Community Center in Bala, Ontario - all eyes turned to a controversial energy proposal threatening the town's historic waterfalls. Parked outside of the meeting was a 45-foot motor home that unloaded Sharkwater (2007) and Revolution (2013) director Rob Stewart, a film crew with five cameramen, and a Canadian Police certified polygraph operator.
http://www.tribute.ca/news/index.php/sharkwater-and-revolution-director-rob-stewart-turns-cameras-on-saving-bala/2014/10/02/#.VC25dgdAx9d.twitter
Editor's Note: In spite of government intransigence, this battle seems to have found new energy in the 11th hour, arrival of Wahta natives and now an important documentary film maker. Construction scheduled to start October 21.
5. Edmonton Journal (blog): Can we save McKay Avenue School? Or is our history doomed to be history?
Paula Simons
Albertas first legislature sat at McKay Avenue School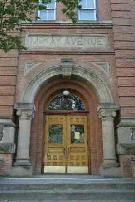 The gracious doorway of McKay Avenue School has welcomed visitors for 110 years. It still welcomes thousands every year.
On Wednesday morning, bright and early, I was a guest of the Gateway Rotary Club of south Edmonton. Although the club meets at the Delta Hotel on Calgary Trail, the group had specially requested that I speak about the McKay Avenue School at 10425 – 99 Avenue in downtown Edmonton. I was happy to do so – since the school is one for my favourite "endangered places."
Here's an adaptation of my remarks to the Gateway Rotarians. Perhaps they'll get some wheels turning for you, too!:
As City Columnist for the Edmonton Journal, I get to write about all kinds of things – politics, crime, social policy, downtown development, even hockey arenas.
But writing about history, and historic preservation, is one of my passions.
I was born and raised in Edmonton.
My father's family has lived here for more than 100 years.
I'm endlessly fascinated by the story of this place, and of the people who chose to make their homes here, who worked together to build this community.
To me, architectural preservation, heritage preservation, is part of recognizing and celebrating that history, of helping us to remember where we came from. But it's more than that. When we knock down heritage buildings, we alter our streetscape – and not often for the better. A hundred years ago, master craftsmen built buildings to last – solid buildings of brick and marble and sandstone. And they built on a human scale – buildings that welcomed people, instead of frightening them away.
http://blogs.edmontonjournal.com/2014/09/25/can-we-save-mckay-avenue-school-or-is-our-history-doomed-to-be-history/
6. Toronto Star: Opening of Aga Khan Museum Toronto
Christopher Hume
Aga Khan Museum a needed dose of civic ambition for Toronto
Above all, the Ismaili Centre and Aga Khan Museum are an act of faith, not just in religion but in Toronto. Of all the cities where these facilities, especially the museum, could have been located, the Ismailis chose this one.
Not only did they construct their monuments in a forlorn site at Eglinton and Wynford Dr., they hired two of the finest architects in the world — Fumihiko Maki of Japan and Charles Correa from India — to design them.
Not only did the Ismailis see the possibility of beauty where no one here had noticed, they put their money — $300 million and a priceless collection — where their mouth is.
On top of that, they placed the complex within a fully formed landscape of exquisite reflecting pools and mature trees.
The Ismaili ideals of pluralism and inclusion are built into the very architecture and layout of the place.
http://www.thestar.com/news/gta/2014/09/15/aga_khan_museum_a_needed_dose_of_civic_ambition_for_toronto_hume.html
Editor's Note: Amazing to have both the Aga Khan Museum and the Fort York Visitor Centre opening the same week, in new and old Toronto, and representing new and old Toronto. A time to feel pretty proud of Canada's biggest city.
7. Globe and Mail:Balancing Development Pressure on Yonge Street
Dave LeBlanc
Yonge Street developers are embracing time-worn storefronts
The "official" Toronto double-decker sightseeing bus trundles up Yonge Street and sprouts a dozen camera-clutching limbs as it squeaks to a semi-halt near the Toronto Reference Library. A tinny voice announces, in rote fashion, the building's function and architect, then perks up as it tells tour-goers about the quality of the Balzac's coffee inside.
As it belches a grey cloud and turns left into tony Yorkville, a much more interesting tour – a private one given by Michael McClelland to this writer – continues on the sidewalk.
C.J. Frogley Bakery, 850 Yonge St., c.1880. It was under Frogley's tutelage that George Weston apprenticed in the bakery business. Until recently, the building was home to The Cookbook Store. It stands directly across Yonge from the Toronto Reference Library. ERA Architects is using this as the key image in its restoration work for the Yonge and Yorkville project.
All photos by Dave LeBlanc for the Globe and Mail
The affable sixty-something architect points to the entire block of three-storey, mid-19th-century buildings across from the library. All will soon be absorbed into a condominium development, No. 1 Yorkville by Bazis and Plaza, and Mr. McClelland's firm, ERA Architects, is responsible for restoration of the heritage component. It's a position they often find themselves in a city waking up to the economic benefits of historic architecture.
"It's just part of doing business now," Mr. McClelland states. "Heritage is regarded as a major player … it's not like 'What percentage [of the total] cost is it?' any more; we're not building something cheap and dumb, we have to build in a quality environment, so I don't think [developers] pull heritage out as a line item."
Other cities either do straight-up demolition, or they can say 'No, we're not doing anything' because they have the 'luxury' of not having any development. In Toronto, if you said, 'Hey, let's not have any development,' who actually pays to keep [these buildings] going?"

The interesting thing here, however, is that the shiny new tower will play second fiddle to the elderly storefronts by tucking to the rear of the site. More interesting, this model is becoming a uniquely "Toronto" one: "We're doing this more than anybody else," Mr. McClelland confirms. "There're some examples of it in New York, but not a whole street. "Where it's possible to happen, it's going to happen on Yonge Street."
http://www.theglobeandmail.com/life/home-and-garden/architecture/yonge-street-developers-are-embracing-time-worn-storefronts/article20793315/#dashboard/follows/
Editor's Note: This article is really worth a read. It deals with the forces threatening Toronto main streets, Yonge the most iconic, and various approaches to preservation. This fine grained fabric is so important as incubator space for entrepreneurs, and its redevelopment is happening apace. Keeping the physical fabric is one thing, but how to preserve the role these buildings play in Toronto is a much more perplexing problem, one that few are addressing.