LINKS
1. Stratford Beacon Herald: ACO Panel on Re-use of GTR Train Sheds
2. London Free Press: McCormick Factory Redevelopment
3. London Free Press: Fanshawe College to Former Kingsmill Department Store
4. London Free Press: McCormick Factory Re-development
5. Windsor Star: Assumption Church in Danger
6. CTV Barrie: Wahta Protest loss of Historic Portage at Bala Falls
7. Gravenhurst Banner: Wahta Protest Loss of Bala Portage to Hydro Project
8. Dezeen: Demolition of 3 Skyscrapers in Istanbul to Protect Symbolic Architecture
9. Toronto Star: Heritage Debate
10. Urban Toronto: Heritage Toronto Panel Discussion
11. Torontoist: Forty Years of Heritage in Toronto: Panel Discussion
12. Torontoist: Toronto Street Signs
13. The Globe and Mail: Aga Khan Museum
14. Citylab: J Edgar Hoover Building
15. Fastcompany - Heritage a key thing that people like about their city
16. Saving One of Four Remaining Ice Houses in Canada

submit a link
1. Stratford Beacon Herald: ACO Panel on Re-use of GTR Train Sheds
Mike Beitz
Heritage panel discussion focuses on potential for Cooper site
Heritage panel discussion focuses on potential for Cooper site

3
A panel of speakers including, from left, local author Dean Robinson, heritage consultant Thor Dingman, developer Alex Speigel and architects Catherine Nasmith and Michael Wilson discuss the possible redevelopment of the former Cooper property at a meeting Monday night hosted by the local branch of Architectural Conservancy Ontario. (MIKE BEITZ/The Beacon Herald)
Where there's a will, there's a way.
And when it comes to the development of the former Cooper property in Stratford, a solid vision doesn't hurt either.
That was the consensus of the panel organized Monday night by the local branch of Architectural Conservancy Ontario (ACO).
While the will and the vision are being cultivated, the way to begin is by changing the public perception that the former locomotive repair shops are "a derelict of a bygone age and should be torn down," Stratford/Perth County ACO president Rick Huband told a crowd of more than 60 at the Queen's Inn.
The theme of that campaign, he noted, is "Be Open to the Possibilities," and each member of the panel touched on that during their presentations.
Stratford author Dean Robinson gave a historical overview of the site, starting in 1856, when the first Grand Trunk Railway train rolled into Stratford.
Over the next 100 years, the building, the company and its employees played a significant role in Stratford's economic, social and cultural vitality, he noted.
"Stratford would not be the city it is today had it not been for its connection to the GTR and the CNR," said Robinson. "It's a relationship that should be recognized. It's a relationship that should be celebrated."
Local designer and heritage consultant Thor Dingman agreed, pointing to Waterloo's Tannery District and the Seagram Distillery as just a few examples of successful revitalization projects involving heritage properties.
Stratford, by contrast, seems to be caught up in a "culture of demolition" with regard to the Cooper site, he said, tracing years of neglect, lost buildings and legal battles before the expropriation of the property for the University of Waterloo Stratford campus.
http://www.stratfordbeaconherald.com/2014/09/10/heritage-panel-discussion-focuses-on-potential-for-cooper-site
Editor's Note: This property is on Heritage Canada's Top Ten Endangered sites. It was encouraging to hear that Stratford is entertaining a proposal from a private developer....a step in the right direction for sure. Clearly a site too big for government stewardship and development alone
2. London Free Press: McCormick Factory Redevelopment
Norman DeBono
Woodstock company buys former McCormick
A new commercial and residential development is slated for an historic former candy and cookie factory in east London, Coun. Stephen Orser said Wednesday.
The city of London sold the former McCormick's factory building on Dundas St. E. for $1 to Sierra Construction of Woodstock, approving the deal Tuesday.
"It's a home run hit," Orser said of the proposed development.
"It will be a massive investment in Ward 4 and it will change the face of east London, create jobs and get the city some good tax assessment."
Sierra plans to build "high-end" offices fronting on Dundas St., retaining the facade of the existing building to honour its heritage, he said.
The rear of the site will consist of "complementary" residential development, including townhouses and single-family homes on the more than five-hectare site, Orser said.
"This is a company with a history of doing great work with old buildings. I'm satisfied with what I've seen of the proposals."
It's early in the development process and few details of the proposal are available, Orser said.
Sierra president Cliff Zaluski couldn't be reached for comment.
Last year Sierra was in talks with the city to buy the site and was planning a $35-million to $45-million seniors' home, but that initial proposal has given way to stores and homes, Orser said.
"Their intention is to do some very positive things. This has been going on for more than three years, there have been a lot of hurdles but it has come to a great solution."
The building, formerly owned by Beta Brands, closed in 2008 and was seized by the city after the company didn't pay nearly $750,000 in taxes.
The site is zoned industrial and would have to be rezoned for housing and commercial building, said Bruce Henry, manager of development services for the city.
The city is creating a development plan for the neighbourhood that will set the tone for what will be built. Residential and commercial, along with industrial, is part of the plan, Henry said.
http://www.lfpress.com/2014/06/25/woodstock-company-buys-former-mccormicks-plant-for-1
3. London Free Press: Fanshawe College to Former Kingsmill Department Store
Patrick Maloney
Fanshawe gets its cash, Matt Brown gets the credit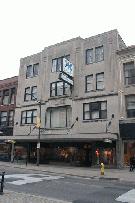 Kingsmill Department Store, photo from London Free Press
The biggest winner in Tuesday night's stunning decision by city council to help fund Fanshawe College's plan to turn an empty department store into downtown classrooms may not be the core boosters who pushed hard for the project.
It may be the tepid-until-now mayoral campaign of Matt Brown, whose last-minute compromise solved a political puzzle and derailed the opposition led by his chief rival, Joe Swan.
In a surprising move, Coun. Denise Brown — who in July helped kill the plan to give Fanshawe $10 million to buy the vacant Kingsmill's building — supported a revised plan for $9 million, her swing vote turning an expected 8-7 rejection into an 8-7 approval.
"Without them, I maybe would not have been able to support it," Denise Brown said of her namesake's amendments. "So that meant a lot, yes."
Matt Brown, 40, is pitched in a mayoral battle against two other presumed front-runners, Swan and ex-politician Roger Caranci, but it had been Swan who stole the headlines recently as he sought to block, as he did in July, the Fanshawe request.It would have been no surprise had the 8-7 bloc held up, despite near-unprecedented public pressure to OK the deal that will turn Fanshawe's downtown campus to 2,000 students, from the 1,000 originally proposed.
But Brown swayed Brown, and the deal is approved.
"This is a win for our community," Matt Brown said. "Leadership is about collaboration. Leadership is about working together to get things done."
Though Swan tried to credit his efforts with forcing his rival to find some savings — "I think Coun. (Matt) Brown smelled the coffee" — it's hard to interpret this as anything but a problem for the 58-year-old veteran. He'd been running campaign ads built on his opposition to helping Fanshawe get Kingsmill's, a push that ultimately failed.
http://www.lfpress.com/2014/09/02/fanshawe-gets-its-cash-matt-brown-gets-the-credit
Editor's Note: Interesting deal, downtown merchants raised cash to assist Council in bringing the College Campus into the core. A win for many, and for the heritage building.
4. London Free Press: McCormick Factory Re-development
Chip Martin
City of London shopping around old McCormick factory
Sweet deal
City hall is looking for someone interested in picking up the old McCormick biscuit plant on Dundas St. and giving it a new use.
A "request for expression of interest" from potential buyers was issued by the city last Thursday that could see council approve a new owner as early as Aug. 27.
The move had Coun. Stephen Orser, who represents the area, dancing a jig about the step he hopes will lead to demolition of the vacant, burned-out factory and revitalization of the site.
"That's quick," he said. "Everybody thought it couldn't be done. We're here."
Orser said there have been "a lot a naysayers" in the last two years.
"We've got a win for Ward 4," he said, predicting a new use for the old biscuit and candy factory will produce "real jobs, real investment, because I believe in more action and less talk."
The city document lays out some environmental contamination of the site and lists a number of "brownfield incentives" that could be tapped to help redevelop it.
Closing date for parties to make their pitch is July 4, with evaluation by senior city staff late that same month.
Jim Yanchula, a senior city planner, said he's "cautiously optimistic" the city will see good response from potential buyers.
"Because of its location, in its day this property was an asset to the city," he said. "It could become an asset again. I am bullish."
The city document says it's seeking interest in purchase "and any type of adaptive reuse of the building."
"The city is seeking interest from individuals or corporations that have past experience in real estate acquisition and redevelopment of similar-sized parcels," says the document.
http://www.lfpress.com/2013/06/02/city-of-london-shopping-around-old-mccormick-factory
Editor's Note: This story got missed, about a year old, but seems to be a real win for London, now. Redevelopment to include the former McCormick biscuit factory building. A case where the City ended up owning for back taxes, and had the good sense to issue an RFP before the building derelict and difficult to repurpose.
5. Windsor Star: Assumption Church in Danger
Dave Battagello
Historic landmark Assumption Church to be shut down
UPDATED: Historic landmark Assumption Church to be shut down (With video)
Assumption Church, an historic landmark, is pictured Friday, August 29, 2014. (DAX MELMER/The Windsor Star)
Assumption Church, an historic landmark, is pictured Friday, August 29, 2014. (DAX MELMER/The Windsor Star)
Comments Email2Dave Battagello
Aug 29, 2014 - 12:17 PM EDT
Last Updated: Aug 29, 2014 - 8:03 PM EDT
Assumption Church, a community icon and the nation's oldest Catholic parish west of Montreal, will be shut down, the Diocese of London announced on Friday.
Its longterm fate is unknown and parishioners are being relocated to Holy Name of Mary Church, The Star has learned.
"It's been a difficult decision for me," said Bishop Ronald Fabbro, of the Diocese of London. "I was reluctant to do anything that would mean the closing of this church.
"I know the history, how it's a beautiful and historic church. I understand its importance to the Catholic community and the wider community."
But Fabbro indicated Friday the inability of two fundraising campaigns over the last four years to generate the $10 million required to save the crumbling 169-year-old national historic landmark has become too much for the parish and diocese to ignore.
http://blogs.windsorstar.com/news/historic-landmark-assumption-church-to-be-shut-down
6. CTV Barrie: Wahta Protest loss of Historic Portage at Bala Falls
First Nation holds portage protest over hydro plant in Bala
CTV News Report regarding Wahta Protest at Bala Falls.
http://barrie.ctvnews.ca/video?clipId=427370
7. Gravenhurst Banner: Wahta Protest Loss of Bala Portage to Hydro Project
Brent Cooper
Wahta Mohawks protest Bala Falls project Chief brought to site in flotilla of canoes
BALA-More than 50 protesters brought the Wahta Mohawks message to Bala Falls today.
The various levels of government should halt progress on the Bala Falls project until proper consultation with the Wahta Mohaws First Nations group has been completed, according to chief Phillip Franks.
"We must exercise our right and bring it to your attention, to the governments' attention that they have a duty to consult," he said.
Franks made the comment in front of protestors gathered at the Bala Portage, a strip of land located between the north and south end of the falls.
According to the Wahta Mohawks, the site, proposed by the Ontario Ministry of Natural Resources and Forestry for a hydro-electric generating station to be built by Swift River Energy Limited, has historical and cultural significance to its members and other First Nations.
Franks said the Wahta Mohawks arrived in Muskoka in November of 1881 using what is now called the Bala Portage to travel to their territory.
"We appreciate historical facts and we have a long history … this is one piece of it," he said while standing on the portage. "Transportation from the water includes portaging. It is culturally and traditionally important to First Nations."
http://www.muskokaregion.com/news-story/4803959-wahta-mohawks-protest-bala-falls-project/
8. Dezeen: Demolition of 3 Skyscrapers in Istanbul to Protect Symbolic Architecture
Istanbul Skyscrapers to be Demolished to Protect the City's Skyline
Three skyscrapers in the Onalti Dokuz development in the west of Istanbul will be demolished or partially demolished, after the Turkish government's Council of State rejected appeals against a court ruling demanding their removal from the city's skyline.
The residential towers, designed by Alpar Architecture for developer Astay Gayrimenkul, were designed to form the centrepiece for a 12-hectare development site and vary in height from 36 to 27 storeys.
But the decision to allow their construction proved controversial, with critics and campaigners expressing dismay at the impact of the towers on the city's silhouette, including views of the Hagia Sophia, Topkapi Palace and the Blue Mosque.
http://www.dezeen.com/2014/08/22/news-skyscrapers-in-istanbul-will-be-demolished-to-protect-the-citys-skyline/
9. Toronto Star: Heritage Debate
Jennifer Pagliaro
Toronto mayoral candidates debate heritage preservation
With notes prepared, just three mayoral candidates thoughtfully discussed — and not so much debated — intricate heritage preservation issues at a debate Thursday night.
In what was one of the most measured debates so far this campaign, Olivia Chow, David Soknacki and John Tory spoke to a crowd of more than 250 people at a Heritage Toronto event at the Cathedral Centre on Church St. next to St. James Park.
Rob Ford (Open Rob Ford's policard) was absent from the debate — instead raising funds for his mayoralty campaign at a private event at his mother's home in Etobicoke — as was Karen Stintz (Open Karen Stintz's policard), after she quit the race Thursday morning.
Thursday evening, the issues centred on attention paid to conservation in the city and delved into topics including Ontario Municipal Board control, protecting natural history and best representing cultural heritage.
The candidate's views did not dramatically differ as all agreed "heritage matters" — each enlisting the event's tagline in their opening remarks.
The most heated discussion fell to talk of the OMB, which hears applications and appeals on heritage and other development issues.
Chow argued for scrapping the board, but pointed out the city is stuck with the process, controlled by provincial rules.
"In the meantime let us think about how we can reform it," Chow said. "We need to do a better job of identifying heritage properties before an application lands on the desk of the city planners."
She said a city-based appeal body — an idea already championed by some city councillors — could take some of those decisions out of the OMB's hands.
http://www.thestar.com/news/city_hall/toronto2014election/2014/08/21/toronto_mayoral_debate_on_heritage_preservation_live_at_7_pm.html
10. Urban Toronto: Heritage Toronto Panel Discussion
Marcus Mitanis
Heritage Toronto Discusses 40 Years of Heritage Preservation
Toronto has always had a rocky relationship with heritage preservation. Some of the city's most famous landmarks, from Union Station to Old City Hall, once faced the very real possibility of demolition. Since then however, many important steps have been taken to recognize heritage sites and structures for their cultural, social and architectural value. While there have been mistakes, failures and disappointments that have resulted in further loss of significant buildings, the legislation currently in place permits heritage buildings at least some safety compared to previous years. On August 6, Heritage Toronto held a symposium to discuss preservation and how heritage sites can be protected in the future.
http://www.urbantoronto.ca/news/2014/08/heritage-toronto-discusses-40-years-heritage-preservation
Editor's Note: Brought the house down when I suggested "Abolish the Right to Demolish", i.e. destruction and removal is an environmental problem first...."the only thing between us and an enormous demolition stream is the Ontario Heritage Act....is this one pretty enough, important enough....all buildings have a role to play
11. Torontoist: Forty Years of Heritage in Toronto: Panel Discussion
Jamie Bradburn
Forty Years of Heritage Preservation Wins and Losses
A look at the historical buildings we've preserved and the architectural icons we didn't save.
What is the historical value of a building—does it lie in its architectural style, or in the historical events that have taken place within its walls, or merely in the sentiment it inspires? How we answer those questions may determine how successfully we're able to preserve Toronto's past—a recurring notion at Wednesday night's panel discussion on heritage preservation, presented by Heritage Toronto at the Toronto Reference Library.
http://torontoist.com/2014/08/forty-years-of-heritage-preservation-wins-and-losses/
12. Torontoist: Toronto Street Signs
Jamie Bradburn
A Short History of Torontos Street Signs
The "acorn" street-name sign is as much a Toronto icon as are City Hall or the CN Tower. Though the design has graced the streets of many municipalities across Ontario and elsewhere for nearly 70 years, it's thoughts of our city that it conjures up for many people. Its versatility allowed neighbourhoods and business improvement areas to display their identities to the world.
Once described by the Globe and Mail as consisting of "a separate metal frame, a painted white face with embossed black lettering and a three-dimensional acorn like the cherry on a sundae," the acorn sign marked an improvement over earlier versions that were often illegible (if they were posted at all). But, as is often the case when it comes to infrastructure decisions, concerns about fiscal responsibility led city fathers to put off improving street signage while calls for action grew.
http://torontoist.com/2014/05/a-short-history-of-torontos-street-signs/
13. The Globe and Mail: Aga Khan Museum
Alex Bozikovic
Building on Faith

Building on faith: Inside Torontos new Aga Khan Museum, designed by the worlds leading architects
http://m.theglobeandmail.com/life/home-and-garden/architecture/building-on-faith-inside-torontos-new-aga-khan-museum-designed-by-the-worlds-leading
14. Citylab: J Edgar Hoover Building
citylab
Requiem for Brutalism

The fate of the FBI's J. Edgar Hoover Buildingmaybe the most despised structure in Washington, D.C.is virtually sealed. As Brutalism edges toward extinction, cities should take stock.

"Be regular and orderly in your life, so that you may be violent and original in your work," Gustave Flaubert once said. I come back to this quote any time there is news of a Brutalist building being demolished or endangered. Whenever a Brutalist structure is scheduled for demolition, the city that hosts it grows that much more more regular and orderly. And that much less original, and, yesin a couple of different senses of the wordless violent.

This week came the news that the Federal Bureau of Investigation is leaving its home in Washington, D.C. While plans to keep the bureau downtown were always a longshot, a short list of candidates released by the GSA confirms that the FBI will build a new consolidated headquarters in either Maryland or Virginia. Washingtonian spotted the release and wasted no time in celebrating the FBI's departuredespite the fact that the move will send as many as 4,800 jobs to the suburbs.

That's how much D.C. residents hate the J. Edgar Hoover Building. And really, that doesn't come close to painting how passionately people hate this building.
Despite the fact that the FBI Building has denied the city another Cosi or craft cocktail barsomehow Washington persists.

For sure, there are reasons to be glad to see the FBI gone. A study commissioned this time last year by D.C.'s former chief financial officer found that putting a new mixed-use development where the FBI Building stands would bring the city a slight gain in revenue. More importantly, though, the FBI's extraordinary security requirements would make the organization a bad fit for Poplar Point, a D.C. site that is still up for grabs. Even though the move will cost the city thousands of jobs, D.C. may be better off in the end with the FBI putting its 2.1 million-square-feet building and its astonishing 350-foot security setbacksa fortress behind a moatsomewhere else.

Most importantly, from the perspective of thousands of D.C. residents, the District will finally be rid of the FBI's dark architecture. I will be sad to see the building go, as the city will almost certainly demand. Not only could it still potentially be put to good use, but whatever replaces the FBI Building will be regular, orderly, safe, and worse.
(Dave Pattern/Flickr)

"There is no government building that more accurately reflects the soul of the bureaucracy housed inside," wrote Benny Johnson, easily Brutalism's most viral critic, for Buzzfeed. Shortly after, he was deposed for plagiarizing other writings, but no matter: This was a deeply original thought. It is an awesome building, unrivaled in stature and authority. Were future civilizations to judge ours by our architecture alone, they would surely pick the FBI Building as the seat of power, not the White House.

Its critics will simply say that it is ugly, which is a meaningless criticism, and I don't mean that as an appeal to tastes. Washington is filled with ugly buildings. This just isn't one of them. The FBI Building is utterly unique, unlike any other building in Washington. The are other buildings rendered in Heroic Concrete in a handful of citiesrhinoceroses like the Morris A. Mechanic Theatre in Baltimore, Mummers Theater in Oklahoma City, Prentice Women's Hospital in Chicago. Two of those are endangered; one is extinct.

Another stripe of critic will say that the FBI Building crushes the streetscape, and to the extent that this is true (it is not very true), it is not the building's fault. Cross 10th Street NW on Pennsylvania Ave. NW from the Hoover Building and you can order a $12 lavender gin rickey at Central Michel Richard. Catty-corner to the building at 9th and E Streets NW is Minibar, a molecular gastronomy restaurant with a $250 prix fixe menu. It is true that you cannot do these things inside FBI headquarters, but what do you expect? Whatever the totalitarian qualities of the structure, it hasn't cratered downtown.

While the FBI locked out street-level retail from its building, the same is basically true of the nearby Department of Justice, the Mellon Auditorium, and many other buildings in the federal core. This is not to say that storefront shops don't belong in federal buildings: One of the city's best coffee haunts, Swing's, is in the same magnificent Structural Expressionist building that once housed the Office of Thrift Supervision. Neverthelessdespite the fact that the FBI Building has denied the city another Cosi or craft cocktail barsomehow Washington persists.
The former Office of Thrift Supervision, now the home of the Consumer Financial Protection Bureau. (Tom Paradis/Flickr)

The city's cost-benefit study of the FBI Building assumes that what comes next will generate revenue. (A mixed-use condo building is always a good guess for new construction in D.C.) But I hope the city at least considers preserving the building and putting it toward other uses. It's not guaranteed that it would be cheaper to implode and rebuild than to renovate (though a Government Accountability Office report from 2011 did suggest that demolition was the cheaper path for the FBI). It's just a thought, but I'd like to see the city consider the FBI Building as a facility for its growing homeless population, whose situation is truly brutaland worsening.
So much of the criticism of Brutalism treats it like a failed quiz.

This week, NPR science blogger and astrophysicist Adam Frank wrote about the science of cities, and the dangers in the effort to make city strategy "as quantitative and predictive as possible"regular and orderly, if you will. Cities are far from being too scientific in the way they approach planning, but the prospect of making cities utterly boring is real. "Cities clearly are more than a new kind of physics problem," Frank writes. "They are also creations of the human imagination and, as such, they live or die by the quality of the imagination we bring to them."

http://www.citylab.com/design/2014/07/requiem-for-fbi-hoover-building/375279/
15. Fastcompany - Heritage a key thing that people like about their city
Sydney Brownstone
4 Reasons Why People Love Living In Cities And How We're Working On Ruining Them
We've been hearing about it for years: The 21st century is the era of global urbanization, or urban globalization, or both. But now that more people want to live in cities, bigger questions loom. What makes a city? And what makes a city a desirable place to live?

The stereotypical trappings of urban living (i.e. crowds, tall, shiny buildings) do not a city make. In order to figure out what does, design firm Sasaki recently published the results of a 1,000-person, six-city survey that asked residents what they loved and hated about their surroundings. Some answers from those living in Boston, Chicago, New York, Austin, San Francisco, and Washington, D.C., could have been anticipated, but other responses were more surprising.
Historic buildings

Take, for instance, people's affection for historic buildings. According to Sasaki's survey, 57% of city-dwellers stop to look at old buildings when walking down the street (more than the 15% who stare at skyscrapers), and more than half agreed that renovating old buildings so that they retain their architectural character should be a priority. Only 17% said they felt their city was "too quaint" and wanted more shiny "iconic" buildings.
http://www.fastcoexist.com/3033848/4-reasons-why-people-love-living-in-cities-and-how-were-working-on-ruining-them
16. Saving One of Four Remaining Ice Houses in Canada
Rachel Redshaw
"The ice house and creamery will soon be demolished if we do not fund raise $13,000 for its restoration."
Ayr Ice House
This ice house is one in four remaining in Canada of its kind. It is soon to be demolished if we do not fund raise $13,000 for its restoration.

The Ayr Ice House and Creamery was built c. 1860 and is a rare example of a 19th century ice house, possibly the only one in Ontario.

In its time this ice house produced $14, 648.17 worth of butter, and that was at the start of the 1900s! It was also so popular that shipments of butter produced at this ice house and creamery were sent overseas.

The ice house and creamery had a special ventilation system that is planned to be restored.

By restoring this building, the North Dumfries Municipal Heritage Committee (NDMHC) hopes to conserve one of the last standing ice houses and creameries in Canada. By doing this, we can offer a piece of past to generations to come that otherwise would no longer be present.

PLEASE DONATE. OUR TIME IS LIMITED. BE PART OF PROTECTING CANADIAN HISTORY.
http://www.gofundme.com/c8cuzs