LINKS
1. Canadian Architect: First Moriyama RAIC International Award
2. Globe and Mail: EDITORIAL CARTOON [House of Commons] Structural safety report
3. CBC News: Crumbling House of Commons puts MPs and visitors at risk, report says
4. Tribute.ca New Eyes Filming Bala Falls Struggle

submit a link
1. Canadian Architect: First Moriyama RAIC International Award
Li Xiaodong of China wins the first $100,000 Moriyama RAIC International Prize
A modest library on the outskirts of Beijing, China, designed by architect Li Xiaodong, has won the inaugural Moriyama RAIC International Prize.
Distinguished Canadian architect Raymond Moriyama, FRAIC, established the prize in collaboration with the Royal Architectural Institute of Canada (RAIC) and the RAIC Foundation. It includes a monetary award of CAD$100,000 and a crystal sculpture by Canadian designer Wei Yew. The prize was presented on Saturday evening at a gala attended by 350 guests in the new Aga Khan Museum in Toronto.
One of the most generous architectural prizes in the world, the Moriyama RAIC International Prize is awarded to a building that is judged to be transformative, inspired as well as inspiring, and emblematic of the human values of respect and inclusiveness. It is open to all architects, irrespective of nationality and location. It recognizes a single work of architecture, as opposed to a life's work, and celebrates buildings in use.
http://www.canadianarchitect.com/news/li-xiaodong-of-china-wins-the-first-100-000-moriyama-raic-international-prize/1003294744/
2. Globe and Mail: EDITORIAL CARTOON [House of Commons] Structural safety report
Brian Gable

(Brian Gable/The Globe and Mail)
EDITORIAL CARTOON [House of Commons] Structural safety report
http://www.theglobeandmail.com/incoming/not-that-that-ever-happened/article20859573/
3. CBC News: Crumbling House of Commons puts MPs and visitors at risk, report says
Dean Beeby
12 stained-glass windows and parts of masonry at risk of crashing down

Loose panes in the stained-glass windows that line the upper part of the House of Commons pose a risk to MPs and visitors to the chamber and need to be repaired immediately. Fred Chartrand/Canadian Press
Crumbling brickwork and loose window glass in the House of Commons pose a "potentially catastrophic," life-threatening risk to members of Parliament and others, an internal Public Works report warns.
A heavy piece of glass from a stained-glass window in the chamber has already crashed to the floor, without injuring anyone, and a group of consultants says the problem must be fixed soon for the health and safety of everyone using the Commons.
The report also warns that loose bricks in the roof area of the Commons foyer, just outside the chamber, could crash through a decorative glass ceiling, injuring the MPs and journalists who frequently occupy the space when Parliament is sitting.
Public Works, meanwhile, says it has carried out the most pressing repairs and is closely monitoring any remaining problems to guard against any health and safety risks.
The dire warnings appear in a report commissioned by Public Works last year, and obtained by CBC under the Access to Information Act.
The 177-page report was prompted by a little-known incident in February 2012, when a piece of glass was unexpectedly dislodged from a stained-glass window and plummeted down to the MPs' desks and floor below. No one was injured.
http://www.cbc.ca/news/politics/crumbling-house-of-commons-puts-mps-and-visitors-at-risk-report-says-1.2791613
4. Tribute.ca New Eyes Filming Bala Falls Struggle
Sharkwater and Revolution director Rob Stewart turns cameras on saving Bala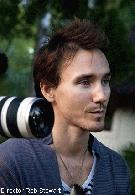 Rob Stewart
On September 22, 2014 at the all-candidates meeting at the Bala Community Center in Bala, Ontario - all eyes turned to a controversial energy proposal threatening the town's historic waterfalls. Parked outside of the meeting was a 45-foot motor home that unloaded Sharkwater (2007) and Revolution (2013) director Rob Stewart, a film crew with five cameramen, and a Canadian Police certified polygraph operator.
http://www.tribute.ca/news/index.php/sharkwater-and-revolution-director-rob-stewart-turns-cameras-on-saving-bala/2014/10/02/#.VC25dgdAx9d.twitter
Editor's Note: In spite of government intransigence, this battle seems to have found new energy in the 11th hour, arrival of Wahta natives and now an important documentary film maker. Construction scheduled to start October 21.