LINKS
1. Montreal Gazette: Phyllis Lambert Steps down as chairperson of the Canadian Centre for Architecture
2. Vancouver Sun: Binning House Sale Controversy
3. New York Times: The Trend to Creative Destruction?
4. Toronto Star: The 5 most influential buildings in Toronto
5. Toledo Blade: Now-shuttered Spitzer Building marks eras end
6. Waterloo Region Record: Dozens of historic buildings up for protection
7. Open City News: Church conversion to Library
8. West End Dumplings: Winnipeg's former Canada Bread plant
9. Toronto Star: Design Excellence and Ontario Infrastructure
10. CBC Hamilton: Wreckers wait for Grove Hall, 1930s palace of play
11. City Scope: The trend to Creative Destruction
12. National Post: Mirvish Gehry Scheme at TEYCC
13. Owen Sound Sun Times: Re-opening of Chatsworth bridge
14. Globe and Mail: How an old school building is bringing artists back to Queen West
15. daytondailynews.com: Dispute over demolition work remains unresolved
16. Melbourne Herald Sun: Historic Royal Exhibition Building will be protected from development
17. CBC News: Uptown Saint John seeks heritage building code changes
18. Windsor Star: Editorial - Saving the Bellvue
19. Owen Sound Sun Times: Owen Sound wins heritage award
20. shorelinebeacon.com: Saugeen Shores Heritage Committee resigns
21. Raise the Hammer (RTH): Interview with James Street Baptist Church Owner
22. Globe and Mail: Redevelopment - New spirit for redundant religious properties
23. Toronto Star: 14 Blevins a monument to our pattern of failure
24. Globe and Mail: Obituary Peter Stokes

submit a link
1. Montreal Gazette: Phyllis Lambert Steps down as chairperson of the Canadian Centre for Architecture
MARIAN SCOTT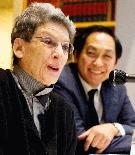 Bruce Kuwabara, right, listens as Phyllis Lambert speaks during a press conference to announce that Lambert will be stepping down as head of CCA, to be replaced by Kuwabara in Montreal on Wednesday December 4, 2013.
Joan of Architecture is stepping down as chairperson of the Canadian Centre for Architecture.
Phyllis Lambert, 86, announced Wednesday she is retiring as chair of the board of trustees of the museum and research centre she founded in 1979.
Toronto architect Bruce Kuwabara, designer of Concordia University's Quartier Concordia and the Canadian Museum of Nature in Ottawa, will step into Lambert's shoes.
A tireless defender of Montreal's built heritage, Lambert has taken an active role in every major urban planning debate in the city in the last four decades, from redeveloping the Old Port to protecting Mount Royal.
But no project has been closer to her heart than the CCA, one of the world's foremost research facilities on architecture, with more than 60,000 photographs, 100,000 prints and drawings and 215,000 volumes.
"She sponsored it, she founded it and she has always been very much present there," said Martin Bressani, a professor of architecture at McGill University.
http://www.montrealgazette.com/business/Phyllis+Lambert+steps+down+head+Canadian+Centre+Architecture/9248153/story.html
2. Vancouver Sun: Binning House Sale Controversy
Ian Mulgrew
Time for the province to step in and clean up TLC mess
A legal fight looms over the proposed sale of The Binning house in West Vancouver, which was built in the 1930s.
The court-protected insolvency of The Land Conservancy has run into another roadblock and more of the charity's properties are headed for the auction block.
In the latest report to B.C. Supreme Court, the court-appointed monitor says a $450,000 donation the major land trust has been banking on for cash flow will not materialize.
"The bequest may not be received for several months," monitor Wolrige Mahon Ltd. said in its third report.
"There are restrictions as to the use of the funds, as the terms of the bequest state that it can only be used to purchase real property for the purpose of habitat preservation …. this is a material and adverse change."
The sum amounts to about 45 per cent of what the organization was counting on for financing while protected from creditors under the Companies' Creditor Arrangement Act until Jan. 20.
Roughly another half-million has been pledged by three other supporters to fund the restructuring process, but the cost of the legal proceedings threatens to derail the effort and incinerate any cash generated.
http://www.vancouversun.com/Mulgrew+Time+province+step+clean+mess/9243173/story.html
3. New York Times: The Trend to Creative Destruction?
Timothy Williams, forwarded by Liz Rykert
Blighted Cities Prefer Razing to Rebuilding
BALTIMORE — Shivihah Smith's East Baltimore neighborhood, where he lives with his mother and grandmother, is disappearing. The block one over is gone. A dozen rowhouses on an adjacent block were removed one afternoon last year. And on the corner a few weeks ago, a pair of houses that were damaged by fire collapsed. The city bulldozed those and two others, leaving scavengers to pick through the debris for bits of metal and copper wire.

"The city doesn't want these old houses," lamented Mr. Smith, 36.
For the Smiths, the bulldozing of city blocks is a source of anguish. But for Baltimore, as for a number of American cities in the Northeast and Midwest that have lost big chunks of their population, it is increasingly regarded as a path to salvation. Because despite the well-publicized embrace by young professionals of once-struggling city centers in New York, Seattle and Los Angeles, for many cities urban planning has often become a form of creative destruction.
"It is not the house itself that has value, it is the land the house stands on," said Sandra Pianalto, the president and chief executive of the Federal Reserve Bank of Cleveland. "This led us to the counterintuitive concept that the best policy to stabilize neighborhoods may not always be rehabilitation. It may be demolition."
http://www.nytimes.com/2013/11/12/us/blighted-cities-prefer-razing-to-rebuilding.html?hp&_r=2&
Editor's Note: Whether the market is too hot, or cold we lose perfectly usable buildings.
4. Toronto Star: The 5 most influential buildings in Toronto
Christopher Hume
From office towers to a university, these structures put the city on the architectural map

Richard Lautens, Toronto Star - Toronto-Dominion Centre: Designed and built between the late 1950s and early 60s, the T-D Centre was the architectural project that almost single-handedly brought Toronto into the Modern age.
The Toronto-Dominion Centre, designed by Ludwig Mies Van Der Rohe: Planned, designed and built between the late 1950s and early '60s, the T-D Centre was the architectural project that almost single-handedly brought Toronto into the Modern age. Though never popular with locals, it is admired around the world for its attention to detail and almost spiritual adherence to the logic of the grid. Sadly, it launched a wave of ghastly, second-rate International Style towers that blight this city and its suburbs to this day. Within a few short years, Modernism was shorthand for the cheap and the ugly. But in this case, Modernism achieved something akin to perfection. Unlike the vast majority of such towers; the T-D Centre succeeds at the level of detail as well as the big picture. Despite its Modernistist vocabulary, the towers — originally there were three — demonstrate Mies's abiding interest in the formal qualities of classical architecture. His buildings don't look like Greek temples, or even elicit the same response, but they express the same need for rationality and clarity. The one-storey banking pavilion at the southwest corner of King and Bay comes as close as anything Mies did to realizing his desire for an ideal structure, one oblivious to program, purpose and people.
http://www.thestar.com/life/homes/higher_ground/2013/12/01/the_5_most_influential_buildings_in_toronto.html
5. Toledo Blade: Now-shuttered Spitzer Building marks eras end
MARK REITER
Grand dame once was hub of Toledos legal community

The Spitzer Building at 520 Madison Ave. was Toledoâ¬"s first steel-framed skyscraper. It was built in 1896. The Spitzer family sold it in 2009.
Not even cheap rents, cozy atmosphere, and personal attention to tenants' needs could keep downtown Toledo's grand dame alive.
The Spitzer Building, the one-time hub of Toledo's legal community, closed Sunday, turning the historic landmark at Madison Avenue and Huron Street into 10 stories of emptiness and ending a 12-decade relationship with the central business district.
Tenants, including some who had been there for decades, began moving to other downtown locations shortly after Patrice Spitzer tearfully announced in late September the building would soon close.
Mrs. Spitzer is the court-appointed receiver of the foreclosed building and daughter-in-law of the late John B. Spitzer, whose family had controlled the building for all but the last five years of its 117-year existence.
"I am trying not to cry," Mrs. Spitzer said as she worked in the manager's office of the silent building. "That is what I am trying to do."
Built at a cost of $500,000, the Spitzer Building is believed to be the city's first sizable structure with a metal skeleton. Its red terra cotta ornamentation, brick facade, bay windows, and arched Madison entrance mimic the style of Chicago's turn-of-the-century skyscrapers designed by famed architect Louis Sullivan.
http://www.toledoblade.com/Real-Estate/2013/12/02/Now-shuttered-Spitzer-Building-marks-era-s-end.html
6. Waterloo Region Record: Dozens of historic buildings up for protection
Terry Pender

Philip Walker,Record staff - Heritage Kitchener is moving to protect historic properties in the city, like these row houses on Cedar Street near the farmers' market.
KITCHENER — In a move that will protect historic buildings vulnerable to demolition, city staff want more than 60 different addresses included on the heritage register of culturally significant properties.
"I am pleased to see that," said Coun. Frank Etherington, the only elected official sitting on Heritage Kitchener.
Heritage Kitchener, the advisory group that works to protect historic buildings, will consider the additions during a meeting on Tuesday. This marks the single, largest batch of Kitchener properties to be moved under the protective umbrella of the Ontario Heritage Act in years, if not ever.
"There is a long list that needs to be addressed, so I think the faster we can move through some outstanding ones, that's great with me," Etherington said.
He ran for city council in 2010 on a platform that included better protection for historic properties.
Etherington was outraged that the previous council and city staff allowed a Toronto-based developer, Cadan Inc., to demolish buildings on Joseph Street that were part of the Lang tannery to make room for a gravel parking lot.
http://www.therecord.com/news-story/4249189-dozens-of-historic-kitchener-buildings-up-for-protection/
7. Open City News: Church conversion to Library
Lauren Miles
From church to bookstore in 500 years
Broerenkerk church has stood in Zwolle, a mid-sized city in the north of the Netherlands, since 1466. Shuttered in 1982, Broerenkerk, now called "Waanders in de Broeren," has reopened its doors to the community as a bright, airy and exquisitely lovely bookstore.
Opened in July 2013 by Utrecht-based BK Architecten, the new design showcases the church's original features, including its colonnade, vaulted ceiling and 1821 organ. A stained glass window by Norwegian artist Kjell Nupen is among the architect's additions. In order to increase shelving, the architects were required to build about 700 square feet of new floor space. They added three floors to the side wing, which maintains both the building's original ambience and structure, so that the new floors can be removed easily if needed.
http://opencityprojects.com/blog/aesthetics/from-church-to-bookstore-in-500-years/?utm_source=OpenCity+Projects+Newsletter&utm_campaign=b5535e95c6-September_Newsletter8_15_2011&utm_medium=email&utm_term=0_4973b5434c-b5535e95c6-306292957
8. West End Dumplings: Winnipeg's former Canada Bread plant
Christian Cassidy, Winnipeg Dowton Places blog
Fate of Burnell Street's former Canada Bread plant still up in the air
It seemed as though 2013 would be the year that the 101-year old former Canada Bread plant at 258 Burnell Street saw a revival. Perhaps not.

The building has been an ominous presence since it was vacated in 1998. Poorly shuttered and with no sprinkler system, it was the scene of a small fire created by squatters in 2011.

Later that year, the city began proceedings to seize its title under the Vacant Buildings Bylaw. The owners, Burnell Investments Ltd., managed to get a number of 90-day extensions to the order by making modest improvements and with the promise that they were "in discussions" about a redevelopment plan.


In December 2012 the owners held an open house to show off drawings for a proposal that would convert the building into 80 rental suites with some retail on the main floor. It was clear, though, that it was not a done deal as financing for the venture was not yet in place.

Still, over the summer of 2013 the site saw more action than it had in the 15 years since Canada Bread left. Crews spent months clearing out the building to ready it for its eventual conversion.

Canada Bread Plant Interior Summer 2012

The latest appeal hearing regarding the seizure was to take place on December 3, 2013. A letter written to the city by Burnell Investments' lawyers dated November 27, 2013 refers to the company as the former owners of the property and that the appeal was being withdrawn.

What happens now is unclear. The building obviously has new owners who will almost certainly be contacting the city before it ends up taking action. No doubt aware of the pending seizure, one assumes that they have their own redevelopment scheme ready to present.

Former Canada Bread Plant

Should the city end up seizing the complex, their first step would be to try and sell the property. Given its great location, just steps from a major shopping node on Portage Avenue, and the fact that it is now cleared out in preparation for a redevelopment, it's likely that there would be interest in it. If not, the city would order its demolition.
http://westenddumplings.blogspot.ca/2013/11/fate-of-burnell-streets-former-canada.html
9. Toronto Star: Design Excellence and Ontario Infrastructure
Christopher Hume
Glen Murray wants a smarter Ontario
Ontario transportation minister introduces legislation to build intelligent infrastructure.
The R.C. Harris filtration plant, which marries beauty with utilitarian purposes, would be denounced today as a waste of money. But its excellence in both regards has stood the test of time.
In a country of boundless political stupidity, it's as reassuring as it is rare to hear a cabinet minister stand up and talk openly about the need for intelligent government.
At the municipal level, Rob Ford has made the argument irrelevant. In Ottawa, rabid partisanship and cynicism at the highest levels have turned even our smartest leaders into fools.
The only place to look for relief from the idiocy is Queen's Park, and with the likes of Conservative Leader Tim Hudak around, it's in short supply even there.
So when provincial Transportation Minister Glen Murray declared his intention to change the way we build the basic infrastructure that makes our lives possible, one couldn't help but be curious. In recent decades, infrastructure has been downgraded and handed over to engineers and accountants, who see no further than the bottom line. "The cheaper the better" is their credo, and cheapest is best.


http://www.thestar.com/news/gta/2013/11/27/glen_murray_wants_a_smarter_ontario_hume.html
Editor's Note: This is a REALLY BIG step in the right direction! Thanks Glen.
10. CBC Hamilton: Wreckers wait for Grove Hall, 1930s palace of play
Paul Wilson
it's not in the way of the new hospital. It's just old.

Grove Hall once had bowling alleys, a billiards room and an auditorium to seat 800. The building is still used every day, but soon it will be torn down. (Paul Wilson/CBC)
It used to be that buildings the province put up were designed in house. But 1931 marked the completion of one of the first projects turned over to private architects.
The firm was Wright & Noxon of Toronto. The project was to design a recreation hall on the parklike Brow grounds of what many still know as the Hamilton Psychiatric Hospital.
Wright & Noxon really wanted to impress their new client – the province of Ontario – and they drew up a beauty. It's called Grove Hall. It's built in Colonial Revival style, four tall columns across the front, hipped roof with cupola.
There are two levels. Below grade, accessible from a door beneath the raised and curved drive, Wright & Noxon made room for bowling alleys, billiard room, library, dining room, canteen.
http://www.cbc.ca/news/canada/hamilton/news/paul-wilson-wreckers-wait-for-grove-hall-1930s-palace-of-play-1.2442817
11. City Scope: The trend to Creative Destruction
David Hatch
Creative Destruction Trend
In recent decades, urban renewal in the United States has emphasized restoring struggling inner-city neighborhoods. Not anymore. According to The New York Times, the new mantra is "creative destruction" – the razing of rundown city blocks in depopulated areas to make way for brand new development.
The Times says the trend has taken root throughout the American Northeast and Midwest, in cities such as Baltimore, Buffalo, Cincinnati, Cleveland and Detroit. The push to demolish, rather than revitalize, is driven by a desire to make better use of land that is often more valuable than the structures on it. City officials are also looking to boost economic activity and attract professionals.
The trend is also driven by a desire to tackle "ungrowth": population declines that leave urban residential districts blighted and crime-ridden, resulting in smaller tax pools and strained municipal budgets.
http://citiscope.org/citisignals/2013/creative-destruction-trend
Editor's Note: We've got work to do!
12. National Post: Mirvish Gehry Scheme at TEYCC
Peter Kuitenbrouwer
The only two buildings in Toronto worth saving are Old City Hall and Osgoode Hall, Frank Gehry says

Osgoode Hall, one of the keepers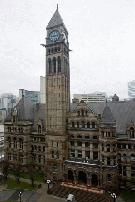 The other keeper
The only two buildings in Toronto worth saving are Old City Hall and Osgoode Hall, Frank Gehry says
Architect Frank Gehry says there are only two buildings in his hometown worth saving: Old City Hall and Osgoode Hall.
Everything else is fair game to be torn down, Mr. Gehry suggested to Toronto and East York Community Council on Tuesday morning.
"I don't know whether we should be designating heritage buildings," said Mr. Gehry, who was born in Toronto. "I think you should preserve [Old] City Hall because I used to go there when I was a kid."
Frank Gehry thinks Toronto's architecture is 'mostly banal,' but don't worry, every city is like that
Mr. Gehry, 84, also said we should save Osgoode Hall, home to the Law Society of Upper Canada and the Ontario Court of Appeal.
Other than that, "the old General Hospital building I was born in should have been sacred. It was torn down."
Mr. Gehry, head of Los Angeles-based Gehry Partners, LLP, and David Mirvish, the theatre impresario, sought permission on Tuesday from community council to build three condo towers, 82, 84 and 86 storeys tall, on the site of the Princess of Wales theatre and other buildings to its east on King Street West.

Mr. Mirvish wants to demolish four designated heritage properties, at 266, 276, 284 and 322 King Street West. Staff is recommending that the city refuse the demolition permit.
http://news.nationalpost.com/2013/11/19/the-only-two-buildings-in-toronto-worth-saving-are-old-city-hall-and-osgoode-hall-frank-gehry-says/
Editor's Note: Absurdly arrogant of Frank Gehry on so many counts. The only places that matter are those that are touchstones for Him. What Toronto doesn't need is a fancy pants foreign architect insulting the city, and then promising to put us on the map!??
13. Owen Sound Sun Times: Re-opening of Chatsworth bridge
Denis Langlois
Historic arched bridge reopens
Thelma Hatten says she feels a deep connection to the historic arched bridge south of the village of Chatsworth.
"I'm very happy to see it saved. It was very upsetting that it was going to be destroyed," she said Friday, following a ceremony to celebrate the $600,000 restoration of the county-owned structure.
About 75 people, including Hatten, county councillors and the area's MP and MPP, stood in the cold rain for a ribbon-cutting event at the bridge.
It was Hatten's great grandfather William Henry, who, along with two other stone masons, built the structure in 1854.
Henry, W. Henderson and John Forbes were recruited to travel from Scotland to what is now rural Chatsworth to build a stone bridge as part of a new rail line, later called the Canadian Pacific Railway.
The trio had built numerous bridges on the Edinburgh-Glasgow train line before coming to Canada, Hatten said, so their work was well known.
Henry, his wife and six children boarded a boat on April 24, 1854, and arrived in Quebec after a voyage of six weeks and five days, she said. Her grandfather was born later in Canada.
http://www.owensoundsuntimes.com/2013/11/22/historic-arched-bridge-reopens?fb_action_ids=10152007498855751&fb_action_types=og.recommends&fb_source=other_multiline&action_object_map=%5B413225948780890%5D&action_type_map=%5B%22og.recommends%22%5D&action_ref
14. Globe and Mail: How an old school building is bringing artists back to Queen West
ZOSIA BIELSKI

A surplus school at 180 Shaw St. in Toronto has been converted into artists' studios and rehearsal spaces by Artscape.(MOE DOIRON/THE GLOBE AND MAIL)
Although she isn't sentimental about old buildings, Marta Legrady knows the one at 180 Shaw St. inside out.
"How many times did I do this?" she wonders, climbing up a mammoth stairwell. Peering into a pristine washroom, she's surprised: "There isn't toilet paper stuck to the ceiling!"
Ms. Legrady is the last principal to have worked inside the hulking, Edwardian-era Shaw Street School. Declared surplus and shut down by the Toronto District School Board in 2000, the 75,000-square-foot, century-old building sat vacant for nearly a decade. Last week, following a $17-million renovation, it has opened its doors again, reborn as Artscape Youngplace. Billed as the "new social heart" of the West Queen West neighbourhood, it's the latest project from Artscape, the organization behind the Wychwood Barns, a shuttered streetcar repair yard resuscitated into a hive for foodies uptown. On Shaw Street, the repurposed three-storey school will serve as a community hub and a new home for artists, galleries, cultural institutions and a children's centre.
http://www.theglobeandmail.com/news/toronto/how-an-old-school-building-is-bringing-artists-back-to-torontos-queen-west/article15565990/
15. daytondailynews.com: Dispute over demolition work remains unresolved
Steve Bennish

The City of Dayton has placed a stop work order on the demolition company that is taking down the former Dayton Daily News building. A large chunk of the facade along W. Fourth St. was damaged during the work. TY GREENLEES / STAFF
It could take weeks to resolve a dispute between the city of Dayton and demolition contractor Steve R. Rauch Inc. on the extent of the demolition underway at downtown buildings formerly occupied by the Dayton Daily News.
Demolition was halted by the city on Monday after a Rauch crew tore down part of the structure's 1922 facade, said Aaron Sorrell, director of planning and community development for the city.
Sorrell said the city Landmarks Commission had required that developer Student Suites Inc. retain the original 1908 facade at Fourth and Ludlow, as well as facade facing Fourth Street that was added in 1922.
But engineering drawings provided by Rauch Wednesday indicate the entire 1922 addition was to be demolished, with only the 1908 building standing after a total of four structures were torn down.The four buildings are all shaded out and drawing notes say only the 1908 building is to remain standing.
http://www.daytondailynews.com/news/news/local/dispute-over-demolition-work-remains-unresolved/nby6L/
16. Melbourne Herald Sun: Historic Royal Exhibition Building will be protected from development
John Masanauskas

Royal Exhibition Building and Carlton Gardens © Silvan Rehfeld
DEVELOPMENT around the Royal Exhibition Building will be kept in check under a State Government plan to protect the iconic structure.
Planning Minister Matthew Guy has approved a master plan for the building and the surrounding Carlton Gardens to comply with the UNESCO World Heritage-listed status of the site.
Mr Guy said this would involve detailed conservation policies to ensure that local, state, national and international heritage values were protected.
"In most great cities there is one building that sums up its spirit and history. In Melbourne this is the Royal Exhibiton Building," he said.
"This is the kind of area that will be protected to say, 'you can't build over or tower in the gardens and the buildings.'"
Built in 1880 to host the Melbourne International Exhibition, the building was the seat of the first federal Parliament and was used as a venue for the 1956 Olympics.
http://www.heraldsun.com.au/news/victoria/historic-royal-exhibition-building-will-be-protected-from-development/story-fni0fit3-1226759026973
17. CBC News: Uptown Saint John seeks heritage building code changes
STAFF
Organization wants to make it easier to renovate historic buildings
Uptown Saint John wants council to amend the city's building codes to make it easier to renovate historic buildings.
The problem is the application of modern building codes to heritage era structures, said Peter Asimakos, general manager of the organization.
Alternatives to the building code are allowed, but getting them approved at city hall takes time and money.
John Johnson, an engineer and consultant who works with builders in the planning stage of a renovation, says getting city hall to approve a workaround can be costly and time consuming.
"You shouldn't have to go on your hands and knees begging for something that we know is acceptable," he said.
Johnson says too often the city requires developers to cover the same ground when it comes to finding solutions to building code problems.
Once a workaround, such as a less costly or space-eating fire exit is approved for one builder, it should apply to others, he said.
"Then you've established the principle once and everybody else can use it."
Johnson believes an amendment to the building bylaw or to the minimum property standards bylaw would solve the problem.
http://www.cbc.ca/news/canada/new-brunswick/uptown-saint-john-seeks-heritage-building-code-changes-1.2423521
18. Windsor Star: Editorial - Saving the Bellvue
Dr. Lloyd Brown-John
At times one wonders about the point at which government ineptitude or ignorance - at all levels - becomes an indifferent threat to our heritage and communities. As somebody once observed, "if we fail to learn from our history, we are doomed to live it again."
But there are also occasions when the learning comes far too late. Occasions when the failure to act has irreparable consequences for a community and society.
Every now and then, somebody burns down (accidentally, of course!), destroys or conveniently ignores something that was public treasure in many respects because those who could have acted failed to do so, were too parsimonious with funding or simply did not care.
Governments almost have a studious capacity to ignore issues until they achieve crisis proportions and/or it is too late to correct a significant error.
In Amherstburg there is a magnificent historic structure called the Bellvue House. Many people have passed it at 525 Dalhousie in Amherstburg. It is a former residence fast approaching its 200th anniversary. Constructed between 1816 and 1819 by Robert Reynolds, commissary of the British garrison at Fort Malden, Bellvue is a unique architectural design in Canada.
The House is one of only two structures in Canada (the other being in Halifax), which was constructed in a neo-classical style known as "Palladium" ("Federal" in the U.S.). Bricks for Bellvue House came from the Rouge River area near Detroit. Bricks remaining after the house's construction were used to build Christ Church in Amherstburg. The two share some design similarities.
Bellvue House has been a private residence, a Veteran's Affairs hospital, a Ukrainian Catholic Church and now it sits vacant as a slowly deteriorating reminder that for some, heritage apparently matters not one iota.
Bellvue House was designated a National Historic Site in 1959. It received an Ontario Heritage Trust designation in 1962 and the town of Amherstburg designated it under the Ontario Heritage Act in 1982. There is no doubt this magnificent building is worthy of preservation and restoration. So, why then is it being left to slowly rot and decay? Two immediate issues emerge.
First, the Town of Amherstburg apparently has not, or will not, enforce a property standards bylaw.
http://www.windsorstar.com/Saving+Bellvue/9106187/story.html
19. Owen Sound Sun Times: Owen Sound wins heritage award
The City of Owen Sound has been awarded a prize for its strong commitment to the preservation of its historic places.
On Wednesday, the city announced it was the 2013 winner of The Heritage Canada Foundation's Prince of Wales Prize for Municipal Heritage Leadership.
On the foundation's website it highlighted a number of areas in recognizing the city's "impressive commitment" to the conservation and promotion of its heritage.
On the website it recognizes the Municipal Heritage Advisory Committee, which has actively been protecting the city's "considerable stock" of heritage buildings and landscapes since 1977.
The Heritage Register, created that same year as an inventory, now contains over 150 properties, 30 of which are designated under Part IV of the Ontario Heritage Act, it says in the foundation's website.
"The City has shown leadership by designating seven City-owned properties, including the Carnegie Library, the Old Courthouse, the CPR Station and the Billy Bishop Home and Museum," the website reads.
Other areas mentioned as factors in the city receiving the award includes the city's employment of a half-time heritage planning co-ordinator, its continued preservation of a network of cultural landscapes including Harrison Park and its facade and structural improvement program.
The city is also commended for highlighting the importance of cultural heritage in its official plan, where it stipulates that "significant built heritage resources and significant cultural heritage landscapes within the City, which are valued by the community, shall be conserved for the benefit of present and future generations."
The website also highlights the city's architectural control guidelines which have required that residential developments don't have a negative impact on heritage areas by ensuring that housing and streetscape designs fit in with surrounding neighbourhoods.
http://www.owensoundsuntimes.com/2013/10/30/owen-sound-wins-heritage-award
20. shorelinebeacon.com: Saugeen Shores Heritage Committee resigns
SAUGEEN SHORES - The members of the Town of Saugeen Shores' Heritage Committee have all officially resigned and there was no comment from the Town Council last night.
"We have resigned because Town Council would not let us do our job and would not listen to the experts they appointed," said Heritage Committee chair Ken Pace. "The rejection of our proposed Heritage Registry without any consultation whatsoever between our committee and Town Council is upsetting and undemocratic."
On October 23, 1998, the last building provincially designated was Aunt Annie's Place in Southampton; so in 2007, the committee asked the staff to begin researching the creation of a Heritage Register.
In 2013, they did two deputations, one on July 22, which resulted in deferment, and October 15, when the Council abandoned it with no discussion and no communication with the committee.
The proposed Registry would be for non-designated buildings, which falls under a different section of the Ontario Heritage Act than designated buildings like Aunt Annie's Place and the Port Elgin Library.
http://www.shorelinebeacon.com/2013/11/12/saugeen-shores-heritage-committee-resigns
21. Raise the Hammer (RTH): Interview with James Street Baptist Church Owner
Ryan McGreal
Louie Santaguida, President of Stanton Renaissance, answers questions about the plan to demolish most of James Street Baptist Church and incorporate the east facade and tower into a new structure.

James Street Baptist Church (RTH file photo)
After the news emerged that the new owner of James Street Baptist Church had applied for a partial demolition permit, RTH asked Louie Santaguida, President of Stanton Renaissance, for an email interview.
Santaguida agreed, and we sent a list of questions. We followed up after a few days without any response. Finally, a week later, a spokesperson replied to say that Santaguida would not be responding to any media until after the follow-up meeting on October 10.
After that meeting, we resubmitted our questions. On October 23, a representative from Kaiser Lachance, a public relations company Stanton Renaissance has retained, contacted us and advised that Santaguida would be willing to answer five questions. We narrowed down our list of questions and resubmitted them.
On October 24, the Municipal Heritage Permit Review Subcommittee met again and voted to approve the demolition permit with some conditions.
The next day, we received Santaguida's responses to our questions. Following are his responses.
http://raisethehammer.org/article/1993/interview_with_james_street_baptist_church_owner
22. Globe and Mail: Redevelopment - New spirit for redundant religious properties
ANGELA KRYHUL

(Google) Westboro United Church on Churchill Avenue - Hundreds of surplus religious properties are expected to hit the Canadian real estate market over the next decade.
One hundred years ago, the Soeurs de la Visitation purchased a pristine five-acre plot of land in what was to become Ottawa's fashionable Westboro neighbourhood, and erected a four-metre-high perimeter fence so that the cloistered sisters would be shielded from the world. Meanwhile, about a kilometre away, the finishing touches were put on the Westboro United Church, newly built to serve the congregation and the needs of the neighbouring community.
Although their missions were very different, by the end of the 20th century each organization had come to the same conclusion: Their shrinking memberships meant the time had come to sell their underused properties.
They're not alone. As faith congregations amalgamate because of dwindling attendance, hundreds of surplus religious properties are expected to hit the Canadian real estate market over the next decade. The United Church alone is looking at as many as 800 over the next 10 years, according to Chris Henderson, a renewable energy developer and congregation member who led the search for a buyer of the Westboro United property.
After Westboro United amalgamated with two other congregations to become Kitchissippi United Church, the organization sold the surplus Westboro site in 2011 to Springcress Properties Inc. The developer is constructing 19 townhomes on the property, and has transferred the church building to the Ottawa Music Foundation, organizer of the annual Ottawa Bluesfest, so that it can be redeveloped to a community arts purpose.
The sisters, meanwhile, decided to sell their property in 2010 to Ashcroft Homes, which is in the process of building residential condos on the site. Ashcroft will also redevelop the only structures to have been built on the property – an 1865 mansion and the sisters' 1913-built convent – as commercial space.
The lack of public consultation as to the fate of the sisters' property had the community in an uproar. There were strong objections to the additional density and increased traffic that the development will introduce to the neighbourhood. Community groups, including the Westboro Community Association, couldn't afford to challenge Ashcroft's plans at the Ontario Municipal Board level, so they eventually reached a compromise in 2011 that, among other things, had Ashcroft agree to cap the building heights at no more than nine storeys, and to donate $200,000 for community improvements.
http://www.theglobeandmail.com/report-on-business/industry-news/property-report/new-spirit-for-redundant-religious-properties/article15375237/
23. Toronto Star: 14 Blevins a monument to our pattern of failure
Christopher Hume
Its historic value is debated, but 20th-century architecture was no success at housing the poor

Bob Krawczyk - 14 Blevins Place - The collection of tall buildings known as Regent Park South won a Silver Medal by the Massey Medals for Architecture in 1961.
When it opened in 1958, 14 Blevins Place was hailed as the way of the future. Designed by the celebrated British-born Toronto modernist architect, Peter Dickinson, the 14-storey apartment building won awards and made Regent Park one of those social housing projects that experts came from around the world to study.
Today, it is reviled by residents who demand it be torn down, erased from the face of the Earth never to be seen again. To them, the tower, however well-intentioned, is a ghastly brick box where the poor are warehoused and forgotten.
Architectural heritage preservationists, on the other hand, insist it should be saved as an important local example of mid-century modernism and one of few Dickinson buildings remaining in Toronto. Already many of his finest creations — Inn on the Park and the Four Seasons Motor Hotel — have disappeared. Others, such as the Sony Centre, have been seriously altered.
To untutored eyes, however, 14 Blevins is the sort of nondescript slab one sees throughout this city and countless others. Talk of the significance of its "pattern of fenestration" sounds fatuous, even ridiculous.
According to a 2013 city report, which recommended the building be given heritage designation, "the Dickinson Tower (1958) has cultural heritage value for its unique Modernist design, its associations with the notable Toronto architect Peter Dickinson, its integral role in Toronto's planning and social housing history, and its status as a neighbourhood landmark."
http://www.thestar.com/news/gta/2013/11/11/14_blevins_a_monument_to_our_pattern_of_failure_hume.html
24. Globe and Mail: Obituary Peter Stokes
Lori Fazari
Architect Peter John Stokes brought heritage to life
It was the late 1970s, and Peter John Stokes was contacted by a student of urban and regional planning at the University of Waterloo.
Mr. Stokes was running a private practice as a consulting restoration architect out of his home off the main street in Niagara-on-the-Lake, Ont. The student, Paul Dilse, was interested in heritage buildings but finding few resources to help him learn about Ontario's historical structures. Georgian style, regency, neoclassical – "It was all mixed up in my head," Mr. Dilse said, "and there was no easy guide in those days, and nothing geared to Ontario."
Mr. Stokes invited him to visit, and so Mr. Dilse ended up being chauffeured around town by the architect as they looked at old buildings. He was the reference guide Mr. Dilse was looking for, a living encyclopedia eager to share his knowledge of the design, building methods, uses and lasting value of some of Ontario's earliest architecture. Mr. Stokes even had him over to his house for afternoon tea with him and his wife.
"I had the whole day with him. He was so generous," Mr. Dilse said. "He gave a lot of volunteer time."
This inspiring encounter proved to Mr. Dilse that he, too, could make a living in the field. He went on to become a heritage planner, based in Toronto and working across central and southern Ontario.
http://m.theglobeandmail.com/arts/art-and-architecture/architect-peter-john-stokes-brought-heritage-to-life/article15363043/?service=mobile&page=all
Editor's Note: At the ACO 80th Anniversary dinner Peter Stokes was honoured in many ways. ACO has an annual award named after him. He was a Past President of the organization. A key figure in Canada's heritage movement. I was honored to be able to name this award after him, and to also present him with the first Eric Arthur Lifetime Achievement Award.