LINKS
1. BuzzFeed: 205 Yonge, Former Heritage Toronto HQ on Auction Block
2. Globe and Mail: Canada's Buildings - Investment Portfolio or City Fabric
3. Unikkaat Films: Producer of the Angry Inuk
4. Summer Beaver First Nations: Nibinamik
5. NOW: Toronto's Post-Industrial Buildings - Why we can't afford to lose them
6. acotoronto.ca: ACO Toronto Publications Available For Free in Resources
7. CBC.ca Public Consultation re: Chateau Laurier Extension Con
8. Globe and Mail:Davisville Junior School-Why we are losing Ontario Schools
9. cbc.ca-Protecting Kensington Market Neighbourhood
10. Georiga Straight.com: Canada Post building redevelopment in downtown Vancouver passes heritage test
11. Globe and Mail: Business Case for Heritage in Edmonton
12. Toronto Star- On Façadism and Signism in Toronto
13. First Story Toronto: An App and a Blog on Toronto Indigenous History
14. CBC.ca-Massive Catholic Burial Ground under School Yard
15. BlogTO: End of Tax Subsidy for Empty Shops in Toronto
16. Cbc.ca - Debate over Gore Buildings at Hamilton Planning Committee
17. CBC.ca-Analysis of why Toronto is Losing its Older Building Stock
18. CBC.ca-Another race between Wrecker's Ball and Heritage Preservation in Toronto
19. Raise the Hammer: History of Gore Park in Hamilton
20. Globe and Mail: Goodbye Honest Eds
21. Globe and Mail: Kent Monkman-Shame and Prejudice
22. Waterloo Region Record: Cambridge Gaslight Proposal Height issues
23. Globe and Mail: Stealth Demolitions in Toronto
24. Grassy Narrows First Nation
25. Fisher River Cree Nation Website
26. CBC Radio: Kent Monkman Interview Unreserved
27. Toronto Star: The Importance of Everyday Old Buildings
28. Metronews.ca - Policy change needed to save Toronto heritage buildings
29. CBC.ca: Heritage advocate calls for return to historic bridge-building style
30. National Trust Website: How to support Private Members Bill

submit a link
1. BuzzFeed: 205 Yonge, Former Heritage Toronto HQ on Auction Block
Josh Sherman
Historic downtown Toronto bank listed for $1

The former Bank of Toronto (left) at 205 Yonge Street as it appeared circa 1975.
A century-old vacant Toronto bank designed by the architect behind local landmarks Old City Hall and Casa Loma is on the market for a loonie.
For past 15 years, the E.J. Lennox-designed structure at 205 Yonge Street has stood vacant. That could soon change if the seller's plan to offload the former Bank of Toronto branch pans out.
"It's beautiful inside," says Shawn Abramovitz, the Core Consultants Realty Inc. sales rep who just listed the property. "Me and my business partner went into the building yesterday and it was like going into the Titanic," he tells BuzzBuzzNews.
It's not hard to understand that comparison. Upon walking between Corinthian columns, visitors will find themselves in the main banking hall, which has been finished with fine marble walls and mosaic and terrazzo floors, according to marketing materials.
The attention-grabbing $1 list price for such an opulent building isn't a tease, though. "Let's not pretend that we can just value this type of property," Abramovitz says he told the seller, who he confirmed was Irish businessman Thomas Farrell. That explains the auction-style price, which may draw bids through the roof.
http://news.buzzbuzzhome.com/2017/02/historic-downtown-toronto-bank-listed.html
2. Globe and Mail: Canada's Buildings - Investment Portfolio or City Fabric
Andrew Willis, forwarded by Robert Allsopp
Europes richest families snap up Canadian commercial real estate
Europe's wealthiest families have discovered Canadian commercial real estate as a safe haven investment, snapping up landmark properties in Toronto, Vancouver and Montreal over the past year, in part because of concerns about the European Union's uncertain future.
Foreign buyers purchased a record $5.6-billion of commercial properties in Canada last year, according to data from CBRE Group Inc., with Europeans accounting for $950-million of the total. Asian investors made up the majority of foreign buyers, but most deals involving buyers based in Asia were hotel and office building acquisitions by financial institutions such as China's Anbang Insurance Group.
The buying out of Europe, most of it by first-time investors in Canada, came from wealthy individuals such as Spain's Amancio Ortega, founder of the Zara retail chain, who snagged a landmark corner in Montreal, and Germany's Klaus-Michael Kuehne, whose estimated $10-billion (U.S.) fortune comes from family-owned shipping company Kuehne + Nagel. He acquired the 37-storey Royal Centre office building in Vancouver from Toronto-based Brookfield Canada Office Properties, which turned a $285-million (Canadian) profit on the sale.
http://www.theglobeandmail.com/real-estate/europes-richest-families-snap-up-canadian-commerical-real-estate/article34091114/
Editor's Note: Such international pressure on Canadian Real Estate foreshadows more challenging times for heritage properties in city centres.
3. Unikkaat Films: Producer of the Angry Inuk
I saw this film a few weeks ago, it may be a bit difficult to find, but worth the hunt. It tells the story of the seal hunt and first nations, as well as how Inuit are tied to an international economy. Hunting seals is not a subsistence activity, but a critical part of the modern inuit economy. Every Canadian should see it, and then go out and buy sealskin products.
List of upcoming screenings, and past screenings:
http://www.unikkaat.com/projects/angry-inuk/screenings/
My favourite question to be asked? Where to buy sealskin!
http://www.unikkaat.com/projects/angry-inuk/where-to-buy-sealskin/
http://www.unikkaat.com/projects/angry-inuk/
Editor's Note: I was hoping to find a website that outlined Inuit culture but have come up empty, this film gives a lot of insight, and the film maker has done several others. I'm a fan!
4. Summer Beaver First Nations: Nibinamik
First Nations settlement 500 km. north of Thunder Bay, a group who settled here 40 years ago for reasons of religious freedom. This First Nation is in the news this week because of the tragic loss of the artist, Moses Beaver.
5. NOW: Toronto's Post-Industrial Buildings - Why we can't afford to lose them
Richard Longley
Toronto's new industrial revolution: why old buildings need new ideas

If she were writing The Death And Life Of Great American Cities today, Jane Jacobs might include 401 Richmond as an example of new ways of working that are transforming Toronto's former factories into sites of post-industrial innovation. It's a brilliant experiment born out of the real estate crisis of 20 years ago that is now being threatened by the latest boom.
These are revolutionary times for industrial heritage in Toronto and other cities across Canada.
Victorian masterpieces, plainer early 20th-century buildings and former factories are being adapted for use by artists, technological entrepreneurs and pioneers of new ways of working that did not exist when they were built.
But that's the way with heritage: built for new ideas in the past, ready for new ideas in the present - and the future.
In 1961 Jane Jacobs published The Death And Life Of Great American Cities, which includes what might be her most famous lines: "For really new ideas of any kind... there is no leeway for chancy trial, error and experimentation in the high-overhead economy of new construction. Old ideas can sometimes use new buildings. New ideas must use old buildings."
The "new ideas" she listed seem quaint today: neighbourhood bars, foreign restaurants, pawn shops, studios, galleries, stores for musical instruments and art supplies.
But Jacobs was on to something.
https://nowtoronto.com/news/toronto-s-new-industrial-revolution-why-old-buildings-need-n/
Editor's Note: This is a long, and excellent analysis of the role our post-industrial buildings play in the creative economy, and why Toronto is losing them to dumb tax policies, among other things.
6. acotoronto.ca: ACO Toronto Publications Available For Free in Resources
Catherine Nasmith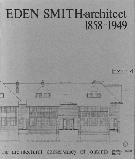 Cover of Book on Eden Smith
On ACO Toronto's website there are several publications that have been out of print since the 1980's available for free download. They include, Howard Chapman's book on Alfred Chapman Architect, Carolyn Neal's book on Eden Smith Architect, Doug Brown's book on Eden Smith, Edna Hudson's book on Bellevue Avenue, and the PDF version of Call for Tender, 1847-1890 which was put together by Alec Keefer, Charles Kinghorn and Kent Rawson.
Both the books on Alfred Chapman and Eden Smith have wonderful pen and ink sketches of important Toronto buildings, by William Moffat, and Howard V. Walker.
http://www.acotoronto.ca/resources_new.php
7. CBC.ca Public Consultation re: Chateau Laurier Extension Con
City of Ottawa launches consultation on much-maligned Château Laurier expansion

Hotel owner Larco Investments looking for approval of controversial hotel expansion
City staff told council's planning committee that public pushback, combined with both national and local interest in the hotel, which opened in 1912 and was declared a national historic site in 1980, were factors in the consultation process.
Architects and owners of the iconic hotel next to the Rideau Canal on Wellington Street first put forward drawings of a modern glass addition to the hotel in September 2016, sparking a fierce online backlash and a do-over in November 2016.
The architecture firm described the revised addition as eight per cent smaller than the original.
Some of the images presented for the redesigned Château Laurier appeared identical to ones already presented. At left, a design presented last November; at right, the design presented two months earlier.
The website launched for the public consultation said the proposed addition includes two tall buildings, 11 storeys on the east side and 12 storeys on the west side.
It would include 218 long-stay hotel units and five levels of parking including 385 stalls accessible from Mackenzie Avenue.
The application includes a request to remove the current parking structure, which was added to the north side of the hotel in 1960.
The Château Laurier is formally designated a city heritage building, which means certain restrictions apply to any changes.
A heritage working group will have a closed meeting at the end of February to discuss how the proposed design will affect the hotel's windows, roofline and other heritage elements.
http://www.cbc.ca/news/canada/ottawa/chateau-laurier-public-consultation-1.3981800
8. Globe and Mail:Davisville Junior School-Why we are losing Ontario Schools
Alex Bozikovic
School's Out

Fred Lum, Globe and Mail image
The roof leaks. The classrooms are too small. A renovation would be tricky and expensive. But Davisville P.S. is an architectural treasure, writes Alex Bozikovic, and the school board's decision to tear it down is a bad sign for Toronto's heritage
A spaceship landed on Millwood Road. That's how an imaginative child might see Davisville Public School: a pointy-winged product of a distant civilization that loves syncopated windows and hyperbolic paraboloids.
In fact, the North Toronto school is the product of a distant civilization: Ours, in 1962, when public buildings had real budgets and Toronto's school board believed its architecture should represent the value of public education.
Now, it's slated to be torn down.
The structure, which houses both Davisville Junior Public School and Spectrum Alternative Senior School, will be replaced by a new building right next door; the Toronto District School Board will tear down the old one when construction is finished in 2020, to make room for a schoolyard and driveway. For the affluent and fast-growing area, this is a victory. The current school is overcrowded. The new building will be larger, with a community centre and bigger schoolyard.
But there is also a loss for the city: an unnecessary demolition of a building that has economic and environmental value, and real cultural worth. "It's a treasure," says architect Carol Kleinfeldt, one of the leaders of an informal activist group that is agitating to save the building. "And this is the school board's own heritage."
If the building had been designated heritage by the city, "we would be having a very different conversation," says Catherine Nasmith of the Architectural Conservancy of Ontario. But the school board's internal process ignored the building's heritage value and skipped past the city's heritage-preservation apparatus.
Not far up Yonge Street, the sneaky but legal weekend demolition of a 1920s bank building recently prompted an uproar. At Davisville, the City of Toronto, thanks to the leadership of councillor Josh Matlow, has given the school board the freedom to disregard heritage that a developer could only dream of.
http://www.theglobeandmail.com/news/toronto/why-a-treasure-of-a-toronto-school-building-is-headed-fordemolition/article33988584/
Editor's Note: This article elegantly nails several nails on the head as to why we are losing Ontario schools
9. cbc.ca-Protecting Kensington Market Neighbourhood
Shanifa Nasser, Nick Boisvert
Toronto's Kensington Market one step closer to becoming heritage site
How do you preserve a neighbourhood that's unique but ever-changing?
That's the question the city will be tackling over the next year as it moves one step closer to designating Kensington Market a heritage site.
Community members met Thursday night with city officials for the last in a series of consultations to discuss exactly that. And while the details have yet to be worked out, the city will be moving forward to nail down the specifics over the next 12 months.
Adult colouring book puts focus on Kensington Market
Kensington Market tenants accuse new landlord of bullying them with rent hike of nearly 50%
"Developing a heritage district for Kensington that's classic Kensington ... will be a little chaotic," said Ward 20 Coun. Joe Cressy at the meeting, citing the area's inimitable cultural and physical heritage.
'You have to recognize a place like that'
But, he added, "It's happening."
That's good news to Ossie Paval, who has run a coffee shop in the area since 1963.
"I think they should stop dragging their feet. They've been promising it for years. You show me another site that deserves it in Canada," he said
http://www.cbc.ca/news/canada/toronto/toronto-s-kensington-market-one-step-closer-to-becoming-heritage-site-1.3975294
Editor's Note: this is my neighborhood, and yes we are worried!
10. Georiga Straight.com: Canada Post building redevelopment in downtown Vancouver passes heritage test
Carlito Pablo
The original structure and artwork will be preserved at 349 West Georgia Street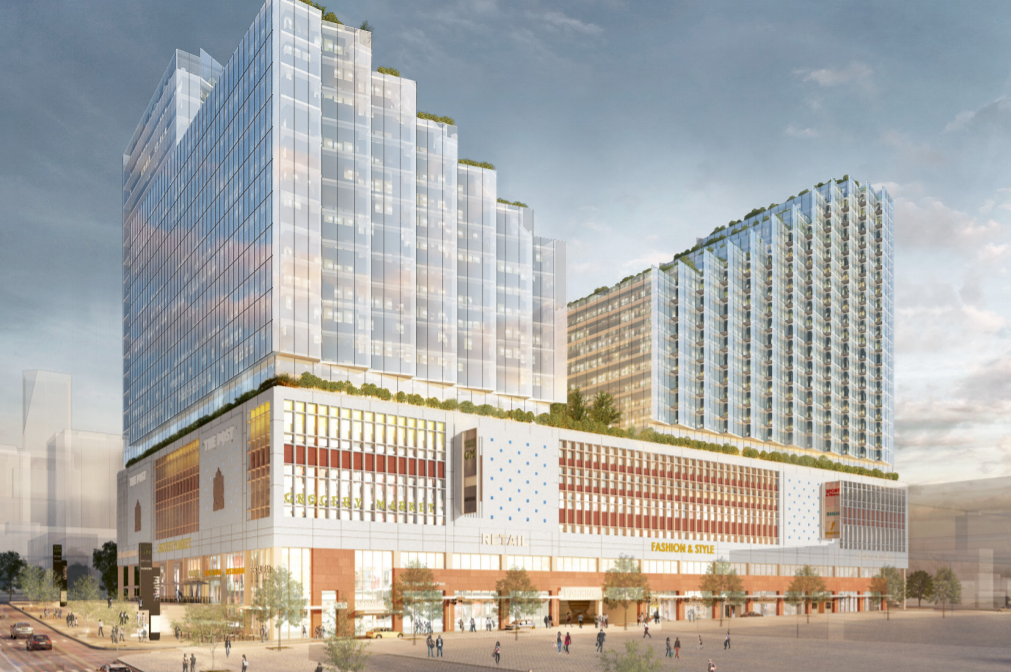 Plans call for three towers to sprout out of the preserved Canada Post building on West Georgia Street.
The Vancouver Heritage Commission has endorsed the redevelopment of the downtown site of the former central Canada Post building.
Members of the civic advisory body voted unanimously on Monday (February 6) to support the proposal to rezone 349 West Georgia Street for residential, office, and retail uses.
"It went very well from the heritage standpoint," commission chair Richard Keate told the Georgia Straight in a phone interview about the project.
The redevelopment will involve the rehabilitation of the heritage building, as well as the addition of three residential and office towers above.
Keate recalled that commission members at the meeting kept referring to two other downtown redevelopments as good examples of heritage makeovers.
One is the Reliance Properties building at 564 Beatty Street. The six-level brick warehouse dating back to the early 1900s was restored, with four floors of glass-and-steel office space added on top.
http://www.straight.com/news/866411/canada-post-building-redevelopment-downtown-vancouver-passes-heritage-test
11. Globe and Mail: Business Case for Heritage in Edmonton
SHARON CROWTHER
The business case for heritage building preservation
Heritage advocates in Edmonton are making the case that building preservation can not only beautify the city but make economic sense.
A new report commissioned by the Edmonton Historical Board says heritage properties in the city provide significant long-term return on investments for buyers and generate a greater return on taxpayer dollars.
"There's been nothing like this before for Edmonton," researcher and author Shirley Lowe says. "We modelled the report on one which was undertaken by the city of Savannah in Georgia. We added in environmental metrics which we felt were an important part of the picture here."
Currently, Edmonton has 38 recognized heritage neighbourhoods, comprising 6 per cent of the city's land area.
"Much of the city's early pioneer buildings were torn down during the boom times," explains Ms. Lowe, who is herself a heritage advocate. "We consider Edmonton's current economic slowdown to be a good time to make our case."
"Rather than saying 'stop tearing down our heritage buildings,' we recognized that we need to change our language around this to be heard," she continues. "We needed to make the argument about economics and the environment. We needed to make it about numbers, not sentimentality."
Ms. Lowe argues that the numbers are compelling. Her research shows property values in all 38 heritage neighbourhoods matched the city average over a 17-year period from 2000 to 2016.
Heritage neighbourhoods contributed $6.51 a square metre in taxes compared with the citywide average of $2.03 a square metre. After removing the four highest density residential and commercial downtown neighbourhoods, the remaining 34 heritage communities still contributed 9 per cent of the city's total property tax income in 2016.
http://www.builtheritagenews.ca/control/index.cfm?sec=sec3&sub_sec=2
12. Toronto Star- On Façadism and Signism in Toronto
Edward Keenan
The Honest Eds sign will be saved. Or part of it anyway.
Just as news was circulating that the thousands of light bulbs which are such a familiar part of Bloor Street West — they are among the most familiar, photographed and filmed artifacts in Toronto — might likely be headed for landfill, David Mirvish announced he plans to take the 30-foot by 60-foot section most instantly recognizable and preserve it.
Fittingly enough, the plan is to affix it to the theatre near Yonge and Dundas that bears Ed Mirvish's name, albeit to the back of the building, facing onto Victoria Street, where the stage doors are.
Read more:
The move needs approval from city council, but that should be a no-brainer; it's not just a note-perfect tribute to the man and his life's work, but a contribution to a growing Toronto trend.
This city did not invent architectural façadism, but we've become particularly famous for it.
It's the practice of redevelopers saving parts — often the façades — of historic buildings and constructing new buildings around or on top of them.
When the members of the pointy-glasses crowd talks about this, they express contempt for a gesture toward history that can sometimes seem neither to preserve heritage, nor fit with the new buildings.
https://www.thestar.com/news/gta/2017/02/08/preservation-of-honest-eds-sign-part-of-new-movement-sign-ism-keenan.html
13. First Story Toronto: An App and a Blog on Toronto Indigenous History
First Story Toronto: Exploring the Aboriginal History of Toronto
App launched in 2012 explores aboriginal sites in Toronto. This organization offers tours, lots of writing and public events to share Toronto's First Nations history.
https://firststoryblog.wordpress.com/aboutfirststory/
14. CBC.ca-Massive Catholic Burial Ground under School Yard
Michael Smee
Graves discovered beneath downtown elementary school mean no expansion
Thousands could be buried beneath old St. Paul Catholic School on Sackville Street


The future of a downtown elementary school that was built over hundreds — possibly thousands — of buried bodies was on the agenda at a special meeting of the Toronto Catholic District School Board (TCDSB) Wednesday evening.
The meeting was called so parents could air their views about a plan to amalgamate schools in several parts of the city, because of changing enrolment numbers.

A plaque on the side of St. Paul Catholic School on Sackville Street commemorates the Irish immigrants who died and were later buried on the school site. (CBC News)
One of those areas is the Corktown - Regent Park neighbourhood, where St. Michael Catholic School is so desperately overcrowded that some children are taught in renovated squash courts leased from a neighbouring community centre.
Just blocks away is St. Paul Catholic School, designed to hold 447 students, but currently less than half full.
http://www.cbc.ca/news/canada/toronto/graves-discovered-beneath-downtown-elementary-school-mean-no-expansion-1.3962758
Editor's Note: I am astounded that this was a surprise.
15. BlogTO: End of Tax Subsidy for Empty Shops in Toronto
Amy Grief
Toronto just did something that will give empty storefronts new life

Boarded up Shops on Yonge Street, waiting for redevelopment

There are lots of storefronts sitting empty in Toronto, including many in the downtown core - just take a walk along Queen Street, east of Spadina and see for yourself.
Since the early 2000s, the city's been handing out property tax rebates to those who own vacant commercial and industrial properties. Apparently, Toronto's spent $367 million on this initiative between 2001 and 2013.
But today, Mayor John Tory announced that he wants to scrap these rebates. "We are subsidizing people to keep space empty that is increasing, almost hourly, in value," said Mayor Tory at a press conference today, as CBC News reports.
The city hopes to save $22 million a year by doing away with this program, but it needs approval from the provincial government before it goes through with the plan.
Beyond the savings affiliated with eliminating the pay out, landlords will now have greater incentive to lease their storefront spaces as quickly as possible. That could mean less vacant spots along busy corridors.
http://www.blogto.com/city/2017/01/toronto-just-did-something-will-give-empty-storefronts-new-life/
16. Cbc.ca - Debate over Gore Buildings at Hamilton Planning Committee
Samantha Craggs
City councillors approve the demolition of a strip of historic Gore buildings

Existing, Suffering Demolition by Neglect

Boring Replacement Scheme that was accepted by Hamilton Council
Despite outcry from local heritage advocates, Hamilton city councillors have voted to let a developer demolish a strip of buildings in the city's historic Gore area and retain the facades of two of them.
City council's planning committee voted 6-3 to allow Hughson Business Space Corporation to demolish 18 to 28 King St. E. and retain the facades of buildings 18 and 22.
There was community outcry against the project, which pending council approval Jan. 25, will become five stories of rental or condos, with commercial space on the ground floor. The city's municipal heritage committee also recommended against the demolition.
The buildings are key heritage properties in a downtown that's already lost too many old buildings, said the Friends of the Gore, who attended the meeting in green "Save the Gore" shirts. Several neighbourhood associations backed saving the buildings too.
City councils used to be "bedazzled by bulldozers" in a time when demolishing old buildings was seen as a way to clean up the neighbourhood, said Ned Nolan from Friends of the Gore.
http://www.cbc.ca/news/canada/hamilton/city-councillors-approve-the-demolition-of-a-strip-of-historic-gore-buildings-1.3938989
Editor's Note: What was striking about this debate was how councillor after councillor complained about the dullness of the replacement scheme, but yet were willing to accept demolitions to make way for it. They have the power to say no, yet refused to use it. The only positives were the number of conditions to prevent demolition ahead of issuing of a building permit for the replacement project.
17. CBC.ca-Analysis of why Toronto is Losing its Older Building Stock
Lauren Pelley
Why are beloved Toronto buildings torn down

A recent dramatic loss, Stollery's at Yonge and Bloor
Earlier this month, the unexpected teardown of a midtown Bank of Montreal building — a 110-year-old, beaux arts-style neighbourhood fixture — was met with outcry from heritage preservation supporters.
It's the most recent example of a piece of Toronto's architectural history being demolished, even in the face of opposition from city councillors, heritage supporters and members of the public.
Councillor, residents frustrated at demolition of 110-year-old building
Tenants fighting to save 140-year-old home being demolished 'piecemeal'
There was also the Victorian mansion on Wellesley Street — knocked down to make room for a condo in 2012, just a month after a city councillor pushed for a heritage designation.
The Stollerys building, a century-old landmark at Yonge and Bloor Streets with stone carvings on its facade — was suddenly torn down two years ago this month.
And the historic Mimico factory built back in 1917, just weeks away from potentially getting a heritage designation — was demolished last September.
Why, in the face of public outcry, do these demolitions keep happening?
http://www.cbc.ca/news/canada/toronto/why-are-beloved-toronto-buildings-torn-down-even-when-people-fight-to-save-them-1.3956744
Editor's Note: An article drawn from many sources, Lauren Pelley analyses why Toronto is losing so many buildings. I couldn't quite get the message through that demolition represents environmental as well as cultural damage - and that the problem cannot be dealt with by the Heritage Act alone. Buildings are not Garbage, buildings are resources to be repaired and recycled.
18. CBC.ca-Another race between Wrecker's Ball and Heritage Preservation in Toronto
Alexandra Sienkiewicz
Tenants fighting to save 140-year-old home being demolished 'piecemeal'

1973 Photo of 15 Glen Morris Street.
A tiny little gingerbread house, snuggled amongst multi-storey concrete buildings stands out — even if you didn't know the home at 15 Glen Morris St. was more than 140 years old.
But you may not be able to see it for much longer.
The tenants living in the South Annex home say they've received eviction notices Friday, which said the building was slated for demolition and they must get out by the end of May.
The original pillars and gingerbread trim on the house were removed. The city issued an order to stop work on the property until permits were obtained. (Adam Wynne)
Despite its age and unique look, the house does not have heritage status — which means it isn't protected from renovations and doesn't need to go through city council approval for major changes.
Tenant Adam Wynne has been working towards getting the home a heritage designation since the ownership change and Toronto-East York community council recently approved a heritage assessment for the property.
http://www.cbc.ca/news/canada/toronto/glen-morris-house-demolished-piecemeal-1.3955332
19. Raise the Hammer: History of Gore Park in Hamilton
Shannon Kyles
Say Goodbye to the Gore

View of Gore Park-Victorian Era
My friend Susan Schneider, an artist, used to have a painting studio in the room above the cigar store at King and James. That was in the 1960s and early '70s. Looking out over Gore Park, we spent hours comparing the light and the ambience, and the buildings, to paintings by Vuillard, Bonnard and J.W. Morrice. Gore Park was like Paris in so many ways.
The Gore as a distinct area was a triangular piece of land was left undeveloped by the two founding fathers of the town, George Hamilton and Nathanial Hughson. Businesses grew up around this piece of land for almost fifty years, over the first half of the 19th century.
Following the historic pattern of common law land use in Britain, the land was recognized as 'common ground' by the citizens. The majority of Hamilton residents in the first half of the 19th century were from Britain.
These first few waves of colonists designed both their homes and their towns according to British precedents, including a recognized open space for sheep, cows and picnics.
Despite several attempts to make use of the land for market or commercial use, and many attempts to use it as commercial land, the land remained as common land for almost 50 years.
The building at 18-22 King Street, built in the 1840s, predates both the incorporation of Hamilton as a town in 1846 and the development of the land as a park in 1853.
http://www.raisethehammer.org/article/3189/
Editor's Note: A wonderful historic overview of the lost beauty of Gore Park in Hamilton, following last weeks decision by Hamitlont Council to permit demolitions of Confederation era buildings and earlier here, we are all waiting with baited breath for a response from the Minister of Culture, as to whether the Province will use its powers to save a significant part of Ontario's history.
20. Globe and Mail: Goodbye Honest Eds
Eric Andrew-Gee
The End of an Era
Honest Ed's (1948-2016)
Memories, and a husk of a building, are all that will be left in short time after the discount retailer closes up for good. Over the years, the bargain-basement shop has catered to immigrants and the working class, reshaped life on Bloor and delighted passersby with its gimmicky signs – a testament to Ed Mirvish's personality and business acumen, Eric Andrew-Gee writes
Goodbye, blue pygmy Christmas tree in the window ($7.99).
Goodbye, cushion cover embroidered with mustaches for $8.00 ("Discontinued – No Refund – No Exchange – Final Sale").
So long, humble Tea-Making Cup ($5.99) and Krazy Karnival Mirror ($425.00).
Ninety-nine-cent egg timers designed to look like strawberry cupcakes – Godspeed.
David Mirvish wasn't the only person to make a forlorn tour through the esoteric merchandise still on sale at Honest Ed's in the past few weeks. The store printed 10,000 commemorative T-shirts for its home stretch and sold out.
But among the mourners and souvenir hunters who have wandered its brightly lit aisles this holiday season, Mr. Mirvish was the most significant. He owns the grand, garish bargain basement. And on Dec. 31, he will close it.
http://www.theglobeandmail.com/news/toronto/the-end-of-an-era-toronto-bids-farewell-to-iconic-honest-edsstore/article33461752/
21. Globe and Mail: Kent Monkman-Shame and Prejudice
Robert Everett Green
Kent Monkman: A trickster with a cause crashes Canadas 150th birthday party

Painting Entitled Daddies
In Kent Monkman's studio in west Toronto, there's a large painting based on Robert Harris's famous group portrait of the Fathers of Confederation. The delegates at the Charlottetown constitutional meetings of 1864 stand or sit in their accustomed places, but in the foreground, a nude figure lounges before the conference table, under the eyes of John A. Macdonald. It's Miss Chief Eagle Testickle, Mr. Monkman's alter ego.
"She's trying to get a seat at the table, or she could be a hired entertainer," said the prominent painter of Cree ancestry, whose works have been collected by major museums such as the National Gallery of Canada, the Glenbow Museum and the Montreal Museum of Fine Arts. Miss Chief is definitely sending up the self-conscious gravity of the delegates and imposing an indigenous presence on negotiations that scarcely acknowledged the aboriginal inhabitants of the territories under discussion.
The inclusion of Miss Chief in a founding image of Confederation is a characteristic move by the 51-year-old Mr. Monkman, whose work constantly messes with accepted visual codes. You approach one of his large-scale paintings imagining that you're looking at something familiar, but closer inspection reveals all kinds of transgressive narratives. He seems to be mocking painting modes of the past, but is also, paradoxically, enamoured of them.
http://www.theglobeandmail.com/news/national/canada-150/kent-monkman-shame-and-prejudice/article33515775/
Editor's Note: Saw this show on the weekend, if you only do one thing for Canada 150, see this show.
22. Waterloo Region Record: Cambridge Gaslight Proposal Height issues
Anam Latif
Gaslight District project raises height and heritage concerns
CAMBRIDGE — How tall is too tall?
A proposal to build two apartment towers at the site of the Southworks Outlet Mall drew an odd mix of excitement and concern in Cambridge on Tuesday night.
On one hand, Cambridge is eager to see a huge downtown investment, known as the Gaslight District, to attract more residents and visitors to Galt's core.
On the other hand, the size of the residential buildings, at 69 metres per tower, is questionable for many.
"You're radically altering sightlines of church spires and clock towers that define downtown Galt," said Karen Scott Booth, a member of Architectural Conservancy of Ontario's Cambridge branch.
"It's 13 metres higher than the steeple of Central Presbyterian Church."
The towers are a bit more than double the allowed height in the area, which is zoned for a 10-storey building at a maximum height of 34 metres.
One of the Gaslight District towers will have 21 floors; the other will have 20.
Tuesday's planning and development committee meeting drew a full house and nearly a dozen residents took to the podium to speak out against the proposal's size.
The potential loss of a historic building was also a big concern.
"Fifty per cent of the heritage structure is to be demolished," Scott Booth pointed out.
http://www.therecord.com/news-story/7072214-cambridge-gaslight-district-project-raises-height-and-heritage-concerns/
23. Globe and Mail: Stealth Demolitions in Toronto
Jill Mahoney
Toronto developers accused of carrying out stealth demolitions amid heritage-designation backlog
Linda McCarthy thought she had plenty of time to finish an application to protect a stately old bank building in North Toronto. But after the developer that owns the site quietly obtained a demolition permit, she soon found herself standing on the sidewalk crying as she gazed at a pile of rubble.
"Our history is ending up in the landfill and the developers have literally taken over, taken control. I don't know whose fault it is but it needs to change," said Ms. McCarthy, a director of the Lytton Park Residents' Organization. "Developers just think they can come in and do what they want and they're getting away with it everywhere."
The demolition of the former Bank of Montreal building at 2444 Yonge Street, north of Eglinton Avenue, on Saturday has sparked an outcry from local residents, heritage-preservation advocates, city councillors and senior city staff while highlighting faults in the heritage-designation process.
"Developers are definitely taking advantage of this gigantic loophole. And when they say that they've done nothing wrong, yes by the letter of the law, they did nothing wrong. But I think property owners and developers have a moral obligation to the community they want to build in and that means operating in good faith," said Councillor Kristyn Wong-Tam, who sits on the Toronto Preservation Board.
The 110-year-old building, which was one of the city's few remaining old Beaux Arts banks, had been recognized by the city as having historical value but had not yet been listed as a heritage site. Ms. McCarthy was in the process of completing the application. When buildings are designated as heritage sites, city council has the authority to refuse alterations or demolitions.
The developer that owns the property, Main and Main, did not respond to requests for comment on Tuesday. The company applied for a City of Toronto permit to demolish the building on Dec. 16. The permit was granted on Jan. 18, according to the city. Depending on the type of building, such permits must be issued within 10 to 30 days under Ontario rules, a provincial spokesman said.
http://www.theglobeandmail.com/news/toronto/developers-accused-of-carrying-out-stealth-demolitions-amid-heritage-designation-backlog/article33744880/
Editor's Note: It is impossible to stay ahead of demolitions using the Heritage Act alone, demolition is an environmental problem. Buildings are not Garbage. Buildings are resources to be reused. 20-30 per cent of landfill is building waste. 50 percent of the world's resources are consumed by building...demolition is not sustainable, we should not have a virtually unfettered right to waste and destruction.
24. Grassy Narrows First Nation
Grassy Narrows First Nation
Another nation very much in the news these days, Grassy Narrows who have been fighting, more successfully recently, against mercury poisoning in their water supply. This website seems to be under development but has a useful history, plus some links to current news reports.
http://www.grassynarrows.ca/?page_id=24
25. Fisher River Cree Nation Website
Fisher River Cree Nation
History/Contact

Fisher River Cree First Nation
I am including this link to Fisher River Cree Nation as part of the BHN Canada 150 links to First Nations across Canada. This one is included because this is where the artist Kent Monkman has roots. Monkman's interview on his current Canada 150 Exhibition, Shame and Prejudice is above.
http://www.fisherriver.com/about-us/
26. CBC Radio: Kent Monkman Interview Unreserved
Kent Moneyman
Kent Monkman's Shame and Prejudice
Interview with artist Kent Monkman about his show Shame and Prejudice on til March 4 at U of T's Art Galery, 15 Kings College Circle (University College).
I saw this show over the weekend and LOVED IT. If you do only one thing about Canada 150 this year, see this show. It will be touring the country til 2020. It is one of the most accomplished shows I have ever seen, combining historic artifacts, painting, sculpture and installations to deliver a powerful message with a wonderful sense of humour.
http://www.cbc.ca/listen/shows/unreserved/segment/11519189
27. Toronto Star: The Importance of Everyday Old Buildings
Christopher Hume
City

955 Queen Street, former Chocolate Factory, now Lofts
Older buildings — especially the ground-floor retail space — adapt easily to a neighbourhood's changing needs; newer creations, not so much, writes Christopher Hume.
Even the newest city needs a supply of old buildings. In Toronto, which seems to remake itself every few years, that supply is running out.
Though few will lament the passing of the often mundane two- and three-storey brick boxes that line so many streets in this city, they play an essential role in the complex processes of civic vitality. Because they are simple structures built decades ago, their mortgages paid off long ago, they are cheap and endlessly adaptable. They change occupants and uses regularly, which allows them to keep up with the times and remain forever relevant.
This point was not lost on Jane Jacobs, pioneering urbanist and author of the seminal study, The Death and Life of Great American Cities: "Cities need old buildings so badly," she wrote in her 1961 book, "it is probably impossible for vigorous streets and districts to grow up without them."
As Jacobs goes on say, by old buildings, she doesn't mean heritage landmarks, but "plain, ordinary, low-value old buildings, including some rundown old buildings."
https://www.thestar.com/news/gta/2016/02/28/citys-vigour-comes-from-buildings-that-are-old-and-ordinary-hume.html
Editor's Note: If you are interested in this idea, invite me to talk about Main Street as Old Growth Forest.....what Hume is saying is critically important on Main Street
28. Metronews.ca - Policy change needed to save Toronto heritage buildings
Gilbert Ngabo

Torstar News Service. Workers demolish the facade of the Stollerys upscale men's wear store at Bloor and Yonge, back in January 2015.
Last weekend, it was a 110-year-old bank building at Yonge and Roselawn. Next, it could be any of the historic — or just plain beautiful — buildings in your neighbourhood.
That's the message from people leading a new wave of calls for policy changes at city hall aimed at saving noteworthy buildings from demolition.
"Apart from rental housing, it's pretty much carte blanche," Catherine Nasmith said about the ease with which developers can secure demolition permits regardless of a building's cultural value. "There's absolutely no other area where you're allowed to be so destructive. It's amazing to me that the process is never questioned."
Nasmith is president of Architectural Conservancy Ontario, one of the groups that want to see changes.
http://www.metronews.ca/news/toronto/2017/01/26/policy-change-needed-to-save-toronto-heritage-buildings.html
29. CBC.ca: Heritage advocate calls for return to historic bridge-building style
Max Leighton
Bowstring bridges were once common in Wellington County

A bowstring bridge once spanned the Grand River in Fergus in the same place that the current St. David Street bridge does today. (Wellington County Museum and Archives)
A Fergus man is urging the Township of Centre Wellington to consider local history as it makes plans to new bridge redevelopment project.
The township plans to rebuild the aging St. David Street bridge in downtown Fergus beginning in 2018. In its place, Dave Beynon, a local writer and heritage advocate, said the township should build a bowstring bridge.
A bowstring bridge sports arches that rise over its deck, useful for spanning rivers with low banks.
They were once a popular style in the region, according to Beynon.
Kitchener's Freeport Bridge, which spans the Grand River on King Street, is a bowstring, as is the Bridgeport Bridge on Bridge Street at Lancaster Street in Kitchener. At one time, there was even a bowstring bridge where the current St. David Street bridge in Fergus stands today.
"If you look at a calendar of the region, almost any calendar you see will have a snow covered bowstring bridge at some point," Beynon said.
The style was developed in France around the turn of the last century, and by 1930s there were dozens in Wellington County.
"That turned out to be a good style of bridge for the area," said Beynon. "A lot of our rivers, the Grand River and whatnot, have low river banks."
A bowstring bridge spanning the Irvine River near Salem was granted heritage designation in 2014.
However, most local bowstring bridges have not fared so well.
http://www.cbc.ca/news/canada/kitchener-waterloo/bowstring-bridge-fergus-construction-1.3916917
30. National Trust Website: How to support Private Members Bill
National Trust for Canada
Voice Your Support - Federal Incentives for the Rehabilitation of Canada's Historic Places Voice Your Support Federal Incentives for the Rehabilitation of Canada
Voice Your Support
Federal Incentives for the Rehabilitation of Canada's Historic Places
On December 1, 2006, a private members bill to create tax credits for historic places was tabled in the House of Commons. Bill C-323 – An Act to Amend the Income Tax Act (Rehabilitation of Historic Property) – is based on a great US success story with a 40- year track record. This Bill presents an historic opportunity to tell elected officials from every political party that Canada's historic places matter, and that federal actions can help save and renew them.
http://www.nationaltrustcanada.ca/get-involved/hcf-news/voice-your-support-federal-incentives-rehabilitation-canadas-historic-places?utm_source=News+Alerts&utm_campaign=9a3286816d-EMAIL_CAMPAIGN_2016_12_12&utm_medium=email&utm_term=0_9eec381e21-9a3286816d