EVENTS
1. A Toast to York Square
2. Continuing Education Course: Evolving Toronto: Shaped by Function
3. Heritage Ottawa Walking Tour: Central Experimental Farm
4. Heritage Ottawa Walking Tour: Lowertown East
5. Heritage Ottawa Walking Tour: Parliament Hill: An Archaeological Tour
6. Heritage Ottawa Walking Tour: Rideau Canal
7. Digital Workflows for Heritage Conservation
8. Toronto Society of Architects Tours

submit an Event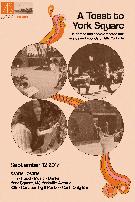 Poster designed by Stephanie Mah
ACO Toronto invites you to be part of our film celebrating York Square, the landmark "Summer of Love" complex in Yorkville, the first signature project of architects Jack Diamond and Barton Myers. The Square, internationally recognized in its day, is a designated heritage property, and now likely to be replaced by a large condominium development (OMB decision pending).
We invite you to come, listen to the sounds and sights of '60s Yorkville, and raise a glass (or two) in this delightful courtyard. Celebration, Commemoration, or Wake - it will be a grand party! Wear something that salutes the period!
The event will include live music of the Summer of Love by Bruce Nasmith, a screening of Flowers on a One Way Street, Music of Yorkville slideshow, and remembrances of John Sewell, Clayton Ruby, David Depoe, Barbara Hall, and Nicholas Jennings. We will be filming the event, and invite you to share your Yorkville and York Square stories with our videographer, Ibrahim Khider.
Ticket price includes admission to the event and canapés by Il Posto. There will also be a cash only bar
For more information about the architecture of York Square
2. Continuing Education Course: Evolving Toronto: Shaped by Function
presented by architectural historian Marta O'Brien
Why does Toronto look the way it does? The city evolved from a military base and government town into a major manufacturing hub, then a financial and cultural centre. These roles have shaped the city's architecture and layout, determining -- for example -- where people live and where the financial district is located. Changing modes of transportation and municipal planning policies (including those related to architectural preservation) have also affected the city's built appearance. Many patterns are still apparent today; others have vanished, yet knowledge of them may explain the built form which remains behind. Hundreds of images, class discussions, and a walking tour will facilitate our explorations. We'll explore all these factors through hundreds of images, discussions, and a walking tour.
3. Heritage Ottawa Walking Tour: Central Experimental Farm
| | |
| --- | --- |
| Place: | MEET: Building 72 (Friends of the Farm building) in the Arboretum |
| Date: | August 27, 2017 |
| Time: | 2pm |
| Cost: | Tickets are $5 for members or $10 for non-members |
| Info: | |
The Central Experimental Farm is the most important scientific landscape in Canada. Founded in 1886, the property has been used to develop, test and promote agricultural knowledge and products critical for Canada's economy and geopolitical position. The tour will explore the underlying design logic of the site, its architecture, ornamental features and its place in Ottawa's larger science and urban systems.
GUIDE: Peter Anderson, doctoral student at Queens University, is completing a thesis on the historical geography of the CEF. Julie Harris, heritage consultant and public historian, co-authored the CEF Management Plan.
4. Heritage Ottawa Walking Tour: Lowertown East
| | |
| --- | --- |
| Place: | MEET: École secondaire De La Salle, 501 Old St. Patrick Street (#6 Bus Route) |
| Date: | August 20, 2017 |
| Time: | 2pm |
| Cost: | Tickets are $5 for members or $10 for non-members |
| Info: | |
Lowertown East, bounded by Rideau Street, King Edward Avenue and the Rideau River, has been home to many important religious, residential and civic buildings. Despite a controversial 1970s urban redevelopment, it is a walkable neighbourhood with a strong multicultural history.
The tour will focus on the areas built heritage and the stories surrounding three key parks Anglesea Square, the oldest square in Ottawa; Macdonald Gardens, designed on the site of a cemetery; and Bordeleau Park, reclaimed from the Rideau River.
GUIDE: Nancy Miller Chenier, Co-Chair of the Lowertown Community Association Heritage Committee and long-time resident of Lowertown East
5. Heritage Ottawa Walking Tour: Parliament Hill: An Archaeological Tour
| | |
| --- | --- |
| Place: | MEET: Queen Elizabeth statue at the east side of Centre Block, 111 Wellington |
| Date: | August 13, 2017 |
| Time: | 2pm |
| Cost: | Tickets are $5 for members or $10 for non-members |
| Info: | |
This tour, held in conjunction with Archaeology Month, will highlight some of the many archaeological investigations that have been undertaken over the past 20 years on Parliament and West Parliament Hill, documenting its continued use over the past 175 years.
GUIDE: Hugh Daechsel, Senior Archaeologist, Golder Inc.
6. Heritage Ottawa Walking Tour: Rideau Canal
| | |
| --- | --- |
| Place: | MEET: Bytown Museum (under Parliament Hill), 1 Canal Lane |
| Date: | August 6, 2017 |
| Time: | 2pm |
| Cost: | Tickets are $5 for members or $10 for non-members |
| Info: | |
From the Bytown Museum to the Corktown Bridge, a look at the nearly 200-year old Rideau Canal and the architecture and engineering of buildings and bridges from many historic periods and architectural styles, along the first mile of this World Heritage Site.
GUIDE: David Jeanes, President of Heritage Ottawa and author of numerous downtown heritage tours.
7. Digital Workflows for Heritage Conservation
CIPA Conference
| | |
| --- | --- |
| Place: | Carleton University, Ottawa |
| Date: | August 28-September 1 |
| Info: | |
We are pleased to invite you to participate in CIPA2017, the 26th biennial symposium, being held from August 28 to September 1, 2017, in Ottawa, Canada. CIPA2017 will focus on Digital Workflows for Conservation.
The rapid rise in new digital technologies has revolutionized the practice of recording heritage places. Digital tools and media offer a myriad of new opportunities for collecting, analyzing and disseminating information about heritage sites. With new opportunities, there are also conflicts, and an intense effort to incorporate digital media into the education of conservation professionals. Issues regarding the proper, innovative and research-focused uses of digital media in heritage conservation are urgent topics in the global heritage conservation field, and CIPA and its partners have played a leading role in this area of cross-disciplinary research and practice. The symposium will offer a unique opportunity for educators, professionals, heritage institutions, and managers of heritage places to share, exchange, and explore new approaches, best practices, and research results in the area of these workflows.
8. Toronto Society of Architects Tours
2017 Season - Tickets on Sale!
Toronto boasts a world class mix of both heritage and modern architecture designed by local and internationally acclaimed architects like Mies Van der Rohe, Frank Gehry, Daniel Libeskind, Will Alsop, Diamond & Schmitt and KPMB to name a few. Join the Toronto Society of Architects' guided outdoor walking tours for a 2 hour journey past some of Toronto's most iconic architecture.
Our professionally trained volunteer guides will share the design context, details, and unusual features that make these buildings notable and demonstrate why architecture is such a powerful communications tool for businesses, organizations, and the city.
The 2017 Season starts on Saturday May 6th with regularly scheduled tours running every weekend until October 1st. Online registration is now open! Tickets are available to purchase online until the evening before the tour. After that you must email the tour coordinator to arrange tickets.
TSA Members Only ticket offer: TSA Members are invited to bring one free guest to any tour they attend! Simply use the promo code TSAMEM2017 when registering for your own ticket. The promo code will grant you access to a special ticket offer of 1 free ticket with the purchase of your own member ticket.
The following tours will be held every weekend throughout the season:
Art & Performance Tour - featuring iconic buildings which contribute to Toronto's reputation as a world leader in the arts.
Culture & Campus Tour - featuring some of Toronto's most cutting edge museums and centres for research and higher learning

Towers Tour - featuring the most significant high-rise towers which make up Toronto's distinctive skyline
DATES | Saturdays and Sundays, May 6 - October 1, 2016
REGISTER | To register for a tour visit the TSA's online box office
TSA MEMBERS PROMOTION | Enter "TSAMEM2017" into the Promo Code field to access a free ticket for a guest with the purchase of one member ticket!